Report Scope & Overview:
The Electrolyzers Market size was valued at USD 1.1 billion in 2022 and is expected to grow to USD 123.39 billion by 2030 and grow at a CAGR of 80.4% over the forecast period of 2023-2030.
Electrolyzers are devices that utilize electricity to split water into its constituent elements, hydrogen, and oxygen. This process, known as electrolysis, is crucial in producing hydrogen fuel. The electrolyzer comprises two electrodes, an anode, and a cathode, separated by an electrolyte. When an electric current passes through the electrolyte, water molecules are split into hydrogen and oxygen ions. The hydrogen ions are attracted to the cathode, where they combine to form hydrogen gas, while the oxygen ions are attracted to the anode, where they combine to form oxygen gas. Electrolyzers are an important technology for the production of clean and renewable energy, as hydrogen can be used as fuel for vehicles and power generation without producing harmful emissions.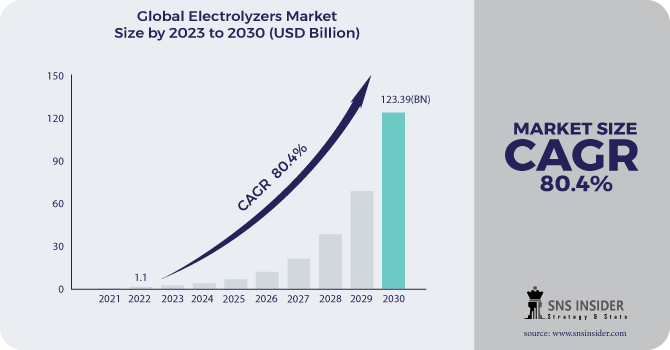 To Get More Information on Electrolyzers Market - Request Sample Report
The market for electrolyzers is a rapidly growing industry that is gaining significant attention in the energy sector. This technology has the potential to revolutionize the way we produce and consume energy, and is being increasingly adopted by industries such as transportation, power generation, and chemical production. As the demand for clean energy continues to rise, the electrolyzer market is expected to experience significant growth in the coming years. This presents a unique opportunity for investors and businesses to capitalize on this emerging market and contribute to a more sustainable future.
Market Dynamics
Drivers
Rising investment in the green hydrogen projects

Growing adoption of hydrogen as a fuel

Growing awareness of the benefits of electrolyzers in various industries
The increasing recognition of the advantages of electrolyzers across multiple industries is the primary driving force behind the growth of the Electrolyzers Market. As more and more industries become aware of the benefits of this technology, the demand for electrolyzers is expected to rise significantly in the coming years. This trend is particularly evident in the energy sector, where electrolyzers are used to produce hydrogen as a clean and renewable fuel source. Additionally, electrolyzers are also being used in the chemical industry to produce various chemicals and in the electronics industry for the production of semiconductors.
Restrain
High cost associated with the electrolyzers

Lack of awareness regarding the benefits of electrolyzers
Opportunities
Increasing demand for green hydrogen

Development of new and innovative technologies
Challenges
The market for electrolyzers is expected to create challenges due to the limited availability of raw materials. This scarcity of resources will impact the production and supply of electrolyzers, which are essential components in various industries. As a result, the demand for these devices may exceed the supply, leading to higher prices and longer lead times. It is crucial for manufacturers to explore alternative sources of raw materials and invest in research and development to improve the efficiency of electrolyzers. By doing so, they can ensure a steady supply of these devices and meet the growing demand from consumers.
Impact of COVID-19
The COVID-19 pandemic has disrupted the global economy and caused significant uncertainty in the energy sector. Due to the temporary closure of manufacturing plants and operations of many industries, lockdowns, and travel restrictions imposed by governments around the world demand for electricity was decreased including hydrogen. and further decreases the demand for electrolyzers. More details are comprised in the final report.
Impact of Russia-Ukraine War:
The Russia-Ukraine war affected the electrolyzer market significantly. Electrolyzers are devices that can then be used for various applications, such as fuel cells and chemical production. The war has disrupted the supply chain of electrolyzer components, particularly those sourced from Russia. This has led to a shortage of certain materials and increased prices for others. However, the conflict has also created opportunities for some companies in the electrolyzer market. As countries seek to reduce their dependence on Russian imports, there is a growing demand for domestically produced electrolyzers and components.
Impact of Recession:
Due to the increasing demand for clean energy sources, the market for electrolyzers has been growing steadily in recent years. However, the recession has caused a slowdown in the growth of the electrolyzer market. More details are comprised in the final report.
Market segmentation
By Technology:
Alkaline Electrolyzer

Proton Exchange Membrane Electrolyzer

Solid Oxide Electrolyzer

Anion Exchange Membrane Electrolyzer
By Power Rating:
<500 KW

500 – 2000 KW

>2000 KW
By Application:
Power Generation

Industry Energy

Industry Feedstock

Transportation

Building Heat & Power

Grid Injection

Others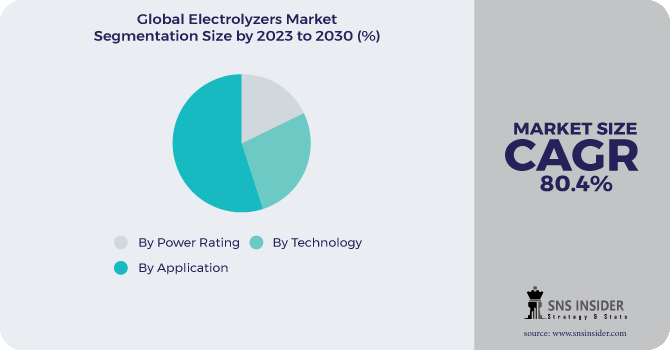 To Get Customized Report as per your Business Requirement - Request For Customized Report
Regional Analysis
The electrolyzer market has seen significant growth in recent years, with Europe emerging as the dominant player in this industry. Firstly, Europe has a strong focus on renewable energy and reducing carbon emissions. Electrolyzers play a crucial role in this effort by producing hydrogen, which can be used as a clean fuel source. European countries have implemented policies and incentives to encourage the adoption of electrolyzers, which has led to increased investment and innovation in this sector. Secondly, Europe has a well-established industrial base and a highly skilled workforce. This has enabled the region to develop advanced electrolyzer technologies and manufacturing processes, which have helped to reduce costs and improve efficiency. European companies are also well-positioned to export their products to other regions, further boosting the region's dominance in the electrolyzer market. Finally, Europe has a supportive regulatory environment that encourages the development of new technologies and promotes innovation. This has created a favorable business climate for electrolyzer manufacturers, which has helped to attract investment and talent to the region.
The Asia Pacific region is projected to experience substantial growth with a significant compound annual growth rate (CAGR) during the forecast period. This growth can be attributed to the rising adoption of electric vehicles in countries such as China, Japan, and India. As these nations continue to prioritize sustainable transportation solutions, the demand for electric vehicles is expected to surge, driving growth in the Asia Pacific market.
REGIONAL COVERAGE:
North America

Europe

Germany

UK

France

Italy

Spain

The Netherlands

Rest of Europe

Asia-Pacific

Japan

south Korea

China

India

Australia

Rest of Asia-Pacific

The Middle East & Africa

Latin America

Brazil

Argentina

Rest of Latin America
Key Players
The major key players are Cummins, Inc., Siemens Energy, Next Hydrogen, Air Liquide., Toshiba Corporation, Mcphy Energy, NEL ASA, Idroenergy, ITM Power, Plug Power, and other key players will be included in the final report.
Siemens Energy-company-operating-expense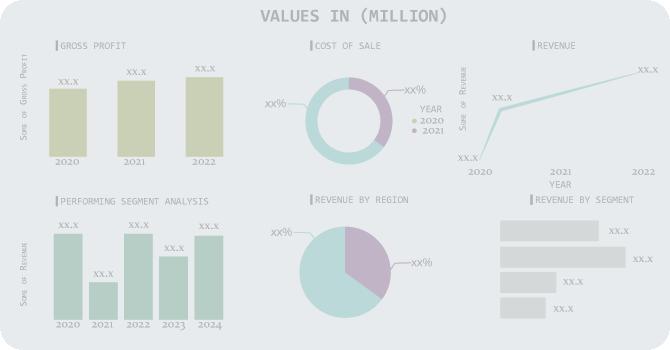 Electrolyzers Market Report Scope:
Report Attributes
Details
Market Size in 2022
US$ 1.1 Bn
Market Size by 2030
US$ 123.39 Bn
CAGR
CAGR of 80.4% From 2023 to 2030
Base Year
2022
Forecast Period
2023-2030
Historical Data
2020-2021
Report Scope & Coverage
Market Size, Segments Analysis, Competitive Landscape, Regional Analysis, DROC & SWOT Analysis, Forecast Outlook
Key Segments
• By Technology (Alkaline Electrolyzer, Proton Exchange Membrane Electrolyzer, Solid Oxide Electrolyzer, and Anion Exchange Membrane Electrolyzer)
• By Power Rating (<500>2000 KW)
• By Application (Power Generation, Industry Energy, Industry Feedstock, Transportation, Building Heat & Power, Grid Injection, and Others)
Regional Analysis/Coverage
North America (USA, Canada, Mexico), Europe
(Germany, UK, France, Italy, Spain, Netherlands,
Rest of Europe), Asia-Pacific (Japan, South Korea,
China, India, Australia, Rest of Asia-Pacific), The
Middle East & Africa (Israel, UAE, South Africa,
Rest of Middle East & Africa), Latin America (Brazil, Argentina, Rest of Latin America)
Company Profiles
Cummins, Inc., Siemens Energy, Next Hydrogen, Air Liquide., Toshiba Corporation, Mcphy Energy, NEL ASA, Idroenergy, ITM Power, Plug Power
Key Drivers
• Rising investment in the green hydrogen projects
• Growing adoption of hydrogen as a fuel
• Growing awareness of the benefits of electrolyzers in various industries
Market Opportunities
• Increasing demand for green hydrogen
• Development of new and innovative technologies