Report Scope & Overview:
Gibberellins Market size was valued at USD 901.6 million in 2022. It is expected to grow to USD 1718.9 million by 2030 and grow at a CAGR of 8.4% over the forecast period of 2023-2030.
The Gibberellins Market refers to the global market for gibberellins, which are plant hormones that play a crucial role in regulating plant growth and development. These hormones are widely used in agriculture and horticulture to enhance crop yield and quality. The growth of the gibberellins market is attributed to the increasing demand for high-quality crops and the need for improved agricultural practices. Farmers and growers are increasingly adopting gibberellins to enhance crop yield, promote seed germination, and regulate plant height. Additionally, the pharmaceutical industry utilizes gibberellins in the production of medicines and supplements. The market for gibberellins is driven by various factors, including the rising global population, which necessitates increased food production. Moreover, the growing awareness about sustainable farming practices and the need for environmentally friendly solutions have further propelled the demand for gibberellins.
However, the gibberellins market also faces certain challenges. One of the major challenges is the stringent regulations imposed by regulatory bodies on the use of plant growth regulators. These regulations aim to ensure the safety and efficacy of gibberellins, but they can pose obstacles for market players.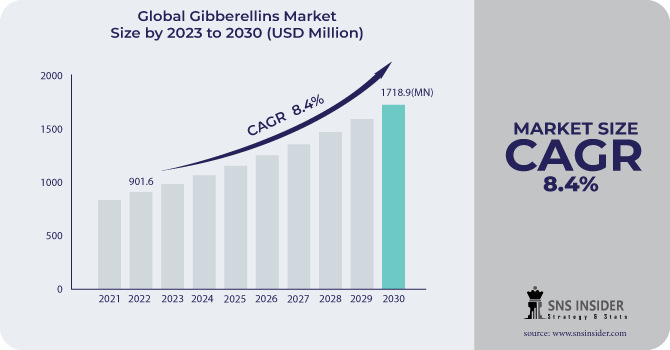 Market Dynamics
Drivers
Increasing demand for gibberellins in the agriculture sector

Increasing demand for fruits and vegetable
The demand for gibberellins in the market is driven by the increasing demand for fruits and vegetables. The growing interest in healthy lifestyles and the awareness of the importance of a balanced diet have led to a surge in the consumption of fruits and vegetables. A recent study suggests that inadequate consumption of fruits contributes to approximately 1 in 7 cardiovascular deaths, whereas insufficient intake of vegetables is responsible for about 1 in 12 such deaths. As a result, farmers and horticulturists are under pressure to meet this rising demand. However, they face challenges such as limited land availability, unpredictable weather conditions, and the need for efficient crop management. By applying gibberellins to plants, farmers can stimulate cell elongation, promote seed germination, and induce flowering. These effects lead to increased plant growth, larger fruits, and improved overall yield. Additionally, gibberellins can help overcome environmental constraints, such as short growing seasons or unfavorable weather conditions, by accelerating plant growth and development. The demand for gibberellins is therefore closely tied to the demand for fruits and vegetables. As the market for these nutritious products continues to expand, farmers and horticulturists seek effective solutions to meet the growing requirements.
Restrain
Opportunities
Growing awareness among farmers about the benefits of gibberellin

Expanding the application of gibberellins in the pharmaceutical industry
Expanding the application of gibberellins in the pharmaceutical industry presents significant opportunities for the gibberellins market. One of the key areas where Gibberellins show promise is in the field of medicine. These plant hormones have demonstrated their potential in stimulating bone growth, which could prove invaluable in treating conditions such as osteoporosis or aiding in the recovery of bone fractures. Additionally, gibberellins have exhibited anti-inflammatory properties, suggesting their potential use in developing novel drugs to combat inflammatory diseases. Furthermore, gibberellins have shown the potential in promoting wound healing. By accelerating the regeneration of skin cells, these hormones could revolutionize the treatment of chronic wounds, such as diabetic ulcers, by facilitating faster and more efficient healing processes.
Challenges
High production costs associated with gibberellins

Regulatory environment surrounding the use of gibberellins in agriculture
Impact of Russia-Ukraine War:
The Russia-Ukraine war has disrupted the supply chain of gibberellins, leading to a shortage in the market. Ukraine has experienced significant disruptions in its agricultural sector due to the conflict. This has resulted in a decrease in the production and export of gibberellins, causing a ripple effect throughout the global market. The instability caused by the war has also led to price volatility in the gibberellins market. With reduced supply and increased demand, the prices of gibberellins have skyrocketed. This has created challenges for farmers and agricultural businesses, as they struggle to afford the necessary inputs for their crops. The price fluctuations have also made it difficult for businesses to plan and forecast their budgets effectively. The Russia-Ukraine war has not only impacted the supply and prices of gibberellins but has also caused a shift in market dynamics. As Ukraine's production capacity has been severely affected, other countries have stepped in to fill the gap. This has led to a redistribution of market shares and altered trade patterns. New suppliers have emerged, while traditional suppliers have faced challenges in meeting the increased demand.
Impact of Recession:
The decrease in consumer purchasing power has led to a decline in demand for gibberellins-based products. Additionally, the recession has caused a reduction in business activities, leading to a decrease in the overall demand for plant growth regulators like Gibberellins. Furthermore, the recession has also affected the supply side of the gibberellins market. Many manufacturers and suppliers have faced financial constraints, making it difficult for them to maintain production levels and meet market demand. This has resulted in supply shortages and increased prices, further impacting the market dynamics.
Market segmentation
By Form
By Application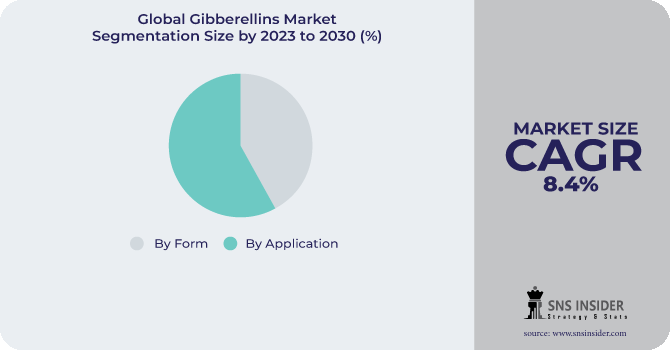 Regional Analysis
North America dominated the gibberellins market in 2022 and is expected to grow with a CAGR of 8.2% during the forecast period. North America has a favorable regulatory environment. The region has established stringent regulations and standards for the use of gibberellins in agriculture, ensuring the safety and efficacy of these products. The gibberellic acid produced has a purity level of 80% or higher. This acid is utilized to counteract the effects of fungal diseases by controlling the ripening process. In fact, it was initially registered in the United States in 1947 specifically to combat fruit russet fungus in apples (U.S. EPA, 1995). When it comes to the use of substances like gibberellic acid on raw agricultural commodities, the Environmental Protection Agency (EPA) pesticide regulations govern the preharvest and postharvest stages. On the other hand, the Food and Drug Administration (FDA) regulations oversee the use of substances in processed foods. In 1995, the EPA conducted a reregistration review of pesticide products containing gibberellic acid as an active ingredient, as mandated by Section 4(g)(2)(A) of the Federal Insecticide Fungicide and Rodenticide Act (FIFRA). Following this review, the EPA supported the reregistration of all products containing gibberellic acid (U.S. EPA, 1995; HSDB, 2006). Subsequently, the EPA has approved amendments to product registrations. Furthermore, North America's extensive agricultural infrastructure and well-developed distribution networks have played a significant role in the dominance of the gibberellins market.
Europe is projected to experience substantial growth in the gibberellins market, with a significant CAGR during the forecast period. The demand for gibberellins has been steadily increasing in Europe due to their effectiveness in enhancing crop yield and quality. Several factors contribute to the anticipated growth of the gibberellins market in Europe. Firstly, the region's agricultural sector is witnessing a shift towards sustainable practices and an increased focus on maximizing productivity. Farmers are increasingly adopting gibberellins to optimize crop growth, improve fruit quality, and increase overall agricultural output. Moreover, Europe's changing climate patterns and the need to adapt to unpredictable weather conditions have further fueled the demand for gibberellins. These hormones enable plants to withstand adverse environmental conditions, such as drought or extreme temperatures, thereby ensuring better crop resilience and yield stability. Additionally, the growing awareness among European farmers regarding the benefits of gibberellins has played a significant role in driving market growth.
REGIONAL COVERAGE:
North America
Europe
Eastern Europe

Poland

Romania

Hungary

Turkey

Rest of Eastern Europe

Western Europe

Germany

France

UK

Italy

Spain

Netherlands

Switzerland

Austria

Rest of Western Europe
Asia Pacific
China

India

Japan

South Korea

Vietnam

Singapore

Australia

Rest of Asia Pacific
Middle East & Africa
Middle East

UAE

Egypt

Saudi Arabia

Qatar

Rest of the Middle East

Africa

Nigeria

South Africa

Rest of Africa
Latin America
Brazil

Argentina

Colombia

Rest of Latin America
Key Players
The major key players are Fine Americas, Inc., Valent U.S.A. Corporation, Sichuan Guoguang Agrochemical Co. Ltd., Nufarm Ltd., Xinyi (H.K.) Industrial Co. Ltd., Jiangsu Fengyuan Bioengineering Co. Ltd., SePRO Corporation, Zhejiang Qianjiang Biochemical Co. Ltd., Shanghai Fuang Agrochemical Co. Ltd., and other players mentioned in the final report.
Gibberellins Market Report Scope:
Report Attributes
Details
Market Size in 2022
US$ 901.6 Mn
Market Size by 2030
US$ 1718.9 Mn
CAGR
CAGR of 8.4% From 2023 to 2030
Base Year
2022
Forecast Period
2023-2030
Historical Data
2019-2021
Report Scope & Coverage
Market Size, Segments Analysis, Competitive Landscape, Regional Analysis, DROC & SWOT Analysis, Forecast Outlook
Key Segments
• By Form (Powder, Granules, and Liquid)
• By Application (Malting of Barley, Fruit Production, Increasing Sugarcane Yield, and Seed Production)
Regional Analysis/Coverage
North America (US, Canada, Mexico), Europe (Eastern Europe [Poland, Romania, Hungary, Turkey, Rest of Eastern Europe] Western Europe] Germany, France, UK, Italy, Spain, Netherlands, Switzerland, Austria, Rest of Western Europe]), Asia Pacific (China, India, Japan, South Korea, Vietnam, Singapore, Australia, Rest of Asia Pacific), Middle East & Africa (Middle East [UAE, Egypt, Saudi Arabia, Qatar, Rest of Middle East], Africa [Nigeria, South Africa, Rest of Africa], Latin America (Brazil, Argentina, Colombia Rest of Latin America)
Company Profiles
Fine Americas, Inc., Valent U.S.A. Corporation, Sichuan Guoguang Agrochemical Co. Ltd., Nufarm Ltd., Xinyi (H.K.) Industrial Co. Ltd., Jiangsu Fengyuan Bioengineering Co. Ltd., SePRO Corporation, Zhejiang Qianjiang Biochemical Co. Ltd., Shanghai Fuang Agrochemical Co. Ltd.
Key Drivers
• Increasing demand for gibberellins in the agriculture sector
• Increasing demand for fruits and vegetable
Market Restraints
• Increasing adoption of organic food