REPORT SCOPE & OVERVIEW:
Heating Pad Market size was valued at USD 49920.16 Million in 2022 and is expected to grow to USD 75400.29 Million by 2030 and grow at a CAGR of 5.29% over the forecast period of 2023-2030.
The production, distribution, and sale of heating pads are referred to as the "Heating Pad Market." Devices called heating pads are made to deliver localized heat therapy for a variety of uses, including pain reduction, muscle relaxation, and easing discomfort.
Heating pads are devices made to deliver localized heat therapy for a variety of uses, including pain reduction, muscle relaxation, and comfort. Heating components, which may be electric or chemical-based, are often found inside a soft, flexible pad or wrap that is used as a heating pad.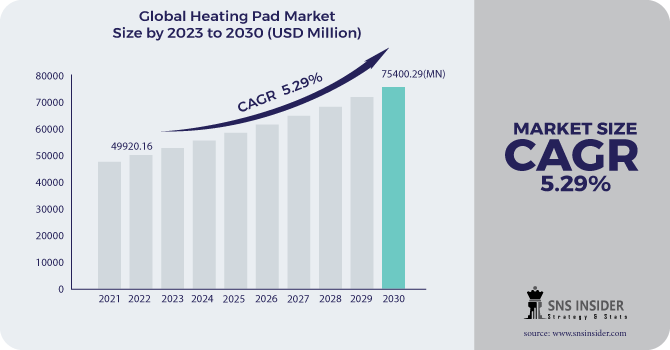 There are electric and non-electric varieties of heating pads available on the market. Electric heating pads primarily use electricity to produce and control heat and frequently have temperature controls and safety automatic shut-offs. On the other hand, non-electric heating pads often use microwave heating or chemical reactions to provide warmth.
MARKET DYNAMICS
KEY DRIVERS:
Growing Ageing Population

Growing Awareness of Pain Management
Growing Awareness of Pain Management: As people become more aware of the advantages of pain management and the use of non-pharmacological treatments, the demand for heating pads has increased. Heating pads are well known for their effectiveness in reducing aches and pains, stiffness, and other discomforts.
RESTRAIN:
Elastic Bands: You can use elastic bands to secure the heating pad if it has an elastic pocket or loops. The bands should be wrapped around the pad and fastened to neighbouring furniture or items.
OPPORTUNITY:
Technological developments

Rising adoption and awareness
Rising adoption and awareness: People are becoming more and more aware of the advantages of using heading pads for pain alleviation, relaxation, and stress management. Businesses now have the chance to inform consumers of the benefits of heading pads and encourage greater use. Heading pads have changed along with technological developments, including the incorporation of smart features like wireless connectivity, customizable temperature settings, and automatic shut-off timers. Businesses can benefit from these developments by creating inventive heading pads that provide consumers with greater usefulness and convenience. A variety of target markets the uses for heading pads are numerous.
CHALLENGES:
Market Saturation

Price Pressure
Price Pressure: The heading pad market faces a lot of price competition. There are several options available to consumers, including affordable substitutes and generic brands. Manufacturers are under pressure to provide competitive pricing while retaining quality as a result. Rapid technology improvements have raised consumer expectations for more cutting-edge features and functionalities in heading pads.
IMPACT ANALYSIS
IMPACT OF RUSSIAN-UKRAINE WAR:
The Heating Pad Market, among others, has been significantly impacted by the Russian-Ukrainian conflict. Disruptions to supply chains: If there are trade restrictions, transportation problems, or infrastructure damage, the conflict may result in supply chain disruptions. These elements may affect the supply of finished heating pad goods, components, and raw materials, thereby causing shortages or delays. Costs of manufacturing could rise if the conflict has an impact on Ukraine's industrial capacity.
IMPACT OF ONGOING RECESSION:
Consumer spending typically decreases during a recession as people become more frugal with their money. The heading pad market, among other businesses, may be impacted by this. Here are a few possible outcomes.
Customers may spend less on non-essential items like heading pads because they will be prioritizing the essentials. People may put off or forego acquiring new heading pads due to their diminished purchasing capacity, which will lessen market demand.
IMPACT OF COVID-19:
Due to the epidemic, demand, production, and consumer behaviour have changed for heating pads, which are frequently used in sports like football. Some of the major effects are as follows:
A lot of heating pads are produced in nations that have been severely impacted by the pandemic, such as China. Production delays and problems with the supply chain have been caused by lockdowns, limitations, and transportation disruptions. Heading pads are now less readily available in some areas as a result of this.
Sports participation decreased as a result of the COVID-19 epidemic, which forced several sporting events and activities to be postponed or cancelled. Soccer leagues, competitions, and practice sessions were organized.
MARKET SEGMENTATION:
The market for heating pads can be segmented depending on several variables. Here is a potential market segmentation strategy: By Product Type, By Application, By End User.
KEY MARKET SEGMENT
By Product Type:
By Application:
Home Use

Medical Use

Commercial Use

Other Use
By End Use:
Homecare

Diagnostic Centers

Hospitals

Clinics

Others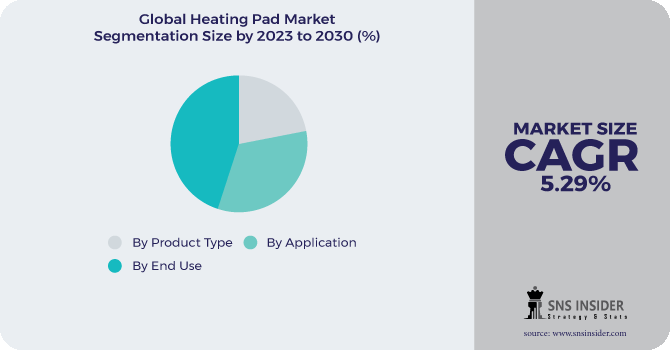 REGIONAL COVERAGE:
North America
Germany

France

the United Kingdom

Mexico

the Netherlands

Switzerland

Belgium

Russia

Italy

Spain

Turkey
Europe
China,

Japan,

India,

South Korea,

Singapore
Asia-Pacific
Japan

South Korea

China

India

Australia

Rest of Asia-Pacific
The Middle East & Africa
Latin America
Brazil

Argentina

Rest of Latin American
REGIONAL ANALYSIS
North America dominates the heating pad market Due to the widespread use of heating pads among the working and obese population, the market in North America is predicted to maintain its customary sizeable market share during the upcoming term.
Asia Pacific market with a high CAGR the demand for heating pads in densely populated growing nations like India, China, Japan, South Korea, and other South Asian Countries is likely to generate significant growth in the Asia Pacific market. Heat therapy for body ailments is more popular in South Asian countries. China supplies most of the heating pads.
Key Players
Nature Creation, Dongguan Yu Xin Electronic, Thermalon, Sunbeam, Drive Medical, Conair, Beady Heat Therapy, Walgreens, Sunny Bay, Dongguan Yongqi, Bodymed, Milliard, Chattanooga Medical Supply, Pure relief, Carex, Thrive, Beurer, Kaz & Other player are listed in the final report.
Heating Pad Market Report Scope:
Report Attributes
Details
Market Size in 2022
US$ 49920.16 Mn
Market Size by 2030
US$ 75400.29 Mn
CAGR
CAGR of 5.29% From 2023 to 2030
Base Year
2022
Forecast Period
2023-2030
Historical Data
2020-2021
Report Scope & Coverage
Market Size, Segments Analysis, Competitive Landscape, Regional Analysis, DROC & SWOT Analysis, Forecast Outlook
Key Segments
• By Product Type (Microwavable Heating Pads, Electric Heating Pads, Chemical Heating Pads)
• By Application (Home Use, Medical Use, Commercial Use, Other Use)
• By End Use (Homecare, Diagnostic Centres, Hospitals, Clinics, Others)
Regional Analysis/Coverage
North America (USA, Canada, Mexico), Europe
(Germany, UK, France, Italy, Spain, Netherlands,
Rest of Europe), Asia-Pacific (Japan, South Korea,
China, India, Australia, Rest of Asia-Pacific), The
Middle East & Africa (Israel, UAE, South Africa,
Rest of Middle East & Africa), Latin America (Brazil, Argentina, Rest of Latin America)
Company Profiles
Nature Creation, Dongguan Yu Xin Electronic, Thermalon, Sunbeam, Drive Medical, Conair, Beady Heat Therapy, Walgreens, Sunny Bay, Dongguan Yongqi, Bodymed, Milliard, Chattanooga Medical Supply, Pure relief, Carex, Thrive, Beurer, Kaz
Key Drivers
• Growing Ageing Population
• Growing Awareness of Pain Management
Market Opportunities
• Technological developments
• Rising adoption and awareness