REPORT SCOPE & OVERVIEW:
Hospital Furniture Market was estimated at USD 9.14 billion in 2022 and is anticipated to expand at a compound annual growth rate approx. CAGR of 6.90% for the forecast period of 2023-2030.
The industry that produces and distributes furniture especially created for healthcare institutions, such as hospitals, clinics, and medical centres, is referred to as the hospital furniture market. For patients, healthcare workers, and visitors to feel comfortable, productive, and safe, hospital furniture is essential. It includes a broad range of goods, such as stretchers, beds, chairs, tables, cabinets, and other specialised furniture pieces made to specifically satisfy the requirements of healthcare facilities. Increasing healthcare expenditure, the need for up-to-date, fully functional healthcare facilities has increased as a result of the world's growing healthcare spending. In order to improve patient satisfaction and offer high-quality treatment, hospitals and medical facilities invest in contemporary and ergonomic furniture that fosters patient comfort, supports effective healthcare delivery, and improves the facility's ambience. Technological Innovations new features that increase patient care and workflow efficiency have revolutionised hospital furniture thanks to technological innovation. Electrically adjusted beds, specialised treatment chairs, imaging tables, and furniture with digital interfaces and connection for data management are only a few examples of these technological innovations. Modern hospital furnishings not only improve patient care but also help cut down on physical labour and increase operational effectiveness. The ageing of the world's population has led to a rise in the need for healthcare services. Geriatric beds, patient lifts, and supportive seats are just a few examples of the specialty hospital furniture that is increasingly needed as the older population expands. The demand for creative and ergonomic furniture solutions that address the particular demands of older patients has increased as a result of this demographic transition.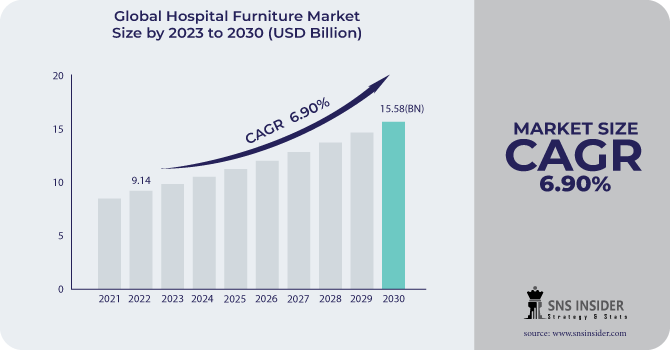 IMPACT OF COVID-19
An increase in demand for healthcare infrastructure, such as hospital beds, isolation units, and intensive care units (ICUs), has been brought on by the rise of COVID-19 cases. As a result, Ikea USD 1.8 million plus in products, supplies to covid-19 relief efforts. COVID-19 epidemic has brought about modifications to healthcare operations and building layout. In order to facilitate the execution of infection control procedures, such as keeping physical distance between patients, healthcare providers, and visitors, hospital furniture has been redesigned. In order to establish isolation and reduce the possibility of viral transmission, furniture patterns have been modified.
MARKET DYNAMICS
DRIVERS
The need for hospital furniture is fuelled by the ongoing increase in healthcare spending throughout the world, which is caused by factors including population growth, ageing demographics, and the incidence of chronic diseases. The need for practical, cosy, and secure furniture is driven by the necessity for infrastructure and healthcare facilities that are well-equipped. An increasing amount of attention is being paid to patient-centric care, which includes giving patients a relaxing and encouraging atmosphere. Hospital furnishings are essential for increasing patient comfort, promoting healing, and raising patient satisfaction. Hospital furniture has been affected by technological developments in the healthcare sector, such as sophisticated patient monitoring systems, electronic medical records, and telemedicine solutions. Patient care and workflow efficiency are improved by the use of Technology connection aspects in furniture solutions.
RESTRAIN
Budgetary restrictions and increasing costs.

Extended Replacement Cycles.
Budget limits are a common problem for healthcare organization, particularly those operating in emerging economies and public healthcare systems. Hospital furnishings may be pricey, and financial constraints may make it more difficult for healthcare organization to invest in high-end, contemporary furniture. Due to its durability, hospital furniture often has a lengthy replacement cycle. As a result, the need for new furniture may decline as healthcare institutions postpone or priorities other expenditures.
OPPORTUNITY
Infrastructure for Healthcare is Growing

Infection control is emphasized.
The market for hospital furniture has a lot of potential as a result of the growing emphasis on creating healthcare infrastructure, particularly in emerging nations. Investments in new healthcare facilities including hospitals, clinics, and treatment facilities increase demand for a variety of furnishing goods. Following the COVID-19 pandemic, there is increased awareness of the need for infection control procedures in healthcare facilities. Due to this, hospital furniture with characteristics that support simple cleaning, disinfection, and adherence to infection prevention rules is in high demand.
CHALLENGES
Infection control, patient safety, and ergonomics all have rules and standards that hospital furniture must adhere to. The difficulty and expense of creating and selling furniture goods might grow as manufacturers struggle to achieve these standards. In the healthcare industry, there is an increasing need for environmentally friendly and sustainable solutions. The development of items that are eco-friendly, employ sustainable materials, and have a minimal impact on the environment is a problem for hospital furniture makers.
IMPACT OF RUSSIAN UKRAINE WAR
In impacted areas, the battle may strain the healthcare system. To handle an inflow of injured patients, displaced populations, or the reallocation of resources to meet healthcare demands associated to a conflict, hospitals and medical institutions may need more funding and assistance. This may cause infrastructure development initiatives, such as the purchase of hospital furnishings, to temporarily slow down or be put on hold. Depending on the distance from the war zone, the effect of the conflict on the market for hospital furniture may differ. Healthcare institutions may have greater difficulties and disruptions in areas that are closer to the conflict, whilst those that are farther away may only face minor affects.
IMPACT OF ONGOING RECESSION
Approximately to official data €1.8 billion will be invested in Romania to build at least 25 new hospitals or healthcare facilities, according to official figures. Chairry Design & Furniture, a Romanian business with over 20 years of experience on the local market, specialises in interior design and decorating as well as offering furniture made either locally or abroad. Postponed or Delayed Construction and repair of healthcare facilities are among the infrastructure projects that are frequently delayed or abandoned during project recessionary periods. The purchase of hospital furniture is intimately related to these initiatives, and delays may influence demand. Instead of spending money on new equipment, healthcare organisations may choose to prioritise their existing resources and make do with their present furnishings. Budgetary restrictions Healthcare establishments may need to make a large investment in hospital furnishings
MARKET SEGMENTATION
KEY MARKET SEGMENTS
By Product
Beds

Tables

Seating Furniture

Trolley and Stretchers

Cabinet and Lockers

Others
By Sales Channel
By Application
By End-User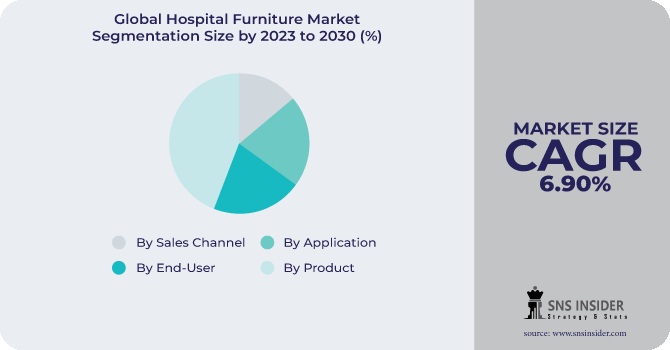 REGIONAL COVERAGE:
North America
Europe
Germany

UK

France

Italy

Spain

The Netherlands

Rest of Europe
Asia-Pacific
Japan

South Korea

China

India

Australia

Rest of Asia-Pacific
The Middle East & Africa
Latin America
Brazil

Argentina

Rest of Latin American
REGIONAL ANALYSES
The dominance of North America is attributable to the region's robust healthcare sector and rising healthcare investment. Due to its fair distribution of hospitals and clinics as well as the government's attempts to offer the residents of the region better healthcare services, the Europe region ranks second in terms of market share.
Due to the infrastructure development in the healthcare sector, the Asian Pacific is anticipated to rise throughout the projection period. Other factors that are anticipated to contribute to the market expansion in this area include the rising elderly population and spending on healthcare services. According to estimates, the Latin America, Middle East, and Africa area will develop modestly as more healthcare facilities are built due to improvements and the fact that many people want comfort during their hospital visits and stays.
Key Players
Key players are Stryker, Invacare Corp., ARJO AB, Steris Plc., Medline Industries, Inc., Hill-Rom Holdings, Inc., Drive DeVilbiss Healthcare, GF Health Products, Inc., NAUSICAA Medical, Sunrise Medical (US) LLC, Herman Miller Furniture, Kovonox, Getinge AB and others.
RECENT DEVELOPMENT
Hill-Rom:
Hill-Rom provides a range of equipment to help with patient care, including patient lifts and smart beds. In October 2020, Stryker announced the global launch of ProCuity, the first and only fully wireless hospital bed in the market. This smart bed was created to help decrease in-hospital patient falls across the board, increase nurse productivity and safety, and assist in bringing down hospital expenses.
Hospital Furniture Market Report Scope:
Report Attributes
Details
Market Size in 2022
US$ 9.14 Bn
Market Size by 2030
US$ 15.58 Bn
CAGR
CAGR of 6.90 % From 2023 to 2030
Base Year
2022
Forecast Period
2023-2030
Historical Data
2020-2021
Report Scope & Coverage
Market Size, Segments Analysis, Competitive Landscape, Regional Analysis, DROC & SWOT Analysis, Forecast Outlook
Key Segments
• By Product (Beds, Tables, Seating Furniture, Trolley and Stretchers, Cabinet and Lockers, Others)
• By Sales Channel (Offline, Online)
• By Application (Physician, Patient, Staff)
• By End-User (Homecare, Hospital and Clinic, Ambulatory Surgical Centers)
Regional Analysis/Coverage
North America (USA, Canada, Mexico), Europe
(Germany, UK, France, Italy, Spain, Netherlands,
Rest of Europe), Asia-Pacific (Japan, South Korea,
China, India, Australia, Rest of Asia-Pacific), The
Middle East & Africa (Israel, UAE, South Africa,
Rest of Middle East & Africa), Latin America (Brazil, Argentina, Rest of Latin America)
Company Profiles
Stryker, Invacare Corp., ARJO AB, Steris Plc., Medline Industries, Inc., Hill-Rom Holdings, Inc., Drive DeVilbiss Healthcare, GF Health Products, Inc., NAUSICAA Medical, Sunrise Medical (US) LLC, Herman Miller Furniture, Kovonox, Getinge AB and others.
Key Drivers
• Focus on Patient Comfort and Satisfaction and Technological Advancements as Healthcare Expenditures Rise.
Market Opportunities
• Infrastructure for Healthcare is Growing
• Infection control is emphasized.