Report scope & Overview :
Hormone Replacement Therapy Market size was valued at USD 14.98 billion in 2022 and is expected to reach at USD 23.70 billion by 2030, and grow at a CAGR of 5.9% over the forecast period of 2023-2030.
In order to cure symptoms brought on by hormonal imbalances or deficiencies, a medical procedure known as hormone replacement therapy (HRT) involves adding extra hormones to the body or replacing those that are already there. Although it can be prescribed for other diseases as well, it is most frequently used to treat the symptoms that women experience during the menopause. A woman's ovaries gradually generate fewer hormones, especially oestrogen and progesterone, during menopause. Numerous symptoms, including hot flashes, nocturnal sweats, mood swings, vaginal dryness, and sleep difficulties, might be brought on by this hormonal drop. HRT seeks to reduce these symptoms and raise the general standard of living for menopausal women.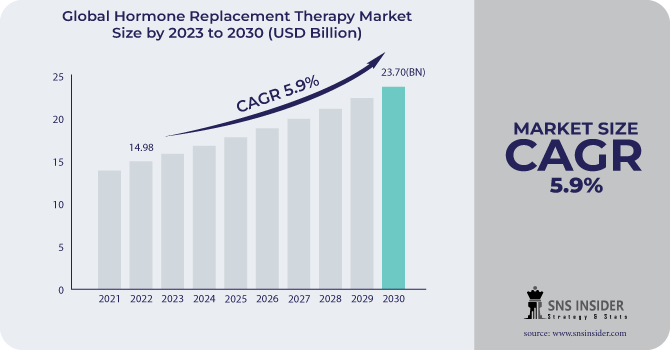 HRT can be given in a variety of ways, including tablets, patches, gels, lotions, vaginal rings, and more. Various elements, including personal preferences, medical history, and the particular symptoms being treated, affect the administration method choice.
The major types of HRT are Combined and Oestrogen-only HRT. While HRT can effectively control menopausal symptoms, it is crucial to remember that there are hazards involved. HRT use over an extended period of time has been linked to a number of health issues, including an elevated risk of blood clots, stroke, heart disease, and breast cancer. However, each person should undergo a personalised assessment of the dangers and advantages of HRT, taking into consideration their age, medical history, and personal preferences. For those on HRT, regular monitoring and medical expert visits are essential.
Market Dynamics :
Driver :
The use of HRT has changed over time as a result of a variety of variables, including alterations in medical recommendations, more public awareness, and shifting opinions on hormone therapy. Changes in the population, advances in medical science, and shifting cultural perspectives on disorders linked to hormones can all have an impact on the popularity and usage of HRT.
Restrain :
The use of HRT may be contraindicated due to certain medical issues. For instance, because to the elevated risks involved with these illnesses, HRT may not be recommended for those with a history of certain types of breast or uterine cancer, blood clots, liver disease, uncontrolled high blood pressure, or a history of stroke.
Opportunity :
It has been discovered that HRT, particularly oestrogen therapy, may have potential preventive effects on a number of conditions. For instance, by maintaining bone density and lowering the risk of fractures, it can aid in lowering the risk of osteoporosis. In addition, early HRT initiation in menopausal women may offer cardiovascular advantages, including increased arterial flexibility and a lower risk of heart disease.
Challenge :
HRT carries certain health risks, and the equilibrium between benefits and risks should be carefully assessed for each individual. An increased risk of blood clots, heart disease, stroke, breast cancer, and gallbladder disease are some of the hazards connected with HRT. Various factors, including age, the type of hormone administered, the length of the treatment, and a person's health profile, can affect the risks.
Impact of Russia Ukraine War :
Financial hardships brought on by economic downturns can make it challenging for people to pay for the costs of HRT, including prescription drugs, doctor visits, and laboratory testing. Financial difficulties in receiving HRT may be made worse by insufficient coverage from insurance or changes to insurance policies. Due to financial worries, people may use their healthcare services less frequently overall during a recession. This can entail putting off or skipping unnecessary doctor visits, which might influence HRT-related monitoring and follow-up visits.
Market Segmentation :
By Therapy Type
Estrogen Hormone replacement Therapy

Human growth Hormone Replacement Therapy

Testosterone Hormone replacement Therapy

Others
By Route of Administration
By Indication
Menopause

Hypothyroidism

Others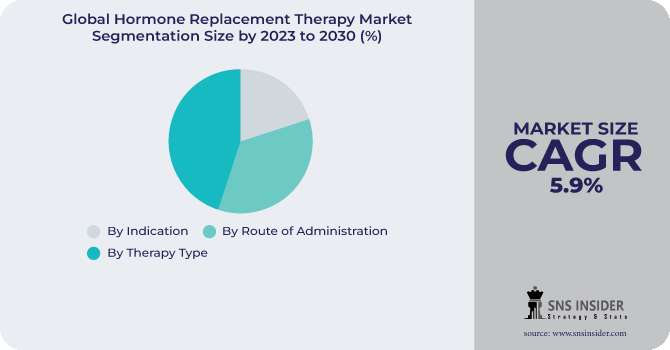 Regional Analysis :
Due to an increase in generic hormone replacement therapy product launches by manufacturers, an increase in the target market, innovations in drug delivery systems, and the development of new formulations, the North American market saw the greatest increase in terms of revenue in 2019. On the other hand, the Asia-Pacific market is anticipated to experience the largest CAGR in terms of revenue over the course of the forecast period due to rising awareness of hormone replacement therapy, an alarming rise in diabetes prevalence, and an increased focus on treating hormonal deficiencies among healthcare providers in China, India, and Japan.
Key Players
The major key players are Eli Lilly and Company, Hisamitsu Pharmaceutical Co, Pfizer, Bayer Ag, Abbott Laboratories, Novo Nordisk, Novartis International, Merck KGAA, Hoffmann- LA Roche Ltd.
Hisamitsu Pharmaceutical Co​​​​​​​-Company Financial Analysis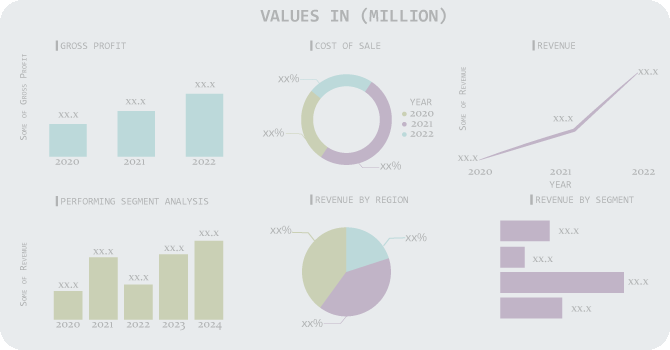 ​​​​​​​
Hormone Replacement Therapy Market Report Scope:
Report Attributes
Details
Market Size in 2022
US$ 14.98 Bn
Market Size by 2030
US$ 23.70 Bn
CAGR
CAGR of 5.9 % From 2023 to 2030
Base Year
2022
Forecast Period
2023-2030
Historical Data
2020-2021
Report Scope & Coverage
Market Size, Segments Analysis, Competitive Landscape, Regional Analysis, DROC & SWOT Analysis, Forecast Outlook
Key Segments
• By Therapy Type (Estrogen Hormone Replacement Therapy, Human growth hormone Replacement Therapy, Testosterone Hormone replacement Therapy, Others)
• By route of Administration (Oral, Parenteral, Others)
• By Indication (Menopause, Hypothyroidism, Others)
Regional Analysis/Coverage
North America (USA, Canada, Mexico), Europe
(Germany, UK, France, Italy, Spain, Netherlands,
Rest of Europe), Asia-Pacific (Japan, South Korea,
China, India, Australia, Rest of Asia-Pacific), The
Middle East & Africa (Israel, UAE, South Africa,
Rest of Middle East & Africa), Latin America (Brazil, Argentina, Rest of Latin America)
Company Profiles
Eli Lilly and Company, Hisamitsu Pharmaceutical Co, Pfizer, Bayer Ag, Abbott Laboratories, Novo Nordisk, Novartis International, Merck KGAA, Hoffmann- LA Roche Ltd.
Key Drivers
• The rise in the awareness of the HRT.
Market Opportunities
• Prevention and treatment of specific medical disorders