Report Scope & Overview:
Industrial Endoscope Market size was valued at USD 29.1 billion in 2022 and is expected to grow to USD 50.37 billion by 2030 and grow at a CAGR of 7.1% over the forecast period of 2023-2030.
Endoscopes are used in this operation to inspect the interior of the body's hollow organs or cavities. These devices are inserted into the body by natural openings or cavities, such as the anus and mouth, or through incisions, as in arthroscopy. Endoscopy devices include additional components, such as a camera or light source at the tip of endoscopes, which aid physicians or medical professionals, such as endoscopists, in analyzing internal organs of interest. Endoscopy can be performed to look into symptoms.
The stomach, esophagus, and intestines are all parts of the digestive tract. The rising prevalence of functional gastrointestinal illnesses such as irritable bowel syndrome (IBS), functional constipation, and functional dyspepsia is also likely to drive endoscopic device use and market growth in the coming years. For example, in 2022, an international study published in the Gastroenterology journal on 33 nations found that over 40.1% of people worldwide have functional gastrointestinal diseases.
Furthermore, obesity is a developing major health problem worldwide as a result of poor lives and diets.
Obesity is anticipated to rise significantly by 2030, according to research from the Organization for Economic Cooperation and Development (OECD). Obesity is anticipated to affect about 47%, 39%, and 35% of the population in the United States, Mexico, and England, respectively, by 2030. The most successful therapy option for significant weight loss is bariatric surgery. However, the advent of minimally invasive endoscopic sleeve gastroplasty operations has resulted in dramatic reductions in stomach capacity.
KEY DRIVERS:
Endoscopes allow a unique look inside equipment and installations. They are appropriate for inspection and maintenance in the manufacturing sector, workshops, and private settings such as research and university laboratories. Place the flexible wire near the region to be investigated so that the workings inside can be seen. Because of its flexible cable, lightweight, and high-quality optical components, it is possible to clearly examine issue spots and analyze the state without removing the machine. The water-resistant tube and lenses allow for submerged inspection components quickly.
RESTRAIN:
OPPORTUNITY:
Non-destructive inspections are those that assess the airworthiness of aircraft components without causing damage to them. The majority of these examinations are visual exams. These exams necessitate the use of articulating video borescopes. They send images to places that the technician's eyes cannot view. Technicians must be able to spot cracks, buildup, corrosion, damaged pistons, and other faults in order to conduct a thorough assessment. Non-destructive maintenance inspections verify that an aircraft's components are still completely functional, allowing the jet to fly with little interruptions during its frantic flight schedule.
CHALLENGES:
The high-value manufacturing theme is increasingly embracing a shift in service strategy, with manufacturers taking on system responsibility, leading to next-generation solutions such as industrial product service systems. Furthermore, the shift in service responsibilities has resulted in the development of solution-based systems that track the total cost of ownership of the product during its full life cycle. These solutions are based on critical service selections that ensure the system's continuous and fault-free operation, hence extending the product's life.
IMPACT ANALYSIS
IMPACT OF ONGOING RECESSION
The ongoing recession has had a huge influence on the world economy, especially the Endoscopy Systems market. With the global implementation of sudden lockdowns and social distancing measures, several industries and enterprises have been adversely impacted, resulting in a drop in demand for specific products and services. The Endoscopy Systems market is no different, and it has also seen a fall in demand over the last few years pandemic.
The epidemic has interrupted industrial processes and altered the supply chain, resulting in a shortage of raw materials and a delay in product delivery. This circumstance has resulted in a decrease in Endoscopy Systems product production and sales. Furthermore, the pandemic's uncertainty has resulted in a fall in consumer expenditure, which has hurt the Endoscopy Systems industry. However, the Endoscopy Systems market has seen a surge in demand in several areas, such as healthcare and manufacturing. Because of the pandemic, people are turning to e-commerce.
MARKET SEGMENTATION
By Product
By Application
Gastrointestinal Endoscopy

Laparoscopy

Obstetrics/ Gynecology Endoscopy

Arthroscopy

Urology Endoscopy (Cystoscopy)

Bronchoscopy

Ent Endoscopy

Mediastinoscopy

Other Applications
By End User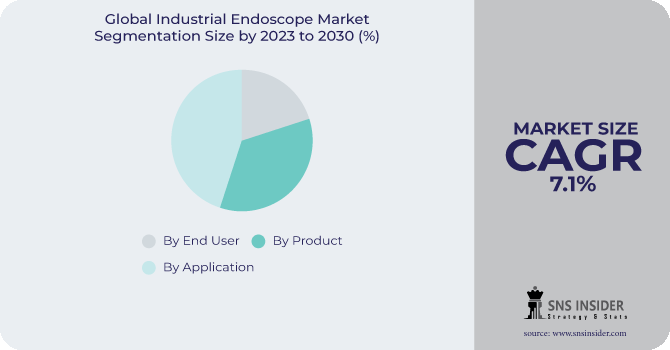 REGIONAL ANALYSIS
North America dominated the market in 2022, accounting for more than 41.5% of worldwide sales. Because of the increased use of elective endoscopic treatments, better healthcare expenditure, and a large senior population, the regional market is expected to maintain its dominating position over the projection period. Furthermore, the high prevalence of cancer and functional gastrointestinal problems in the United States is expected to drive the market throughout the forecast period. According to the American Cancer Society, around 1.92 million new cancer cases are expected to be diagnosed in the United States in 2022.
The Asia-Pacific Industrial Endoscope Market is estimated to develop at the quickest rate during the forecast period. China has the world's second-largest domestic aviation market and the fastest growing year-over-year passenger traffic growth rate of 9.6%. The expanding public and private sector investments in Japan's aerospace industry are predicted to fuel demand for the industrial endoscope market. Imported airplanes, aviation parts, and engines continue to be popular in Japan.
REGIONAL COVERAGE:
North America
Europe
Eastern Europe

Poland

Romania

Hungary

Turkey

Rest of Eastern Europe

Western Europe

Germany

France

UK

Italy

Spain

Netherlands

Switzerland

Austria

Rest of Western Europe
Asia Pacific
China

India

Japan

South Korea

Vietnam

Singapore

Australia

Rest of Asia Pacific
Middle East & Africa
Middle East

UAE

Egypt

Saudi Arabia

Qatar

Rest of Middle East

Africa

Nigeria

South Africa

Rest of Africa
Latin America
Brazil

Argentina

Colombia

Rest of Latin America
KEY PLAYERS
Key players in the Endoscopy Equipment Market are Olympus Corporation (Japan), KARL STORZ SE & Co. KG (Germany), Stryker Corporation (US), Boston Scientific Corporation (US), JOHNSON & JOHNSON (US), Fujifilm Holdings Corporation (Japan), Medtronic Inc. (Ireland), Hoya Corporation (Japan), Nipro Corporation (Japan), Smith & Nephew Plc (UK), Richard Wolf GmbH (Germany), ConMed Corporation (US), Intuitive Surgical, Inc. (US) and other players are listed in a final report.
RECENT DEVELOPMENT
In May 2023, Olympus Corporation announced FDA approval and plans to sell the new product. EVIS X1 endoscopic system. The company also revealed plans to launch two gastrointestinal products. GIF-1100 gastrointestinal videoscope and CF-HQ1100DL/ endoscopes are system-compatible colonovideoscope.

In April 2023, PENTAX Medical announced the release of the INSPIRA premium video processor and a video I20c endoscope series. The INSPIRA video processor connects the company's older systems endoscopes with excellent image quality, whereas the i20c series of video endoscopes supports medical procedures. Procedures with exceptional eyesight and ergonomics.

In February 2023, KARL STORZ announced the acquisition of AventaMed in Ireland. The goal of this is the acquisition was made to help KARL STORZ become a forward-thinking partner for ENT practitioners' endoscopic therapeutic objectives and enable various places of care to provide more inventive solutions for the patients.
FUJIFILM India announced the extension of their line of endoscopic technologies for therapeutic and cancer-related gastrointestinal applications in January 2023. This includes the release of the products FushKnife and ClutchCutter, completing the company's endoscopic product suite.

Boston Scientific Corporation announced plans to acquire Apollo Endosurgery, Inc. in November 2022. This acquisition was made to allow Boston Scientific to broaden its global capabilities in endoluminal surgery and gradually enter the endobariatric industry.

Industrial Endoscope Market Report Scope:

| | |
| --- | --- |
| Report Attributes | Details |
| Market Size in 2022 | US$ 29.1 Bn |
| Market Size by 2030 | US$ 50.37 Bn |
| CAGR | CAGR of 7.1% From 2023 to 2030 |
| Base Year | 2022 |
| Forecast Period | 2023-2030 |
| Historical Data | 2019-2021 |
| Report Scope & Coverage | Market Size, Segments Analysis, Competitive Landscape, Regional Analysis, DROC & SWOT Analysis, Forecast Outlook |
| Key Segments | By Product (Endoscope, Visualization System, Other Endoscope Equipment, Accessories), By Application (Gastrointestinal Endoscopy, Laparoscopy, Obstetrics/ Gynecology Endoscopy, Arthroscopy, Urology Endoscopy (Cystoscopy), Bronchoscopy, Ent Endoscopy, Mediastinoscopy, Other Applications), By End User (Hospitals, Ambulatory Surgery centers/Clinics, Other End Users) |
| Regional Analysis/Coverage | North America (US, Canada, Mexico), Europe (Eastern Europe [Poland, Romania, Hungary, Turkey, Rest of Eastern Europe] Western Europe] Germany, France, UK, Italy, Spain, Netherlands, Switzerland, Austria, Rest of Western Europe]), Asia Pacific (China, India, Japan, South Korea, Vietnam, Singapore, Australia, Rest of Asia Pacific), Middle East & Africa (Middle East [UAE, Egypt, Saudi Arabia, Qatar, Rest of Middle East], Africa [Nigeria, South Africa, Rest of Africa], Latin America (Brazil, Argentina, Colombia Rest of Latin America) |
| Company Profiles | Olympus Corporation (Japan), KARL STORZ SE & Co. KG (Germany), Stryker Corporation (US), Boston Scientific Corporation (US), JOHNSON & JOHNSON (US), Fujifilm Holdings Corporation (Japan), Medtronic Inc. (Ireland), Hoya Corporation (Japan), Nipro Corporation (Japan), Smith & Nephew Plc (UK), Richard Wolf GmbH (Germany), ConMed Corporation (US) |
| Market Opportunities | •Increase in demand for minimally invasive surgical techniques and, endoscopic instruments •Increasing global prevalence of disorders requiring endoscopic operations |
| Market Challenges | •High cost of manufacturing |