Report Scope & Overview:
IoT in Construction Market is anticipated to develop at a CAGR of 15.98% from 2023 to 2030, from a value of USD 12.5 billion in 2022 to USD 40.93 billion in 2030.
The Internet of Things (IoT) plays a crucial role in the construction sector by leveraging electronically connected machinery and software to optimize resource utilization, implement a well-planned technical strategy, and effectively manage construction costs. Through IoT, a centralized server enables seamless connectivity between workers, inventory, and equipment, allowing for real-time monitoring and control of their operations. Presently, the construction industry relies on a diverse array of gadgets for multifaceted tasks.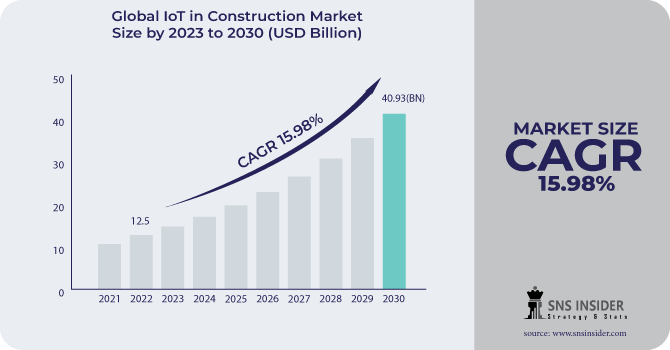 The building industry involves a substantial amount of labor and potential hazards. According to the Occupational Safety and Health Administration (OSHA), a division of the U.S. Department of Labor, there are approximately 251,500 construction sites in the United States employing around 6.49 million people. Unfortunately, the construction industry has a significantly higher rate of fatal injuries compared to other industries in the country. These injuries often result from risks such as trench collapse, falls, scaffold collapse, lack of proper protective equipment, repetitive motion injuries, and more.
To address these safety concerns, the integration of Internet of Things (IoT) technology into construction has become increasingly important. By utilizing smart wearables like smart glasses, wearable sensors, safety vests, wearable exoskeletons, and smart helmets, real-time safety management on construction sites is made possible. These devices enable active monitoring of workers' vital signs, such as breathing rate and heart rate, as well as their body's response to the work environment.
By implementing IoT technology and wearable devices, construction companies can enhance safety measures and reduce the risk of accidents. the ability to monitor and analyze data collected from these wearable technologies provides valuable insights into improving safety protocols and preventing future incidents.
Market Dynamics
Drivers
Improving Productivity through the Use of IoT on Construction Sites.

Concern related to workers Safety drives the demands for the market.
The construction industry stands to benefit greatly from the implementation of IoT technology. Already proven successful in healthcare, manufacturing, automotive, and other sectors where efficient systems management and automation are paramount, IoT has the potential to revolutionize safety and productivity on construction sites.
By interconnecting devices and systems, IoT enables them to sync with a central server, simplifying monitoring processes. This allows supervisors to carry out their tasks with greater efficiency and gain a comprehensive understanding of all aspects of a project. Furthermore, supervisors are able to address issues firsthand, enabling them to swiftly tackle any challenges that arise. IoT also plays a crucial role in reducing downtime and preventing machine failure. Through IoT, the movement, status, and progress of machinery can be controlled and reported in real-time, providing an unprecedented level of precision. This connectivity is invaluable for planning and coordinating other activities, ultimately leading to increased productivity and reduced delays.
Restrains
While the Internet of Things (IoT) presents numerous benefits and potential cost savings in the construction sector, the initial investment required to implement this technology is substantial. For example, the Building Information Modeling (BIM) software utilized for 3D modeling can range from USD 3,100 to USD 5,200. Moreover, the software necessitates a significant amount of training to effectively utilize its capabilities. In addition to the software expenses, the costs associated with training and services are also considerable. It is worth noting that in certain countries, the wages provided to workers in the construction industry are significantly low. Consequently, construction companies may be hesitant to adopt IoT technology as it further increases the overall project costs. This reluctance stems from the belief that the benefits of IoT may not outweigh the financial burden it imposes.
Opportunities
An increase in quick construction demand are creates an opportunity for the market.

The government's approach towards the establishment of smart cities is set to significantly enhance the demand for the Internet of Things (IoT) in the construction industry.
Challenges
Impact of the Russia-Ukraine
Geopolitical tensions and economic sanctions can lead to global economic uncertainty, which affects construction projects. When economic conditions are uncertain, construction companies may delay or cancel IoT-related projects due to financial concerns. Geopolitical events can lead to changes in regulations and trade policies that impact IoT in construction. For example, changes in import/export regulations, data transfer agreements, and intellectual property protections can affect the flow of IoT technology and related services. The war has created geopolitical instability, which can affect the willingness of construction companies to invest in long-term projects. Instability can lead to delays or project cancellations, which, in turn, may impact the adoption of IoT solutions. Conflict can damage physical infrastructure, making it challenging to deploy and maintain IoT devices in certain areas. Construction companies may need to divert resources from IoT projects to repair and secure infrastructure affected by the conflict. Geopolitical conflicts can lead to an increased focus on building resilient infrastructure and construction projects. This may drive construction companies to invest in IoT solutions that enhance project resilience and adaptability to changing circumstances. Investors may become more cautious about investing in construction-related IoT startups or projects in regions affected by geopolitical conflicts. This could impact the flow of capital into the industry.
Impact of Recession
During a recession, construction projects are often delayed or canceled due to economic uncertainty and reduced funding. This can affect the adoption of IoT in construction, as companies may delay or scale back investments in new technologies. On the flip side, a recession can drive construction companies to seek cost reductions and improve efficiency. IoT can play a crucial role in achieving these goals by optimizing resource allocation, reducing energy consumption, and enhancing project management. As construction companies seek ways to do more with less, they may turn to IoT solutions. Maintaining a safe work environment and ensuring regulatory compliance are top priorities in the construction industry. IoT can help in this regard by providing real-time monitoring and data collection on equipment, worker safety, and environmental conditions. During a recession, regulatory scrutiny might increase, making IoT solutions more attractive. Companies with a long-term perspective may continue to invest in IoT during a recession, viewing it as a strategic move to position themselves for future growth when the economy rebounds.
Key Market Segmentation
By Application
Remote Operations

Safety Management

Fleet Management

Predictive Maintenance

Others
By Offering
Hardware

Software

Services
By End-use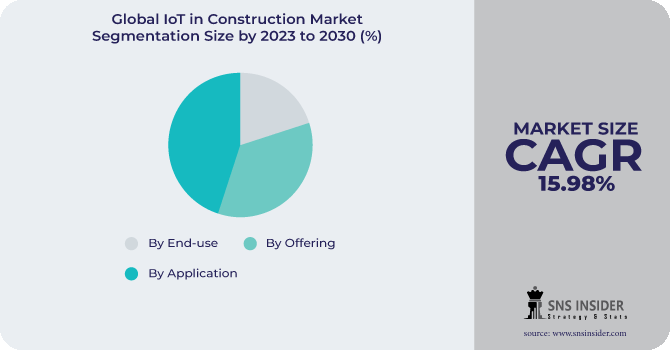 The IoT in the construction market has been categorized into hardware, software, and services based on the offerings. It is projected that the software segment will hold the largest share in the overall IoT in construction market. This can be attributed to the persistent efforts of companies in developing software that effectively represents multiple parameters on the dashboard, as well as the growing utilization of analytics for enhanced decision-making. As a result, there is a rising demand for software in this sector.
Regional Analysis
North America holds the title of being the largest IoT in the construction market, and this trend is expected to persist. The North American region can be further divided into the United States, Mexico, and Canada. The dominance of North America in this market can be attributed to the widespread acceptance of IoT in construction by various construction OEMs in the region. Notably, many key players in the IoT in the construction market, such as Oracle Corporation, Caterpillar Inc., and CalAmp Corp., have their headquarters in North America. Moreover, the region is witnessing a surge in investment in infrastructure and construction projects, which is a significant driving force behind the increasing adoption of IoT in the North American construction industry.
The European market is poised to experience the highest Compound Annual Growth Rate (CAGR) throughout the forecast period. This growth can be attributed to remarkable technological advancements and a surge in residential construction recovery. Moreover, Europe is expected to exhibit the largest incremental potential among all regional markets during this period.
The Asia Pacific IoT in construction market is anticipated to witness substantial growth in the forecast period. This can be attributed to the widespread adoption of cutting-edge technologies in the region. Additionally, the rapid urbanization and robust expansion of the construction industry in countries like China, India, Japan, and Singapore are expected to fuel the adoption of IoT technology in the construction sector.
REGIONAL COVERAGE:
North America
Europe
Eastern Europe

Poland

Romania

Hungary

Turkey

Rest of Eastern Europe

Western Europe

Germany

France

UK

Italy

Spain

Netherlands

Switzerland

Austria

Rest of Western Europe
Asia Pacific
China

India

Japan

South Korea

Vietnam

Singapore

Australia

Rest of Asia Pacific
Middle East & Africa
Middle East

UAE

Egypt

Saudi Arabia

Qatar

Rest of Middle East

Africa

Nigeria

South Africa

Rest of Africa
Latin America
Brazil

Argentina

Colombia

Rest of Latin America
Key Players:
The major players in the market are Oracle Corporation, Hexagon AB, Trimble, Inc., Hilti Corporation, CalAmp Corporation, Advanced Opto-Mechanical Systems and Technologies Inc., Pillar Technologies, Inc., WorldSensing, Autodesk, Inc., Triax Technologies, Inc. Topcon Corporation, and others in the final report.
Oracle Corporation-Company Financial Analysis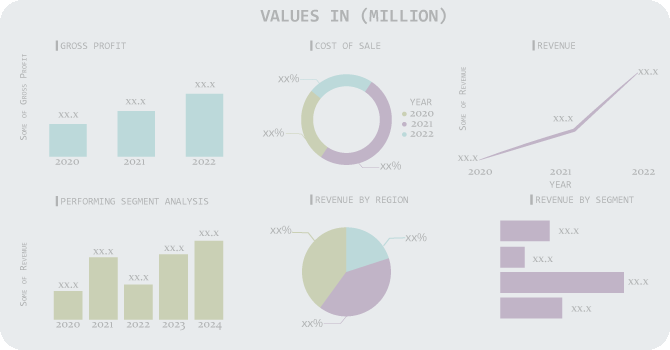 Recent development
In May 2022, Giatec Scientific, Inc. formed a strategic partnership with Heidelberg Cement to revolutionize the concrete industry and enhance Heidelberg Cement's digital offerings through the implementation of Giatec's cutting-edge technology. This collaboration has not only expanded Heidelberg Cement's global presence but also solidified its position in over 50 countries worldwide.
In October 2021, Hilti Corporation unveiled its latest innovation, the Jaibot, a cutting-edge semi-autonomous mobile ceiling drilling robot specifically designed for the construction industry. The Hilti Jaibot revolutionizes construction practices by addressing key challenges such as productivity, labor safety, and the ongoing labor shortage. With its launch, Hilti aims to spearhead the digitization of construction sites, ushering in a new era of efficiency and technological advancement.
Similarly, in February 2021, Oracle introduced a groundbreaking suite of solutions tailored for the construction industry. Leveraging the power of artificial intelligence (AI), these innovative applications enable users to analyze project data with unparalleled precision. By harnessing AI technology, Oracle empowers construction professionals to identify potential risks and make well-informed decisions, ultimately enhancing project outcomes.
In October 2019, Trimble Inc. made an exciting announcement regarding its acquisition of Azteca Systems LLC, a US-based company also known as Cityworks. This strategic move by Trimble aims to broaden its portfolio for Architecture, Engineering, and Construction (AEC) firms, as well as software system integrators.
Global IoT in Construction Market Report Scope
Report Attributes
Details
Market Size in 2022
US$ 12.5 Bn
Market Size by 2030
US$ 40.93 Bn
CAGR
CAGR of 15.98 % From 2023 to 2030
Base Year
2022
Forecast Period
2023-2030
Historical Data
2019-2021
Report Scope & Coverage
Market Size, Segments Analysis, Competitive Landscape, Regional Analysis, DROC & SWOT Analysis, Forecast Outlook
Key Segments
• By Application (Remote Operations, Safety Management, Fleet Management, Predictive Maintenance, Others)
• By Offering (Hardware, Software, Services)
• By End-use (Commercial, Residential)
Regional Analysis/Coverage
North America (US, Canada, Mexico), Europe (Eastern Europe [Poland, Romania, Hungary, Turkey, Rest of Eastern Europe] Western Europe] Germany, France, UK, Italy, Spain, Netherlands, Switzerland, Austria, Rest of Western Europe]), Asia Pacific (China, India, Japan, South Korea, Vietnam, Singapore, Australia, Rest of Asia Pacific), Middle East & Africa (Middle East [UAE, Egypt, Saudi Arabia, Qatar, Rest of Middle East], Africa [Nigeria, South Africa, Rest of Africa], Latin America (Brazil, Argentina, Colombia Rest of Latin America)
Company Profiles
Oracle Corporation, Hexagon AB, Trimble, Inc., Hilti Corporation, CalAmp Corporation, Advanced Opto-Mechanical Systems and Technologies Inc., Pillar Technologies, Inc., WorldSensing, Autodesk, Inc., Triax Technologies, Inc. Topcon Corporation
Key Drivers
• Improving Productivity through the Use of IoT on Construction Sites.
• Concern related to workers Safety drives the demands for the market.
Market Restraints
• The High Initial Cost of Internet of Things (IoT) in the Construction Industry