Report Scope & Overview:
IoT Telecom Services Market size was valued at USD 25.40 Bn in 2022 and is expected to reach USD 485.60 Bn by 2030, and grow at a CAGR of 44.6% over the forecast period 2023-2030.
The Internet of Things (IoT) telecom services is a set of services provided by telecom companies to their commercial clients in order to facilitate the deployment of smart connectivity technologies into their networks and business processes. These services include improved data security and privacy, interoperability, asset management, real-time analytics, and more. Telcos are largely using IoT telecom services to guarantee vital machine-centric connections for their commercial clients. IoT telecom services primarily address the vital demand for continuous connectivity and smart network monitoring.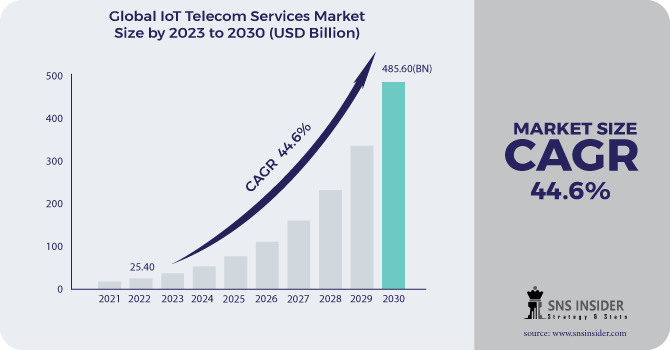 To get more information on IoT Telecom Services Market - Request Sample Report
One of the most highly advanced sectors is telecommunications. Furthermore, it was one of the first few businesses to embrace the Internet of Things (IoT) to improve business analytics, make distant sites safer, and cut costs. IoT for telecom is continually being developed and improved to assist the industry tackle some of its most pressing difficulties, such as assuring consistent service quality. The following are some of the most important IoT developments in telecom that will have an impact in the next years.
With the aid of IoT, data may be streamed in real-time.

5G in the Telecom Industry IoT Solutions, as the marriage of 5G with IoT is likely to open up a whole new world of possibilities for telecom companies.

Narrowband IoT is a protocol used by telecoms to link IoT devices to their networks, and it is a narrowband radio technology for IoT devices.

Roaming capabilities in IoT devices mean that they can connect to a cellular network even if the primary telco does not have any infrastructure.

Artificial IoT, or Artificial Intelligence in the Internet of Things, is transforming the telecom industry by utilizing cognitive systems to make more experienced and context-based judgments.
The Internet of Things is a fantastic complement to the telecom business. Emerging IoT technologies such as 5G and big data will enable the sector to reap significant benefits and diversify its service portfolio with a variety of IoT-enabled services in areas such as smart city development, smart retail, asset tracking, and more.
MARKET DYNAMICS:
KEY DRIVERS:
Telecom Cloud Adoption Is Growing.

Telcos Using Traditional Telecom Services to Promote Over-The-Top Application Deployment.

In communication operations, there is a need for smart network bandwidth management and automation.

Smart Connected Devices are becoming more widely used.
RESTRAINTS:
Spectrum Allocation Regulations.

Ott Players and Telecom Operators' Monetization and Billing Issues.
OPPORTUNITY:
Smart Technology and Distributed Applications Are Becoming More Popular.

The introduction of low-power, long-range NB-IoT technology is giving telecom operators more power.

Next-Generation Wireless Networks are Changing.
CHALLENGES:
Concerns about data security and privacy.

Interoperability and data management issues.
IMPACT OF COVID-19:
The development of COVID-19 sickness has wreaked havoc on the world's population. There isn't a single big industrial country remaining that hasn't been struck by the sickness. The epidemic has had a significant impact on the business environment in practically all major nations. Following the outbreak, numerous countries went under lockdown for months. It was a vital step to exercise social distance and slow the spread of the disease. As a result, the IoT Telecom sector has been impacted as well. It is difficult to determine the impact of the pandemic on the market in question. On the one hand, there is a scarcity of investments in technology domains as a result of the catastrophic economics. In small and medium businesses, technology product consumption has dropped dramatically (SMEs). On the other hand, increased market demand for IoT services in telecom industries is projected as a result of remote operations of official and corporate initiatives. According to current industry trends, sales of IoT Telecom services will continue to rise steadily in the near future. The need for new and growing industries is predicted to rise as a result of popular applications in the domains.
MARKET ESTIMATION:
Due to the advent of low-power high-range wireless connection technologies, the NB-IoT connectivity technology component of the market is expected to grow at the fastest rate over the projected period. During the forecast period, the market for transportation, logistics tracking, and traffic management applications is expected to develop at the fastest rate due to the use of smart technologies for traffic and logistics management. Network security management solution is predicted to expand at the fastest pace during the projection period, as it safeguards data and resources in a network via the use of firewalls and other IoT-enabled security solutions.
IoT Telecom Services Market has been divided into Network Management solutions into Network Performance Monitoring and Optimization, Network Traffic Management, Network Security Management, and Others. Because they safeguard data and resources in a network by leveraging firewalls and other IoT-enabled security solutions for efficient network management, network security management solutions are predicted to develop at a positive CAGR throughout the forecast period. An administrator may administer a network that comprises both physical and virtual firewalls from a single location using network security management.
To obtain visibility into network activity, automate device configuration, enforce global policies, examine firewall traffic, produce reports, and offer a uniform management interface for physical and virtual systems, administrators need network security management solutions. Network security management creates data for assets (asset classifications and groupings), firewalls, apps, ports, protocols, VPNs, NATs, security rules, and vendor devices, and gives total network visibility. This information is dissected and examined down to the level of individual devices.
KEY MARKET SEGMENTS:
On The Basis of Connectivity Technology
Cellular Technologies

LPWAN

NB-IoT

RF-Based
On The Basis of Network Management Solution
Network Performance Monitoring and Optimization

Network Traffic Management

Network Security Management
On The Basis of Service Type
Business Consulting Services

Device and Application Management Services

Installation and Integration Services

IoT Billing and Subscription Management

M2M Billing Management
On The Basis of Application
Smart Building and Home Automation

Capillary Networks Management

Industrial Manufacturing and Automation

Vehicle Telematics

Transportation, Logistics Tracking, and Traffic Management

Energy and Utilities

Smart Healthcare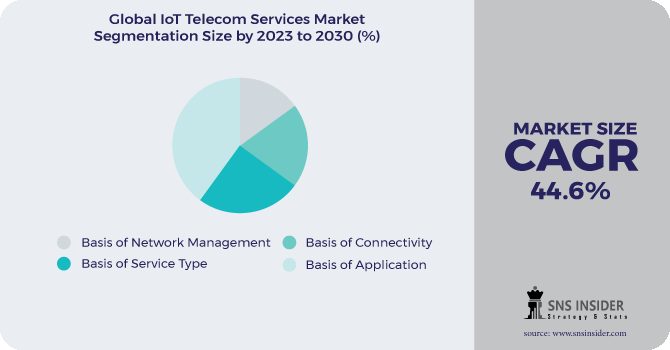 Need any customization research on IoT Telecom Services Market? - Ask For Customization
REGIONAL ANALYSIS:
Due to strict IoT legislation and the availability of a significant number of telecom Internet of Things service providers in this area, North America will be the largest market. The Telecom Internet of Things market in APAC is expected to grow at an exponential rate, and it is the fastest-growing region for the telecom Internet of the Things service market, owing to the growing smart device market and smart technology, as well as a large number of early adopters of smart technology.
REGIONAL COVERAGE:
North America

Europe

Germany

UK

France

Italy

Spain

The Netherlands

Rest of Europe

Asia-Pacific

Japan

south Korea

China

India

Australia

Rest of Asia-Pacific

The Middle East & Africa

Latin America

Brazil

Argentina

Rest of Latin America
KEY PLAYERS:
The major key players are AT&T, Inc., Deutsche Telekom AG, Huawei Technologies Co., Ltd, Ericsson, Verizon Communications, Inc., Aeris, China Mobile Ltd., Vodafone Group PLC., T-Mobile USA, Inc., Sprint Corporation & Other Players
IoT Telecom Services Market Report Scope:
Report Attributes
Details
Market Size in 2022
US$ 25.40 Bn
Market Size by 2030
US$ 485.60 Bn
CAGR
CAGR of 44.6% From 2023 to 2030
Base Year
2022
Forecast Period
2023-2030
Historical Data
2020-2021
Report Scope & Coverage
Market Size, Segments Analysis, Competitive Landscape, Regional Analysis, DROC & SWOT Analysis, Forecast Outlook
Key Segments
• by Connectivity Technology (Cellular Technologies, LPWAN, NB-IoT, RF-Based)
• by Network Management Solution (Network Performance Monitoring and Optimization, Network Traffic Management, Network Security Management)
• by Service Type (Business Consulting Services, Device and Application Management Services, Installation and Integration Services, IoT Billing and Subscription Management, M2M Billing Management)
• by Application (Smart Building and Home Automation, Capillary Networks Management, Industrial Manufacturing, and Automation, Vehicle Telematics, Transportation, Logistics Tracking, and Traffic Management, Energy and Utilities, Smart Healthcare)
Regional Analysis/Coverage
North America (USA, Canada, Mexico), Europe
(Germany, UK, France, Italy, Spain, Netherlands,
Rest of Europe), Asia-Pacific (Japan, South Korea,
China, India, Australia, Rest of Asia-Pacific), The
Middle East & Africa (Israel, UAE, South Africa,
Rest of Middle East & Africa), Latin America (Brazil, Argentina, Rest of Latin America)
Company Profiles
AT&T, Inc., Deutsche Telekom AG, Huawei Technologies Co., Ltd, Ericsson, Verizon Communications, Inc., Aeris, China Mobile Ltd., Vodafone Group PLC., T-Mobile USA, Inc., Sprint Corporation
Key Drivers
• Telecom Cloud Adoption Is Growing
• Smart Connected Devices are becoming more widely used
Market Challenges
• Concerns about data security and privacy
• Interoperability and data management issues