REPORT SCOPE & OVERVIEW
The Isoparaffin Solvents Market size was USD 831.9 million in 2022 and is expected to Reach USD 1095.4 million by 2030 and grow at a CAGR of 3.5% over the forecast period of 2023-2030.
Isoparaffin solvents are a type of hydrocarbon solvent that is non-polar and have a high solvency power. They are also relatively non-toxic and biodegradable, making them a safe and environmentally friendly alternative to other solvents. The growth of the market is attributed to the increasing demand for isoparaffin solvents in various industries, such as paints and coatings, metalworking, agrochemical formulation, polymers, cleaning, and personal care.
Based on applications in Metalworking, Paints & Coatings, Agrochemicals, Cleaning, Pharmaceuticals, and Others. The paint and coating category is the market's leading application. The solvents' features, such as high purity, surface tension, eco-friendliness, and low viscosity, make them ideal for use in paint and coating for building interiors and wood manufacturing, supporting market expansion.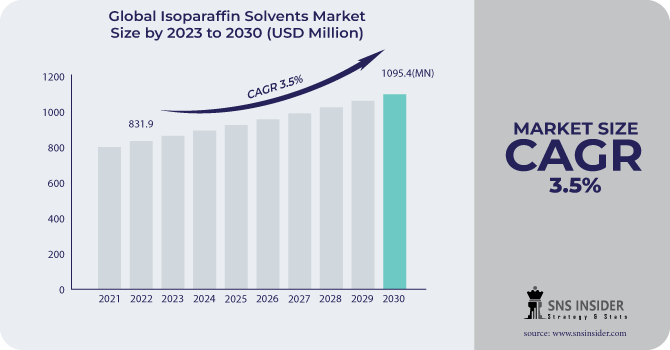 Isoparaffin solvents help to form or machine the appropriate shape and act as an insulating material to keep oxygen and moisture away from metal surfaces. Rising metal demand in the aerospace, manufacturing, and automotive industries will drive global product adoption.
MARKET DYNAMICS
KEY DRIVERS
Isoparaffin solvents are utilized in paints and coatings as diluents and thinners. They aid in the improvement of the flow and leveling capabilities of the paint, as well as the reduction of viscosity. Isoparaffin solvents are in high demand due to rising demand for paints and coatings. The paint and coatings sector consumes the most isoparaffin solvents. Isoparaffin solvents are found in many paints and coatings, including architectural paints, automobile paints, and industrial coatings. Isoparaffin solvents are in high demand due to rising demand for paints and coatings, particularly in developing nations. The construction industry is expected to drive product consumption, as demand for paints and coatings rises due to a healthy increase in building spending, particularly in Europe, the United States, and Japan.
RESTRAIN
Availability of alternative substitutes

High cost of isoparaffin solvents
Isoparaffin solvents are made from petroleum-derived naphtha, which is costly. Furthermore, the production procedure for these solvents is expensive, which raises the overall price of the end product. Furthermore, harmful gases and pollutants emitted during the chemical reaction of raw materials pose serious health and environmental risks.
Substitutes such as paraffin are commonly available and simple to manufacture, and raw materials acquisition is similarly simple. As a result, they have a reduced-price range. In addition, some minor personal care businesses are ramping up output. Because these businesses cannot afford pricey raw materials, they use more isoparaffin solvents.
OPPORTUNITY
Isoparaffin solvents are utilized as coolants and lubricants in metalworking applications. They aid in cooling the metal and preventing rusting, as well as reducing friction and wear. Solvents are utilized in the production of herbicides, insecticides, and fungicides. They aid in the dissolution of the active chemicals in these products, making them easier to apply. Sprayers and other application equipment are also cleaned with solvents. Pharmaceuticals, cleaning, and other applications are also possible.
CHALLENGES
Many governments are tightening controls on the manufacture and use of isoparaffin solvents. These laws make it more difficult and costlier for producers to generate isoparaffin solvents, thereby stifling demand. The European Union has prohibited the use of isoparaffin solvents in some applications, such as cosmetics manufacturing. As a result, demand for isoparaffin solvents has decreased in the European Union. The US Environmental Protection Agency (EPA) regulates volatile organic compound (VOC) emissions, which are a primary component of isoparaffin solvents.
IMPACT OF RUSSIAN UKRAINE WAR
The Russian market is expanding rapidly due to increased demand for isoparaffin industrial applications. With a market size of roughly $1.5 billion in 2021, the country is one of the world's largest users of isoparaffin. The growing use of isoparaffin in the automotive and construction industries is driving up demand for the commodity. The automotive industry is Russia's major consumer of isoparaffin, accounting for around 40% of the total market. The Russian isoparaffin market is very competitive, with multiple domestic and international competitors present. Gazprom Neft, Lukoil, SIBUR, and Rosneft, are among the market's significant companies.
IMPACT OF ONGOING RECESSION
During the recession, the market for isoparaffin is affected by price rise globally. Crude oil is used to make isoparaffin solvents. As a result, the cost of isoparaffin solvents fluctuates with the price of crude oil. It also changes depending on the availability of additional solvents, such as aromatic solvents. Russia, a member of OPEC+, is the third-biggest oil exporter after Saudi Arabia and the UAE. The United States recently prohibited the import of Russian oil and gas. Russia supplies about 3% of the United States oil and gas. Because the United States is not very reliant on Russia for energy, it can afford to reject Russian oil and gas. As a result, all end-use sectors such as construction, agrichemicals, metals, pharmaceuticals, and others are experiencing project delays.
MARKET SEGMENTATION
KEY MARKET SEGMENTS
By Application
Metalworking

Paints & Coatings

Agrochemicals

Cleaning

Pharmaceuticals

Other
REGIONAL ANALYSIS
North America has the greatest market for isoparaffin solvents. The greater share of the region is due to increased restrictions to decrease both the health and environmental impacts of solvents used in various industries. The increasing need for synthetic polyolefin in the production of packaging, textiles, and consumer items predicts market growth.
Europe is the rapidly growing cosmetics for isoparaffin solvents. The increasing consumption of personal care products, such as skincare, lip care, hair serum, and body wash, will propel the market. It is expected that favorable expansion in important areas such as construction and renovation, the agricultural sector, and the automotive industry will increase demand for isoparaffin solvents in Latin America.
Asia Pacific is the fastest-growing isoparaffin solvents market. Rapid industrialization and infrastructure development in this area resulted in market expansion. Because of the application of new technology in the fabrication of transportation equipment and industrial machinery, the metalworking industries in this region have advanced significantly.
The Middle East and Africa will be a slow-growing market for isoparaffin solvents. Solvents are increasingly being used in metalworking, paints and coatings, agrochemicals, cleaning, and pharmaceutical applications. The abundant availability of low-cost raw materials entices producers to establish a presence in this region.
REGIONAL COVERAGE
North America
Europe
Eastern Europe

Poland

Romania

Hungary

Turkey

Rest of Eastern Europe

Western Europe

Germany

France

UK

Italy

Spain

Netherlands

Switzerland

Austria

Rest of Western Europe
Asia Pacific
China

India

Japan

South Korea

Vietnam

Singapore

Australia

Rest of Asia Pacific
Middle East & Africa
Middle East

UAE

Egypt

Saudi Arabia

Qatar

Rest of Middle East

Africa

Nigeria

South Africa

Rest of Africa
Latin America
Brazil

Argentina

Colombia

Rest of Latin America
KEY PLAYERS
Chevron Phillips Chemical Company, Braskem S.A., Exxon Mobil Corporation, TotalEnergies SE, Idemitsu Kosan Co. Ltd, Royal Dutch Shell plc., INEOS, Luan Group, RB Products, Mehta Petro Refineries Ltd, and other key players are mentioned in the final report.
Isoparaffin Solvents Market Report Scope:

| | |
| --- | --- |
| Report Attributes | Details |
| Market Size in 2022 | US$ 831.9 Million |
| Market Size by 2030 | US$ 1095.4 Million |
| CAGR | CAGR of 3.5 % From 2023 to 2030 |
| Base Year | 2022 |
| Forecast Period | 2023-2030 |
| Historical Data | 2019-2021 |
| Report Scope & Coverage | Market Size, Segments Analysis, Competitive Landscape, Regional Analysis, DROC & SWOT Analysis, Forecast Outlook |
| Key Segments | • By Application (Metalworking, Paints & Coatings, Agrochemicals, Cleaning, Pharmaceuticals and Other) |
| Regional Analysis/Coverage | North America (US, Canada, Mexico), Europe (Eastern Europe [Poland, Romania, Hungary, Turkey, Rest of Eastern Europe] Western Europe] Germany, France, UK, Italy, Spain, Netherlands, Switzerland, Austria, Rest of Western Europe]), Asia Pacific (China, India, Japan, South Korea, Vietnam, Singapore, Australia, Rest of Asia Pacific), Middle East & Africa (Middle East [UAE, Egypt, Saudi Arabia, Qatar, Rest of Middle East], Africa [Nigeria, South Africa, Rest of Africa], Latin America (Brazil, Argentina, Colombia Rest of Latin America) |
| Company Profiles | Chevron Phillips Chemical Company, Braskem S.A., Exxon Mobil Corporation, TotalEnergies SE, Idemitsu Kosan Co. Ltd, Royal Dutch Shell plc., INEOS, Luan Group, RB Products, Mehta Petro Refineries Ltd |
| Key Drivers | • Rising consumption of the paint & coating industry |
| Market Opportunity | • Rising applications of solvent in end-user |