Report Scope & Overview:
Military Actuators Market Size was valued at USD 1.54 billion in 2022, expected to reach USD 2.41 billion by 2030, and grow at a CAGR of 5.81% over the forecast period 2023-2030.
Military and defence applications require significant force in confined spaces with greater precision control over position, speed, and force. Actuators are devices that help meet every requirement of defence and military applications, and their increased use in these sectors would be beneficial to the global market. The rise in terrorist attacks around the world, rising security concerns and political unrest, and the emergence of modern military programme all contribute to an increase in the deployment rate of military actuators. Technological advancements encourage the use of high-performance, high-quality products for a variety of military applications.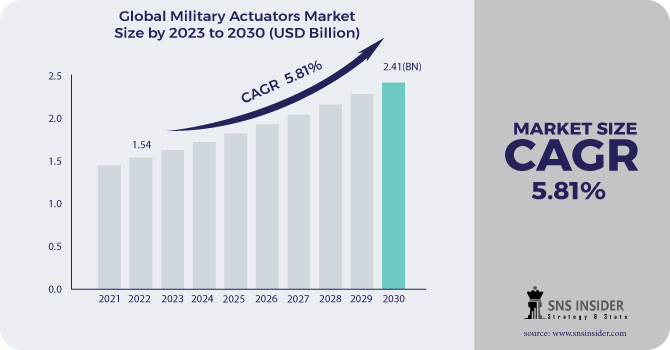 Increased border tensions between countries, such as India-Pakistan and China-India, as well as national unrest, such as Iran and Syria, compel government bodies to use advanced military equipment and spend on personal protection systems. Aside from that, the increased use of tanks, armoured vehicles, and various offshore patrol vehicles, as well as numerous aircraft and naval platforms, drives the demand for military actuators. Given the prominence of India, China, and several Asian nations facing homeland security issues, internal conflicts, and on-border tensions, Asia Pacific will present a series of appealing opportunities to international players.
MARKET DYNAMICS:
KEY DRIVERS:
The Aerospace and Defense Industries are increasing their demand for electrical actuators.

Military operations have seen an increase in the use of automated technologies.
RESTRAINTS:
CHALLENGES:
Issues Related to Noise, Leakage, and Power Consumption

Developing and strictly enforcing various regulatory standards
OPPORTUNITIES:
Precision Actuators System Technological Advancements

Miniaturized Military Actuators Development
THE IMPACT OF COVID-19
According to the MRFR, the current speculation of global military market growth to 2028 is expected to be lower than the previous COVID-19 estimates. The epidemic has had a devastating effect on the aviation, defense and maritime industry worldwide. In the defense industry, due to declining tax revenues by declining GDP, it is also expected to reduce the need for new aircraft, submarines, underground vehicles, and related defense application programs over the next few years. This is also expected to reduce the need for military activators.
Many governments around the world are focused on controlling the COVID-19 outbreak in their countries. Therefore, they invest heavily in health care and vaccine development. Therefore, the cost of protection in the new systems is expected to decrease over the next few years. The cost of protection is expected to increase gradually during the forecast period after the end of the epidemic.
The global market can be divided into segments such as cylinders, drivers, servo valves, manifolds, and others where Servo valves dominated the market with a share of 27.6% by 2022. Components are an integral part of each actuator as they provide desirable features to the product. The need for a particular component of actuators depends on its application to specific movement control and precision systems. The parts used by the manufacturer may vary depending on the needs and the environment used. Increased use of directional control valves and interchangeable power valves promotes the growth of servo valves.
Cylinders are expected to prove significant growth in the forecast period due to their use in storage, transport, and exhaust gases in defense and military vehicles. Demand for drives is expected to be moderate throughout the forecast period due to the increased use of motor vehicle speed control to reduce the risk of shock.
Manifolds are used on overhead warships and submarines. Technological advances and the growing demand for advanced and advanced defense equipment from the defense industry encourage the manufacturer to integrate these different components into the system. The global market is divided into hydraulic, electric, pneumatic, electro-mechanical, electro-hydraulic, and other systems. the hydraulic actuators segment held a 24.9 percent market share. Hydraulic actuators are hydraulic fluid-powered devices that are best suited for Armour plate and gun positioning applications. Because of their high power density and low cost, hydraulic systems are expected to be a market leader in the aerospace and defense industries. However, concerns about their weight, high maintenance, and leakage may stymie segment growth over the forecast period.
The type segment is divided into rotary actuators and linear actuators, with the rotary actuator type segment accounting for the majority of the market share. Rotary actuators are commonly used in valves and gates and precision control applications in the aviation and defense industries. From 2022 to 2028, the linear actuator type is expected to grow at the fastest CAGR of 5.6 percent. A linear actuator is a device that converts rotary motion to linear motion and controls linear motion. Linear actuators that are screw-driven,Belt-driven or rod-driven systems are common in military applications. Screw-driven motors and control hardware are two examples. Belt-driven linear actuators are utilised in many defensive weapons to improve operational efficiency, whereas rod-driven actuators are used in the aerospace and defence industries, favouring linear actuator demand over the forecast period. The global market can be divided into three sections based on application: air, land, and naval. With a large market share, the land application segment dominated and is expected to maintain its lead over the forecast period. This is owing to rising worries about homeland security, increased need for improved protective systems, and government initiatives that have boosted demand for military actuators. The need to emphasize enhancing armed forces' protection, advancement in equipment, and improved performance all contribute to market growth. The regions lavishly invest in military equipment and related program to demonstrate their strength in the military and defense industries, thereby fueling demand for military actuators over the forecast period.
MARKET KEY PLAYER
Triumph Group, Meggitt, Venture Mfg. Co, Kyntronics, and Nook Industries., Parker Hannifin, Parker Hannifin, Honeywell, Curtiss-Wright, Moog, and other players.
MARKET SEGMENT:
By Component
Cylinders

Drives

Servo Valves

Manifolds
By System
Electrical

Hydraulic

Pneumatic

Mechanical
By Type
By Application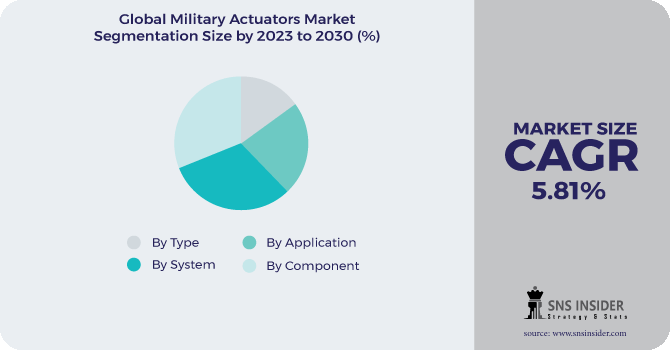 REGIONAL ANALYSIS
North America had the greatest share. The United States, as the world's largest military spender, is occupied with the most advanced and large number of defence equipment, contributing significantly to the market's growth in North America.
Technology advancements, large R&D facilities, prominent warfare tactics, and rising government investment in the military and defence industry have encouraged various countries to upgrade their armed forces with high-protection solutions and advanced ammunition products, thereby augmenting market growth.
Because of the prominence of China, India, and other Asian countries, Asia Pacific is expected to grow at the fastest CAGR of 6.1 percent from 2022 to 2028. Internal conflicts, homeland security concerns, and on-border tensions between neighbouring countries, such as India and Pakistan, are among the major factors driving market growth.
Due to rising political unrest and domestic conflicts, developing Asia Pacific countries such as India and China are expected to contribute significantly to market growth. The COVID 19 pandemic, on the other hand, has had an impact on the overall market. The pandemic has severely impacted the availability of raw materials used to manufacture military actuators, including metals such as steel and aluminium, thereby limiting market growth.
REGIONAL COVERAGE:
North America

Europe

Germany

UK

France

Italy

Spain

The Netherlands

Rest of Europe

Asia-Pacific

Japan

south Korea

China

India

Australia

Rest of Asia-Pacific

The Middle East & Africa

Latin America

Brazil

Argentina

Rest of Latin America
Military Actuators Market Report Scope:
Report Attributes
Details
Market Size in 2022
US$ 1.54 Billion
Market Size by 2030
US$ 2.41 Billion
CAGR
CAGR of 5.81% From 2023 to 2030
Base Year
2022
Forecast Period
2023-2030
Historical Data
2020-2021
Report Scope & Coverage
Market Size, Segments Analysis, Competitive Landscape, Regional Analysis, DROC & SWOT Analysis, Forecast Outlook
Key Segments
• By Component (Cylinders, Drives, Servo Valves, Manifolds)
• By System (Electrical, Hydraulic, Pneumatic, Mechanical)
• By Type (Linear, Rotary)
• By Application (Air, Land, Naval)
Regional Analysis/Coverage
North America (USA, Canada, Mexico), Europe
(Germany, UK, France, Italy, Spain, Netherlands,
Rest of Europe), Asia-Pacific (Japan, South Korea,
China, India, Australia, Rest of Asia-Pacific), The
Middle East & Africa (Israel, UAE, South Africa,
Rest of Middle East & Africa), Latin America (Brazil, Argentina, Rest of Latin America)
Company Profiles
Triumph Group, Meggitt, Venture Mfg. Co, Kyntronics, and Nook Industries., Parker Hannifin, Parker Hannifin, Honeywell, Curtiss-Wright, Moog, and other players.
DRIVERS
• The Aerospace and Defense Industries are increasing their demand for electrical actuators.
• Military operations have seen an increase in the use of automated technologies.
RESTRAINTS
• Concerns About Operational Capabilities and Environmental Factors