REPORT SCOPE & OVERVIEW
The Mining Software Market size was USD 9.4 billion in 2022 and is expected to Reach USD 17.9 billion by 2030 and grow at a CAGR of 8.4 % over the forecast period of 2023-2030
The market for mining software has seen tremendous expansion in recent years. Due to the growing need for cutting-edge solutions in the mining industry, Mining software describes a variety of specialist programs created to streamline and optimize mining operations, increasing their effectiveness and decreasing costs. These software solutions have evolved into crucial tools for mining businesses all over the world, enabling them to manage resources more effectively, increase safety, and boost productivity. a wide range of products, which include applications for environmental monitoring, geological modeling tools, mining production management systems, and planning and design software for mines. These software programs cover all phases of the mining process, from exploration and planning to extraction and reclamation. The market for mining software has experienced a spike in innovation and collaborations with technology firms, leading to the creation of innovative solutions that make use of machine learning, artificial intelligence, and data analytics. These developments give mining businesses a broader understanding of their operations, and the ability to decide wisely and anticipate dangers, which ultimately results in more sustainable mining techniques. Large-scale mining operations including minerals such as coal, iron ore, copper, gold, and other precious resources are among the mining activities that primarily use mining software. In order to extract resources effectively and responsibly, these sectors frequently work in complicated geological environments. Micromine launched a new mine modeling and design software solution called Micromine 3D. MineSight launched a new mine automation and control software solution called MineSight Mx. These new software solutions are designed to help mining companies improve their operational efficiency, productivity, and safety. They are also designed to help mining companies reduce their costs and improve their environmental compliance.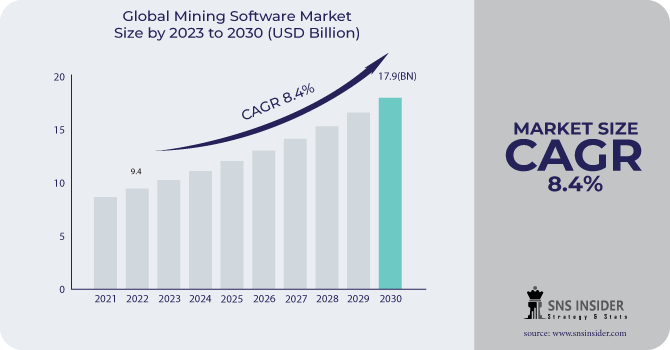 MARKET DYNAMICS
KEY DRIVERS
Increasing demand for mining software solutions to improve business processes and increase efficiency.

Growing need for real-time monitoring and control of mining operations.
The software offers effective business optimization and data-driven decision-making for large enterprises with huge clients and large business data. so the adoption of mining software solutions enables mining companies to improve their operational efficiency and productivity while reducing costs.
RESTRAIN
Conventional ways of thinking and resistance to change.

High cost of implementing mining software solutions
Mining companies may be reluctant to adopt new software solutions if they believe that they will not work in their specific environment. This is because mining operations can be complex and unpredictable, and mining companies may be hesitant to change their tried-and-true methods.
OPPORTUNITY
The increasing demand for minerals and metals

Need to improve environmental compliance will create opportunities for mining software companies to provide solutions that help mining companies track and manage their environmental impact.
The global demand for minerals and metals is expected to grow in the coming years, driven by the increasing demand for electric vehicles, renewable energy, and infrastructure development. This growth will create opportunities for mining software companies to provide solutions that help mining companies improve their operational efficiency and productivity.
CHALLENGES
The time and money needed to train staff members in new technologies can be a challenging factor in the mining software market. This is because mining companies often have a large workforce that needs to be trained on new software solutions. The training process can be time-consuming and expensive, and it can be difficult to find qualified trainers who have experience in the mining industry.
IMPACT OF RUSSIAN UKRAINE WAR
The mining software sector has been impacted by the conflict between Russia and Ukraine. The mining software market is anticipated to expand by 5% globally in 2022, but due to the war, growth is anticipated to decelerate in 2023. The battle has caused supply chains to be disrupted, prices to rise, and market instability. Numerous minerals, including nickel, palladium, and cobalt, that are used in mining software are produced in large quantities by Russia and Ukraine. Due to the war's disruption of the supply of certain minerals, mining software is now more expensive. The cost of mining software has also escalated as a result of the conflict. This is due to the fact that the cost of energy, transportation, and other inputs has grown as a result of the war. software for mining production. Russian mining business EVRAZ is a significant steel manufacturer. The war has hampered EVRAZ's operations and reduced sales for the corporation. Since the start of the war, the price of nickel, a crucial component for mining software, has climbed by more than 100%. The World Bank issued a warning in March 2022 that the conflict might have a "severe impact" on the world's mining sector.
IMPACT OF ONGOING RECESSION
The ongoing recession will probably continue to have an effect on the mining software business for the foreseeable future. It is anticipated that the recession would result in a drop in the demand for mining software, fewer sales and profitability for mining software companies, and layoffs and job losses in the sector. The recession is expected to lead to decreased demand for mining software. This is because mining companies will be looking to cut costs, and one way to do this is to reduce their spending on software. The recession is also likely to lead to layoffs and job losses in the mining software market. This is because mining software companies will be looking to cut costs, and one way to do this is to reduce their workforce. A significant supplier of software for mine automation and control is the Canadian mining software company MineSight. Due to the recession, the company expects its revenue to fall by 3% in 2023. In 2023, 10,000 job losses are anticipated in the mining software industry. in 2023, there will be a 5% decline in the average wage for mining software engineers.
KEY MARKET SEGMENTS
By Component
By Deployment
By Organization Size
By Application
Exploration

Development

Reclamation

Production Operation

Discovery

Assessment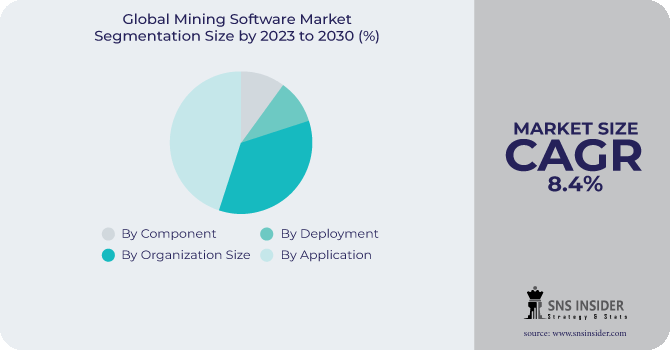 Region Coverage:
North America
Europe
Eastern Europe

Poland

Romania

Hungary

Turkey

Rest of Eastern Europe

Western Europe

Germany

France

UK

Italy

Spain

Netherlands

Switzerland

Austria

Rest of Western Europe
Asia Pacific
China

India

Japan

South Korea

Vietnam

Singapore

Australia

Rest of Asia Pacific
Middle East & Africa
Middle East

UAE

Egypt

Saudi Arabia

Qatar

Rest of the Middle East

Africa

Nigeria

South Africa

Rest of Africa
Latin America
Brazil

Argentina

Colombia

Rest of Latin America
REGIONAL ANALYSIS
In the North American mining software market, the United States and Canada are the primary contributors. As of the last available data in September 2021, North America held a substantial market share in the global mining software market, accounting for approximately 35% of the total market share. The region's strong presence is attributed to the maturity of its mining industry and its openness to adopting advanced technologies to stay competitive and sustainable. The region has a well-established mining industry, with a focus on various minerals, including coal, gold, copper, and iron ore. The market for mining software in North America has been growing steadily due to the increasing adoption of digital technologies and the need to improve operational efficiency and safety in mining operations. In Canada, a leading gold mining company partnered with a technology firm to develop a cutting-edge data analytics platform for real-time monitoring of mining equipment and predictive maintenance. This initiative resulted in a substantial reduction in downtime and maintenance costs.
The Asia Pacific region is witnessing rapid growth in the mining software market As of September 2021, the Asia Pacific region held a substantial share in the global mining software market, accounting for around 30% of the total market share. primarily driven by countries such as Australia, China, and India. These countries have extensive mining operations focused on a wide range of minerals, including coal, iron ore, bauxite, and rare earth metals. The region's dominance is due to its vast mining resources and the growing emphasis on digitization and automation in the mining sector. China, being one of the world's leading coal producers, has been investing in mine safety management software to enhance safety standards and prevent accidents. A major coal mining company implemented an intelligent safety monitoring system, which significantly reduced accident rates and improved worker safety.
KEY PLAYERS
The major key players in the Mining Software Market are Hexagon, Micromine, MineSight, Maptek, RPMGlobal, Hitachi, Komatsu, ABB, Uipath, IBM Corporation, and other players.
RECENT DEVELOPMENTS
Hexagon:
In January 2023, Hexagon acquired Mine Design Solutions (MDS), a Canadian mining software company that specializes in mine design and planning software. This acquisition will allow Hexagon to expand its mine planning and optimization software portfolio. And Hexagon launched a new mine planning and optimization software solution called Hexagon PPM.
MineSight:
In April 2023, MineSight announced a partnership with Caterpillar to integrate MineSight software with Caterpillar's mining equipment. This partnership will allow MineSight customers to use MineSight software to control and monitor Caterpillar equipment.
Mining Software Market Report Scope:
Report Attributes
Details
Market Size in 2022
US$ 9.4 Bn
Market Size by 2030
US$ 17.9 Bn
CAGR
CAGR of 8.4 % From 2023 to 2030
Base Year
2022
Forecast Period
2023-2030
Historical Data
2020-2021
Report Scope & Coverage
Market Size, Segments Analysis, Competitive Landscape, Regional Analysis, DROC & SWOT Analysis, Forecast Outlook
Key Segments
• By Component (Platform, Service)
• By Deployment Mode (On-Premise, Cloud)
• By Organization Size (Large Enterprises, Small and Medium-sized Enterprises)
• By Application (Exploration, Development, Reclamation, Production Operation, Discovery, Assessment)
Regional Analysis/Coverage
North America (US, Canada, Mexico), Europe (Eastern Europe [Poland, Romania, Hungary, Turkey, Rest of Eastern Europe] Western Europe] Germany, France, UK, Italy, Spain, Netherlands, Switzerland, Austria, Rest of Western Europe]). Asia Pacific (China, India, Japan, South Korea, Vietnam, Singapore, Australia, Rest of Asia Pacific), Middle East & Africa (Middle East [UAE, Egypt, Saudi Arabia, Qatar, Rest of Middle East], Africa [Nigeria, South Africa, Rest of Africa], Latin America (Brazil, Argentina, Colombia Rest of Latin America)
Company Profiles
Hexagon, Micromine, MineSight, Maptek, RPMGlobal, Hitachi, Komatsu, ABB, Uipath, IBM Corporation
Key Drivers
• Increasing demand for mining software solutions to improve business processes and increase efficiency.
• Growing need for real-time monitoring and control of mining operations.
Market Restraints
• Conventional ways of thinking and resistance to change.
• High cost of implementing mining software solutions