Report Scope & Overview:
The Nuclear Medicine Market Size was valued at USD 9.24 billion in 2022 and is expected to reach USD 24.20 billion by 2030 and grow at a CAGR of 12.8% over the forecast period 2023-2030.
A medical specialty known as nuclear medicine makes use of radioactive substances or radiopharmaceuticals to diagnose and treat a wide range of illnesses, including cancer, heart disease, and neurological disorders in addition to assessing how well the body is functioning. Doctors can follow the radioactive tracers' progress using cameras with advanced technology. Additionally, positron emission tomography (PET) and single-photon emission computed tomography (SPECT) scans rank among the most important imaging techniques in the field of nuclear medicine.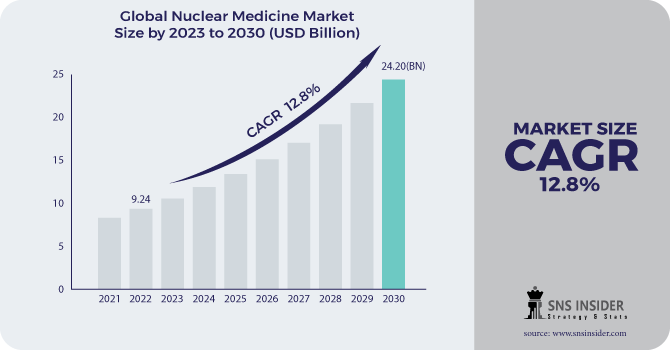 To get more information on Nuclear Medicine Market - Request Sample Report
MARKET DYNAMICS
DRIVERS
Rising incidence and prevalence of the target diseases

Creation of tailored cancer therapies based on alpha-radioimmunotherapy

Efforts to close the Mo-99 supply and demand gap
RESTRAINTS
OPPORTUNITIES
CHALLENGES
IMPACT OF COVID-19
Acute Respiratory Syndrome coronavirus 2 (SARS-CoV2) is the cause of acute respiratory infections known as coronavirus disease 2019 (COVID19). COVID-19, which had never been heard of before the epidemic, which began in Wuhan, China, in December 2019, moved from a domestic issue to a global epidemic within weeks. On March 11, 2020, COVID-19 was classified as epidemic by the World Health Organization (WHO). Globally, clinical procedures for radiology departments have undergone significant changes due to the COVID-19 epidemic. In order to increase community outreach and reduce the spread of the disease to research staff and others they may come in contact with, medical educational institutions and universities are rushing to close the scientific research work in line with clinical readiness efforts.
VALUE CHAIN ANALYSIS
The worldwide nuclear medicine market is segmented based on type, modality, application, and geography, the reports claim. Markets for treatment and prophylaxis are divided based on kind. The diagnostics segment makes up the majority of the nuclear medicine market. Because of its greater accuracy compared to other techniques, PET is being utilised increasingly frequently as a diagnostic tool. Most frequently, it is used with X-rays and CT scans (CT). The market for radiopharmaceuticals is growing as a result of the demand for early and accurate diagnosis and the expanding market for high-end medical solutions.
According to the mode used, the nuclear medicine market is divided into beta-emitters, brachytherapy, SPECT, and PET. SPECT was the most common type of nuclear drug in 2019 due to the combination of low cost and wide use. To improve the diagnosis, it was also introduced by key nuclear pharmaceutical companies. Improved image editing and the 360-degree multidetector architecture of high-quality facts have been made possible by the November 2018 FDA approval of the Spectrum Dynamics' Veriton-CT 64 SPECT / CT gadget.
Based on the app, the market is divided into Thyroid, Cardiology, Oncology, Neurology, and others. The market value of nuclear drugs is dominated by the cardiovascular sector, which is also expected to grow in a very fast CAGR. Cardiology is expected to be the fastest growing phase during the forecast period due to the low cost of procedures and increased marketing potential.
By Product Type
Diagnostic and Therapeutic segments of the market are divided. The diagnostic market category makes up the majority of the nuclear medicine market, and the use of PET as a diagnostic tool is steadily growing due to its higher accuracy compared to other diagnostic methods. In general, it is used in conjunction with computed tomography and X-rays to increase accuracy (CT). The radiopharmaceuticals market is being driven by an increase in the demand for timely and accurate diagnoses as well as for high-quality medical solutions.
By Application Type
The oncology, neurology, cardiology, thyroid, and other segments of the market are divided. The nuclear medicine market was dominated by the cardiology segment, which is anticipated to expand at the greatest CAGR over the course of the projected period. Given the low cost of procedures and strong promotion rate, cardiology is predicted to develop at the fastest rate during the projection period.
By Modality type
Alpha-emitters, Beta-emitters, Brachytherapy, SPECT, and PET are the different segments of the market. Due to its low price and widespread usage across numerous market areas, SPECT has dominated the nuclear medicine sector. Additionally, major industry participants in nuclear medicine are launching digital SPECT scanners to enhance diagnostics.
KEY MARKET SEGMENTATION:
By Product Type
Diagnostic products

Therapeutic Products
By Application Type
Cardiology

Neurology

Oncology

Thyroid

Lymphoma

Bone Metastasis

Endocrine Tumor
By Modality Type
SPECT

PET

Alpha-emitters

Beta-emitters

Brachytherapy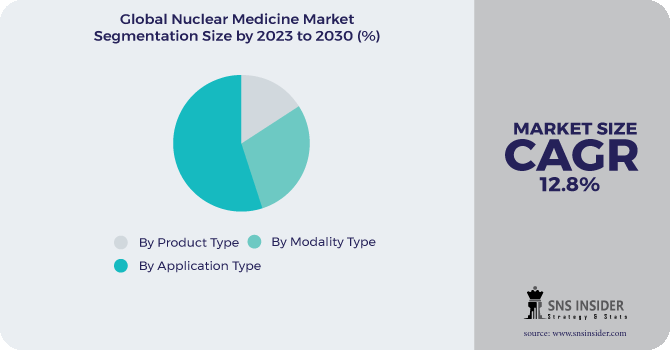 Need any customization research on Nuclear Medicine Market - Enquiry Now
REGIONAL ANALYSIS
The nuclear medicine industry is anticipated to be dominated by North America, thanks in large part to regional initiatives from businesses, government support, the development of novel radioisotope production methods, and rising R&D spending.
REGIONAL COVERAGE:
North America

Europe

Germany

UK

France

Italy

Spain

The Netherlands

Rest of Europe

Asia-Pacific

Japan

south Korea

China

India

Australia

Rest of Asia-Pacific

The Middle East & Africa

Latin America

Brazil

Argentina

Rest of Latin America
KEY PLAYERS:
Some of the major key players are Advanced Accelerators Applications, Bayer, Curium, Bracco Imaging, Cardinal Health, Jubliant Lifesciences, GE Healthcare, Medtronic plc, Lantheus Medical Imaging, Mallinckrodt Pharmaceuticals, and Nordion Inc. and other players.
Nuclear Medicine Market Report Scope:

Report Attributes
Details
Market Size in 2022
US$ 9.24 Billion
Market Size by 2030
US$ 24.20 Billion
CAGR
CAGR of 12.8% From 2023 to 2030
Base Year
2022
Forecast Period
2023-2030
Historical Data
2020-2021
Report Scope & Coverage
Market Size, Segments Analysis, Competitive Landscape, Regional Analysis, DROC & SWOT Analysis, Forecast Outlook
Key Segments
• By Product Type (Diagnostic products, Therapeutic Products)
• By Application Type (Cardiology, Neurology, Oncology, Thyroid, Lymphoma, Bone Metastasis, Endocrine Tumor)
• By Modality Type (SPECT, PET, Alpha-emitters, Beta-emitters, Brachytherapy)
Regional Analysis/Coverage
North America (USA, Canada, Mexico), Europe
(Germany, UK, France, Italy, Spain, Netherlands,
Rest of Europe), Asia-Pacific (Japan, South Korea,
China, India, Australia, Rest of Asia-Pacific), The
Middle East & Africa (Israel, UAE, South Africa,
Rest of Middle East & Africa), Latin America (Brazil, Argentina, Rest of Latin America)
Company Profiles
Advanced Accelerators Applications, Bayer, Curium, Bracco Imaging, Cardinal Health, Jubliant Lifesciences, GE Healthcare, Medtronic plc, Lantheus Medical Imaging, Mallinckrodt Pharmaceuticals, and Nordion Inc.
Key Drivers
• Rising incidence and prevalence of the target diseases
• Creation of tailored cancer therapies based on alpha-radioimmunotherapy
• Efforts to close the Mo-99 supply and demand gap
Restraints
• Radiopharmaceuticals' short half-lives