Report Scope & Overview
Breast Cancer Therapeutics Market size was valued at USD 30.22 billion in 2022 and is expected to reach at USD 79.77 billion by 2030, and grow at a CAGR of 12.9% over the forecast period of 2023-2030.
Breast cancer is a type of cancer that develops in the cells of the breasts. Breast cancer therapy refers to the many treatments available for breast cancer. The stage and kind of breast cancer, the presence of hormone receptors, the patient's general health, and personal preferences all affect the therapy option. Breast cancer medicines include a selection of therapies designed to fight the cancer that develops in the breast tissue, breast cancer. These treatments aim to get rid of cancer cells, stop their growth and spread, and enhance the patient's prognosis as a whole. Here is a summary of the most common breast cancer treatments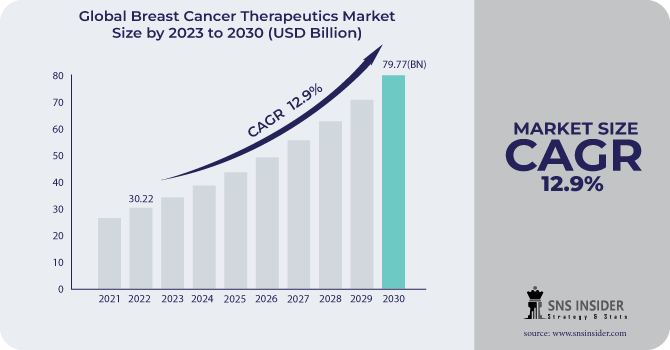 Breast cancer treatment primarily involves surgery. The sort of surgery carried out is determined by the tumour's size, stage, and the patient's preferences. In a lumpectomy, also referred to as breast-conserving surgery, the tumour and a tiny portion of the surrounding healthy tissue are removed. The entire breast tissue must be removed after a mastectomy, with or without breast reconstruction. The stage and characteristics of the malignancy, molecular profiling, patient preferences, and general health all have a role in the choice and order of therapies. Treatment strategies are frequently customised for each patient, and the best therapeutic strategy is chosen in consultation with a diverse team of medical experts. Our understanding of breast cancer therapies continues to grow thanks to ongoing research and clinical trials. In order to choose the best course of treatment for their unique situation, individuals must speak with their healthcare providers.
Market Dynamics :
Drivers :
Clinical trials are essential for developing new treatments for breast cancer. These studies assess the efficacy and safety of novel therapy strategies, medication combinations, and other medical interventions. To assist regulatory approvals and direct clinical practise, they offer useful data. Clinical trials also give researchers the chance to pinpoint patient groups that could benefit from particular therapies.
Restrain
Opportunity
Breast cancer can now be identified earlier and with greater accuracy thanks to improvements in imaging technology and diagnostic equipment. The ability to better characterise tumours using methods like mammography, MRI, and molecular profiling facilitates the choice of the most effective therapeutic strategies. The idea of personalised medicine has become more popular in the treatment of breast cancer. It entails creating treatment regimens that are specific to each patient's tumour and their individual characteristics. The molecular profile of tumours, which includes information on HER2 expression, hormone receptor status, and genetic alterations, aids in therapeutic decision-making and identifies patients who might benefit from particular targeted medicines.
Challenge
Impact of Russia Ukraine War :
Healthcare infrastructure in Ukraine has been damaged and disrupted as a result of the war, particularly in places where fighting has taken place. Limited access to breast cancer detection and treatment services may be the result of hospitals, clinics, and cancer treatment facilities being damaged or forced to close. Delays in diagnosis, the start of treatment, and follow-up care may result from this. As a result of the war, a large number of individuals have been compelled to from their homes and seek safety in other regions of Ukraine or neighbouring countries. Accessing healthcare services, such as breast cancer screening, diagnosis, and treatment, can be difficult for people who have been displaced. The results of treatment can be negatively impacted by interruptions in continuity of care.
Impact of Recession :
The price of medical services and prescription drugs may rise during recessionary times as well. Patients and healthcare systems may be financially burdened by breast cancer therapies' escalating costs. This may restrict access to more advanced, pricey treatments and may have an effect on treatment selection and adherence. Clinical trial execution may be impacted by budgetary restrictions brought on by the recession. Clinical trial efforts may be reduced or delayed by pharmaceutical corporations and research organisations, which could have an impact on the development and assessment of novel breast cancer medicines. Clinical trial delays may extend the time until novel therapies are available while reducing patient options.
Market Segmentation
By Therapy Type
Targeted Therapy

Hormonal Therapy

Chemotherapy

Immunotherapy
By Cancer Type
By Distribution Channel
Hospital Pharmacies

Retail Pharmacies

Online Pharmacies

Others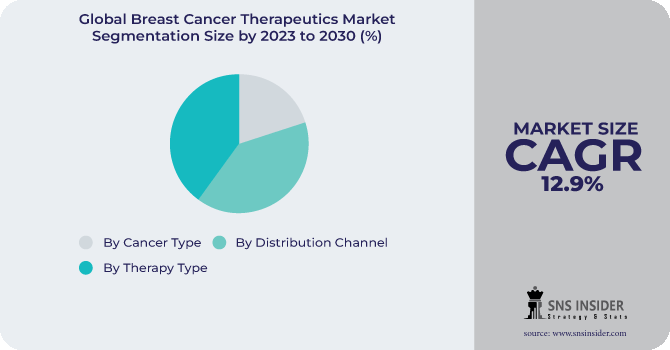 Regional Analysis
North America will be the region which has the highest growth rate because of The healthcare systems in North America, especially in the United States, are well-developed, and there is access to cutting-edge breast cancer therapies. Numerous people employ personalised medicine, targeted treatments, and immunotherapies. Research efforts and clinical trials play a significant role in the creation of novel therapy alternatives.
Europe will be the region with the second largest share because majority of European nations have developed healthcare systems with access to a variety of breast cancer treatments.
Due to differences in healthcare finance models and reimbursement policies, treatment methods and access to certain therapies may vary throughout nations. Comprehensive cancer registries exist in a number of European nations, which helps with research and surveillance initiatives.
Key Players
The major key players are Pfizer, Eli Lilly and Company, Novartis Ag, Sanofi, Eisai Co., Merck & Co, Bristol Myers Squibb, AstraZeneca, Kyowa Kirin and others.
Novartis Ag-Company Financial Analysis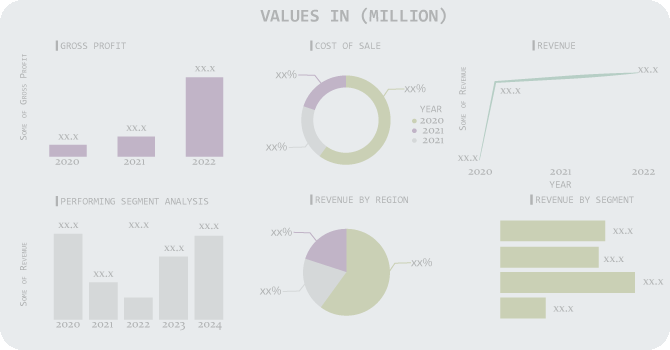 ​​​​​​​
Breast Cancer Therapeutics Market Report Scope:
Report Attributes
Details
Market Size in 2022
US$ 30.22 Bn
Market Size by 2030
US$ 79.77 Bn
CAGR
CAGR of 12.9 % From 2023 to 2030
Base Year
2022
Forecast Period
2023-2030
Historical Data
2020-2021
Report Scope & Coverage
Market Size, Segments Analysis, Competitive Landscape, Regional Analysis, DROC & SWOT Analysis, Forecast Outlook
Key Segments
• By Therapy Type (Targeted Therapy, Hormonal Therapy, Chemotherapy, Immunotherapy)
• By Cancer Type (Hormone Receptor, HER2+)
• By Distribution Channel (Hospital Pharmacies, Retail Pharmacies, Online Pharmacies, Others)
Regional Analysis/Coverage
North America (USA, Canada, Mexico), Europe
(Germany, UK, France, Italy, Spain, Netherlands,
Rest of Europe), Asia-Pacific (Japan, South Korea,
China, India, Australia, Rest of Asia-Pacific), The
Middle East & Africa (Israel, UAE, South Africa,
Rest of Middle East & Africa), Latin America (Brazil, Argentina, Rest of Latin America)
Company Profiles
Pfizer, Eli Lilly and Company, Novartis Ag, Sanofi, Eisai Co., Merck & Co, Bristol Myers Squibb, AstraZeneca, Kyowa Kirin
Key Drivers
• Rising clinical trials for the Breast Cancer Therapeutics Market
Market Opportunities
• Rise in the technological advancement in the healthcare sector specially related to the imaging sector.