Report Scope & Overview:
Online Tutoring Services Market size was valued at USD 7.71 billion in 2022 and is expected to grow to USD 23.37 billion By 2030 and grow at a CAGR of 14.87 % over the forecast period of 2023-2030.
Online tutoring is the practice of tutoring in a virtual, online, or networked setting in which teachers and students interact from various physical places. Online tutoring is a virtual classroom that students can access whenever it is convenient for them. According to the study, participants might be separated by both time and geography. Online tutoring is done in a number of methods for different sorts of consumers. It is a revenue-generating platform where service providers may share their expertise. The flexibility and autonomy that online tutoring affords are driving the demand for online tutoring.
Online tutoring may help candidates who are eager to study or register in a course in a number of ways. Online tutoring helps students and tutors determine previous knowledge, areas of difficulty, and individual learning processes.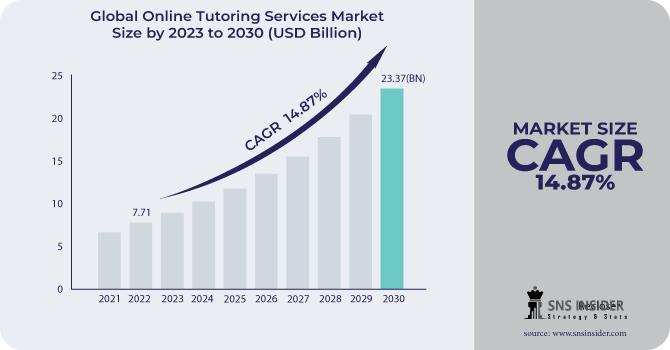 To get more information on Online Tutoring Services Market - Request Sample Report
Market Dynamics
Drivers
To stay up with technological breakthroughs, the learning process is rapidly expanding. The teaching and learning technology (EdTech) business, which includes online tutoring and massively open online courses (MOOCs), is rapidly expanding and receiving considerable global investment. The Asia-Pacific region is expected to witness the industry's quickest development due to the continued construction of high-speed internet networks and the rising popularity of smart gadgets among the general people. In India, for example, the continuous expansion of accessible broadband internet allows enterprises to engage with the general population online. The trend is promoting the development of cutting-edge technology for delivering instructional information. To bridge the gap between educational infrastructure and accessible instructional resources, players in the education sector are contemplating the use of cutting-edge technology.
Restrains
Opportunities
The worldwide online tutoring industry is quickly increasing, with organizations ranging from early-stage start-ups investigating prospects to making an impact with market-transforming efforts. Some of the major reasons impacting market growth are the fast adoption of new technologies, learners' rising demand for one-on-one mentor supervision, and acceptable solutions that match their financial, geographic, and time constraints. Venture capitalists and individual investors are significantly investing in the online tutoring market due to the attractive development potential of the digital learning sector.
Beginning in February 2022, the Department of South Australia's Learning+ project provided free one-on-one online tutoring with certified, trained teachers to children at neighboring schools after school and on weekends. The goal of this effort is to improve learning outcomes for children who participate.
Challenges
Impact of the Russia-Ukraine War
The conflict can lead to disruptions in the education system, including the closure of schools and universities, displacement of students and teachers, and infrastructure damage. In such situations, online tutoring services may become crucial for students to continue their education remotely. As traditional educational institutions face challenges, there could be a surge in demand for online tutoring services. Students and parents may seek alternative methods to ensure continuity in learning, leading to a greater reliance on online tutoring platforms. According to the Ministries of Education and Science of Ukraine (MoES), the war harmed 1,635 educational institutions (5% of total) and destroyed 126. The conflict may result in the displacement of individuals, both within Ukraine and potentially across borders. This could create a need for online tutoring services that cater to the specific needs of these displaced populations, providing education in their native language or adapting to their cultural requirements. Online tutoring platforms may seize the opportunity to expand their services into affected regions. They could establish partnerships with local educational institutions or NGOs to provide educational support to affected communities. This expansion could contribute to the overall growth of the online tutoring market. If the conflict disrupts internet connectivity or infrastructure in certain areas, it may pose challenges for the delivery of online tutoring services. Service providers may need to explore alternative solutions, such as mobile-based platforms or offline learning materials, to overcome these limitations. The war can have a broader economic impact on the affected countries, leading to changes in consumer spending patterns. Families may face financial constraints, which could influence their ability to invest in online tutoring services. This may result in a shift in demand towards more affordable or subsidized options.
Impact of the Recession
During a recession, individuals and families may seek cost-effective alternatives to traditional education. Online tutoring services can provide more affordable options compared to in-person tutoring or private education. As a result, there could be an increase in demand for online tutoring services. Recessions often lead to decreased disposable income and reduced consumer spending. Families and individuals may need to cut back on non-essential expenses, including tutoring services. This could result in a decline in demand for online tutoring services, especially for higher-priced providers. Recessions may accelerate the adoption of online education platforms and remote learning. As schools and educational institutions face budget constraints, they may explore online tutoring services as a more cost-effective way to provide additional academic support to students. This could result in increased partnerships between educational institutions and online tutoring platforms. During economic downturns, some online tutoring service providers may struggle to sustain their operations due to reduced demand or financial challenges. This could lead to market consolidation as stronger players acquire or merge with smaller competitors, creating a more concentrated industry landscape. During recessions, governments often prioritize investments in education and skills development to stimulate economic recovery. This could lead to increased funding or support for online tutoring services, either directly through government initiatives or indirectly through grants and subsidies.
Key Market Segmentation:
The Online Tutoring Services Market is segmented into four types on the basis of By Course Type, By Tutoring Type, By Tutoring Style, By Duration, and By End-user
By Course Type
Language Courses

Science, Technology, Engineering, And Mathematics (STEM) Courses

Others
By Tutoring Type
Structured Tutoring

On-demand Tutoring
By Tutoring Style
Test Preparation Service

Subject Tutoring Service
By Duration
Short-term Courses

Long-term Courses
By End-user
K-12

Higher Education

Others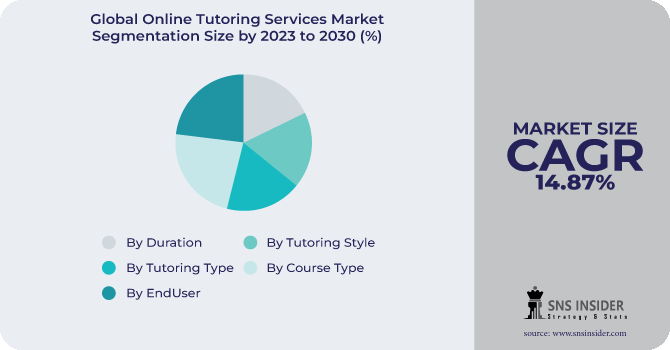 Need any Customization Research on Online Tutoring Services Market - Enquiry Now
Regional Analysis
Asia-Pacific is the largest stakeholder in the worldwide online tutoring services market The Asia-Pacific region is likely to witness tremendous expansion in the online tutoring business as a result of rising economies such as India. Government-led strategic initiatives, such as government-funded rural education programs, are expected to encourage online tutoring services throughout the Asia-Pacific region. For example, the National Digital Library of India, an online library established by India's Ministry of Human Resource Development, provides instructional information for various academic levels based on subject matter.
In Asia-Pacific, online tutoring has huge potential. The region's industry will be formed and will continue to grow in the coming months as a result of significant institutions' agreements with online service providers and government measures promoting online education.
During the projection period, North America is estimated to increase high CAGR. This region's strong share is due to a large client base and reputed ICT solution suppliers. Chegg Inc., ArborBridge, Club Z! Inc., and Kaplan, Inc. are among the many service providers in North America. There is a considerable accomplishment difference in the United States between pupils from rich and impoverished homes.
REGIONAL COVERAGE:
North America
Europe
Germany

UK

France

Italy

Spain

The Netherlands

Rest of Europe
Asia-Pacific
Japan

South Korea

China

India

Australia

Rest of Asia-Pacific
The Middle East & Africa
Latin America
Brazil

Argentina

Rest of Latin America
Key Players:
The major players are iTutorGroup, Club Z!, Qkids Teacher, Vedantu.com, BYJU'S, Ambow Education, ArborBridge, Beijing Magic Ears Technology Co., Ltd, BOK Solutions, Inc, Chegg Inc., Wyzant, Inc., Varsity Tutors, Yup Technologies, Blue Media LLC., Tutor.com, Inc., and others in the final report.
Vedantu.com-Company Financial Analysis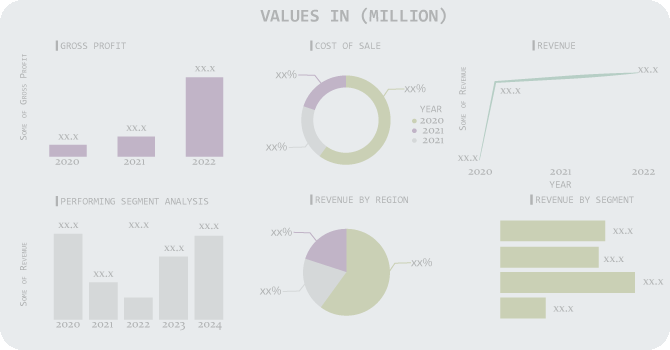 Recent Developments:
Chegg, Inc., the industry leader in student-focused online learning, announced the launch of its faculty-focused platform University to Canada and the United Kingdom in August 2022.
Adam Caller, education consultant, CEO, and founder of Tutors International, an elite private tutoring organization, announced a collaboration with Kabuni Metaverse, a pioneer in immersive technology, in November 2022.
Online Tutoring Services Market Report Scope:
Report Attributes
Details
Market Size in 2022
US$ 7.71 Bn
Market Size by 2030
US$ 23.37 Bn
CAGR
CAGR of 14.87 % From 2023 to 2030
Base Year
2022
Forecast Period
2023-2030
Historical Data
2020-2021
Report Scope & Coverage
Market Size, Segments Analysis, Competitive Landscape, Regional Analysis, DROC & SWOT Analysis, Forecast Outlook
Key Segments
• By Course Type (Language Courses, Science, Technology, Engineering, And Mathematics (STEM) Courses, Others)
• By Tutoring Type (Structured Tutoring, On-demand Tutoring)
• By Tutoring Style, Test Preparation Service, Subject Tutoring Service)
• By Duration (Short-term Courses, Long-term Courses)
• By End-user (K-12, Higher Education, Others)
Regional Analysis/Coverage
North America (USA, Canada, Mexico), Europe
(Germany, UK, France, Italy, Spain, Netherlands,
Rest of Europe), Asia-Pacific (Japan, South Korea,
China, India, Australia, Rest of Asia-Pacific), The
Middle East & Africa (Israel, UAE, South Africa,
Rest of Middle East & Africa), Latin America (Brazil, Argentina, Rest of Latin America)
Company Profiles
iTutorGroup, Club Z!, Qkids Teacher, Vedantu.com, BYJU'S, Ambow Education, ArborBridge, Beijing Magic Ears Technology Co., Ltd, BOK Solutions, Inc, Chegg Inc., Wyzant, Inc., Varsity Tutors, Yup Technologies, Blue Media LLC., Tutor.com, Inc.
Key Drivers
• Increased Investment in Innovative Teaching Techniques
Market Opportunities
• Rapid Technological Adoption