Report Scope & Overview:
The Pentanediamine Market size was valued at USD 859.7 million in 2022. It is estimated to hit USD 10544.73 million by 2030 and grow at a CAGR of 36.8% over the forecast period of 2023-2030.
Pentanediamine, also known as 1,5-diaminopentane, is a chemical compound widely used in various applications across different sectors. One of the primary drivers behind the growth of the pentanediamine market is its extensive use in the production of nylon-5,6. Nylon-5,6 is a high-performance polymer that finds applications in the automotive, textile, and electrical industries, among others. The increasing demand for nylon-5,6 has directly contributed to the rise in the consumption of pentanediamine.
Furthermore, pentanediamine is also utilized in the manufacturing of epoxy curing agents, which are essential components in the production of coatings, adhesives, and composites. The versatility and effectiveness of pentanediamine in these applications have made it a preferred choice for many manufacturers. Fluctuating raw material prices and stringent environmental regulations pose significant obstacles to market growth. Manufacturers are constantly striving to develop sustainable and cost-effective production methods to overcome these challenges.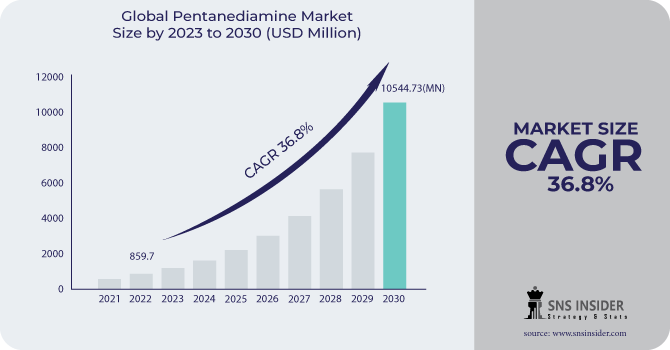 Market Dynamics
Drivers
Increasing demand for pentanediamine in various industries

Rising population and urbanization have led to an upsurge in construction activities
As the global population continues to expand and more people migrate to urban areas, the demand for residential, commercial, and infrastructure development has increased. This surge in construction activities has created a substantial need for various materials and chemicals, including Pentanediamine. These materials find extensive applications in the construction industry, ranging from the manufacturing of pipes, wires, and cables to the creation of protective coatings for buildings and infrastructure.
Rapid urbanization and population growth have led to an increased requirement for durable and sustainable construction materials. Pentanediamine, with its exceptional properties such as high tensile strength, chemical resistance, and thermal stability, fulfills these demands effectively. Its utilization in the construction sector ensures the longevity and reliability of structures, contributing to the overall development and growth of urban areas. Furthermore, the Pentanediamine Market's expansion is not limited to the construction industry alone. This versatile chemical compound finds applications in various other sectors, including automotive, textiles, and electronics.
Restrain
Fluctuations in the prices of key raw materials used in the production of pentanediamine, such as adiponitrile, can significantly impact the overall cost of production, thereby affecting market growth.
Opportunities
Challenges
Impact of Russia-Ukraine War:
The Russia-Ukraine war has disrupted the global supply chain of pentanediamine, leading to significant challenges for manufacturers and consumers alike. The conflict has resulted in the imposition of trade restrictions, export bans, and increased transportation costs, all of which have contributed to supply chain disruptions. One of the primary consequences of this disruption is the scarcity of pentanediamine in the market. With limited availability, manufacturers are struggling to meet the demand from their customers, leading to potential delays in production and increased costs.
Impact of Recession:
The recession has led to a decline in the demand for Pentanediamine across multiple industries. As businesses face financial constraints, they have reduced their production and operational activities, resulting in a decreased need for this chemical compound. Consequently, the supply of Pentanediamine has exceeded demand, leading to an oversaturated market. The oversupply of Pentanediamine has created a highly competitive market environment, forcing manufacturers to lower their prices to attract customers. This price reduction has negatively impacted the profitability of companies operating in the Pentanediamine sector. Additionally, the recession has caused fluctuations in raw material prices, further complicating the pricing dynamics within the market.
Market segmentation
By Type
By Application
Coatings

Resins

Adhesives

Others
By End-user
Construction

Textile

Automotive

Others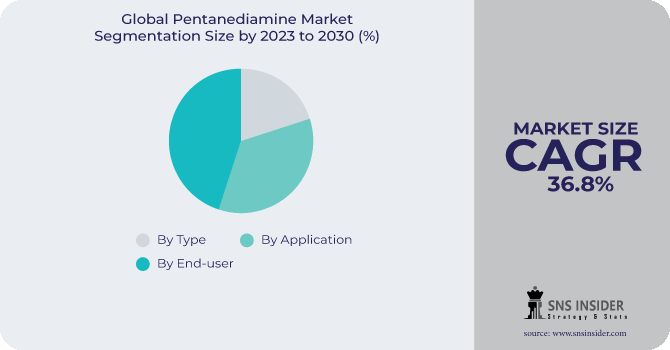 Regional Analysis
Asia Pacific has emerged as a dominant player in the pentanediamine market and is expected to grow with a CAGR of about 37.6% during the forecast period. One of the key drivers behind the Asia Pacific region's dominance in the pentanediamine market is its robust industrial sector. The region boasts a thriving manufacturing industry, particularly in sectors such as automotive, electronics, and textiles. Pentanediamine, also known as 1,5-diaminopentane, finds extensive application in these industries as a crucial component in the production of various materials, including adhesives, coatings, and polymers. The increasing demand for these materials, driven by the region's expanding industrial activities, has propelled the growth of the pentanediamine market in Asia Pacific.
Furthermore, the Asia Pacific region is witnessing a surge in population and urbanization, leading to a rise in construction and infrastructure development. Pentanediamine plays a vital role in the production of construction materials, such as concrete additives and coatings, which enhance durability and performance. As the region continues to invest in infrastructure projects, the demand for pentanediamine is expected to soar, further bolstering the market growth. For instance, In the Budget for the fiscal year 2023-24 of India, there is a notable surge in the capital investment outlay for infrastructure, with a remarkable 33% increase to reach Rs.10 lakh crore (equivalent to US$ 122 billion). This substantial allocation represents approximately 3.3% of the country's GDP, nearly tripling the outlay recorded in 2019-20. In addition, favorable government policies and initiatives promoting industrial growth and foreign investments have attracted major players in the pentanediamine market to establish their presence in the Asia Pacific region. This has further contributed to the region's dominance and is expected to drive the market growth in the coming years.
REGIONAL COVERAGE:
North America
Europe
Eastern Europe

Poland

Romania

Hungary

Turkey

Rest of Eastern Europe

Western Europe

Germany

France

UK

Italy

Spain

Netherlands

Switzerland

Austria

Rest of Western Europe
Asia Pacific
China

India

Japan

South Korea

Vietnam

Singapore

Australia

Rest of Asia Pacific
Middle East & Africa
Middle East

UAE

Egypt

Saudi Arabia

Qatar

Rest of Middle East

Africa

Nigeria

South Africa

Rest of Africa
Latin America
Brazil

Argentina

Colombia

Rest of Latin America
Key Players
The major key players Solvay, Kaiser Bio, BASF SE, DuPont, Toray, Cathay Biotech Inc., Tosoh USA, Inc., Evonik Industries AG, and other key players mentioned in the final report.
Recent Development:
In April 2023, Solvay announced its collaboration with Ginkgo Bioworks to develop sustainable biopolymers, specialty chemicals, and materials. These innovations can be utilized across various industries, ranging from home and personal care to agriculture and food production.

In April 2022, Cathay Biotech, a publicly traded company specializing in the research, development, production, and sales of new bio-based materials, expanded its presence in the sector.
Pentanediamine Market Report Scope
Report Attributes
Details
Market Size in 2022
US$ 859.7 Mn
Market Size by 2030
US$ 10544.73 Mn
CAGR
CAGR of 36.8% From 2023 to 2030
Base Year
2022
Forecast Period
2023-2030
Historical Data
2019-2021
Report Scope & Coverage
Market Size, Segments Analysis, Competitive Landscape, Regional Analysis, DROC & SWOT Analysis, Forecast Outlook
Key Segments
• By Type (Biobased Polyamide (Nylon) and Others)
• By Application (Coatings, Resins, Adhesives, and Others)
• By End-user (Construction, Textile, Automotive, and Others)
Regional Analysis/Coverage
North America (US, Canada, Mexico), Europe (Eastern Europe [Poland, Romania, Hungary, Turkey, Rest of Eastern Europe] Western Europe] Germany, France, UK, Italy, Spain, Netherlands, Switzerland, Austria, Rest of Western Europe]), Asia Pacific (China, India, Japan, South Korea, Vietnam, Singapore, Australia, Rest of Asia Pacific), Middle East & Africa (Middle East [UAE, Egypt, Saudi Arabia, Qatar, Rest of Middle East], Africa [Nigeria, South Africa, Rest of Africa], Latin America (Brazil, Argentina, Colombia Rest of Latin America)
Company Profiles
Solvay, Kaiser Bio, BASF SE, DuPont, Toray, Cathay Biotech Inc., Tosoh USA, Inc., Evonik Industries AG
Key Drivers
• Increasing demand for pentanediamine in various industries
• Rising population and urbanization have led to an upsurge in construction activities
Market Restraints
• Volatility in raw material prices