Report Scope & Overview:
The Lab-Grown Diamonds Market was valued at USD 23.4 billion in 2022 and is projected to reach USD 49.08 billion by 2030, growing at a compound annual growth rate of 9.7% during the forecast period from 2023 to 2030.
Lab-grown diamonds possess the same physical and chemical properties as natural diamonds, making them an attractive alternative to mined diamonds. The increasing consumer demand for sustainable and ethically sourced products has led to a surge in the popularity of lab-grown diamonds. These diamonds are created without the environmental and social impact associated with traditional diamond mining, making them a more environmentally friendly choice. In fact, lab-grown diamonds offer a more affordable option for consumers than the mined diamonds. The cost of mining natural diamonds is high, and this expense is often passed on to the end consumer. In contrast, lab-grown diamonds can be produced at a lower cost, making them more accessible to a wider range of buyers.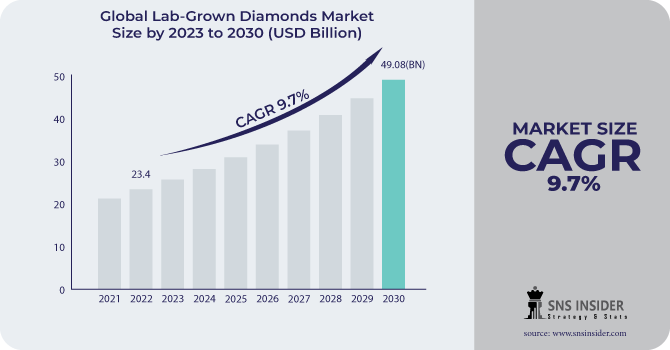 Get E-PDF Sample Report on Lab-Grown Diamonds Market - Request Sample Report
Based on application, the fashion segment dominated the Lab-grown diamonds market with the largest revenue share of more than 70% in 2022. Lab-grown diamonds have become a staple in the fashion industry, serving as the foundation for a wide array of exquisite and distinctive jewelry pieces and sets. These diamonds, both colorless and colored, are seamlessly incorporated into jewelry crafted from silver, gold, platinum, tungsten, and various other metals. The allure of lab-grown diamonds lies not only in their versatility but also in the ability to customize their sizes and carats, a feat made possible through their cultivation in laboratories. Beyond adorning jewelry, smaller lab-grown diamonds are now finding their place as elegant accents in designer clothing and an assortment of accessories, including purses, watches, and frames for glasses or sunglasses.
Market Dynamics
Drivers
Increasing demand for sustainable and ethical alternatives to natural diamonds

Increasing number of jewelry manufacturers offering lab-grown diamond options

Expanding distribution channels for these diamonds
Restrain
Many potential buyers are still unaware of the existence and benefits of these diamonds, which limits their market penetration.
One significant challenge is the perception of lab-grown diamonds among consumers. Many people still hold the belief that natural diamonds are superior in quality and value compared to their lab-grown counterparts. This perception stems from the long-standing tradition and emotional significance associated with natural diamonds.
Opportunities
Collaborations between lab-grown diamond producers and jewelry designers

Advancements in technology
Advancements in technology have played a crucial role in the growth of the lab-grown diamonds market. Innovations in diamond-growing techniques have resulted in the production of high-quality diamonds that are virtually indistinguishable from natural diamonds. This has boosted consumer confidence in lab-grown diamonds and contributed to their increasing market share.
Challenges
Natural diamond producers, who have long dominated the market, view lab-grown diamonds as a threat to their business. They often employ marketing tactics to discredit lab-grown diamonds and maintain their market share. This competition creates a barrier for lab-grown diamond companies to establish themselves and gain consumer trust.
Impact of Russia-Ukraine War:
One of the primary consequences of the conflict has been the disruption in the supply chain of lab-grown diamonds. Ukraine, known for its significant contribution to the global diamond market, has been severely impacted by the war. The conflict has disrupted mining operations, leading to a decrease in the availability of natural diamonds. Consequently, this scarcity has driven up prices, making lab-grown diamonds a more attractive alternative for consumers seeking affordable luxury. Furthermore, geopolitical tensions have also affected the distribution channels of lab-grown diamonds. Trade routes have been disrupted, causing delays and logistical challenges in transporting these precious gems. As a result, retailers and manufacturers have had to adapt their strategies to ensure a steady supply of lab-grown diamonds to meet consumer demands. In addition to the supply chain disruptions, the Russia-Ukraine war has influenced consumer behavior within the lab-grown diamond market. The conflict has heightened awareness among consumers about the ethical and environmental concerns associated with natural diamond mining. As a result, there has been a growing preference for lab-grown diamonds, which are perceived as a more sustainable and socially responsible choice. The war has also prompted technological advancements in the lab-grown diamond industry.
Impact of Recession:
Due to the economic downturn, the demand for diamonds has decreased, resulting in a significant reduction in the prices of lab-grown diamonds. This decline in diamond prices has had a particularly alarming impact on the lab-grown diamond (LGD) industry in Surat, India, a city renowned for its diamond trade. In a mere six months, the cost of lab-grown diamonds has plummeted from a staggering $350 per carat to a meager less than $20 per carat, sending shockwaves throughout the industry. However, due to the challenges faced by the natural diamond industry, lab-grown diamonds have emerged as a promising alternative to traditionally mined diamonds. With the rising prices of gold, the United States imposing stricter sanctions on Russian diamonds, and the opening of the Chinese market, lab-grown diamonds are poised to revolutionize the market.
Market segmentation
By Size
Below 2 carats

2-4 carat

Above 4 carats
By Type
By Nature
By Manufacturing Method
Chemical Vapor Deposition (CVD)

High-Pressure High Temperature (HPHT)
By Application
By Distribution Channel
Online

Special Store

Supermarket

Others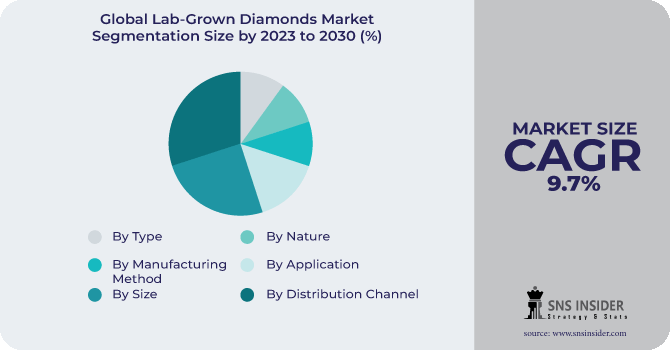 Get Customized Report as Per Your Business Requirement - Request For Customized Report
Regional Analysis
Asia Pacific is the leading region in the Lab-Grown Diamonds Market with a revenue share of more than 40% and is expected to be the dominating region during the forecast period of 2023-2030. India and China contribute to approximately 75% of the global lab-grown diamond jewelry production in terms of volume. The growth in this region is attributed to the increasing availability and affordability of these diamonds. One of the key factors driving this growth is the advancements in production technology, which have led to the achievement of economies of scale. As a result, the cost of lab-grown diamonds has significantly decreased, making them more accessible to a wider range of consumers. This accessibility has opened up opportunities for individuals from various backgrounds to indulge in the luxury of owning diamond jewelry. Moreover, the improvements in living standards and the rise in disposable income have played a crucial role in driving the demand for jewelry in the Asia Pacific region. As customers strive to embrace a more lavish lifestyle, the desire for exquisite jewelry has grown exponentially which further drives the growth of lab lab-grown diamonds market.
North America is expected to grow with the highest CAGR of about 10.1% during the forecast period of 2023-2030. This is due to the fact that the United States, being the third largest producer of lab-grown diamonds, plays a significant role in driving this growth. An increasing number of couples in the United States are opting for lab-grown diamonds when it comes to their cherished engagement ring purchases. According to a survey conducted by The Knot among nearly 12,000 engaged couples, more than one-third of U.S. couples chose a lab-grown center stone in 2022. Interestingly, the preference for lab-grown diamonds is particularly prominent among younger couples, with a staggering 37% of shoppers aged 18 to 34 opting for these diamonds compared to 24% among those aged 35 and above. This trend highlights the shifting preferences and growing acceptance of lab-grown diamonds among the younger generation. This shifting preference from natural diamonds to lab-grown diamonds drives the growth of this market in North America.
REGIONAL COVERAGE:
North America
Europe
Eastern Europe

Poland

Romania

Hungary

Turkey

Rest of Eastern Europe

Western Europe

Germany

France

UK

Italy

Spain

Netherlands

Switzerland

Austria

Rest of Western Europe
Asia Pacific
China

India

Japan

South Korea

Vietnam

Singapore

Australia

Rest of Asia Pacific
Middle East & Africa
Middle East

UAE

Egypt

Saudi Arabia

Qatar

Rest of Middle East

Africa

Nigeria

South Africa

Rest of Africa
Latin America
Brazil

Argentina

Colombia

Rest of Latin America
Key Players
The major key players are WD Lab Grown Diamonds, New Diamond Technology LLC, ABD Diamonds Pvt. Ltd., Clean Origin LLC., Swarovski AG, Mittal Diamonds, De Beers Group, Henan Huanghe Whirlwind CO. Ltd., Diam Concept, Diamond Foundry Inc., and other key players mentioned in the final report.
New Diamond Technology LLC-Company Financial Analysis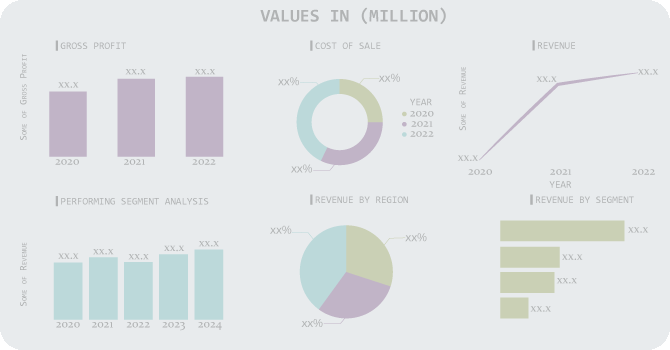 Recent Development:
In June 2023, WD Lab Grown Diamonds, one of the pioneering companies in mass-producing synthetic gemstones using the chemical vapor deposition (CVD) method, announced that they are actively seeking new investment opportunities and potential buyers.

In Jan 2023, Diamond Foundry is making a strategic move into the luxury jewelry market for lab-grown diamonds, leveraging its vertically integrated business model.

In March 2022, Clean Origin LLC, a prominent online direct-to-consumer retailer specializing in lab-grown diamonds, engagement rings, and jewelry, announced a substantial $20 million equity investment from TCL North America, Inc. This investment comes from Titan Company Limited, an esteemed Indian luxury products company renowned for its expertise in manufacturing jewelry and watches. The infusion of funds will fuel Clean Origin's ambitious expansion plans.

In Oct 2022, Swarovski made an exciting announcement. After a successful pilot program in key locations across the United States, the renowned brand is now poised to launch its Swarovski Created Diamonds jewelry collection in 200 stores throughout the U.S. and Canada over the next year. Additionally, customers can also explore and purchase these exquisite creations online at swarovski.com started in November 2022.
Lab-Grown Diamonds Market Report Scope
Report Attributes
Details
Market Size in 2022
US$ 23.4 Bn
Market Size by 2030
US$ 49.08 Bn
CAGR
CAGR of 5.1% From 2023 to 2030
Base Year
2022
Forecast Period
2023-2030
Historical Data
2019-2021
Report Scope & Coverage
Market Size, Segments Analysis, Competitive Landscape, Regional Analysis, DROC & SWOT Analysis, Forecast Outlook
Key Segments
• By Size (Below 2 carat, 2-4 carat, and Above 4 carat)
• By Type (Polished and Rough)
• By Nature (Colored and Colorless)
• By Manufacturing Method (Chemical Vapor Deposition (CVD) and High-Pressure High Temperature (HPHT))
• By Application (Fashion and Industrial)
• By Distribution Channel (Online, Special Store, Supermarket, and Others)
Regional Analysis/Coverage
North America (US, Canada, Mexico), Europe (Eastern Europe [Poland, Romania, Hungary, Turkey, Rest of Eastern Europe] Western Europe] Germany, France, UK, Italy, Spain, Netherlands, Switzerland, Austria, Rest of Western Europe]), Asia Pacific (China, India, Japan, South Korea, Vietnam, Singapore, Australia, Rest of Asia Pacific), Middle East & Africa (Middle East [UAE, Egypt, Saudi Arabia, Qatar, Rest of Middle East], Africa [Nigeria, South Africa, Rest of Africa], Latin America (Brazil, Argentina, Colombia Rest of Latin America)
Company Profiles
WD Lab Grown Diamonds, New Diamond Technology LLC, ABD Diamonds Pvt. Ltd., Clean Origin LLC., Swarovski AG, Mittal Diamonds, De Beers Group, Henan Huanghe Whirlwind CO. Ltd., Diam Concept, Diamond Foundry Inc.
Key Drivers
• Increasing demand for sustainable and ethical alternatives to natural diamonds
• Increasing number of jewelry manufacturers offering lab-grown diamond options
• Expanding distribution channels for these diamonds
Market Restraints
• Lack of awareness among consumers regarding lab-grown diamonds
• Perception that lab-grown diamonds are of lower quality than natural diamonds