REPORT SCOPE & OVERVIEW
The PET Packaging Market size was USD 75.4 billion in 2022 and is expected to Reach USD 112.25 billion by 2030 and grow at a CAGR of 5.1 % over the forecast period of 2023-2030.
PET, also referred to as polyethylene terephthalate, is a flexible, non-toxic material that is safe, lightweight, and can be recycled and used multiple times. Additionally, it can be processed up to three to four times without losing any of its chemical qualities. These qualities make polyethylene terephthalate an excellent material for use in a variety of industries, including textiles, electronics, and the automotive sector.
In addition, polyethylene terephthalate has special physical qualities that make it useful for flexible packaging applications. These qualities include not reacting with food or water. A positive impact on market growth is anticipated from the expanding technological innovations and advancements in packaging applications, particularly through weight reduction. Major market growth drivers for PET include rising textile and fabric consumption, rising PET recycling, and rising global demand for environmentally friendly and recyclable goods.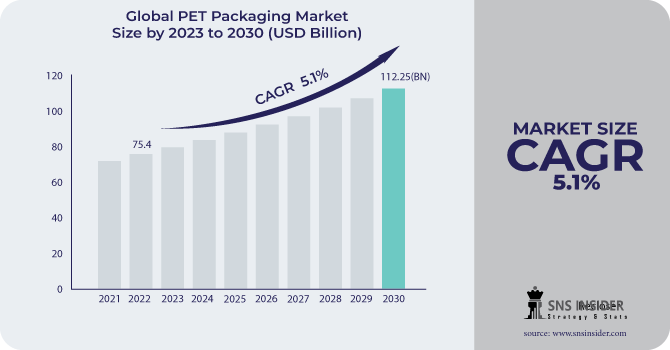 Get Sample Copy of PET Packaging Market - Request Sample Report
MARKET DYNAMICS
KEY DRIVERS:
Increase in demand from the pharmaceutical industry.

Increasing Demand for Rigid Packaging
Rigid packaging offers excellent protection for products during storage, handling, and transportation. The increasing emphasis on sustainable packaging solutions has fueled the demand for rigid packaging materials that are recyclable or made from recycled content.
RESTRAIN:
Increasing prices of raw materials

Availability of Substitute Material
The increasing demand for environmentally friendly substitutes like High-Density Polyethylene (HDPE) and strict environmental regulations limiting the use of PET is anticipated to have a negative effect on the market's expansion.
OPPORTUNITY:
Making use of the qualities of PET materials across various industries.

Investment in technological advancements for improvised PET material
With the development of technology, the PET packaging market continues to develop. These developments can be used by businesses to enhance product performance, streamline manufacturing procedures, and lower costs. Research and development expenditures can result in the creation of novel barrier technologies, enhanced packaging concepts, and effective recycling techniques, giving businesses a competitive edge in the market.
CHALLENGES:
PET bottles with multiple layers and those containing problematic additives for recycling can easily evade detection and end up in the PET bale.
IMPACT OF RUSSIAN UKRAINE WAR
With an annual production of more than 800,000 tonnes of glass bottles, 650,000 tonnes of transport packaging, and 950,000 tonnes or more of PET beverage bottles, Ukraine was a significant player in the world's packaging supply chain. It was a major provider of wood and metal to the European market due to its abundance of forested land and sizable reserves of nickel, copper, and iron.
Due to the war, there was heavy damage caused to infrastructure and the global economy which reduced the production and supply chain globally. This affected the overall growth of the PET packaging market globally. Russia exports around 2.2 million tons of polymers across the globe. Due to the war exports were reduced which damaged the overall supply chain of raw materials.
IMPACT OF ONGOING RECESSION
The business-to-business (B2B) sector is also affected during a recession. Industries such as manufacturing, automotive, and construction may experience a decline in production and demand for their products. This reduction in B2B activity can subsequently affect the demand for rigid packaging used for industrial and commercial purposes.
Companies may face financial challenges during a recession, including reduced access to capital, credit constraints, and increased operational costs. These financial pressures can lead to cost-cutting measures, including reducing packaging expenses. Companies may explore alternatives to rigid packaging, such as downsizing packaging sizes, utilizing lighter materials, or opting for more cost-effective packaging solutions.
IMPACT OF COVID-19
Covid-19 has given boom to the plastic industry. Despite its drawbacks, plastic packaging has become indispensable due to the pandemic's need for safety. However, the rise in demand for it is causing supply chains to break down due to the increased demand. The United States imports plastic bottles worth $1 billion, plastic lids worth $5.5 billion, and plastic bottles from China, and Mexico annually.
Due to covid-19 brands are dealing with slow deliveries and, occasionally, out-of-stock merchandise. As brands look for new PET bottle vendors, pricing has gone up from 6% to 10%.
KEY MARKET SEGMENTS
By Packaging Type
By Product Type
Cans & Container

Bottle & Jars

Bags & Pouches

Trays, Films & Wraps

Others
By End users
Agriculture

Automotives

Pharmaceuticals

Food & Beverages

Others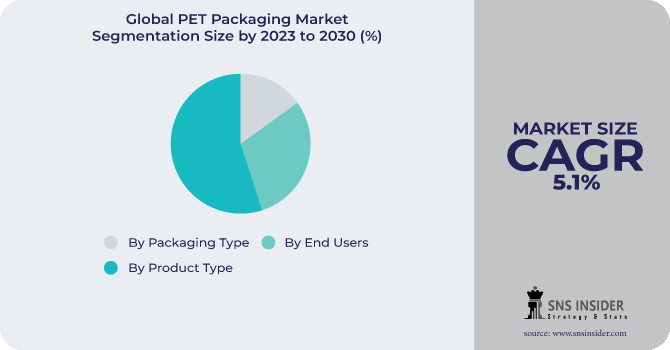 Get Customized Report as per Your Business Requirement - Enquiry Now
REGIONAL ANALYSIS
With a 40 % market share in 2021, the Asia Pacific region dominated the PET market. The demand for PET in the Asia Pacific region is anticipated to rise as a result of rising packaged food consumption and rising demand for automotive films in emerging economies.
Considering an increasing GDP per capita and an improving domestic consumer goods production landscape, China and India, are the region's two fastest-growing economies, offering numerous growth prospects for the consumer goods sector. Growth in consumer goods sales will likely have a positive impact on the PET market due to population growth, and improved purchasing power in Latin American and Asia regions.
China, India, and other developing nations are anticipated to experience rapid economic growth in the near future. In the upcoming years, it is anticipated that significant investments in the building and construction industries for the development of infrastructure in Europe and the Asia-Pacific region will increase demand for films and sheets.
Markets in North America and Europe are more developed than those in Asia Pacific. Due to strict regulations in both regions, manufacturers have been forced to shift their production to emerging economies. These nations provide skilled labor and land for comparatively less money.
The U. S. due to strong demand from numerous end-use industries, the market for PET is relatively mature but expanding. Additionally, the U. S. government, along with a number of federal agencies, is investing more money in regional development and infrastructure, these factors are probably going to cause the infrastructure and construction markets to grow quickly, which will be good for the growth the PET market.
REGIONAL COVERAGE:
North America
Europe
Germany

UK

France

Italy

Spain

The Netherlands

Rest of Europe
Asia-Pacific
Japan

South Korea

China

India

Australia

Rest of Asia-Pacific
The Middle East & Africa
Latin America
Brazil

Argentina

Rest of Latin American
Key players List-
Some major key players in the PET packaging market are CCL Industries Inc, ProAmpac LLC, Novolex Holdings LLC, Sealed Air Corporation, Berry Global Group, Mondi Group, Gerresheimer AG, Clondalkin Group, Huhtamaki Oyj, Constantia Flexiles Group GmbH, and other players.
RECENT DEVELOPMENT
Bormioli Pharma and Pierre Fabre, New PET packaging is created by Bormioli Pharma and Pierre Fabre for mouthwashes made by Eludril brand, one of the top oral care brands in Europe, the two companies have developed packaging made entirely of recycled PET.

TechniPlex Healthcare, The first blister + lidding combination in the world was set on display at PACK EXPO in 2022 by TechniPlex Healthcare
PET Packaging Market Report Scope:
Report Attributes
Details
Market Size in 2022
US$ 75.4 Bn
Market Size by 2030
US$ 112.25 Bn
CAGR
CAGR of 5.1 % From 2023 to 2030
Base Year
2022
Forecast Period
2023-2030
Historical Data
2020-2021
Report Scope & Coverage
Market Size, Segments Analysis, Competitive Landscape, Regional Analysis, DROC & SWOT Analysis, Forecast Outlook
Key Segments
• By Packaging Type (Rigid, Flexible)
• By Product Type (Cans & Containers, Bottle & Jars, Bags & Pouches, Caps & Closures, Trays, Films & Wraps, Others)
• By End Users (Agriculture, Automotives, Pharmaceuticals, Food & Beverages, Others)
Regional Analysis/Coverage
North America (USA, Canada, Mexico), Europe
(Germany, UK, France, Italy, Spain, Netherlands,
Rest of Europe), Asia-Pacific (Japan, South Korea,
China, India, Australia, Rest of Asia-Pacific), The
Middle East & Africa (Israel, UAE, South Africa,
Rest of Middle East & Africa), Latin America (Brazil, Argentina, Rest of Latin America)
Company Profiles
CCL Industries Inc, ProAmpac LLC, Novolex Holdings LLC, Sealed Air Corporation, Berry Global Group, Mondi Group, Gerresheimer AG, Clondalkin Group, Huhtamaki Oyj, Constantia Flexiles Group GmbH
Key Drivers
• Increase in demand from the pharmaceutical industry.
• Increasing Demand for Rigid Packaging
Market Opportunities
• Making use of the qualities of PET materials across various industries.
• Investment in technological advancements for improvised PET material