REPORT SCOPE & OVERVIEW
The Tube Packaging Market size was USD 10.86 billion in 2022 and is expected to Reach USD 17.32 billion by 2030 and grow at a CAGR of 6 % over the forecast period of 2023-2030.
Increasing demand for this kind of packaging from various industries such as cosmetics and personal care, health care, and food is expected to be the main driver of the market. Increasing consumer awareness of personal health and well-being is expected to be a stimulating factor for the growth of the personal care products market. Increasing awareness of personal care will increase the demand for personal care products, which will directly increase the demand for tube packaging. Due to high consumer purchasing power, the United States is one of the major markets for the global beauty and personal care industry.
The changing consumer preference for natural ingredients has increased the demand for organic personal care products in this country. Organic Chemical products tend to be sold in small quantities and at high prices, which will increase the demand for tube packaging that allows for efficient and accurate dosing.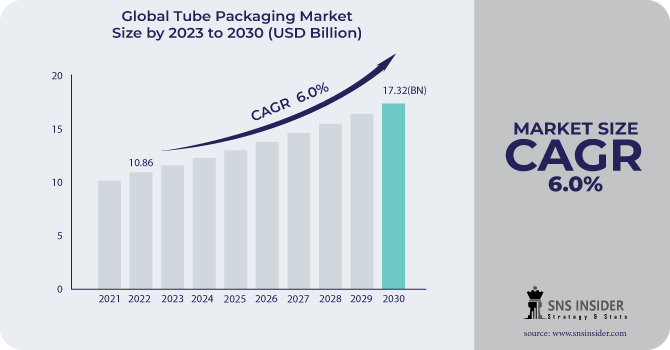 Get More Information on Tube Packaging Market - Request Sample Report
Fluctuations in commodity prices, including plastics, aluminum, and other laminates, can pose challenges to market growth. Plastic materials mainly include polyethylene, PET, and polypropylene. The prices of these polymers are susceptible to wildly fluctuating oil prices. Moreover, rising environmental concerns and stringent government regulations on the use and disposal of plastics are expected to hamper the market growth during the forecast period. Tightening restrictions on the use of plastics is expected to create opportunities for innovative materials such as bioplastics and aluminum. Plastics such as polylactic acid are mainly derived from renewable energy sources such as cornstarch, sugarcane, chips, tapioca root, and other starches. Polylactic acid is the most commonly consumed bioplastic worldwide. Biodegradability, recyclability, and non-toxicity are key factors behind the global demand for bioplastics.
Products are mainly delivered to end consumers such as pharmaceutical manufacturers and cosmetic manufacturers through dealers. However, many end users around the world have contacted manufacturers directly to reduce costs and ensure uninterrupted supply. Additionally, some tube packaging manufacturers allow users to order directly from their websites. These portals allow direct contact between suppliers and customers, reducing distribution costs and increasing profitability for both parties.
MARKET DYNAMICS
KEY DRIVERS:
Tube is often used to package products such as creams, and lotions. Growing consumer demand for these products and the need for convenient and hygienic packaging solutions are driving demand for tube packaging.
RESTRAIN:
Although tube packaging has sustainability benefits, there are still concerns about disposal and recycling of certain types of tubes, especially those made of multi-layered plastic or mixed materials. Increasing environmental regulations and consumer demand for fully recyclable or biodegradable packaging can pose challenges for the tube packaging industry.
OPPORTUNITY:
Tube packaging can be easily customized in terms of design, shape and printing to suit specific brand requirements and consumer preferences. Offering customization options and working with brands to develop unique packaging designs can help tube packaging manufacturers differentiate themselves and attract customers.
CHALLENGES:
Some of the alternative packaging formats that compete with tubes include bottles, jars, pouches, cartons, and rigid containers. These alternatives may offer different features and benefits that appeal to certain industries or consumer preferences.
IMPACT OF RUSSIAN UKRAINE WAR
The Russia-Ukraine conflict has a negative impact on the tube packaging market. The export of aluminium as raw material for tube packaging from Russia was low as compared to past years. Russia is the major supplier of aluminium and other raw materials to major countries such as US, Europe China. Trade disruptions also arose due to supply chain complexity between Russia and other countries. The war increased the aluminium prices, due to which, In tube packaging aluminum contributes up to 40%. Aluminium prices reached nearly $4000/ton during the conflict.
Oil prices reached $96 which affected the plastic segment which is also a major contributor to the tube packaging market. European packaging companies reduced production due to increasing natural gas and other energy prices.
The cost of shipping was also increased due to the Russia-Ukraine conflict. There was a rise of $40000 from $30000 per 40-foot container which affected the global market.
IMPACT OF ONGOING RECESSION
Cosmetic and personal care industry will face a significant loss during the recession period, due to changed consumer buying behavior at the times of recession. Consumer tends to spend less on luxury products which may affect their income. Consumer brands will face 20% decrease in sales during recession, due to less demand.
US Consumer price index showed 8% increase in prices of goods. Un employment rate in US fell to 4% which will ultimately affect the packaging industry demand.
KEY MARKET SEGMENTS
By Material
By Product Type
Squeeze Tubes

Twist Tubes

Collapsible Tubes
By Application
Healthcare

Personal Care

Food

Pharmaceuticals

Others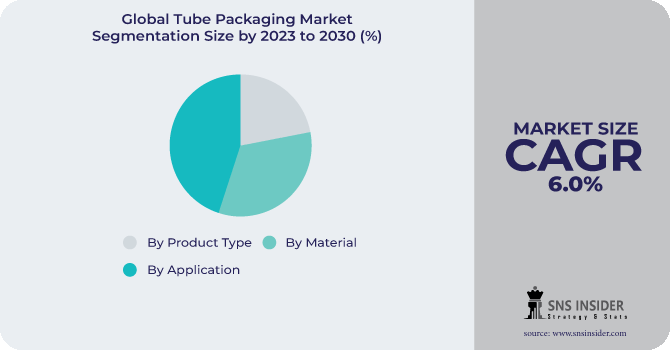 Get Customized Report as per your Business Requirement - Request For Customized Report
REGIONAL ANALYSIS
North America dominated the industry with a revenue share of 35 % in 2022 and will continue to dominate the market during the forecast period. This is because of the personal care and healthcare industry present in the region, accounting for a higher market share.
Asia Pacific will show rapid growth of the tube packaging market during the forecast period. Countries such as India and China, are developing as production hubs in the region. The rising population and disposable income also contribute to the region's growth. European market players are continuously working on developing new products to meet the growing demand from various end-user sectors in this region.
The Middle East and Africa are also considered fast-developing regions, with a majority of the population tending to be high-income and consuming at the same time. Consumer brand loyalty in the region is declining due to the availability of cheaper alternatives. This region has an increasing demand for various personal care, health care, and processed food products, which will further drive the market growth.
REGIONAL COVERAGE:
North America
Europe
Germany

UK

France

Italy

Spain

The Netherlands

Rest of Europe
Asia-Pacific
Japan

South Korea

China

India

Australia

Rest of Asia-Pacific
The Middle East & Africa
Latin America
Brazil

Argentina

Rest of Latin American
Key players
Some major key players in the Tube packaging market are Hoffman Neopac AG, Montebello Packaging, Sonoco Products Company, Essel Propack Limited, Romaco Group, ALBEA, Huhtamaki OYJ, Patterson Pump Company, Cobey Inc, VisiPak, and other players.
RECENT DEVELOPMENT
Stora Enso, Global packaging company Stora Enso has teamed up with Blue Ocean Closures and AISA to develop a new cardboard tube with fiber-based closures.

Colgate-Palmolive, Introduces Lighter, Sustainable Toothpaste Tubes.

TUBEX manufactures mono-material aluminum tubes for product refills.