Report Scope & Overview:
Portable Generators Market size was valued at USD 2.65 billion in 2022 and is expected to grow to USD 4.09 billion by 2030 and grow at a CAGR of 5.6% over the forecast period of 2023-2030.
Portable generators are a convenient and reliable source of power that can be used in a variety of settings. They are particularly useful in situations where access to electricity is limited or non-existent, such as during power outages, camping trips, or outdoor events. These generators come in a range of sizes and power outputs, making them suitable for a wide range of applications. Some models are small enough to be carried by hand, while others are large enough to power an entire home or business. When choosing a portable generator, it is important to consider factors such as fuel type, power output, and runtime. Gasoline-powered generators are the most common type, but propane and diesel models are also available. The power output of a generator is measured in watts, and it is important to choose a model that can provide enough power for your needs. Runtime refers to the amount of time a generator can run on a single tank of fuel, and longer runtimes are generally preferable. In addition to these factors, it is also important to consider the noise level of a generator. Some models are designed to be quieter than others, which can be important in settings where noise is a concern.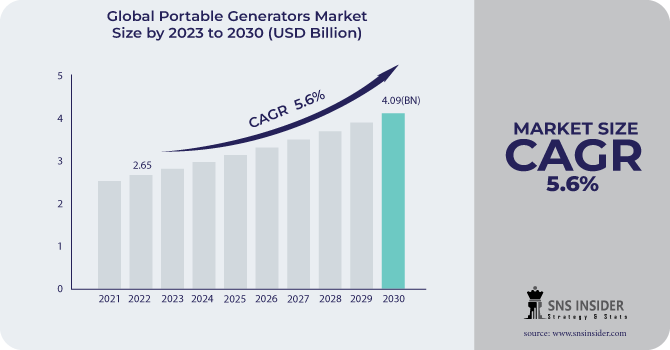 One of the key drivers of this market is the increasing demand for portable power solutions in areas where traditional power sources are not available or reliable. This includes remote locations, disaster zones, and areas with unreliable power grids. Moreover, advancements in technology have led to the development of generators that are capable of running on alternative fuels such as propane or natural gas.
Market Dynamics
Drivers
Rising frequency of power outages and number of natural calamities

Rising need for a backup power solution

Increasing demand for efficient power sources in both residential and commercial sectors
The increasing frequency of power outages and natural disasters has become a significant driving force behind the growth of the portable generator market. In the year 2022, a total of 428 natural disasters were recorded worldwide, which is an increase from the 413 recorded in the previous year. The Asian Pacific region was hit the hardest, experiencing the highest number of natural disasters in 2021. As these events become more common, individuals and businesses alike are recognizing the need for a reliable backup power source. This has led to a surge in demand for portable generators, which offer a convenient and efficient solution for powering essential appliances and equipment during times of emergency. With the market for portable generators continuing to expand, it is clear that they have become an essential tool to ensure uninterrupted access to electricity.
Restrain
High cost associated with portable generators

Stringent environmental norms and regulations about the emission of harmful gases
Opportunities
The rising popularity and trend of outdoor recreational activities present a significant opportunity for the portable generator market. As more and more people seek to escape the hustle and bustle of city life, they turn to outdoor recreational activities such as camping, hiking, and fishing. These activities often take place in remote locations where access to electricity is limited or non-existent. The demand for portable generators is expected to continue to grow as more people embrace outdoor recreational activities. This presents a significant opportunity for manufacturers and retailers in the portable generator market to capitalize on this trend.
Challenges
Impact of Russia-Ukraine War:
The instability and uncertainty caused by the Russia-Ukraine war have increased demand for portable generators in both countries. Due to this, there has been a surge in the demand for portable generators. Due to the disruption of electricity in Ukraine, people have turned to portable generators to meet their energy needs. In response to this crisis, USAID has delivered over 1,800 generators to 22 oblasts across Ukraine, as of February 2023. The EU has also provided almost 600 generators through its Civil Protection Mechanism, with an additional 350 funded through humanitarian aid. Furthermore, Bulgaria has shipped over 120 portable electric generators to Ukraine, where millions of people are without power or facing outages due to the Russian military's targeting of energy infrastructure. Unfortunately, the war has also disrupted supply chains and transportation routes, leading to delays and increased costs for manufacturers and distributors. This has resulted in higher prices for consumers and a decrease in the availability of certain models.
Impact of ongoing Recession:
During a recession, the construction and infrastructure development industries experience a significant slowdown. These sectors are major consumers of portable generators, which are used to power tools and equipment on job sites. However, with fewer projects being undertaken, the demand for portable generators in the construction industry may decrease. In times of economic downturn, consumers tend to prioritize cost-effective and fuel-efficient products. As a result, there may be a shift in preferences towards smaller, more efficient generators that offer better value for money. This trend is likely to continue as businesses and individuals seek to cut costs and maximize their resources.
Market segmentation
By Product Type
Diesel Generator

Gasoline Generator

Gaseous Generator

Others
By Power Range
By Application
Emergency

Prime/Continuous
By End-user
Industrial

Commercial

Residential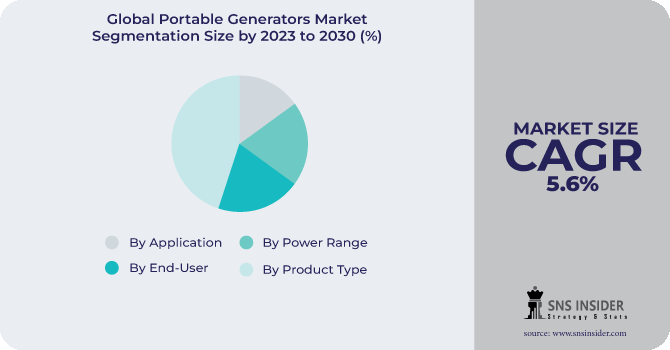 Regional Analysis
The Asia Pacific region has emerged as a dominant player in the portable generator market with a revenue share of 34.65% in 2022 and is expected to maintain its lead during the forecast period of 2023-2030. This is owing to the region's growing population, increasing demand for reliable power sources, and rising disposable income. Furthermore, the Asia Pacific region boasts a robust manufacturing sector, which has enabled it to produce high-quality portable generators at competitive prices. This has made portable generators more accessible to a wider range of consumers, further fueling demand in the region. In addition, the Asia Pacific region has been investing heavily in renewable energy sources. While these sources are becoming increasingly popular, they are not yet able to provide a consistent and reliable source of power. As a result, portable generators have become an essential backup power source for many households and businesses in the region.
North America is estimated to grow with a significant CAGR during the forecast period owing to an increase in demand for reliable power sources in the region, particularly during power outages caused by severe weather conditions. Furthermore, the rising frequency of natural disasters has led to an increased demand for portable generators in the United States. In 2022 alone, the country was hit by 18 natural disasters, resulting in damages exceeding $1.5 billion. In addition, consumers are increasingly seeking portable and convenient power sources to power their electronic devices and appliances while camping. Additionally, advancements in technology have led to the development of more efficient and eco-friendly portable generators, which have further fueled the demand for these products in the region.
REGIONAL COVERAGE:
North America

Europe

Germany

UK

France

Italy

Spain

The Netherlands

Rest of Europe

Asia-Pacific

Japan

south Korea

China

India

Australia

Rest of Asia-Pacific

The Middle East & Africa

Latin America

Brazil

Argentina

Rest of Latin America
Key Players
The major key players are Yamaha Motor Corporation, Honda, Generac Power Systems, Briggs & Stratton Corporation, Kohler Co., Caterpillar Inc., Champion Power Equipment, Cummins Inc., Duromax Power Equipment, Honeywell International, and other key players mentioned in the final report.
Recent Development:
In May of 2023, Generac Power Systems, Inc. made an exciting announcement regarding their GP line of portable generators. They revealed two new additions to the line, the GP15500EFI, and GP18000EFI.

In February of 2023, Caterpillar Inc. also made a significant announcement. They introduced the Cat XQ330 mobile diesel generator. This generator meets U.S. EPA Tier 4 Final emission standards, making it an environmentally friendly choice for those in need of reliable power.

In January 2022, Honda launched their all-new EU32i portable generator. The generator is outfitted with a specially engineered engine that has the ability to generate a maximum output of 3.2kVA.
Portable Generators Market Report Scope:
Report Attributes
Details
Market Size in 2022
US$ 2.65 Bn
Market Size by 2030
US$ 4.09 Bn
CAGR
CAGR of 5.6 % From 2023 to 2030
Base Year
2022
Forecast Period
2023-2030
Historical Data
2020-2021
Report Scope & Coverage
Market Size, Segments Analysis, Competitive Landscape, Regional Analysis, DROC & SWOT Analysis, Forecast Outlook
Key Segments
• By Product Type (Diesel Generator, Gasoline Generator, Gaseous Generator, and Others)
• By Power Range (Low Power (5 - 25KW), Medium Power (26 - 360KW), and High Power (361 – 500KW))
• By Application (Emergency and Prime/Continuous)
• By End-user (Industrial, Commercial, and Residential)
Regional Analysis/Coverage
North America (USA, Canada, Mexico), Europe
(Germany, UK, France, Italy, Spain, Netherlands,
Rest of Europe), Asia-Pacific (Japan, South Korea,
China, India, Australia, Rest of Asia-Pacific), The
Middle East & Africa (Israel, UAE, South Africa,
Rest of Middle East & Africa), Latin America (Brazil, Argentina, Rest of Latin America)
Company Profiles
Yamaha Motor Corporation, Honda, Generac Power Systems, Briggs & Stratton Corporation, Kohler Co., Caterpillar Inc., Champion Power Equipment, Cummins Inc., Duromax Power Equipment, Honeywell International
Key Drivers
• Rising frequency of power outages and number of natural calamities
• Rising need for a backup power solution
• Increasing demand for efficient power sources in both residential and commercial sectors
Market Opportunities
• Increasing popularity and trend of outdoor recreational activities