Report Scope & Overview:
Reed Relay Market size was valued at USD 351 million in 2022 and is expected to grow to USD 1127.12 million by 2030 and grow at a CAGR of 15.7% over the forecast period of 2023-2030.
A reed relay is an electrical switch that uses a small electromagnet to control the movement of thin metal reeds (the flow of current). When the electromagnet is energized, the reeds are drawn together, completing a circuit. When the electromagnet is de-energized, the reeds spring back to their original position, breaking the circuit. Reed relays are commonly used in applications where high reliability and low power consumption are important, such as in medical equipment, telecommunications, and aerospace. They are also used in test and measurement equipment, where their fast-switching speed and low contact resistance make them ideal for switching signals and measuring small currents.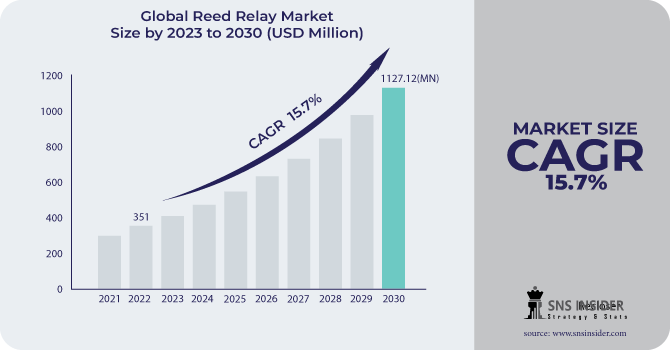 Reed relays are widely used in a variety of applications, including telecommunications, automotive, medical, and industrial equipment. They are known for their reliability, durability, and high performance, making them a popular choice for many industries. The market for reed relays is expected to continue growing in the coming years, driven by the increasing demand for electronic devices and the need for more efficient and reliable switching solutions. As technology continues to advance, the demand for reed relays is expected to increase even further, creating new opportunities for businesses in this industry.
Market Dynamics
Drivers
Advancements in technology

Increasing demand for automation

Growing need for low-power reed switches
The increasing demand for low-power reed switches is the primary driving force behind the growth of the reed relay market. This is because low-power reed switches are highly efficient and cost-effective, making them an attractive option for a wide range of applications. Reed relays are commonly used in a variety of industries, including telecommunications, automotive, and medical devices. The growing need for low-power reed switches is particularly important in these industries, as they require reliable and efficient components that can operate with minimal power consumption. Low-power reed switches are designed to operate at low voltages and currents, making them ideal for battery-powered devices and other applications where power consumption is a critical factor. They are also highly durable and can withstand harsh environments, making them suitable for use in a wide range of industrial and commercial applications.
Restrain
The reed relay market is currently limited by its relatively low current rating when compared to both electromagnetic relays (EMR) and solid-state relays (SSR). This means that the amount of electrical current that can be safely passed through a reed relay is lower than what can be handled by its counterparts. This limitation can make Reed relays less suitable for certain applications that require higher current ratings.
Opportunities
Increasing the number of EV charging stations

Rising use of reed sensors for home appliances and smart meters
Challenges
Impact of Russia-Ukraine War:
The ongoing conflict between Russia and Ukraine affected various industries, including the Reed Relay market. The sanctions imposed on Russia by the international community had a significant impact on the Reed Relay market. Many manufacturers rely on Russian suppliers for components, and the sanctions have made it difficult to obtain these components. This has led to further delays in production and increased costs for manufacturers. However, some key players in the industry, such as Pickering Group, have taken a different approach. They have stopped selling and supporting their products in Russia and Belarus, as they are already fully compliant with all Russian sanction regulations from the UK, EU, and US governments. This move has helped them avoid any potential legal issues and maintain their reputation as a responsible and ethical company
The war has also affected the production of Reed Relay components in Ukraine, which is a major manufacturer of these components. The conflict has disrupted the supply chain, causing shortages of base metals used in some Reed Relays. This has resulted in some short-term disruptions in the market. Furthermore, in 2022, the European region experienced a significant decline in new car registrations, with a 10.5% drop to 12.84 million units. This decline is attributed to two major factors: the ongoing semiconductor shortages and the Russo-Ukrainian conflict. As a result, the demand for reed relays in the automotive industry has also decreased in the European region.
Impact of Recession:
Reed Relays are used in a variety of electronic devices, including medical equipment, telecommunications systems, and industrial machinery. As a result, any changes in the economy can have a significant impact on the demand for these products. The impact of the recession on the Reed Relay market is not uniform across all regions and industries. Some industries, such as healthcare and telecommunications, may continue to see strong demand for electronic devices and, therefore, Reed Relays. Additionally, some regions may be less affected by the recession than others, leading to varying levels of demand for Reed Relays. More region-wise impact of the recession on the reed relay market is included in the final report.
Market segmentation
By Type
Reed Relay in Single-In-Line (SIL) Package

Reed Relay in Dual-In-Line (DIP) Package

Others
By Voltage
Basic 200 V

200 V-500 V

500 V-1 kV

1 kV-7.5 kV

7.5 kV-10 kV

Above 10 kV
By Application
Household appliances

Test Measurement

Mining

Automotive

Industrial

EV

Renewables

Medical

Others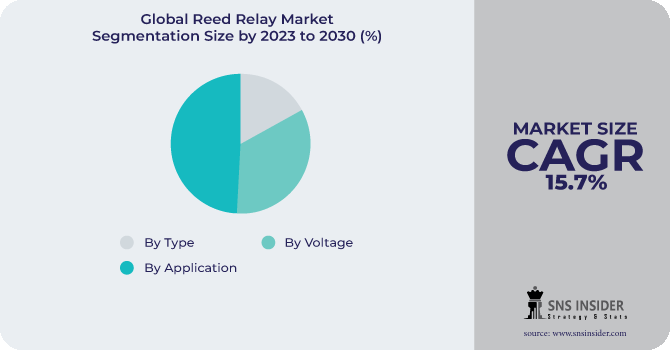 Regional Analysis
Europe is currently the leading region in the Reed Relay Market with a market share of about 26.74% and is expected to maintain this position throughout the forecast period of 2023-2030. The increasing demand for reed relays in various industries such as automotive, telecommunications, and healthcare is driving the growth of the market in Europe. The automotive industry, in particular, is a major contributor to the increasing demand for reed relays. These relays are used in a variety of automotive applications, such as power windows, door locks, and seat controls. The telecommunications industry is also a significant driver of growth, as reed relays are used in telephone exchanges and other communication systems. Moreover, the healthcare industry is also adopting reed relays for various applications, including medical equipment and devices. The reliability and durability of reed relays make them an ideal choice for use in critical medical equipment.
REGIONAL COVERAGE:
North America

Europe

Germany

UK

France

Italy

Spain

The Netherlands

Rest of Europe

Asia-Pacific

Japan

South Korea

China

India

Australia

Rest of Asia-Pacific

The Middle East & Africa

Latin America

Brazil

Argentina

Rest of Latin America
Key Players
The major key players are Siemens AG, General Electric, ABB, Pickering Electronic Ltd, Standex Electronics Inc., Schneider Electronics, Towards Relays, COTO Technology, Comus, TE Connectivity, and other key players will be included in the final report.
General Electric-Company Financial Analysis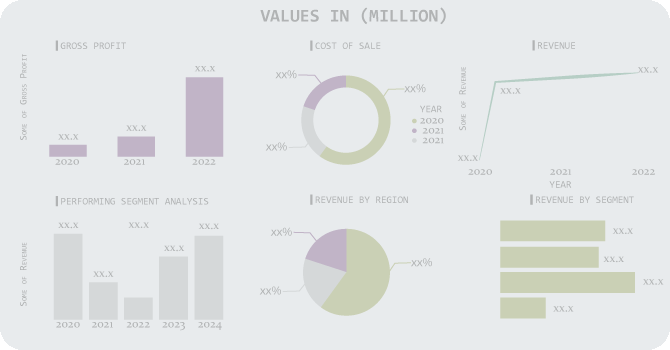 Key Developments:
In October of 2022, Pickering Electronics signed a significant global distribution partnership with Newark, an Avnet Company. As one of the world's largest distributors of electronic components, Newark is an ideal partner for Pickering Electronics. This agreement allows Farnell, Newark, and Element14 to stock over 100 different series of reed relays from Pickering, ensuring immediate delivery to customers worldwide.
Reed Relay Market Report Scope:
Report Attributes
Details
Market Size in 2022
US$ 351 Mn
Market Size by 2030
US$ 1127.12 Mn
CAGR
CAGR of 15.7 % From 2023 to 2030
Base Year
2022
Forecast Period
2023-2030
Historical Data
2020-2021
Report Scope & Coverage
Market Size, Segments Analysis, Competitive Landscape, Regional Analysis, DROC & SWOT Analysis, Forecast Outlook
Key Segments
• By Type (Reed Relay in Single-In-Line (SIL) Package, Reed Relay in Dual-In-Line (DIP) Package, and Others)
• By Voltage (Basic 200 V, 200 V-500 V, 500 V-1 kV, 1 kV-7.5 kV, 7.5 kV-10 kV, and Above 10 kV)
• By Application (Household appliances, Test Measurement, Mining, Automotive, Industrial, EV, Renewables, Medical, and Others)
Regional Analysis/Coverage
North America (USA, Canada, Mexico), Europe
(Germany, UK, France, Italy, Spain, Netherlands,
Rest of Europe), Asia-Pacific (Japan, South Korea,
China, India, Australia, Rest of Asia-Pacific), The
Middle East & Africa (Israel, UAE, South Africa,
Rest of Middle East & Africa), Latin America (Brazil, Argentina, Rest of Latin America)
Company Profiles
Siemens AG, General Electric, ABB, Pickering Electronic Ltd, Standex Electronics Inc., Schneider Electronics, Towards Relays, COTO Technology, Comus, TE Connectivity
Key Drivers
• Advancements in technology
• Increasing demand for automation
• Growing need for low-power reed switches
Market Opportunities
• Increasing the number of EV charging stations
• Rising use of reed sensors for home appliances and smart meters