Report Scope & Overview:
Refurbished Smartphone Market size was valued at USD 64.4 billion in 2022 and is expected to grow to USD 151.65 billion by 2030 and grow at a CAGR of 11.3% over the forecast period of 2023-2030.
By type, the global market for refurbished and used mobile phones generated more than half of the revenue in 2022, and it is anticipated that this segment will continue to dominate the market through 2031. The section of reconditioned phones, on however, would demonstrate the quickest CAGR of 12.7% over the projected period epoch. In terms of price range, the low-cost (less than $200) category accounted for more than half of the market share of used and refurbished mobile phones worldwide in 2022 and is expected to become dominant by 2031. The middle price range ($200 to $500) on the other hand, would have the quickest CAGR during the forecast period, at 13.4%. The report also analyses the premium (over $500) segments. By application, the individual segment held the largest share in 2021, contributing nearly one-third of the revenue from used and refurbished mobile phones worldwide. The fastest CAGR for the same segment would be 12.5% between 2022 and 2031. The report also includes an analysis of the business segments.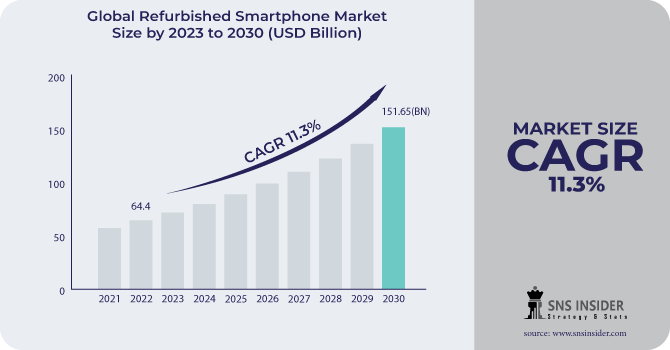 KEY DRIVERS:
Growing use of e-commerce platforms is fueling
Several competitors in the market made calculated investments and acquisitions to gain a foothold in the growing market for refurbished smartphones. In order to expand its e-commerce operations and enhance its post-purchase offerings for its customers in the smartphone industry, Flipkart Group acquired Yantra, an electronics e-commerce startup, in January 2022 for an undisclosed amount. The growth of online marketplaces selling used smartphones leads to increased market penetration, especially in emerging markets. The ease with which cell phones can be purchased on online retailers' platforms, as well as the ongoing promotions offered during the festival and summer, will attract new customers.
The market for reconditioned smartphones is expanding
RESTRAIN:
The market for reconditioned smartphones has grown as a result of consumers' growing environmental consciousness. Refurbished gadgets are popular among consumers as a green choice that reduces electronic waste and advances the circular economy.
OPPORTUNITY:
E-commerce platforms are becoming more popular
Growing demand from developing countries
Increased consumer demand for more reasonably priced goods, expanding emerging markets, and the growing acceptance of smartphones in developing nations have all contributed to this increase in demand. Furthermore, growing brand share in the mid-range segment, rising demand for high-end features at competitive prices, and the fast urbanization of developing countries are expected to propel the global market during the forecast period. Furthermore, developing countries need to witness a rise in the reliance of their citizens on electronic devices in order to sustain demand in the global market for refurbished smartphones.
Greater reliance on smartphones among consumers worldwide
CHALLENGES:
Technological Developments
The refurbished market is impacted by the rate at which the smartphone industry advances technologically. Older devices become available for repair and resale when new models are introduced. The availability and desirability of various smartphone generations affect market dynamics.
IMPACT ANALYSIS
IMPACT OF RUSSIAN UKRAINE WAR
US Marine Corps Commandant Gen. David Berger stated that the Russia-Ukraine conflict has validated many of the changes made by the US military in preparation for a future conflict with a technologically advanced adversary. The use of new technology on the battlefield has forced the military to reevaluate its operations in this month. Among the most crucial lessons, according to Berger who has spearheaded efforts to create capabilities to function in a more distributed manner since assuming leadership is that your electronics are disclosing more information about you than you may realize the senior member of the Corps in July 2021. When the simulators connect to them, it's also possible for some systems to directly determine the location of the phone, for instance by accessing the phone's internal GPS system. Whatever technique is used the specifics are kept under wraps as military secrets all lead to the enemy being able to pinpoint the user of the phone's location with reasonable accuracy. It is known that the Leer-3 electronic warfare system, which consists of a command truck and two drones, is being used by the Russians in Ukraine to track down Ukrainian forces. With a 3.7-mile range, this system can detect over 2,000 phones, which could make it possible to locate a wide range of enemy locations.
IMPACT OF ONGOING RECESSION
A revolution in communications seemed inevitable earlier this year. In the smartphone market, 5G phone sales were robust throughout Europe, North America, and Asia. that scientists had begun to concentrate on what the next how the next generation of mobile networking technology will appear. That revolution appears to have stalled six months later. Since Supply chain limitations and inflation continue to cause havoc with the global economy and Asia's declining demand for 5G devices notably. It has raised worries that North America and Europe America may follow as consumers are compelled by growing costs to acknowledge the possibility that their present 4G-capable gadget could will, in the upcoming year, be all they can afford. Asia's 5G device sales numbers are startling. According to a Bloomberg report earlier this month, smartphone sales in China, the largest smartphone market in the world, fell by 14.7% in the second quarter of 2022. Industry heavyweights like Xiaomi, Vivo, and Oppo reported comparable drops. Similar reports on the Southeast Asian smartphone market have been released by market analysts, who note that shipments of smartphones decreased by 7% during the same period last quarter compared to the previous quarter. Growing inflation has negatively impacted consumer confidence, and vendors are finding it difficult to maintain device affordability in price-sensitive markets, according to Canalys analysts.
MARKET SEGMENTATION
By Type
Refurbished Phones
Used Phones
By Pricing Range
Low-priced Refurbished and Used Mobile Phones (Less than $200)
Mid-Priced Refurbished and Used Mobile Phones ($200-$500)
Premium Refurbished and Used Mobile Phones (More than $500)
By Sales Channel
Online/ e-Commerce Sales of Refurbished and Used Mobile Phones
Refurbished and Used Mobile Phones Sold at Physical Retail Stores
By Application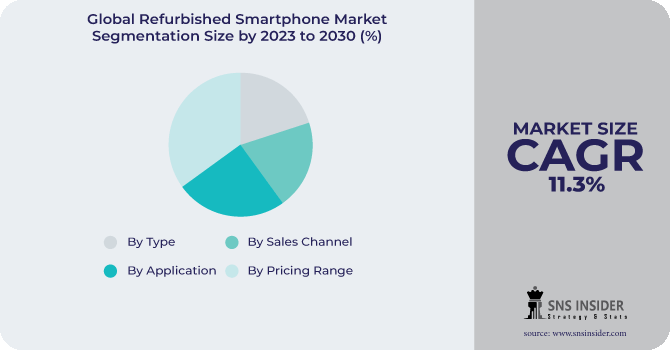 REGIONAL ANALYSIS
The North America, Europe, Asia-Pacific, and the rest of the world, broken down by region. This market will be dominated by the refurbished smartphone market in North America. The growing range of 5G handsets and the increasing advancements in smartphone functionality have led to a boom in the North American market for refurbished smartphones. The US is home to one of the most advanced markets for smartphone providers globally. With companies like Apple, who have changed the global smartphone market's competitive landscape, the region has a history of producing cutting-edge cell phones. Additionally, the US, Canada, Germany, France, the UK, Italy, Spain, and China are the main nations examined in the market report. Kone Saath), and Breafor refurbished smartphones in Asia-Pacific is anticipated to expand with the second-largest market share is the refurbished smartphone market in Europe. There is a growing market for reconditioned and used mobile phones due to several factors, such as increased interest in technology and a high demand for high-end, sophisticated devices. SIM-only deals are appealing, there are more opportunities to switch out existing phones entirely or partially, and the value of used mobile phones is rising. Each of these elements supports growth. This creates a chance for new retail competitors to get traction in the used smartphone market in Europe. Additionally, the UK's reconditioned smartphone market was expanding at the fastest rate in the European Union, while Germany's reconditioned smartphone market held the biggest market share.
REGIONAL COVERAGE:
North America
Europe
Eastern Europe

Poland
Romania
Hungary
Turkey
Rest of Eastern Europe

Western Europe

Germany
France
UK
Italy
Spain
Netherlands
Switzerland
Austria
Rest of Western Europe
Asia Pacific
China
India
Japan
South Korea
Vietnam
Singapore
Australia
Rest of Asia Pacific
Middle East & Africa
Middle East

UAE
Egypt
Saudi Arabia
Qatar
Rest of Middle East

Africa

Nigeria
South Africa
Rest of Africa
Latin America
Brazil
Argentina
Colombia
Rest of Latin America
KEY PLAYERS
Some of key players of Refurbished Smartphone Market are Com Inc., Apple Inc., Cashify, Paytm, Samsung Electronics Co Ltd Walmart, eBay, ATT Inc., Huawei Technologies Co., Lid, Verizon Communications, Inc. and other players are listed in a final report.
Apple Inc-Company Financial Analysis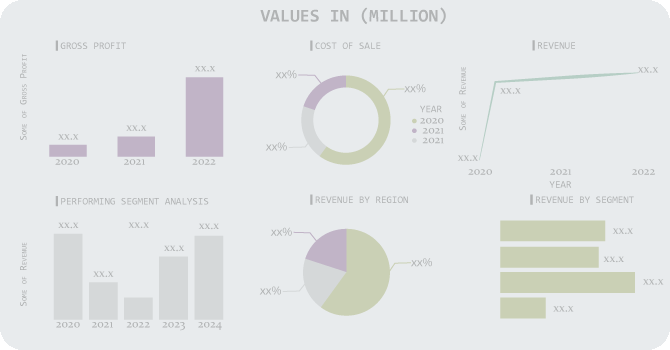 RECENT DEVELOPMENT
2022 September In an effort to increase smartphone longevity and thereby reduce e-waste, Fairphone, a Dutch social enterprise that is developing a market for ethical smartphones, has started offering reconditioned phones, the Fairphone 3, New Life Edition, for sale on its website spare and conserve essential resources.
2022 March The Apple Certified Refurbished store now has the iPhone 12 and iPhone 12 Pro models in stock. Authentic Apple part replacements (if any), a new battery, and a new outer shell are among the products bought from Apple's Certified Refurbished store required), as well as a yearly guarantee.

Refurbished Smartphone Market Report Scope:
Report Attributes
Details

Market Size in 2022

US$ 64.4 billion

Market Size by 2030

US$ 151.65 billion

CAGR

CAGR of 11.3% From 2023 to 2030

Base Year

2022

Forecast Period

2023-2030

Historical Data

2019-2021

Report Scope & Coverage

Market Size, Segments Analysis, Competitive Landscape, Regional Analysis, DROC & SWOT Analysis, Forecast Outlook

Key Segments

By Type (Refurbished Phones, Used Phones), By Pricing Range (Low-priced Refurbished and Used Mobile Phones (Less than $200), Mid-Priced Refurbished and Used Mobile Phones ($200-$500), Premium Refurbished and Used Mobile Phones (More than $500), By Sales Channel (Online/ e-Commerce Sales of Refurbished and Used Mobile Phones, Refurbished and Used Mobile Phones Sold at Physical Retail Stores), By Application (Individual, Businesses)

Regional Analysis/Coverage

North America (US, Canada, Mexico), Europe (Eastern Europe [Poland, Romania, Hungary, Turkey, Rest of Eastern Europe] Western Europe] Germany, France, UK, Italy, Spain, Netherlands, Switzerland, Austria, Rest of Western Europe]), Asia Pacific (China, India, Japan, South Korea, Vietnam, Singapore, Australia, Rest of Asia Pacific), Middle East & Africa (Middle East [UAE, Egypt, Saudi Arabia, Qatar, Rest of Middle East], Africa [Nigeria, South Africa, Rest of Africa], Latin America (Brazil, Argentina, Colombia Rest of Latin America)

Company Profiles

Com Inc., Apple Inc., Cashify, Paytm, Samsung Electronics Co Ltd Walmart, eBay, ATT Inc., Huawei Technologies Co., Lid, Verizon Communications, Inc.

Market Opportunities

•E-commerce platforms are becoming more popular

•Growing demand from developing countries

•Greater reliance on smartphones among consumers worldwide

Market Challenges:

•Technological Developments