REPORT SCOPE & OVERVIEW
The Rendered Products Market size was USD 21.78 billion in 2022 and is expected to Reach USD 26.96 billion by 2030 and grow at a CAGR of 2.4 % over the forecast period of 2023-2030.
Animal-rendered products are by-products of the meat industry created during the rendering process. This method turns discarded animal tissue into stable, usable resources. Lard, tallow, and grease are the most common rendered products. Food, cosmetics, and industrial lubricants are among the applications for these items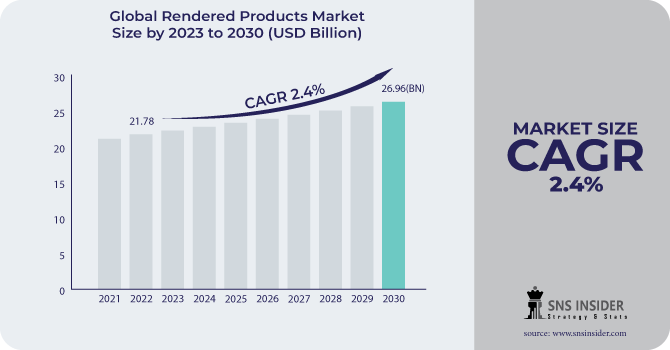 By Type, the tallow segment dominated the global market owing to its rising application in several industries. Tallow dominated the global market by type, owing to its increasing application in a variety of sectors. Tallow has been utilized in a variety of applications in the food and feed industries. Because of its high smoke point, it is commonly utilized as an ingredient and cooking oil in food preparation.
The protein meal segment is expected to increase at a rapid CAGR. The increasing consumption of protein meal in the animal feed sector is driving expansion due to its contribution to the healthy growth of animals.
The Feed grade category is rapidly expanding due to the growing application of commodities in animal feed. Many rendered products are denied from the food-grade market for a variety of hygiene reasons.
Animal feed is predicted to be the largest application section of the rendered goods market in 2023. This is owing to an increase in animal feed demand from the poultry, livestock, and aquaculture industries. The global demand for animal feed is expanding due to rising population and rising income in developing countries. Rendering products are utilized in a range of different applications, including the manufacture of cosmetics, biofuel, pharmaceuticals, industrial lubricants, and other businesses.
MARKET DYNAMICS
KEY DRIVERS
Farmers are growing livestock production to meet consumer demand as the meat and fish processing industries evolve. The growing use of protein meal and poultry fat as low-cost substitutes for numerous plant-based components is projected to have an impact on market growth. The growing usage of rendered goods in biofuel generation is also fueling expansion. The rising application of various animal-derived products in food, pet food, and animal feed applications is expected to boost the market during the forecast period.
RESTRAIN
Fluctuation in prices of raw material

Strict regulations about labeling, packaging, and other
Every country has some regulations about rendering products processing. These regulations are implemented to protect public health, but they can also make it challenging and expensive for companies to produce and market rendered items. Companies must clearly label their information regarding the ingredients and nutritional content present in the product. Also, they must test their products for the presence of dangerous germs and other pollutants. This can also be a complicated and costly process.
OPPORTUNITY
Expansion of the rendered products industry in developing countries

Increasing concerns over environmental sustainability
Rendering is the process of converting discarded animal tissue into stable, useable products like lard, tallow, and grease. These compounds can then be employed in a range of applications, including animal feed, biofuel manufacturing, and industrial lubricants.
The rendering process also aids in the reduction of greenhouse gas emissions. When animal feces is not properly disposed of, methane, a powerful greenhouse gas, is released. The rendering process helps to prevent this by converting methane into carbon dioxide, a less hazardous greenhouse gas.
CHALLENGES
Environmental impact of the rendering process

Public concerns about animal welfare
The gathering, processing, and rendering of animal by-products such as meat, bones, and fat are all part of the rendering process. The by-products are subsequently reduced into goods including lard, tallow, and grease. Some people are concerned that the animals employed in the rendering process are not given humane treatment. They may be concerned about the manner in which the animals are slain or transported to the rendering plant.
IMPACT OF RUSSIA UKRAINE WAR
The war between Russia and Ukraine is projected to have a negative influence on the market for rendered products. Russia and Ukraine are significant exporters of animal by-products such as meat, bones, and fat. The war has interrupted the supply of these by-products, resulting in increased costs and severe product shortages. Because of the grain market glut situation, Ukrainian cattle producers experienced low feed prices in 2022. Feed additives, on the other hand, have increased in price due to the high cost of shipping to Ukraine. Chicken is Ukraine's main protein source, and output has declined due to energy limitations, supply chain interruptions, and labor shortages.
IMPACT OF ONGOING RECESSION
Recessions can have a substantial impact on the rendered goods industry by reducing demand for animal by-products and raising rendered product costs. The cost of production has risen as a result of the recession. This is due to the rising cost of raw resources such as animal fat and bones. Beef prices are likely to climb in 2023 as a result of the lowest cattle inventory in 61 years. Despite the fact that a growing number of nations are at risk of overstock, global markets are likely to remain strong in 2023, with global poultry demand benefiting from trade down. However, tight supply will limit demand growth in many nations, resulting in continued high pricing.
MARKET SEGMENTATION
By type
Poultry Fat

Grease

Tallow

Protein Meal

Others
By Grade
Feed Grade

Food Grade

Industrial Grade
By Application
Bio-fuel

Fertilizers

Cosmetics

Animal Feed

Food and Beverages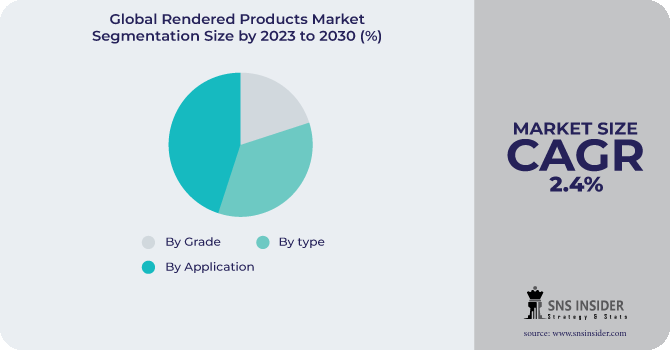 REGIONAL ANALYSIS
Currently, North America is the largest market for rendered products, and this market is expected to expand during the forecasted period. The use of these items for value-added animal feed is projected to increase due to the dramatically rising demand for high-quality animal feed in order to maximize the efficiency of ranch animals. Furthermore, it is anticipated that specialist pet food will continue to gain popularity in the coming years.
The Asia Pacific market is anticipated to expand quickly because of the region's expanding economies, population growth, and expansion of the food animal industry. The consumption and production of livestock products have significantly increased in nations like China and India, which can strengthen the activities involved in rendering meat. Additionally, it is anticipated that the increasing production of aquaculture feed will be aided by the increasing demand for high-quality aquaculture feed.
Europe is a key market that produces significant demand for rendering products. The increasing usage of animal by-products in pet diets, as well as the demand for high-value animal feed, are expected to increase the market share of Europe-rendered goods in the future years. Research from the global Feed LCA Institute estimates that each year 19 million tons of material are processed.
Latin America and the Middle East & Africa region have a growing demand for rendered products. Facilities for rendered products are growing in nations like Argentina and Brazil. The market is expanding as a result of rising investments being made in the manufacturing of high-quality, cost-effective animal feed utilizing rendered products.
REGIONAL COVERAGE
North America
Europe
Eastern Europe

Poland

Romania

Hungary

Turkey

Rest of Eastern Europe
Western Europe

Germany

France

UK

Italy

Spain

Netherlands

Switzerland

Austria

Rest of Western Europe
Asia Pacific
China

India

Japan

South Korea

Vietnam

Singapore

Australia

Rest of Asia Pacific
Middle East & Africa
Middle East

UAE

Egypt

Saudi Arabia

Qatar

Rest of Middle East

Africa

Nigeria

South Africa

Rest of Africa
Latin America
Brazil

Argentina

Colombia

Rest of Latin America
KEY PLAYERS
JBS S.A., Sanimax, Allanasons Pvt. Ltd, West Coast Reduction Inc., Valley Proteins INC., Nordfeed, SRC Companies Inc., Leo Group Ltd, Darling Ingredients INC. Tyson Foods INC. Smithfield Foods INC., and other key players are mentioned in the final report.
Sanimax-Company Financial Analysis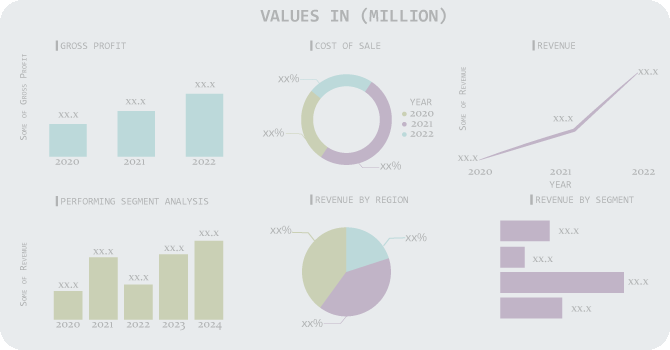 RECENT DEVELOPMENTS
In 2022 Darling Ingredients Inc., purchased approximately €110 million Euros for the Polish Rendering Company. Miropasz. Miropasz employs roughly 225 people and processes approximately 250,000 metric tons of poultry rendering yearly through three poultry rendering plants in southeast Poland.
In 2022 Tomra Foods develops sophisticated sorting equipment to eliminate non-toxic foreign materials in meat by-products and designs and manufactures sensor-based sorting devices for the food industry. Tomra 5B detects and sorts numerous foreign components in final items, such as stones, metal, glass, and others.
In 2022 Darling Ingredients Inc., a prominent manufacturer of rendering materials and renewable energy, purchased FASA Group, a leading rendering company in Brazil, for approximately USD 560 million.
Rendered Products Market Report Scope:
Report Attributes
Details
Market Size in 2022
US$ 21.78 Billion
Market Size by 2030
US$ 26.96 Billion
CAGR
CAGR of 2.4 % From 2023 to 2030
Base Year
2022
Forecast Period
2023-2030
Historical Data
2019-2021
Report Scope & Coverage
Market Size, Segments Analysis, Competitive Landscape, Regional Analysis, DROC & SWOT Analysis, Forecast Outlook
Key Segments
• By type (Poultry Fat, Grease, Tallow, Protein Meal, and others)
• By Grade (Feed Grade, Food Grade, and Industrial Grade)
• By Application (Bio-fuel, Fertilizers, Cosmetics, Animal Feed, Food and Beverages)
Regional Analysis/Coverage
North America (US, Canada, Mexico), Europe (Eastern Europe [Poland, Romania, Hungary, Turkey, Rest of Eastern Europe] Western Europe] Germany, France, UK, Italy, Spain, Netherlands, Switzerland, Austria, Rest of Western Europe]), Asia Pacific (China, India, Japan, South Korea, Vietnam, Singapore, Australia, Rest of Asia Pacific), Middle East & Africa (Middle East [UAE, Egypt, Saudi Arabia, Qatar, Rest of Middle East], Africa [Nigeria, South Africa, Rest of Africa], Latin America (Brazil, Argentina, Colombia Rest of Latin America)
Company Profiles
JBS S.A., Sanimax, Allanasons Pvt. Ltd, West Coast Reduction Inc., Valley Proteins INC., Nordfeed, SRC Companies Inc., Leo Group Ltd, Darling Ingredients INC. Tyson Foods INC. Smithfield Foods INC
Key Drivers
• Use of rendered products in the feed industry
Market Opportunity
• Expansion of the rendered products industry in developing countries
• Increasing concerns over environmental sustainability