Report Scope & Overview:
The Self-checkout Systems Market size was valued at USD 3.79 billion in 2022 and is expected to grow to USD 10.66 billion by 2030 and grow at a CAGR of 13.8 % over the forecast period of 2023-2030.
Self-checkout (SCO) systems are automated systems that have been widely deployed in grocery stores, retail, and hospitality industries to help customers check out and place orders without the need for employee intervention. In the past, self-checkout systems consisted of separate, off-the-shelf components that required a significant amount of storage space. Today, however, SCO systems have evolved to become more streamlined and efficient. They are now designed to be user-friendly and intuitive, allowing customers to easily scan and bag their items without any hassle. Additionally, modern SCO systems are equipped with advanced features such as touchscreens, barcode scanners, and payment terminals, making the checkout process even more seamless. The benefits of SCO systems are numerous. They help to reduce wait times, increase customer satisfaction, and improve overall efficiency. By allowing customers to check out on their own, SCO systems also free up employees to focus on other tasks, such as restocking shelves and providing customer service.
In conclusion, self-checkout systems are an essential component of modern retail and hospitality operations. They provide a convenient and efficient way for customers to check out and place orders, while also improving overall efficiency and customer satisfaction.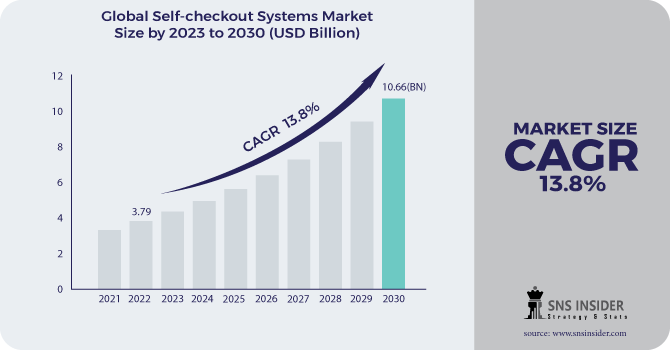 To get more information on Self-checkout Systems Market - Request Sample Report
Market Dynamics
Drivers
Connectivity, digitization, and data are critical drivers of digital transformation. Businesses use digitization to create new products and services in order to improve client satisfaction. Self-checkout technologies help customers purchase and accept digital and contactless payment without the need for retail workers. The widespread acceptance of cashless payment options has raised the demand for checkout systems. These checkout systems are used to cut client wait times and give an innovative shopping experience. Furthermore, due to the increased use of smartphones, there is a rapid increase in electronic payment transactions worldwide. In addition, prominent market participants are collaborating to deploy self-checkout systems in retail establishments.
Restrains
Many enterprises and businesses profit from SCO. However, some obstacles must be anticipated, such as data leaks, device malfunctions, phishing attempts, and software and network flaws.
Opportunities
Challenges
Impact Of covid-19
Retail store closures and imposed lockdowns hampered market growth. Due to needed government restrictions and the shutdown of malls, shops, retail outlets, and hypermarkets, the COVID-19 epidemic has had a negative impact on the market. The global self-checkout system market share decreased in 2020 as compared to 2019, In 2020, the market's revenue is expected to fall. The hardware supply chain was temporarily affected due to lockdowns in numerous nations and difficulties in completing import-export operations. These had a huge impact on SCO's global manufacturing facilities. Furthermore, revenue for digital payments businesses has decreased due to a lack of customer spending at retail establishments, convenience stores, hypermarkets, and other sectors.
The Impact of the Russia-Ukraine War
The SCO systems market is a rapidly growing industry that provides customers with a convenient and efficient way to purchase goods. However, the conflict between Russia and Ukraine has caused a decrease in demand for these systems, as many businesses in Russia have been forced to cut back on their spending. Furthermore, the economic sanctions imposed on Russia have made it difficult for companies in the SCO systems market to do business with Russian businesses. This has resulted in a decrease in revenue for these companies, as they are unable to sell their products to Russian businesses. Despite these challenges, the SCO systems market remains a promising industry with significant potential for growth. As the conflict between Russia and Ukraine continues to evolve, it is important for companies in this market to adapt to the changing landscape and find new opportunities for growth.
The Impact of the Recession
The current economic crisis has had enormous impacts. As consumers tighten their belts and look for ways to save money, retailers are turning to self-checkout systems as a way to reduce labor costs and improve efficiency. However, the recession has also led to a decrease in consumer spending, which has affected the demand for self-checkout systems. Many retailers are hesitant to invest in new technology during these uncertain times and are instead focusing on cost-cutting measures. Despite these challenges, the self-checkout systems market is expected to continue to grow in the coming years. As retailers look for ways to improve their bottom line, self-checkout systems will remain an attractive option. Additionally, advancements in technology and the increasing popularity of mobile payments are expected to drive further growth in the market.
Key Market Segmentation
The Self-checkout Systems Market is segmented into four types by component, by mounting type, by type, and by application.
By Component:
By Mounting Type:
Standalone

Wall-Mounted

Mobile
By Type:
Cash-based systems

Cashless-based systems
By Application: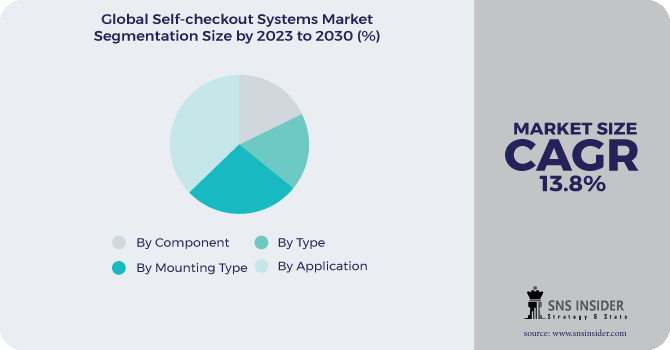 Need any customization research/data on Self-checkout Systems Market - Enquiry Now
Regional Analysis
In 2022, North America dominated the global market. The growing use of self-service checkout technologies in Canadian and American hypermarkets and supermarkets boosted regional sector expansion. The key reason for the unfilled employment gap in the United States is employee desire for a better pay scale. The need for self-checkout systems is increasing across all physical shop forms, owing to the increasing demand for staff at an optimized pay range.
The Asia Pacific region is predicted to be the fastest-growing geographical sector, over the projection period. The expansion of the retail and hotel industries, together with the growing trend of automation and digitization, is likely to drive regional market growth. Retail shops in the region are growing their hyperlocal services and incorporating omnichannel tactics to provide customers with a smooth shopping experience. An increase in household costs, a decrease in household size, fast urbanization, an increase in disposable income, and the adoption of contemporary technologies are all factors that contribute to regional growth.
REGIONAL COVERAGE:
North America
Europe
Germany

UK

France

Italy

Spain

The Netherlands

Rest of Europe
Asia-Pacific
Japan

South Korea

China

India

Australia

Rest of Asia-Pacific
The Middle East & Africa
Latin America
Brazil

Argentina

Rest of Latin America
Recent Development
Qingdao Wintec System Co., Ltd. released its WINTEC SelfPoS60 solution for the Home Plus retail brand in South Korea in January 2022. SelfPoS60 is a self-checkout processing system that supports all of the fundamental and advanced functionalities of cutting-edge self-checkout processing.
Walmart's retail outlets will be completely self-checkout/scan-and-go by June 2021. The major goal was to provide clients with faster checkouts, a faster payment process, and more options.
Key Players:
The major players are Fujitsu Limited, NCR Corporation, Qingdao Wintec System Co., Ltd., Toshiba Global Commerce Solutions, Diebold Nixdorf, ePOS HYBRID, Incorporated, ITAB, Gilbarco Veeder-Root Company., MetroClick, Pyramid Computer GMBH, StrongPoint, and others in the final report.
Self-checkout Systems Market Report Scope:
Report Attributes
Details
Market Size in 2022
US$ 3.79 Bn
Market Size by 2030
US$ 10.66 Bn
CAGR
CAGR of 13.8% From 2023 to 2030
Base Year
2022
Forecast Period
2023-2030
Historical Data
2020-2021
Report Scope & Coverage
Market Size, Segments Analysis, Competitive Landscape, Regional Analysis, DROC & SWOT Analysis, Forecast Outlook
Key Segments
• By Component (Systems, Services)
• By Mounting Type (Standalone, Wall-Mounted, Mobile)
• By Type (Cash-based systems, Cashless-based systems)
• By Application (Supermarkets & Hypermarkets, Department Stores, Convenience Stores, Others)
Regional Analysis/Coverage
North America (USA, Canada, Mexico), Europe
(Germany, UK, France, Italy, Spain, Netherlands,
Rest of Europe), Asia-Pacific (Japan, South Korea,
China, India, Australia, Rest of Asia-Pacific), The
Middle East & Africa (Israel, UAE, South Africa,
Rest of Middle East & Africa), Latin America (Brazil, Argentina, Rest of Latin America)
Company Profiles
Fujitsu Limited, NCR Corporation, Qingdao Wintec System Co., Ltd., Toshiba Global Commerce Solutions, Diebold Nixdorf, ePOS HYBRID, Incorporated, ITAB, Gilbarco Veeder-Root Company., MetroClick, Pyramid Computer GMBH, StrongPoint
Key Drivers
• Increased Technological Adoption in Retail and Hospitality Industries will Fuel the Market
Market Opportunities
• Product development by market participants with the growing demand for self-service checkout systems