REPORT SCOPE & OVERVIEW:
The size of the global market for sleep apnea devices was estimated at USD 4.4 billion in 2022, and it is anticipated to increase approx. at a CAGR of 6.4% over the forecast period 2023 to 2030.
The market for medical devices intended to diagnose, treat, and manage sleep apnea, a prevalent sleep disease characterised by breathing pauses while asleep, is referred to as the "sleep apnea devices market." These tools are designed to help people with sleep apnea have better quality sleep and overall health. A dangerous disorder called sleep apnea may cause a number of health concerns, such as cardiovascular troubles, excessive daytime drowsiness, and impaired cognitive function. It affects a substantial section of the world's population, and because of things like obesity, ageing populations, and lifestyle changes, its incidence is rising. Devices used to treat sleep apnea may be divided into three categories: accessories, treatment devices, and diagnostic equipment. Sleep studies or polysomnography are used as diagnostic tools to detect and gauge the severity of sleep apnea. These tools include portable monitoring tools, in-lab sleep studies, and at-home sleep apnea examinations. Continuous positive airway pressure (CPAP) therapy or other types of positive airway pressure (PAP) therapy are provided via therapeutic devices developed to cure sleep apnea. The most widely used CPAP devices consist of a mask worn over the nose or mouth that continuously delivers air to maintain the airway open while sleeping. Bilevel positive airway pressure (BiPAP) machines and adaptive servo-ventilation (ASV) devices are two further categories of therapeutic equipment.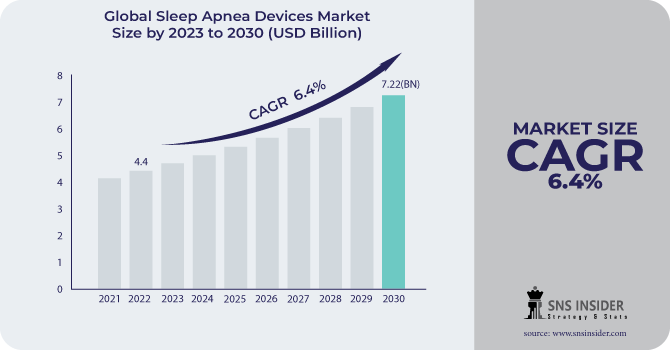 IMPACT OF COVID-19:
Multiple lockdowns and implied travel restrictions were enforced by the continuing outbreak. Additionally, major infrastructure adjustments had to be made in healthcare institutions to stop the spread of the disease.The number of home sleep apnea testing services increased as a result of the decrease in diagnostic and treatment operations in sleep centres. The supply of services was disrupted, and elective treatments were delayed, due to the risk of viral transmission through aerosol-generating techniques like noninvasive ventilation. Multiple sleep study centres had to close as a result of this. The American Academy of Sleep Medicine (AASM) issued criteria and recommendations for the use of virtual care as the use of such care increased dramatically and consultations with patients increased as well. Studies show that healthcare professionals expect to keep more than 25% of virtual visits after the epidemic.
MARKET DYNAMICS
KEY DRIVERS:
Drivers:
A significant market driver is the growing prevalence of sleep apnea on a worldwide scale.

There is a rising demand for sleep apnea devices as people become more aware of the health dangers associated with untreated sleep apnea.
The increased incidence of sleep apnea is a result of factors including obesity, sedentary lifestyles, and ageing populations, which increases the need for diagnostic and treatment technologies. There is a rising demand for sleep apnea devices as people become more aware of the health dangers associated with untreated sleep apnea. Increased detection rates and subsequent treatment have resulted from improvements in diagnostic procedures that have made it simpler to recognise and diagnose sleep apnea. The comfort of patients, the effectiveness of the devices, and their ease of use have all been enhanced by ongoing technology developments in sleep apnea technologies. Wearable technologies, remote monitoring capabilities, and smaller, quieter devices have all helped to extend the market and increase patient compliance.
RESTRAIN:
The high price may make these devices less affordable and accessible for some patients, especially in developing countries, which would constrain market expansion. The long-term usage of devices is frequently necessary for the treatment of sleep apnea, and patient compliance can be quite difficult. The adoption and use of sleep apnea devices are impacted by non-compliance due to discomfort, mask fitting problems, and trouble adapting to therapy.
OPPORTUNITY:
Manufacturers may profit from this trend by creating portable, user-friendly products for sleep apnea management at home.

Manufacturers may tap into these markets by providing inexpensive, regionally specific solutions
Devices for treating sleep apnea at home are in high demand due to their affordability, ease, and patients' desire for in-home diagnosis and treatment with higher disposable incomes, better healthcare infrastructure and more awareness of sleep apnea, emerging markets have a huge market opportunity for sleep apnea devices.
CHALLENGES:
Adverse effects and side effects:
Patients who use sleep apnea devices may have dryness, nasal congestion, or skin irritation as a result of the devices. For the market to expand, these issues must be resolved and low-side-effect technologies must be created. There are issues that need to be resolved about expanding access to healthcare services and raising awareness in neglected communities.
IMPACT OF RUSSIAN UKRAINE WAR:
The exact effect on the market for sleep apnea equipment will depend on the length and severity of the war as well as the geographic scope of its impacts, it is vital to highlight. The Russian-Ukrainian conflict is simply one of several worldwide variables that have an impact on the market's behaviour.
The war may affect the supply of sleep apnea equipment if it affects the region's political stability or disrupts transportation routes. It may be difficult for manufacturers or suppliers based in or dependent on the impacted areas to find raw materials or get completed goods to market. The supply of sleep apnea devices might be impacted by production and delivery delays brought on by this interruption. The conflict may lead to regional economic unpredictability, which might affect consumer purchasing power. The demand for sleep apnea devices may decline as a result of economic unpredictability and currency volatility because people may choose to prioritise fundamental requirements over luxuries like healthcare equipment.
IMPACT OF ONGOING RECESSION:
During a recession, people and households frequently have financial difficulties and may choose to spend their money on necessities instead of luxury items like healthcare. Devices for treating sleep apnea, particularly CPAP machines, may be rather pricey. Due to this, consumer expenditure on sleep apnea equipment may fall, which would temporarily reduce market demand. During a recession, affordability takes on greater importance, and people may be more hesitant to buy sleep apnea equipment altogether owing to financial worries. Economic downturns may also have an impact on insurance coverage and reimbursement practises, which can restrict access to sleep apnea devices for people who depend on insurance to cover their medical costs. People with sleep apnea symptoms may put off getting treatment during a recession because of concerns about their finances or a lack of insurance. The market for sleep apnea devices may be impacted as a result of the short-term decline in demand for diagnostic and therapeutic devices due to the delay in diagnosis and treatment.
KEY MARKET SEGMENTS
By Product type
By End users
Sleep research facilities

Setting/Individual Home Care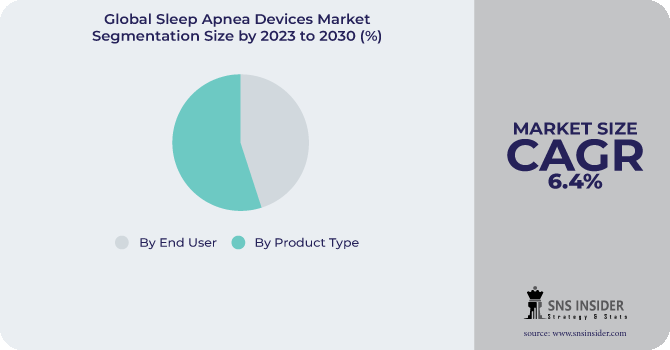 REGIONAL COVERAGE:
North America
Europe
Germany

UK

France

Italy

Spain

The Netherlands

Rest of Europe
Asia-Pacific
Japan

South Korea

China

India

Australia

Rest of Asia-Pacific
The Middle East & Africa
Latin America
Brazil

Argentina

Rest of Latin American
Key players List-
Key players are ResMed, Phillips Respironics, Fisher & Paykel Healthcare Limited, Curative Medical, Inc., Invacare Corporation, Somnetics International, Inc., BMC Medical Co., Ltd., Natus Medical Incorporated, SOMNOmedics GmbH, Compumedics Limited, Itamar Medical Ltd, and other players listed in the final report.
Fisher & Paykel Healthcare Limited-Company Financial Analysis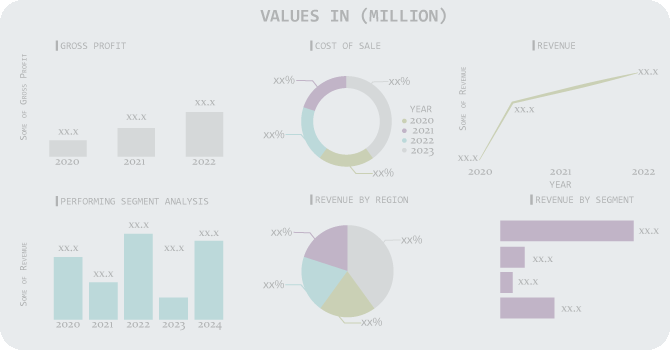 RECENT DEVELOPMENT
ResMed: WASHINGTON, May 25, 2023. At the American Thoracic Society International Conference, renowned medical professionals presented fresh data demonstrating treating obstructive sleep apnea (OSA) with positive airway pressure (PAP) treatment decreases patients' all-cause mortality. Additionally, a recently published abstract demonstrated that treating central sleep apnea (CSA) led to a "significant and clinically relevant improvement" in patients' symptoms and quality of life.
Sleep Apnea Devices Market Report Scope:
Report Attributes
Details
Market Size in 2022
US$ 4.4 Bn
Market Size by 2030
US$ 7.22 Bn
CAGR
CAGR of 6.4 % From 2023 to 2030
Base Year
2022
Forecast Period
2023-2030
Historical Data
2020-2021
Report Scope & Coverage
Market Size, Segments Analysis, Competitive Landscape, Regional Analysis, DROC & SWOT Analysis, Forecast Outlook
Key Segments
• By Product Type (Medical gadgets, Diagnostic equipment)
• By End users (Sleep research facilities, Setting/Individual Home Care)
Regional Analysis/Coverage
North America (USA, Canada, Mexico), Europe
(Germany, UK, France, Italy, Spain, Netherlands,
Rest of Europe), Asia-Pacific (Japan, South Korea,
China, India, Australia, Rest of Asia-Pacific), The
Middle East & Africa (Israel, UAE, South Africa,
Rest of Middle East & Africa), Latin America (Brazil, Argentina, Rest of Latin America)
Company Profiles
ResMed, Phillips Respironics, Fisher & Paykel Healthcare Limited, Curative Medical, Inc., Invacare Corporation, Somnetics International, Inc., BMC Medical Co., Ltd., Natus Medical Incorporated, SOMNOmedics GmbH, Compumedics Limited, Itamar Medical Ltd
Key Drivers
• A significant market driver is the growing prevalence of sleep apnea on a worldwide scale.
• There is a rising demand for sleep apnea devices as people become more aware of the health dangers associated with untreated sleep apnea.
Market Opportunities
• Manufacturers may profit from this trend by creating portable, user-friendly products for sleep apnea management at home.
• Manufacturers may tap into these markets by providing inexpensive, regionally specific solutions