Report Scope & Overview:
The Smart Hospitality Market is anticipated to increase at a CAGR of 30.2% from 2023 to 2030, from a value of USD 13.4 billion in 2022 to USD 110.6 billion in 2030.
The need for real-time optimal guest experience management, lower operational expenses, and growing interest in IoT are all on the rise, as is the demand for hospitality software and services. These are the main elements that are propelling the development of the smart hospitality market. Smart hospitality is a quickly developing sector that makes use of automated software, intelligent solutions, and mobile devices to enhance customer services. These technologies enable customers to select their rooms, room kinds, and room numbers using their mobile devices, greatly improving the guest experience.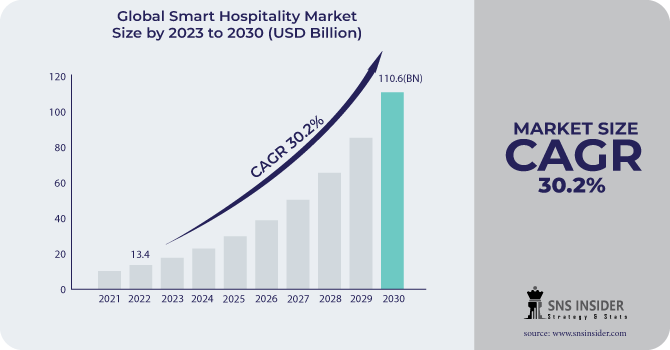 Market Dynamics
Drivers
Increasing 5G adoption in the hospitality industry

A greater focus is being placed on individualized services to improve the client experience.

Increasing consumer desire for guest-focused, hyperconnected personalization and real-time tailored experiences will boost the market.
Hoteliers have the opportunity to establish a strong and meaningful connection with each guest, ensuring they have a memorable experience and increasing the likelihood of receiving positive reviews. By offering a more personalized and tailored travel experience, hoteliers can enhance their brand reputation, foster customer loyalty, and generate additional revenue. The advent of smart hospitality solutions has revolutionized the industry, providing hoteliers with valuable insights and data on guest behavior. This data can be utilized to gain a comprehensive understanding of each visitor, enabling hoteliers to improve their experience through enhanced customer care. With the help of integrated digital platforms such as Property Management System (PMS) and Customer Relationship Management (CRM), hoteliers can access a centralized dashboard that organizes data from various sources. This not only allows for a personalized view of each guest but also helps alleviate operational burdens. the utilization of these digital platforms can lead to a reduction in hotel operating expenses and an increase in guest retention rates. This, in turn, strengthens the hotel's brand positioning and overall success.
By providing a mobile-centric guest experience that enhances the guest's convenience and self-service, hotels are now also reaping benefits. Hoteliers may design a more connected and convenient stay for their customers by developing a mobile-centric booking experience, providing keyless entry using a mobile device, text-based communications, mobile concierge, etc.
Restrains
The adoption of sophisticated hospitality systems, including Property Management Systems (PMS) and Guest Experience Management Systems, entails substantial expenses, regardless of whether they are implemented locally or online. The financial constraints imposed by the aftermath of the pandemic have made it particularly challenging for hotels to invest in smart hospitality solutions. The industry is still grappling with the colossal financial losses incurred during this period. Furthermore, hotels that have already embraced smart technologies have encountered significant maintenance costs. However, it is important to recognize that the cost of deployment is typically associated with the level of complexity involved in integrating these applications.
Opportunities
Real-time, ideal visitor experience management is becoming more and more popular.

Attractive revenue generation and affordable operating costs

expanding the usage of energy management systems with the Internet of Things (IoT)
Challenges
Challenges to data security and information sharing.

Need technical persons to effectively handle the software.
Impact of the Russia-Ukraine
Conflict escalates and results in economic sanctions, disruptions to trade, or an overall economic downturn, it could lead to reduced consumer spending and business investments. This might cause hotels and other hospitality businesses to postpone or scale back their plans to invest in smart technologies. The conflict could lead to a shift in priorities for both governments and businesses, potentially diverting resources away from technological innovation and development. This might slow down the advancement of new smart hospitality technologies, as companies focus on adapting to the changing geopolitical and economic landscape.
The conflict could lead to increased cyber threats and attacks. As tensions rise, there might be a higher likelihood of cyberattacks targeting businesses, including those in the hospitality sector. This could undermine trust in smart technology solutions and raise concerns about data security and privacy. The uncertainty caused by the conflict might lead to a reduction in venture capital investments and funding for startups in the smart hospitality sector. Investors might become more cautious, and companies might struggle to secure the necessary funding for research, development, and expansion. conflict results in political instability or safety concerns, tourism could decline in the affected regions. This would directly impact the hospitality industry, potentially leading to reduced demand for smart technology solutions as hotel occupancy rates decrease. As geopolitical tensions rise, consumer sentiment and behavior can change. Travelers might become more cautious about sharing personal information through smart devices in hotels due to concerns about privacy and security.
Impact of Recession
Hospitality businesses might delay or cancel planned upgrades or implementations of smart technologies due to financial constraints. This delay can impact the market's growth and hinder the integration of new technologies that could improve customer experiences and operational efficiency. Recessionary periods often lead to changes in consumer behavior, including reduced spending on travel and leisure activities. This can directly impact the demand for smart hospitality services, such as automated check-ins, smart room controls, and personalized services, as fewer guests might be willing to pay premiums for these features. Hospitality businesses may prioritize cost-cutting measures during a recession, which could lead to a decreased emphasis on technology investments. This might result in a slowdown in the adoption of innovative solutions that improve operational efficiency and guest satisfaction. During tough economic times, hospitality businesses might shift their priorities away from long-term technological advancements to short-term survival strategies. This could result in a reduced focus on integrating new smart technologies and a greater emphasis on maintaining core operations. Economic downturns can lead to consolidation within the hospitality industry as weaker players may merge or go out of business. This could impact the adoption of smart hospitality technologies, as consolidation might disrupt ongoing technology implementations or deter investment in new solutions. Hospitality businesses may become more cautious when evaluating the return on investment (ROI) of smart technology implementations. They might demand quicker and more tangible results from these technologies, which could affect the willingness to invest in longer-term projects.
Key Market Segmentation
By offerings
By Deployment Mode
By Solution Type
Hotel Operation Management

Hotel Automation Management

Guest Service Management System

Security Management System

Others
By End User
Hotel

Cruise

Luxury Yatches

Others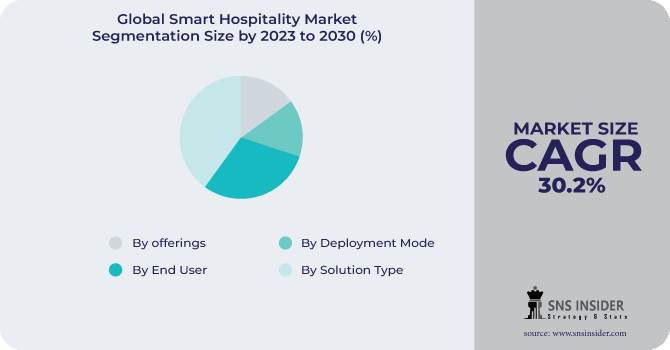 Regional Analysis
North America was the leader in the smart hospitality market, and it is anticipated that it will continue to hold that position throughout the forecast period. This is due to the region's strong demand for high-quality smart services, cloud-based platforms, and top-notch security that goes above and beyond industry standards. The Internet of Things allows hotel staff to remotely control electronic devices in "smart hotels," giving them access to real-time data about their operational state. Asia Pacific, on the other hand, is predicted to experience significant growth during the forecast period. Because of these factors, the smart hospitality market is anticipated to increase significantly throughout the forecast period.
Over the next five years, the smart hospitality industry will increase in this region due to factors like supportive government initiatives and legislation to stimulate the expansion of the hotel sector. The region's smart hotel sector continues to flourish as a result of greater technological advancements, internet infrastructure, expanded IoT applications, and efficient energy use. The market in the region will be driven by a booming tourism sector, a more modern hotel infrastructure, and a high rate of new hotel openings in numerous Asia-Pacific nations like Thailand, Malaysia, and Indonesia.
REGIONAL COVERAGE:
North America
Europe
Eastern Europe

Poland

Romania

Hungary

Turkey

Rest of Eastern Europe

Western Europe

Germany

France

UK

Italy

Spain

Netherlands

Switzerland

Austria

Rest of Western Europe
Asia Pacific
China

India

Japan

South Korea

Vietnam

Singapore

Australia

Rest of Asia Pacific
Middle East & Africa
Middle East

UAE

Egypt

Saudi Arabia

Qatar

Rest of Middle East

Africa

Nigeria

South Africa

Rest of Africa
Latin America
Brazil

Argentina

Colombia

Rest of Latin America
Key Players:
The major players in the market are IBM, Huawei, Schneider Electric, NEC, Cisco, Honeywell, Sabre, Legrand, Siemens AG, Global Business Solutions, Oracle, Infor, Johnson Controls, Samsung, Leviton, Control4, Wisuite, Stayntouch, Qualsoft Systems, Hospitality Network, Springler-Miller Systems, Guestline, Frontdesk Anywhere, Chris Lewis Group, BuildingIQ, Cloudbeds, and others in final report.
Huawei-Company Financial Analysis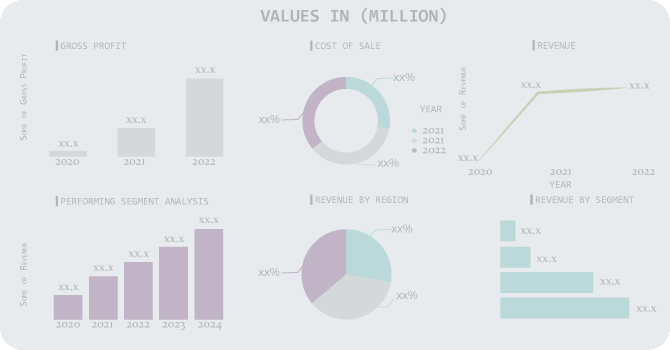 ​​​​​​​
Recent development
In May 2022, Oracle and Orient Jakarta collaborated to develop a cutting-edge property management system. This collaboration proved to be invaluable, especially during the challenging times of the COVID-19 pandemic, as it allowed them to bolster their online presence and provide remote staff training through the use of Oracle Digital Learning technologies.
In January 2022, Johnson Controls made a significant acquisition by purchasing FogHorn, a renowned manufacturer of edge AI solutions. This strategic merger is set to revolutionize the development of sustainable and highly efficient autonomous spaces.
Another notable partnership formed in January 2022 was between Infor and Seven Feathers Casino. This collaboration aims to elevate customer service within the hospitality sector by integrating specialized applications tailored specifically for this industry.
To enhance its digital building offering, which already includes cloud-based building operations and its smart building management platform Desigo CC, Siemens purchased EcoDomus' digital twin software in December 2021.
Smart Hospitality Market Report Scope:
Report Attributes
Details
Market Size in 2022
US$ 13.4 Bn
Market Size by 2030
US$ 110.6 Bn
CAGR
CAGR of 30.2 % From 2023 to 2030
Base Year
2022
Forecast Period
2023-2030
Historical Data
2020-2021
Report Scope & Coverage
Market Size, Segments Analysis, Competitive Landscape, Regional Analysis, DROC & SWOT Analysis, Forecast Outlook
Key Segments
• By offerings (Solution, services)
• By Deployment Mode (Cloud, On-premises)
• By Solution Type (Hotel Operation Management, Hotel Automation Management, Guest Service Management System, Security Management System, Others)
• By End User (Hotel, Cruise, Luxury Yatches, Others),
Regional Analysis/Coverage
North America (US, Canada, Mexico), Europe (Eastern Europe [Poland, Romania, Hungary, Turkey, Rest of Eastern Europe] Western Europe] Germany, France, UK, Italy, Spain, Netherlands, Switzerland, Austria, Rest of Western Europe]). Asia Pacific (China, India, Japan, South Korea, Vietnam, Singapore, Australia, Rest of Asia Pacific), Middle East & Africa (Middle East [UAE, Egypt, Saudi Arabia, Qatar, Rest of Middle East], Africa [Nigeria, South Africa, Rest of Africa], Latin America (Brazil, Argentina, Colombia Rest of Latin America)
Company Profiles
IBM, Huawei, Schneider Electric, NEC, Cisco, Honeywell, Sabre, Legrand, Siemens AG, Global Business Solutions, Oracle, Infor, Johnson Controls, Samsung, Leviton, Control4, Wisuite, Stayntouch, Qualsoft Systems, Hospitality Network, Springler-Miller Systems, Guestline, Frontdesk Anywhere, Chris Lewis Group, BuildingIQ, Cloudbeds
Key Drivers
• Increasing 5G adoption in the hospitality industry
• A greater focus is being placed on individualized services to improve the client experience.
• Increasing consumer desire for guest-focused, hyperconnected personalization and real-time tailored experiences will boost the market.
Market Restraints
• High expense of implementation, upkeep, and training