Report Scope & Overview:
The US Stormwater Management Market size was valued at USD 5409.29 billion in 2022 and is expected to grow to USD 10558.83 billion by 2030 and grow at a CAGR of 8.72% over the forecast period of 2023-2030.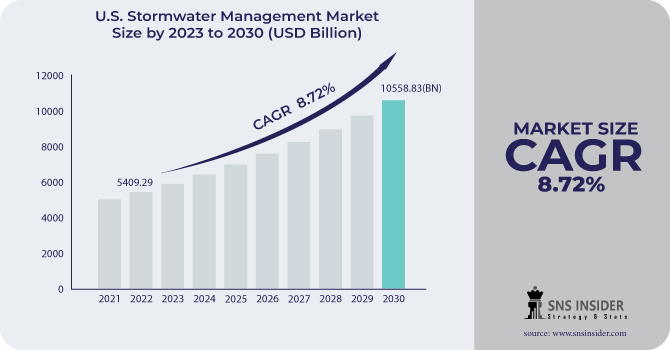 To get more information on Stormwater Management Market - Request Sample Report
Stormwater management refers to the practices and techniques employed to control and mitigate the adverse effects of stormwater runoff. It plays a crucial role in maintaining the health and sustainability of our urban and natural environments. Stormwater runoff occurs when precipitation, such as rain or snow, flows over impervious surfaces, such as roads, parking system, and rooftops, unable to infiltrate into the ground. As it flows, stormwater picks up various pollutants, including sediment, chemicals, and debris, which can have detrimental effects on water quality and ecosystems. To address these challenges, effective stormwater management strategies are essential. These strategies aim to reduce the volume and velocity of stormwater runoff, as well as remove or treat the pollutants it carries.
The Stormwater Management Market is a rapidly growing sector that focuses on the effective management and control of stormwater runoff. This market encompasses a wide range of products, services, and solutions aimed at mitigating the adverse effects of stormwater on the environment and infrastructure. In response to these challenges, the stormwater management market offers a variety of innovative solutions. These include stormwater management systems, such as detention ponds, green roofs, permeable pavements, and rain gardens. These systems are designed to capture, store, and treat stormwater, allowing it to be safely released into water bodies or infiltrated into the ground. Furthermore, the market also provides a range of stormwater management services. These services encompass stormwater planning, design, and implementation, as well as maintenance and monitoring. They are essential for ensuring the long-term effectiveness and sustainability of stormwater management systems. The stormwater management market is driven by various factors. Increasing urbanization, stricter environmental regulations, and growing awareness of the importance of sustainable water management practices are some of the key drivers. Additionally, the market is also influenced by technological advancements, such as the development of smart stormwater management systems that utilize sensors and data analytics to optimize performance.
Market Dynamics
Drivers
Increasing industrialization

Stringent environmental regulations to manage the wastewater

Growing number of natural calamities
A major driver for the stormwater management market is the increasing intensity and number of landslides due to rain, snow, heavy storms, etc. Stormwater management services have seen significant growth due to rapidly changing climatic conditions and an increasing number of disasters every year. In 2022, a total of 422 natural disaster events were recorded worldwide, marking an increase from the 407 events recorded the previous year. Asia Pacific region experienced the highest number of natural disasters in 2022.
Restrain
In urban areas already existing traditional rainwater filtration methods are available such as the soak pit method and others that are comparatively low cost and easy which impedes the market growth of the Stormwater management services market. For instance: according to infrastructure reportcard.org in 2020, the management of stormwater systems is complex. It requires cleaning, jetting stormwater detention basins, bio-retention facilities, permeable pavement, and bioswales and all these require complex maintenance with skilled professionals. As per the same source, the management and the damages resulting from stormwater are more expensive. The additional spending in stormwater management includes the expense of stormwater regulatory compliance, capital improvement plan expenditure, protecting water supplies from other contamination, flood control, clean-up of polluted water supplies, habitat restoration and protection efforts, etc. Thus, the overall quality control of stormwater management becomes expensive which impedes the market growth.
Opportunities
Growing public awareness and government focus on sustainable wastewater management

Rising technological advancements such as the development of smart stormwater management systems
The increasing public awareness and government focus on wastewater management are one of the major factors that may propel the growth of the Stormwater management market in the forecast period.
Due to the increasing number and intensity of storms, rainfall, and snow, the government budget for disaster management is also rising which includes water management services such as Storm management services. For instance: according to whitehouse.gov in 2022, the US government is spending a favorable amount towards disaster planning and climate resilience caused by flooding storms and heavy rain, etc. As per the same source, the budget allocates USD 815 million to disaster management ensuring the rebuilding of smarter and safer health programs such as safe water, food, and shelter. The source also states that the budget for disaster management is increased by USD 540 million during 2020-2021
Challenges
Impact of Russia-Ukraine War:
The conflict has posed several challenges for the stormwater management market. Firstly, the destruction of critical infrastructure, such as drainage systems and water treatment facilities, has severely hampered the ability to effectively manage stormwater. This will lead to increased flooding, erosion, and pollution, further exacerbating the environmental impact of the war. For instance, in Ukraine, there have been 12 reported cases of disrupted operation of water and wastewater treatment facilities, 7 cases of disrupted centralized water supply, and 3 cases of disrupted operation of wastewater treatment plants. These disruptions have had a significant negative impact on the management of stormwater in the region. Additionally, the economic strain caused by the conflict has limited the financial resources available for stormwater management projects. Governments and municipalities, already burdened by the costs of the war, have had to divert funds away from infrastructure development, including stormwater management initiatives. This lack of investment has hindered the implementation of necessary measures to address stormwater issues effectively.
Impact of Recession:
The recession has had a profound impact on the stormwater management market, leading to a series of challenges for industry players. One of the primary consequences has been a decrease in funding for stormwater management projects. As governments and municipalities faced budget constraints, investments in infrastructure projects, including stormwater management, were significantly reduced. This decline in funding has hindered the development and implementation of innovative stormwater management solutions. Furthermore, the recession has also resulted in a decline in construction activities, which has directly affected the stormwater management market. With fewer construction projects taking place, the demand for stormwater management systems and services has decreased. This has led to a decrease in revenue for companies operating in this sector, forcing them to reevaluate their business strategies and explore new avenues for growth.
Market segmentation
By Service Type
Among these subsegments, Installation Services are anticipated to hold the largest share in the market in terms of revenue and is expected to grow at the fastest growth rate with a CAGR of 10.27% over the forecast period of 2023-2030 owing to increasing favorable government initiatives. Installation of stormwater management helps in minimizing runoff impacts with proper regulatory standards in rural and urban areas.
By Solution Type
Detention & infiltration

Biofiltration

Separation

Filtration

Specialty Filters

Others
Among these segments, the Biofiltration segment is expected to grow with the highest CAGR of 9.83% during the forecast period. Rising demand for biofiltration is leading to the launch of new solutions by market players to cater to the growing stormwater management demand. In November 2021, Advanced Drainage Systems, Inc. unveiled EcoPure BioFilter urban stormwater management solution, developed for green infrastructure projects and low-impact developments (LID) requiring design flexibility, application of diverse plant life, and hassle-free installation and maintenance.
By End-user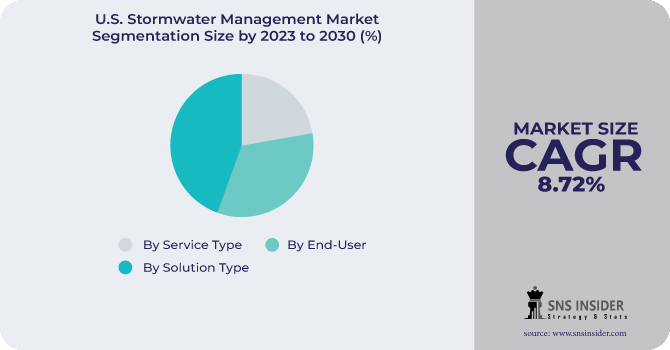 To Get Customized Report as Per Your Business Requirement - Request For Customized Report
Community, government, and military is dominating the stormwater management market with a revenue share of USD 1762.62 billion in 2022 followed by commercial and industrial, owing to the rise in government investment in wastewater management and the increase in awareness in military and communities regarding wastewater management. Based on end users, the commercial sub-segment is registered as the fastest growing in upcoming years with a CAGR of 10.33% due to the rise in the number of supermarkets and other commercial buildings and the increasing number of parking lots in the nation
Regional Analysis
In 2022, North America dominated the Stormwater Management Market, boasting the highest revenue share in global market. The United States contributed majorly to this dominance. The United States is witnessing growth in the stormwater management market owing to factors such as government funding, strategic initiatives by market players, and product approvals. The government in the United States is actively taking steps to manage the flow of stormwater efficiently and reduce the damage that happens during storms by deploying different solutions in different states and cities. Such as, America's Water Infrastructure Act (AWIA) of 2018 amended section 221 of the Clean Water Act to expand project eligibility for including stormwater management projects and authorized appropriations for the program. For this purpose, AWIA announced the allocation of USD 25 million per year for FY2019-FY2023. Furthermore, United States is home to many prominent players in the industry who are strengthening their position in the market by taking strategic initiatives such as mergers and acquisitions, product launches, and others.
REGIONAL COVERAGE:
North America
Europe
Eastern Europe

Poland

Romania

Hungary

Turkey

Rest of Eastern Europe

Western Europe

Germany

France

UK

Italy

Spain

Netherlands

Switzerland

Austria

Rest of Western Europe
Asia Pacific
China

India

Japan

South Korea

Vietnam

Singapore

Australia

Rest of Asia Pacific
Middle East & Africa
Middle East

UAE

Egypt

Saudi Arabia

Qatar

Rest of Middle East

Africa

Nigeria

South Africa

Rest of Africa
Latin America
Brazil

Argentina

Colombia

Rest of Latin America
Key Players
The major key players are Contech Engineered Solutions LLC, Stormtrap, Advanced drainage systems Inc., Suez Group, Hydro International UK Ltd., AquaShield, Inc., Triton Stormwater Solutions, Apex Companies LLC, Stormtank, Forterra, Inc., other key players mentioned in the final report.
Recent Development:
October 22, 2021, StromTrap, a leading provider of stormwater management solutions, has recently announced a strategic partnership with stormTree to broaden StromTrap's product line, enabling them to offer customers an extensive array of stormwater management systems and solutions, all conveniently available from a single source.

In May 2023, Polymer specialist REHAU announced the launch of a new stormwater management system in partnership with water services company Hydro International.
Stormwater Management Market Report Scope:
Report Attributes
Details
Market Size in 2022
US$ 5409.29 Bn
Market Size by 2030
US$ 10558.83 Bn
CAGR
CAGR of 8.72% From 2023 to 2030
Base Year
2022
Forecast Period
2023-2030
Historical Data
2020-2021
Report Scope & Coverage
Market Size, Segments Analysis, Competitive Landscape, Regional Analysis, DROC & SWOT Analysis, Forecast Outlook
Key Segments
• By Service Type (Installation Services, Repair Services, Annual Maintenance Services, and Others)
• By Solution Type (Detention & infiltration, Biofiltration, Separation, Filtration, Specialty Filters, and Others)
• By End-user (Community, Government & military, commercial, Industrial, Medical and education, and others)
Regional Analysis/Coverage
North America (US, Canada, Mexico), Europe (Eastern Europe [Poland, Romania, Hungary, Turkey, Rest of Eastern Europe] Western Europe] Germany, France, UK, Italy, Spain, Netherlands, Switzerland, Austria, Rest of Western Europe]), Asia Pacific (China, India, Japan, South Korea, Vietnam, Singapore, Australia, Rest of Asia Pacific), Middle East & Africa (Middle East [UAE, Egypt, Saudi Arabia, Qatar, Rest of Middle East], Africa [Nigeria, South Africa, Rest of Africa]), Latin America (Brazil, Argentina, Colombia Rest of Latin America)
Company Profiles
Contech Engineered Solutions LLC, Stormtrap, Advanced drainage systems Inc., Suez Group, Hydro International UK Ltd., AquaShield, Inc., Triton Stormwater Solutions, Apex Companies LLC, Stormtank, Forterra, Inc.
Key Drivers
• Increasing industrialization
• Stringent environmental regulations to manage the wastewater
• Growing number of natural calamities
Market Opportunities
• Growing public awareness and government focus on sustainable wastewater management
• Rising technological advancements such as the development of smart stormwater management systems