Report Scope & Overview:
Water Desalination Equipment Market size was valued at USD 14.68 billion in 2022 and is expected to grow to USD 30.56 billion by 2030 and grow at a CAGR of 9.6% over the forecast period of 2023-2030.
Desalination equipment is used to remove salt and other minerals from seawater, making it suitable for human consumption and other uses. This process is becoming increasingly important as freshwater sources become scarce and the demand for clean water continues to rise. The equipment used for desalination can vary depending on the specific needs of the user. Some common types of desalination equipment include reverse osmosis systems, distillation units, and electrodialysis systems. Each of these systems has its own unique advantages and disadvantages, and the choice of equipment will depend on factors such as the quality of the source water, the desired output, and the available resources.
In addition to providing clean drinking water, desalination equipment can also be used for a variety of other purposes, such as irrigation, industrial processes, and even energy production. As technology continues to advance, the cost and efficiency of desalination equipment are improving, making it an increasingly viable solution for meeting the world's growing water needs. This process of desalination is becoming increasingly important as the world's population grows and freshwater resources become scarcer. The market for water desalination equipment is driven by a number of factors, including the need for clean drinking water in developing countries, the increasing demand for water in arid regions, and the growing awareness of the environmental impact of traditional water sources.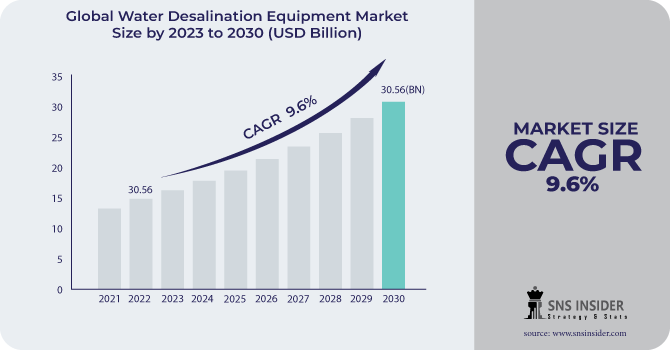 Drivers
Growing demand for freshwater due to population growth and urbanization

Rising need for clean water in various industries

Increasing demand for water in dry regions
The increasing need for water in dry regions is the primary driving force behind the Water Desalination Equipment Market. As populations grow and water resources become scarce, the demand for desalination technology has risen significantly. This market encompasses a range of equipment and technologies designed to remove salt and other impurities from seawater, brackish water, and other sources, making it safe and usable for human consumption and industrial purposes. With the global water crisis showing no signs of abating, the Water Desalination Equipment Market is poised for continued growth and innovation.
Restrain
Opportunities
Advancements in technology

Rising demand for water in emerging countries
Challenges
The environmental impact of desalination plants poses a significant challenge for the Water Desalination Equipment Market. This impact refers to the potential harm that desalination plants can cause to the environment, such as the discharge of brine and chemicals into the ocean, which can harm marine life and ecosystems. Desalination plants require a significant amount of energy to operate, which can lead to increased greenhouse gas emissions and contribute to climate change. Additionally, the intake of seawater can also harm marine organisms, as it can trap and kill fish and other small creatures. To address these challenges, the Water Desalination Equipment Market must prioritize the development of sustainable and environmentally-friendly desalination technologies. This can include the use of renewable energy sources, such as solar or wind power, to reduce the carbon footprint of desalination plants. Additionally, the implementation of advanced treatment technologies can help minimize the discharge of harmful chemicals and brine into the ocean.
Impact of Russia-Ukraine War:
The Russia-Ukraine war has caused a disruption in the supply chain of water desalination equipment, leading to a shortage of critical components and materials. This has resulted in increased prices and longer lead times for equipment manufacturers, making it difficult for them to meet the growing demand for their products. Furthermore, the political instability in the region has made it challenging for companies to establish and maintain business relationships with their partners in Russia and Ukraine. This has led to a decline in investment and a reluctance to expand operations in the affected areas. More details are comprised in the final report.
Impact of Recession:
During a recession, industries such as power generation, oil and gas, and manufacturing may experience a decrease in demand. These industries are significant consumers of water, and if their operations scale back, it can lead to a decreased need for water desalination equipment. However, the impact of a recession on the water desalination equipment market can vary by region. Regions heavily reliant on tourism or industries vulnerable to economic downturns may experience a more pronounced decline in demand for desalination equipment. On the other hand, regions with a persistent water scarcity issue may prioritize water supply investments even during a recession. The final report provides more insights into the potential effects of a recession on the water desalination equipment market.
Market segmentation
By Technology
Reverse Osmosis (RO)

Electrodialysis

Nanofiltration

Multi-effect Distillation (MED)

Multi-stage Flash (MSF) distillation

Others
By Source
Seawater

River water

Brackish water

Others
By Plant Capacity
<1000 m3d

1,000-10,000 m3d

10,000-50,000 m3d

>50,000 m3d
By Application
Municipal

Industrial

Others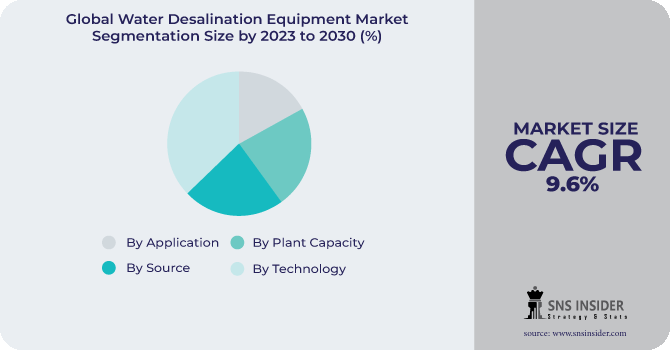 Regional Analysis
The Middle East and Africa have emerged as the dominant players in the Water Desalination Equipment market, capturing about 52.32% market share in 2022. This dominance is attributed to the increasing demand for fresh water in these regions due to rapid population growth and industrialization. Only 1.36% of the world's renewable freshwater is found in the Middle East and Africa region, despite it being home to 6.35 percent of the global population. UNICEF reports that almost 88% of children residing in the region are situated in areas that experience high or extremely high water stress. Moreover, the Middle East and Africa are home to some of the world's largest oil-producing nations, which have invested heavily in desalination technology to meet their water needs. This has led to the development of advanced desalination equipment and technologies, which have further boosted the market growth in these regions. Furthermore, the governments in these regions have implemented favorable policies and regulations to encourage the adoption of desalination technology, which has further fueled market growth. As a result, the Middle East and Africa are expected to continue dominating the Water Desalination Equipment market in the coming years.
The Asia Pacific region is projected to experience substantial growth in the Water Desalination Equipment market, with a CAGR of 11.54% during the forecast period. This growth is owing to the increasing demand for clean water, the rising population, and rapid industrialization in the region. As a result, there is a growing need for efficient and cost-effective desalination equipment to meet the rising demand for freshwater.
REGIONAL COVERAGE:
North America

Europe

Germany

UK

France

Italy

Spain

The Netherlands

Rest of Europe

Asia-Pacific

Japan

south Korea

China

India

Australia

Rest of Asia-Pacific

The Middle East & Africa

Latin America

Brazil

Argentina

Rest of Latin America
Key Players
The major key players are Doosan Heavy Industries & Construction, Xylem, Acciona S.A., SUEZ, Veolia, Aquatech International LLC, IDE Technologies, Genesis Water Technologies, LG Chem, KangYang Seawater Desalination Equipment Co., Ltd., and other key players mentioned in the final report.
Recent Development:
In Feb 2021, Doosan Heavy Industries & Construction achieved a significant milestone by securing a contract worth nearly $700 million for a seawater desalination plant in Saudi Arabia.

In June 2022, construction of the Jubail 3B Independent Water Project (IWP) was started by ACCIONA and its partner SEPCOIII. This desalination plant will have the capacity to filter 570,000 cubic meters of water per day, which will be enough to provide clean drinking water to two million people in the cities of Riyadh and Qassim. The plant is projected to be fully operational by 2024.

In Feb 2023, Wanhua Chemical Group's Penglai seawater reserve osmosis desalination plant contract is owned by SUEZ and its partners.
Water Desalination Equipment Market Report Scope:
Report Attributes
Details
Market Size in 2022
US$ 14.68 Bn
Market Size by 2030
US$ 30.56 Bn
CAGR
CAGR of 9.6 % From 2023 to 2030
Base Year
2022
Forecast Period
2023-2030
Historical Data
2020-2021
Report Scope & Coverage
Market Size, Segments Analysis, Competitive Landscape, Regional Analysis, DROC & SWOT Analysis, Forecast Outlook
Key Segments
• By Technology (Reverse Osmosis (RO), Electrodialysis, Nanofiltration, Multi-effect Distillation (MED), Multi-stage Flash (MSF) distillation, and Others)
• By Source (Sea water, River water, Brackish water, and Others)
• By Plant Capacity (<1000>50,000 m3d)
• By Application (Municipal, Industrial, and Others)
Regional Analysis/Coverage
North America (USA, Canada, Mexico), Europe
(Germany, UK, France, Italy, Spain, Netherlands,
Rest of Europe), Asia-Pacific (Japan, South Korea,
China, India, Australia, Rest of Asia-Pacific), The
Middle East & Africa (Israel, UAE, South Africa,
Rest of Middle East & Africa), Latin America (Brazil, Argentina, Rest of Latin America)
Company Profiles
Doosan Heavy Industries & Construction, Xylem, Acciona S.A., SUEZ, Veolia, Aquatech International LLC, IDE Technologies, Genesis Water Technologies, LG Chem, KangYang Seawater Desalination Equipment Co., Ltd.
Key Drivers
• Growing demand for freshwater due to population growth and urbanization
• Rising need for clean water in various industries
• Increasing demand for water in dry regions
Market Opportunities
• Advancements in technology
• Rising demand for water in emerging countries