REPORT SCOPE & OVERVIEW:
Tinnitus Management Market size was valued at USD 2.54 Billion in 2022 and is expected to grow to USD 3.34 Billion by 2030 and grow at a CAGR of 3.5% over the forecast period of 2023-2030.
A frequent issue, tinnitus can negatively affect a person's quality of life. The market for managing tinnitus includes a variety of products, including medical equipment, medications, sound therapy equipment, and counseling services.
The industry dedicated to creating and offering goods and services to assist people in managing and reducing the symptoms of tinnitus is referred to as the tinnitus management market. The feeling of ringing, buzzing, or other sounds in the ears or head without any external cause is known as tinnitus. It has a large global influence and may have a detrimental effect on people's quality of life. The market for tinnitus management has a wide range of products and strategies to treat the illness.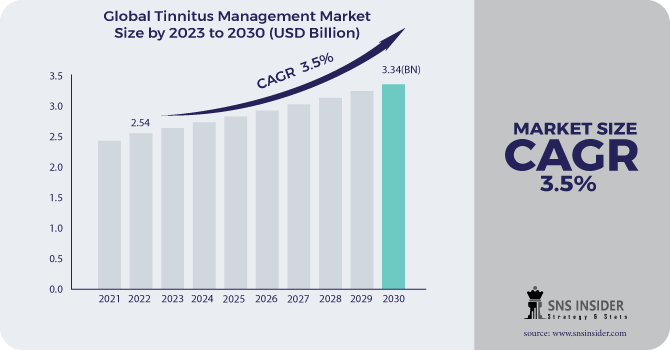 When there is no external source of sound, a condition known as tinnitus causes the perception of sound. In the ears or head, it may sound like ringing, buzzing, hissing, or another sound. There are several products and strategies available on the market for tinnitus management that aim to reduce symptoms and enhance the quality of life for those who experience it. There are many different products available on the market, including cochlear implants, sound therapy equipment, hearing aids, and medications created especially for the treatment of tinnitus. These items are made to either cover up the tinnitus sound or offer relief by addressing its underlying causes or mechanisms.
MARKET DYNAMICS
KEY DRIVERS:
Growing Tinnitus Prevalence: Tinnitus is a widespread condition that affects a large percentage of the world's population, with estimates ranging from 15% to 20%. The demand for efficient management solutions is being driven by the increasing prevalence of tinnitus.
RESTRAIN:
Cognitive behavioral therapy (CBT): approaches can assist people in controlling their emotional and psychological reactions to tinnitus, thereby minimizing the distress brought on by the disease. While there isn't a single drug licensed to cure tinnitus, some drugs may be recommended to alleviate its side effects, like anxiety, sadness, or insomnia.
OPPORTUNITY:
Growing Awareness

Technology developments
Technology developments: New developments in technology could completely change the tinnitus management sector. To alleviate the symptoms of tinnitus, cutting-edge products including wearable technology, hearing aids, and sound treatment equipment are being created. These developments may give businesses new chances to launch efficient and usable products.
CHALLENGES:
Limited knowledge and comprehension

Lack of available effective treatments
Lack of available effective treatments: Tinnitus is a complex ailment for which there is not yet a single, all-encompassing remedy. Instead of treating the underlying cause of tinnitus, many currently used treatment methods concentrate on managing symptoms. This restricts the choices that medical providers and patients have, which causes irritation and discontent.
IMPACT ANALYSIS
IMPACT OF RUSSIAN UKRAINE WAR
The war between Russia and Ukraine has had a profound geopolitical and humanitarian impact on the area. It is crucial to remember that the effect on the market for tinnitus management may not be as immediate or significant. The violence may have caused the hospitals, clinics, and medical supply networks in the impacted areas to become disrupted. Access to products and services for tinnitus control may be hampered as a result of this disturbance.
Populations affected by armed conflicts frequently experience increased stress and anxiety. For some people, stress can make their tinnitus symptoms worse. Consequently, a rise in stress levels is brought on by tinnitus management.
IMPACT OF ONGOING RECESSION
Because of job losses, wage reductions, or overall economic instability, people typically have less disposable income during recessions. People could prioritize necessities over optional healthcare items or services, such as tinnitus management strategies, as a result. This might cause consumers to spend less on tinnitus management items.
As people and healthcare institutions trim their budgets, recessions frequently lead to a decline in overall healthcare spending. non-emergency medical treatment.
IMPACT OF COVID-19
According to a study that was published in the Frontiers in Public Health journal, 40% of persons with signs of Covid-19 reported that their tinnitus had gotten worse. Health-related worries, social isolation limits, lifestyle changes, and mental health issues were just a few of the causes that contributed to a rise in tinnitus during the pandemic. These have A small increase in the market for tinnitus management. The overall market growth in all the major regions was hampered by the disruption of the supply chain, lower demand, slowdowns, staff shortages, restrictions on indoor and outdoor events, and slow down. In the tinnitus management market, however, Future predictions call for a steady recovery and modest growth.
KEY MARKET SEGMENTS
By Product:
Devices

Sound Masking Devices

Notched Music Devices

Hearing Aids

Drugs
By Indication:
Subjective Tinnitus

Objective Tinnitus
By Distribution Channel:
Audiology Centers

ENT Clinics

Hospitals

E-Commerce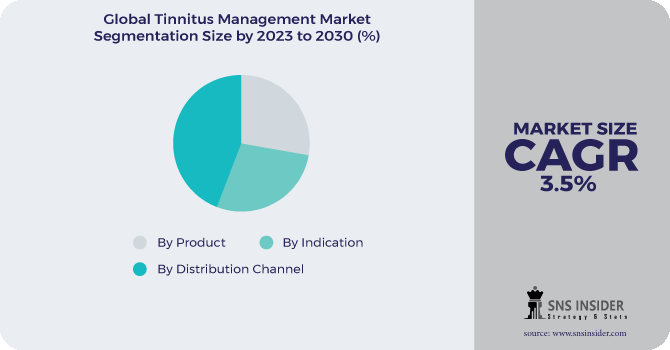 REGIONAL ANALYSIS
The North American tinnitus management market held the global market share. Due to the high prevalence and rise in tinnitus incidence as well as the sharp increase in the number of geriatric populations, the U.S. is expected to continue to dominate.
The quick uptake of numerous initiatives to standardize the results of tinnitus therapy is the main driver of boosting the market growth in the US. The market for tinnitus management in the United States will benefit from this.
By 2021, it is anticipated that the U.K. will be won the European market. One of the main causes of the rise in demand for tinnitus treatment in the U.K. is technological developments in medical devices.
REGIONAL COVERAGE:
North America
Europe
Germany

UK

France

Italy

Spain

The Netherlands

Rest of Europe
Asia-Pacific
Japan

South Korea

China

India

Australia

Rest of Asia-Pacific
The Middle East & Africa
Latin America
Brazil

Argentina

Rest of Latin American
Key Players
Some of the major player listed as follows, Teva Pharmaceutical, Pfizer Inc., Sanofi, GlaxoSmithKline, Eli Lilly and Co., Bayer AG, Boehringer Ingelheim, Merck & Co., Abbivie, Widex A/S, Oticon Inc., Starkey Laboratories, Inc., GN Hearing A/S, Neuromod Devices Ltd., Neuromonics, Inc., Takeda Pharmaceutical Company Ltd., Puretone Ltd., Signia, and others.
RECENT DEVELOPMENT
An innovative hearing aid platform called Augmented Xperience (AXE) has been launched by a renowned provider of hearing solutions. It automatically and intelligently analyses sound to ensure that users always hear clear sound, no matter the listening setting.
Tinnitus Management Market Report Scope:
Report Attributes
Details
Market Size in 2022
US$ 2.54 Bn
Market Size by 2030
US$ 3.34 Bn
CAGR
CAGR of 3.5% From 2023 to 2030
Base Year
2022
Forecast Period
2023-2030
Historical Data
2020-2021
Report Scope & Coverage
Market Size, Segments Analysis, Competitive Landscape, Regional Analysis, DROC & SWOT Analysis, Forecast Outlook
Key Segments
• By Product (Devices, Drugs)
• By Indication (Subjective Tinnitus, Objective Tinnitus)
• By Distribution Channel (Audiology Centers, ENT Clinics, Hospitals, E-Commerce)
Regional Analysis/Coverage
North America (USA, Canada, Mexico), Europe
(Germany, UK, France, Italy, Spain, Netherlands,
Rest of Europe), Asia-Pacific (Japan, South Korea,
China, India, Australia, Rest of Asia-Pacific), The
Middle East & Africa (Israel, UAE, South Africa,
Rest of Middle East & Africa), Latin America (Brazil, Argentina, Rest of Latin America)
Company Profiles
Teva Pharmaceutical, Pfizer Inc., Sanofi, GlaxoSmithKline, Eli Lilly and Co., Bayer AG, Boehringer Ingelheim, Merck & Co., Abbivie, Widex A/S, Oticon Inc., Starkey Laboratories, Inc., GN Hearing A/S, Neuromod Devices Ltd., Neuromonics, Inc., Takeda Pharmaceutical Company Ltd., Puretone Ltd., Signia
Key Drivers
• Population Ageing
• Growing Tinnitus Prevalence
Market Opportunities
• Growing Awareness
• Technology developments