Report Scope & Overview:
The Utility Poles Market size was valued at USD 33.15 billion in 2022 and is expected to grow to USD 54.04 billion by 2030 and grow at a CAGR of 6.3% over the forecast period of 2023-2030.
Utility poles are tall structures made of wood, concrete, or metal that are used to support overhead power lines and other utilities. They play a crucial role in providing electricity, telephone, and internet services to homes and businesses. These poles are typically installed in a strategic manner along roadsides, ensuring that power lines are elevated and out of reach from pedestrians and vehicles. They are designed to withstand various weather conditions, such as strong winds and heavy snowfall, to ensure the uninterrupted flow of electricity. Wooden utility poles are the most common type and are often made from pressure-treated timber to enhance their durability. They are usually tapered at the top to accommodate the attachment of power lines and other equipment. Concrete and metal poles, on the other hand, are used in areas where additional strength and stability are required.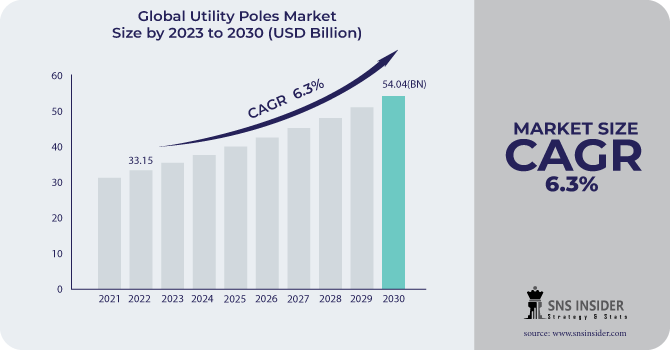 To get more information on Utility Poles Market - Request Sample Report
Wooden utility poles have traditionally dominated the market due to their cost-effectiveness and ease of installation. However, the rising concerns over deforestation and the need for sustainable solutions have led to the development of alternative materials such as steel and concrete. These materials offer enhanced durability, resistance to weather conditions, and reduced maintenance requirements, making them attractive options for utility pole installations. Furthermore, the Utility Poles Market has witnessed a shift towards smart poles, which integrate advanced technologies to improve efficiency and functionality. These smart poles are equipped with sensors, cameras, and communication devices, enabling real-time monitoring of power consumption, traffic flow, and environmental conditions. This integration of technology not only enhances the performance of utility poles but also contributes to the development of smart cities and sustainable infrastructure. The Utility Poles Market is expected to continue its growth in the coming years, driven by factors such as urbanization, industrialization, and the increasing need for reliable power and communication networks. However, challenges such as stringent regulations, environmental concerns, and the high cost of materials pose significant hurdles for market players.
Market Dynamics
Drivers
Increasing demand for electricity

Rising global population and rapid urbanization

Shifting focus on renewable energy sources
The world's population is continuously increasing at an unprecedented rate, leading to a surge in urban development. As more people migrate to cities in search of better opportunities, the demand for infrastructure, including utility poles, has increased. With the rapid urbanization witnessed globally, the need for utility poles has become even more pronounced. As cities expand, new residential and commercial areas emerge, requiring the installation of additional utility poles to meet the growing demand for electricity and communication services. Moreover, the development of smart cities and the increasing adoption of advanced technologies further contribute to the rising demand for utility poles. These poles serve as the infrastructure for the deployment of smart grids, wireless communication networks, and other innovative solutions that enhance the efficiency and sustainability of urban environments.
Restrain
Opportunities
Development of new power transmission and distribution lines

Development of composite utility poles
The development of new power transmission and distribution lines presents significant opportunities for the Utility Poles Market. The expansion and modernization of power transmission and distribution infrastructure have become crucial in meeting the growing energy demands of our society. As a result, the demand for utility poles, which serve as essential components in supporting these lines, has experienced a notable surge.
Challenges
Impact of Russia-Ukraine War:
The conflict has disrupted the supply chain of utility poles, primarily due to the geographical proximity of the two nations. Ukraine has traditionally been a major supplier of utility poles to Russia. However, the war has led to border closures, trade restrictions, and transportation challenges, causing delays and shortages in the supply of utility poles. The destruction caused by the war has resulted in a surge in demand for utility poles in both Russia and Ukraine. The need for infrastructure restoration and reconstruction has created a significant market opportunity for utility pole manufacturers and suppliers. This increased demand has led to a rise in prices and a competitive market environment.
Due to the disruptions in the supply chain, utility pole manufacturers and suppliers have been compelled to explore alternative sourcing strategies. This has led to a diversification of supply sources, with market players seeking poles from other countries or investing in domestic production capabilities. This shift in sourcing strategies aims to mitigate the risks associated with relying solely on Russia or Ukraine for utility pole supplies. The war has also accelerated the adoption of advanced technologies in the utility poles market. With the need for more resilient and durable poles, manufacturers are investing in innovative materials and manufacturing processes.
Impact of Recession:
Due to the ongoing recession, the utility poles market will experience a decline in demand due to reduced construction activities and infrastructure investments. Furthermore, the recession often prompts measures, which can impact the quality and durability of utility poles. In an effort to reduce expenses, some manufacturers may compromise on materials or construction techniques, leading to a decrease in the overall reliability and lifespan of utility poles. This can have long-term consequences, as utility poles are critical components of electrical and telecommunication networks.
Market segmentation
By Type
Transmission Poles

Distribution Pole
By Material
Wood

Composites

Concrete

Steel
By Pole Size
Below 40ft

Between 40 & 70ft

Above 70ft
By Application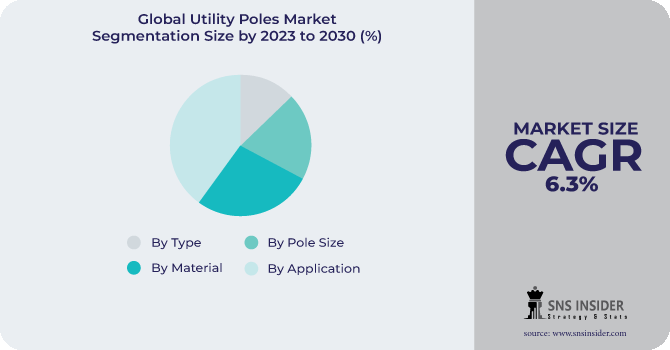 To Get Customized Report as per your Business Requirement - Request For Customized Report
Regional Analysis
The Asia Pacific region is expected to grow with the highest CAGR in the Utility Poles Market during the forecast period of 2023-2030. This growth is attributed to the increasing urbanization, rapid industrialization, and the rising demand for electricity transmission and distribution infrastructure in the region. Asia Pacific has witnessed significant economic development in recent years, leading to a surge in energy consumption. This has necessitated the expansion and modernization of power grids, resulting in a higher demand for utility poles. Additionally, the region's growing population and urbanization have led to the construction of new residential and commercial buildings, further driving the need for utility poles to support electrical infrastructure. Furthermore, the Asia Pacific region is witnessing a shift towards renewable energy sources, such as solar and wind power. This transition requires the installation of new transmission and distribution lines, which in turn increases the demand for utility poles. Moreover, governments in the region are investing heavily in infrastructure development, including the expansion of electricity networks. These initiatives aim to improve access to electricity in rural areas and enhance the overall reliability and efficiency of power supply. As a result, the utility poles market in the Asia Pacific is expected to witness substantial growth during the forecast period.
REGIONAL COVERAGE:
North America
Europe
Eastern Europe

Poland

Romania

Hungary

Turkey

Rest of Eastern Europe

Western Europe

Germany

France

UK

Italy

Spain

Netherlands

Switzerland

Austria

Rest of Western Europe
Asia Pacific
China

India

Japan

South Korea

Vietnam

Singapore

Australia

Rest of Asia Pacific
Middle East & Africa
Middle East

UAE

Egypt

Saudi Arabia

Qatar

Rest of Middle East

Africa

Nigeria

South Africa

Rest of Africa
Latin America
Brazil

Argentina

Colombia

Rest of Latin America
Key Players
The major key players are Nippon Concrete Industries, Valmont Industries, Hill & Smith Holdings, Stella-Jones Inc, Skipper Ltd, RS Technologies INC, Omega Factory, Pelco Products, Fuchs Europoles Gmbh, KES International, and other key players mentioned in the final report.
Hill & Smith Holdings-Company Financial Analysis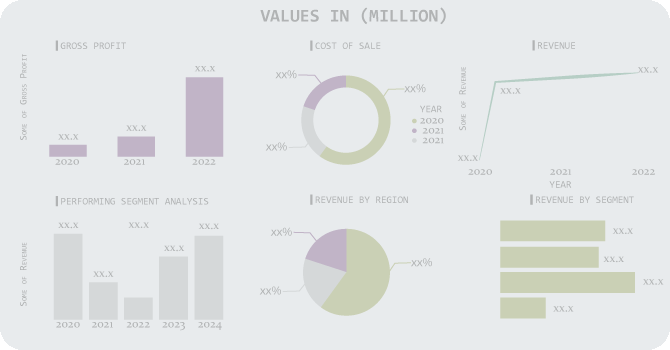 Utility Poles Market Report Scope:
Report Attributes
Details
Market Size in 2022
US$ 33.15 Bn
Market Size by 2030
US$ 54.04 Bn
CAGR
CAGR of 6.3% From 2023 to 2030
Base Year
2022
Forecast Period
2023-2030
Historical Data
2020-2021
Report Scope & Coverage
Market Size, Segments Analysis, Competitive Landscape, Regional Analysis, DROC & SWOT Analysis, Forecast Outlook
Key Segments
• By Type (Transmission Poles and Distribution Poles)
• By Material (Wood, Composites, Concrete, and Steel)
• By Pole Size (Below 40ft, Between 40 & 70ft, and Above 70ft)
• By Application (Telecommunication, Energy Transmission & Distribution, Sub-Transmission Lines, Heavy Power Lines, Street Lighting, and Others)
Regional Analysis/Coverage
North America (US, Canada, Mexico), Europe (Eastern Europe [Poland, Romania, Hungary, Turkey, Rest of Eastern Europe] Western Europe] Germany, France, UK, Italy, Spain, Netherlands, Switzerland, Austria, Rest of Western Europe]). Asia Pacific (China, India, Japan, South Korea, Vietnam, Singapore, Australia, Rest of Asia Pacific), Middle East & Africa (Middle East [UAE, Egypt, Saudi Arabia, Qatar, Rest of Middle East], Africa [Nigeria, South Africa, Rest of Africa], Latin America (Brazil, Argentina, Colombia Rest of Latin America)
Company Profiles
Nippon Concrete Industries, Valmont Industries, Hill & Smith Holdings, Stella-Jones Inc, Skipper Ltd, RS Technologies INC, Omega Factory, Pelco Products, Fuchs Europoles Gmbh, KES International
Key Drivers
• Increasing demand for electricity
• Rising global population and rapid urbanization
• Shifting focus on renewable energy sources
Market Restraints
• High installation and maintenance cost of utility poles