Report Scope & Overview:
The Waste Heat Recovery System Market size was valued at USD 56.1 billion in 2022 and is expected to grow to USD 116.80 billion by 2030 and grow at a CAGR of 9.6% over the forecast period of 2023-2030.
A waste heat recovery system is a technology that captures and reuses the heat generated by industrial processes, which would otherwise be lost. This system is designed to improve energy efficiency and reduce greenhouse gas emissions, making it an essential component of sustainable manufacturing practices. By utilizing waste heat recovery systems, industries can significantly reduce their energy consumption and operating costs. This technology can be applied to a wide range of industrial processes, including power generation, cement production, and chemical manufacturing.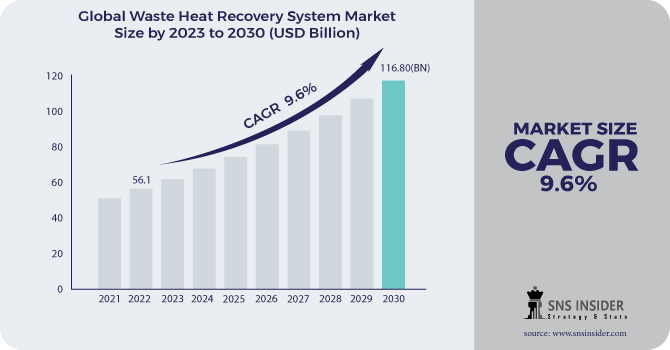 The waste heat recovery system works by capturing the heat generated during the industrial process and transferring it to a heat exchanger. The heat exchanger then transfers the heat to a fluid, such as water or air, which can be used for other purposes, such as heating or cooling. In addition to reducing energy consumption and operating costs, waste heat recovery systems also have environmental benefits. By reusing waste heat, these systems reduce the amount of energy needed to produce the same amount of output, which in turn reduces greenhouse gas emissions.
Market Dynamics
Drivers
Increasing concern about carbon gas emission

Stringent regulation imposed by the government to protect the environment
The growing concern over carbon gas emissions and the implementation of strict environmental regulations by governments have become the driving forces behind the adoption of Waste Heat Recovery Systems. As the world becomes more aware of the negative impact of carbon emissions on the environment, there is a growing need to find ways to reduce these emissions. Waste Heat Recovery Systems offer a solution by capturing and utilizing the heat generated by industrial processes that would otherwise be wasted. This not only reduces carbon emissions but also helps to improve energy efficiency and reduce operating costs. Furthermore, governments around the world are implementing stringent regulations to protect the environment. These regulations often require companies to reduce their carbon footprint and adopt more sustainable practices. Waste Heat Recovery Systems can help companies meet these regulations while also providing a competitive advantage by reducing energy costs and improving overall efficiency.
Increasing demand from the energy-intensive industries

Need for waste heat recovery system in power and steam generation

Increasing electricity prices associated with the rising use of energy
Restrain
High initial investment associated with the waste heat recovery system

Availability of alternative cost-effective solutions for heat recovery system
Opportunities
Challenges
During recovery quality of energy will get affected which creates a challenge for the waste heat recovery system

Lack of awareness about this technology in developing and underdeveloped regions
Impact of COVID-19
The COVID-19 pandemic significantly impacted the Waste Heat Recovery System Market. The pandemic causes an economic slowdown which further decreases the demand for the waste heat recovery system market. The restrictions on travel and transportation have also affected the supply chain, leading to delays in the delivery of components and equipment. However, the pandemic has also created opportunities for the Waste Heat Recovery System Market. The need for energy-efficient solutions has increased as companies look for ways to reduce their operating costs. Waste heat recovery systems offer a sustainable solution that can help companies save money and reduce their carbon footprint.
Impact of Russia-Ukraine War:
The Russia-Ukraine war impacted various industries, including the waste heat recovery system market. The war has disrupted the supply chain of waste heat recovery systems, causing delays in production and delivery. This has resulted in a shortage of these systems, leading to an increase in their prices. The detailed analysis is included in the final report.
Impact of Recession:
The global economy has been hit hard by the recent recession, and the waste heat recovery system market is no exception. This market has experienced a significant decline in demand due to the economic downturn, which has resulted in a decrease in investment and a slowdown in the energy industry. The waste heat recovery system market is a crucial component of the energy industry, as it provides a means of capturing and utilizing waste heat generated by industrial processes. The decline in demand has led to a decrease in investment, which has resulted in a slowdown in the development and implementation of this technology.
Market segmentation
By Phase:
By End-use Industry:
By Application:
Pre-Heating

Power & Steam Generation

Others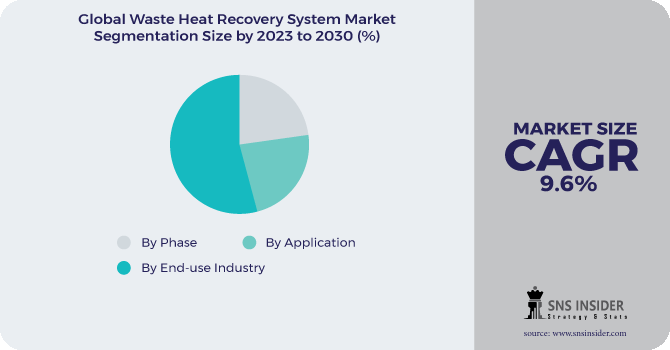 Regional Analysis
The waste heat recovery system market in Europe is currently dominating the industry, with a market share of approximately 28% in 2022. This trend is expected to continue throughout the forecast period, as the European Union has taken a proactive approach to producing energy from waste heat. This has led to increased awareness and adoption of waste heat recovery systems throughout the region. Germany is a major contributor to the growth of the European waste heat recovery system market, as the government has taken significant steps to reduce carbon gas emissions. The negative impact of greenhouse gases on the environment is well-known, and waste heat recovery systems are helping to mitigate these effects. As a result, the market for waste heat recovery systems in Europe is expected to continue to grow in the coming years.
During the forecast period, the Asia-Pacific region is projected to experience the highest compound annual growth rate (CAGR). This growth can be attributed to the booming construction industry and rapid urbanization, which are driving the demand for waste heat recovery systems in the region. As countries like India, China, and Japan experience a surge in population and urbanization, the demand for energy is also increasing. To address this demand, increase efficiency, and reduce energy costs, there is a growing need for effective solutions such as waste heat recovery systems.
REGIONAL COVERAGE:
North America

Europe

Germany

UK

France

Italy

Spain

The Netherlands

Rest of Europe

Asia-Pacific

Japan

south Korea

China

India

Australia

Rest of Asia-Pacific

The Middle East & Africa

Latin America

Brazil

Argentina

Rest of Latin America
Key Players
The major key players are Siemens AG, Mitsubishi Heavy Industries, Ltd., General Electric, ABB, Boustead International Heaters, Forbes Marshall, Promec Engineering, Terrapin, Wood Plc (Amec Foster Wheeler), Climeon, Bosch Industries, Kessel GmbH, AURA GmbH & Co, Exergy S.p.A., IHI Corporation., and other key players will be included in the final report.
Siemens AG-company-operating-expense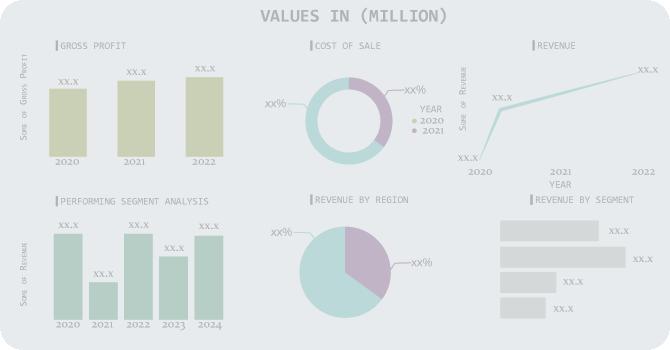 Key Developments:
Siemens Energy has made a partnership with TC Energy Corporation in 2021 to construct a waste heat-to-power facility in Canada. This innovative pilot installation in Alberta captures waste heat from a gas-fired turbine at a pipeline compression station and converts it into emissions-free power. The electricity generated fed back into the grid, resulting in a significant reduction of greenhouse gas emissions by an estimated 44,000 tons per year. This reduction is equivalent to taking more than 9,000 vehicles off the road, making it a significant step towards a greener future.

In 2022, Mitsubishi Heavy Industries made a significant advancement in energy technology with the development of an advanced Binary Power Generation System. This innovative system is based on Organic Rankine Cycle technology, commonly referred to as the WHR-ORC system. This system is primarily designed for waste heat recovery from sulfur-free fuel-burning engines, which are becoming increasingly popular in the transition to a low-carbon and decarbonized society. The WHR-ORC system includes three models that cover rated outputs ranging from 200kW to 700kW, making it suitable for a wide range of vessel types.
Waste Heat Recovery System Market Report Scope:
Report Attributes
Details
Market Size in 2022
US$ 56.1 Bn
Market Size by 2030
US$ 116.80 Bn
CAGR
CAGR of 9.6 % From 2023 to 2030
Base Year
2022
Forecast Period
2023-2030
Historical Data
2020-2021
Report Scope & Coverage
Market Size, Segments Analysis, Competitive Landscape, Regional Analysis, DROC & SWOT Analysis, Forecast Outlook
Key Segments
• By Phase (Liquid-liquid Phase System, Liquid-gas Phase System, and Thermal Regeneration)
• By End-use Industry (Petroleum Refinery, Power, Cement, Chemical, Metal Production & Casting, Pulp & Paper, and Other)
• By Application (Pre-Heating, Power & Steam Generation, and Others)
Regional Analysis/Coverage
North America (USA, Canada, Mexico), Europe
(Germany, UK, France, Italy, Spain, Netherlands,
Rest of Europe), Asia-Pacific (Japan, South Korea,
China, India, Australia, Rest of Asia-Pacific), The
Middle East & Africa (Israel, UAE, South Africa,
Rest of Middle East & Africa), Latin America (Brazil, Argentina, Rest of Latin America)
Company Profiles
Siemens AG, Mitsubishi Heavy Industries, Ltd., General Electric, ABB, Boustead International Heaters, Forbes Marshall, Promec Engineering, Terrapin, Wood Plc (Amec Foster Wheeler), Climeon, Bosch Industries, Kessel GmbH, AURA GmbH & Co, Exergy S.p.A., IHI Corporation., and other
Key Drivers
• Increasing concern about carbon gas emission
• Stringent regulation imposed by the government to protect the environment
Market Opportunities
• Growing investment by the government in the waste heat recovery system