Report Scope & Overview:
Offshore Pipeline Market size was valued at USD 14.6 billion in 2022 and is expected to grow to USD 21.4 billion by 2030 and grow at a CAGR of 4.9% over the forecast period of 2023-2030.
An offshore pipeline is a type of pipeline that is installed on the seabed to transport oil or gas from offshore drilling platforms to onshore facilities. These pipelines are typically made of steel and are designed to withstand the harsh conditions of the ocean environment. Offshore pipelines are an essential component of the oil and gas industry, as they provide a safe and efficient means of transporting these valuable resources from offshore drilling sites to onshore processing facilities. They are also used to transport other materials, such as water and chemicals, that are necessary for offshore drilling operations. The installation of offshore pipelines requires specialized equipment and expertise, as well as careful planning and coordination with other offshore operations. The pipelines must be carefully designed to withstand the extreme pressures and temperatures of the ocean environment, as well as the corrosive effects of saltwater and other environmental factors.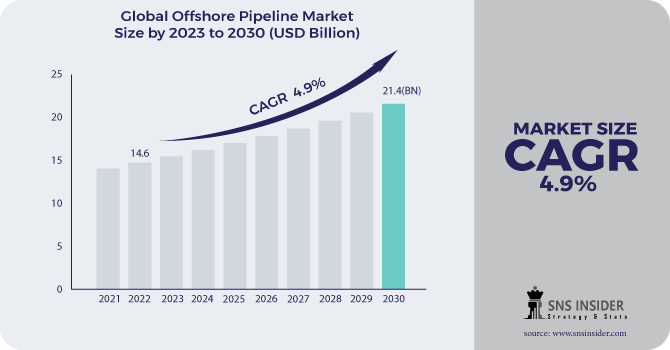 Despite the challenges involved in their installation and maintenance, offshore pipelines are a critical component of the global energy infrastructure, providing a reliable and cost-effective means of transporting oil and gas from offshore drilling sites to onshore facilities. As the demand for these resources continues to grow, the importance of offshore pipelines is only likely to increase in the years ahead. This market is a crucial component of the global energy sector, as it enables the safe and efficient transportation of these valuable resources.
Market Dynamics
Drivers
Need for reliable and efficient transportation of oil and gas resources

Growing demand for oil and gas

Increasing investment in offshore production and exploration activities of oil and gas

Increasing demand for refined petroleum products from various industries
The production of various chemicals, including fertilizers, solvents, plastics, and pharmaceuticals, requires refined petroleum. As a result, the demand for refined petroleum products has increased across multiple industries. To meet this demand, efficient and reliable transportation of these products is necessary, and offshore pipelines provide a viable solution. This has led to a surge in demand for the offshore pipeline market. Refined petroleum is a crucial component of chemical manufacturing. However, the transportation of these products can be challenging, especially when it comes to reliability and efficiency. Offshore pipelines offer a solution that addresses these concerns, making them an attractive option for businesses.
Restrain
Opportunities
Development of new technology and innovative solutions

Exploration of the new offshore region
Challenges
Potential environmental risk

Delaying issuing permits by statutory government bodies
Statutory authorities, such as the National Energy Board (NEB), Association of Oil Pipelines (AOPL), and Pipeline and Hazardous Material Safety Administration (PHMSA), have been delaying the issuance of permits for offshore pipelines. This is due to their responsibility to ensure the integrity and viability of the pipeline before commissioning it, in order to prevent any potential disasters. However, this delay is creating challenges for market players in the offshore pipeline industry. The rigorous inspection process mandated by these authorities is essential to ensure the safety and reliability of offshore pipelines. However, it can also result in delays and increased costs for companies seeking to build and operate these pipelines.
Impact of COVID-19:
The COVID-19 pandemic affected the offshore pipeline market negatively with decreasing demand for oil and gas. The global economy has been hit hard, and the oil and gas industry has not been immune to the effects. The offshore pipeline market has been particularly affected, with many projects being delayed or canceled due to the pandemic. One of the main reasons for this is the decrease in demand for oil and gas. For instance, the leading Oil Companies recorded a drop in Oil & Gas assets of more than $ 140.27 billion in 2020. In order to mitigate the negative effects on cash flows, they announced a net cut in investments in oil and gas exploration and production, which in 2020 stands at around 30% less than pre-COVID levels. With many countries implementing lockdowns and travel restrictions, the demand for oil and gas has decreased significantly. This has led to a decrease in the price of oil, which has made many offshore pipeline projects economically unviable. Another factor that has impacted the offshore pipeline market is the disruption to supply chains. Many companies rely on materials and equipment from overseas, and the pandemic has caused significant delays and disruptions to these supply chains which caused increased costs and delays in project timelines.
Impact of Russia-Ukraine War:
According to the International Energy Agency (IEA), the Russian invasion of Ukraine has had a significant impact on the demand for oil and gas. In 2022, the demand for these resources decreased by 23%, and by January 2023, it had fallen below 10%. This decrease in demand has ultimately led to an increase in the price of European gas. The primary cause of this increase in gas prices is the reduction of Russian supply. As a result, there has been a decrease in the demand for offshore pipelines. Additionally, political tensions in the Middle East have further exacerbated the situation. These tensions have led to increased scrutiny and regulation of offshore pipeline projects, making it more difficult for companies to obtain necessary permits and approvals. This has resulted in higher costs and longer project timelines, further dampening the market. It is clear that the current situation is having a significant impact on the energy industry which further impacted the offshore pipeline market.
Impact of Recession:
The ongoing recession has led to a decrease in demand for oil and gas, resulting in a reduction in exploration and production activities. This, in turn, has had a negative impact on the offshore pipeline market. The recession has also led to a decrease in investment in new pipeline projects. The detailed analysis is mentioned in the final report.
Market segmentation
By Line Type:
Export Line

Transport Line

Others
By Installation Technique:
By Product Type:
By Diameter:
Below 24 inches

Above 24 inches
By Depth of Operation: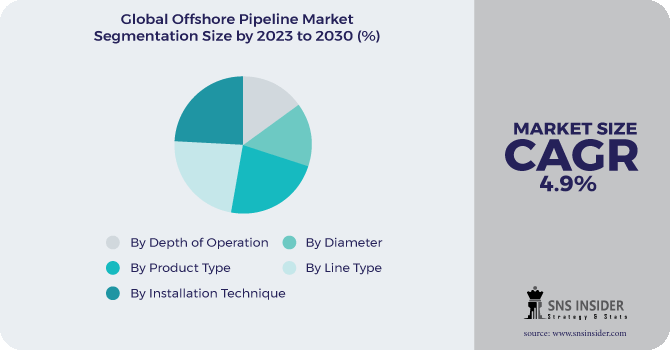 Regional Analysis
Europe is the dominant region and is expected to lead the market during the forecast period. The region's strategic location, advanced technology, and robust infrastructure have made it a hub for offshore pipeline projects. One of the key factors contributing to Europe's dominance in this market is its location. Europe is surrounded by water, making it an ideal location for offshore pipeline projects. Additionally, Europe's proximity to major oil and gas reserves in the Middle East and North Africa has made it a natural destination for pipeline infrastructure. Europe's advanced technology and expertise in offshore pipeline construction have also played a significant role in its success. The region is home to some of the world's leading pipeline engineering firms, which have developed cutting-edge technologies and techniques for building and maintaining offshore pipelines. Finally, Europe's robust infrastructure has made it an attractive destination for offshore pipeline projects. The region has a well-developed network of ports, pipelines, and storage facilities, which makes it easier and more cost-effective to transport oil and gas to market.
North America is predicted to grow with the highest CAGR during the forecast period. The U.S. is the country that contributed majorly to the growth of this region. The offshore pipeline market is experiencing significant growth in the USA attributed to the country's vast coastline, which provides ample opportunities for offshore pipeline development. Additionally, the USA has a well-established oil and gas industry, which has been a driving force behind the growth of the offshore pipeline market. Furthermore, the USA has made significant investments in offshore pipeline infrastructure, which has helped to attract more investors and companies to the market. The country's favorable regulatory environment and stable political climate have also contributed to its attractiveness as a destination for offshore pipeline investment.
REGIONAL COVERAGE:
North America

Europe

Germany

UK

France

Italy

Spain

The Netherlands

Rest of Europe

Asia-Pacific

Japan

South Korea

China

India

Australia

Rest of Asia-Pacific

The Middle East & Africa

Latin America

Brazil

Argentina

Rest of Latin America
Key Players
The major key players are Subsea 7, Saipem, National Petroleum Construction Company, McDermott, Sapura Energy Berhad, John Wood Group PLC, Fugro, Tenaric, Jesco, Technip, and other key players are mentioned in the final reports.
Subsea 7-Company Analysis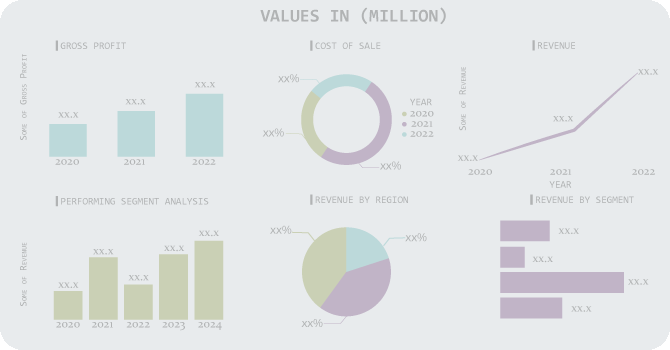 Recent Development:
In May of 2023, Saipem, a leading global provider of engineering and drilling services, was awarded two new offshore contracts. The total value of these contracts is approximately 850 million USD.
Meanwhile, Sapura Energy Berhad, a Malaysian oil and gas company, was also awarded a new contract in 2023. The contract was given by Chevron Thailand Exploration and Production Ltd and Chevron Offshore (Thailand) Ltd, and it involves a work order for the Year 2023 Pipelines Transportation, Installation, and Removal Campaign in Thailand. The scope of work includes engineering, procurement, construction, installation, and removal of wellhead platforms and pipelines. The project is expected to be completed by the end of calendar year 2023.
Offshore Pipeline Market Report Scope:
Report Attributes
Details
Market Size in 2022
US$ 14.6 Bn
Market Size by 2030
US$ 21.4 Bn
CAGR
CAGR of 4.9% From 2023 to 2030
Base Year
2022
Forecast Period
2023-2030
Historical Data
2020-2021
Report Scope & Coverage
Market Size, Segments Analysis, Competitive Landscape, Regional Analysis, DROC & SWOT Analysis, Forecast Outlook
Key Segments
• By Line Type (Export Line, Transport Line, and Others)
• By Installation Technique (S LAY, J LAY, TOW IN)
• By Product Type (Oil, Gas, and Refined Products)
• By Diameter (Below 24 inches and Above 24 inches)
• By Depth of Operation (Shallow Water and Deep Water)
Regional Analysis/Coverage
North America (USA, Canada, Mexico), Europe
(Germany, UK, France, Italy, Spain, Netherlands,
Rest of Europe), Asia-Pacific (Japan, South Korea,
China, India, Australia, Rest of Asia-Pacific), The
Middle East & Africa (Israel, UAE, South Africa,
Rest of Middle East & Africa), Latin America (Brazil, Argentina, Rest of Latin America)
Company Profiles
Subsea 7, Saipem, National Petroleum Construction Company, McDermott, Sapura Energy Berhad, John Wood Group PLC, Fugro, Tenaric, Jesco, Technip
Key Drivers
• Need for reliable and efficient transportation of oil and gas resources
• Growing demand for oil and gas
Market Opportunities
• Development of new technology and innovative solutions
• Exploration of the new offshore region