Report Scope & Overview:
The Wireless Gas Detection Market size was valued at USD 1.7 billion in 2022. It is estimated to hit USD 2.53 billion by 2030 and grow at a CAGR of 5.1% over the forecast period of 2023-2030.
The Wireless Gas Detection systems are designed to monitor and detect the presence of hazardous gases in various environments, ensuring the safety of individuals and the prevention of potential accidents. Wireless gas detection systems offer numerous advantages compared to conventional wired systems. Firstly, they eliminate the need for extensive wiring, making installation and maintenance more convenient and cost-effective. Additionally, wireless systems provide greater flexibility in terms of sensor placement, allowing for optimal coverage and detection accuracy. This flexibility also enables easy expansion or relocation of the system as per the changing needs of the environment.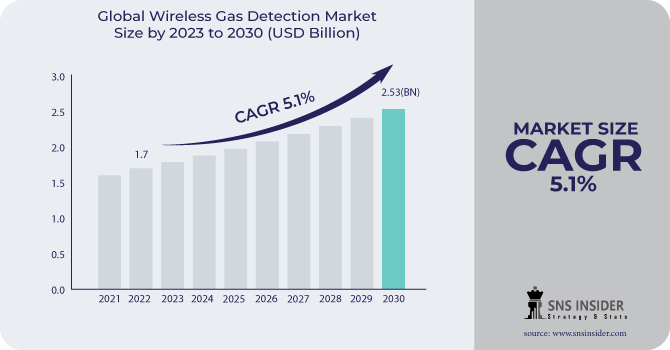 The wireless gas detection market is driven by various factors, including the increasing emphasis on workplace safety regulations and the growing awareness of the potential hazards associated with gas leaks. Industries such as oil and gas, chemical, and manufacturing are particularly inclined towards adopting wireless gas detection systems to ensure the well-being of their workforce and the protection of their assets. In addition, these systems are employed in mining operations, wastewater treatment plants, and even residential buildings, where the detection of harmful gases is of utmost importance. The versatility and reliability of wireless gas detection systems make.
Furthermore, advancements in wireless communication technologies, such as Bluetooth and Wi-Fi, have significantly contributed to the growth of this market. These technologies enable seamless integration of gas detection systems with existing infrastructure, allowing for real-time monitoring and data analysis. This integration facilitates prompt response to gas leaks, minimizing the risk of accidents and potential damages.
In terms of geographical presence, the wireless gas detection market is witnessing substantial growth across various regions. North America and Europe are leading the market due to the stringent safety regulations and the presence of major industry players. However, the Asia-Pacific region is expected to witness significant growth in the coming years, driven by rapid industrialization and an increasing focus on workplace safety in countries like China and India.
Market Dynamics
Drivers
Increasing focus on workplace safety regulation

Elimination of extensive wiring infrastructure, reducing installation and maintenance costs

Increasing awareness regarding the potential hazards of a gas leak
Increasing awareness about the potential hazards associated with gas leaks serves as the primary driving force behind the growth of the Wireless Gas Detection Market. Gas leaks pose significant risks to both human life and the environment. They can lead to explosions, fires, and the release of toxic gases, causing severe injuries, fatalities, and environmental damage. Recognizing the gravity of these hazards, there has been a surge in efforts to raise awareness about gas leaks and their potential consequences. The increasing awareness about gas leak hazards has been driven by various factors. Firstly, incidents involving gas leaks, such as industrial accidents or natural disasters, have garnered significant media attention, highlighting the devastating consequences they can have. These incidents have served as wake-up calls, prompting governments, organizations, and individuals to prioritize gas leak prevention and detection.
Restrain
These systems rely on wireless communication technologies, such as Wi-Fi or Bluetooth, to transmit data from gas sensors to a central monitoring station. However, the range of these wireless signals is often restricted, especially in industrial environments with obstacles like walls or machinery. This limitation poses a challenge for effectively monitoring gas levels in large or complex facilities.
The reliance on wireless communication exposes these systems to potential interference from other wireless devices or physical barriers. Achieving high accuracy and reliability in wireless gas sensors can be challenging due to factors like signal interference, calibration requirements, and sensor drift. Ensuring reliable and uninterrupted communication is crucial for maintaining the effectiveness of wireless gas detection systems.
Opportunities
Integration of wireless gas detection systems with the Internet of Things (IoT)

Increasing demand for the wireless gas detection system due to rapid industrialization
Challenges
Different regions and industries have specific regulations and standards that govern the use of gas detection systems. Compliance with these requirements can be complex and time-consuming, requiring manufacturers to invest in extensive testing and certification processes.
Impact of Russia-Ukraine War:
The ongoing conflict between Russia and Ukraine has severely disrupted supply chains, causing significant delays in the production and distribution of wireless gas detection systems. Consequently, there is now a shortage of these crucial devices in the market, impacting both suppliers and end-users alike.
As the conflict escalates, the need for enhanced safety measures in the affected regions becomes increasingly urgent. In March 2022, an attack on a 50-ton tank of poison gas in Russia resulted in severe damage, leading to the release of a hazardous ammonia cloud. Furthermore, in September 2022, a large-scale gas leak occurred from the Nord Stream 1 pipeline, which connects Russia to Europe. These incidents have further heightened the demand for wireless gas detection systems, as they play a vital role in ensuring the safety of workers and the general public in hazardous environments.
Impact of Recession:
While the recession has presented numerous challenges like the decline in demand and a slowdown in growth, it has also opened up new opportunities for the wireless gas detection market. As companies strive to cut costs and improve operational efficiency, wireless gas detection systems have become increasingly attractive due to their cost-effectiveness and ease of installation. This has led to a surge in demand from industries such as oil and gas, manufacturing, and construction, where safety remains a top priority.
Additionally, the recession has prompted a greater emphasis on regulatory compliance and risk management. Governments and regulatory bodies are now placing stricter requirements on businesses to ensure the safety of their employees and the environment. This has created a favorable environment for the wireless gas detection market, as companies seek reliable and efficient solutions to meet these compliance standards.
Market segmentation
By Technology
By Offering
Software

Hardware

Services
By Application
By End-use Industry
Oil and Gas

Mining and Metals

Chemical and Petrochemical

Government and Military

Utilities and Power Generation

Water and Wastewater Treatment Plants

Commercial Buildings and Public Facilities

Discrete Manufacturing Industries

Others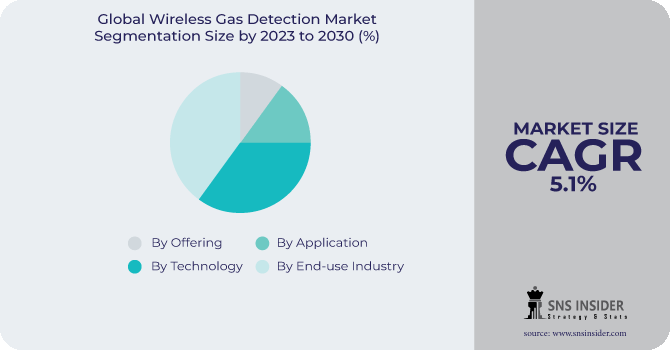 Regional Analysis
North America has emerged as the dominant player in the Wireless Gas Detection market. Gas pipeline incidents occur in the U.S. approximately every 40 hours. Between 2010 and the end of 2021, a staggering total of 2598 pipeline incidents were reported to the federal government, all involving the release of gas. Out of these incidents, 328 resulted in devastating explosions. Tragically, these explosions and subsequent fires claimed the lives of 122 individuals and left 603 others injured. To avoid this type of incident, the US government implemented stringent safety regulations and standards which contributed to wireless gas detection market dominance. The region has implemented rigorous safety protocols across industries, making wireless gas detection systems a necessity rather than a luxury. This regulatory environment has created a strong demand for wireless gas detection solutions, further propelling North America's market growth.
The Asia-Pacific region is projected to experience the highest CAGR in the Wireless Gas Detection market during the forecast period of 2023-2030. As industries expand and cities grow, the need for efficient and reliable gas monitoring solutions becomes paramount. Wireless gas detection systems offer numerous advantages over traditional wired systems, such as flexibility, ease of installation, and cost-effectiveness. These benefits make them an attractive choice for industries and organizations in the Asia-Pacific region. Secondly, the region's stringent safety regulations and growing awareness regarding workplace safety further drive the adoption of wireless gas detection systems.
Governments and regulatory bodies in countries like China and Japan have implemented strict safety standards to protect workers and the environment. This has created a significant market opportunity for wireless gas detection solutions, as they enable real-time monitoring, immediate alerts, and enhanced safety measures.
Moreover, the Asia-Pacific region is witnessing a surge in investments in oil and gas exploration, chemical manufacturing, and other industries prone to gas leaks and hazardous incidents. As these industries expand, the demand for wireless gas detection systems rises proportionally. These systems provide continuous monitoring of gas levels, enabling early detection of leaks or abnormal gas concentrations, thereby preventing potential accidents and ensuring worker safety.
REGIONAL COVERAGE:
North America
Europe
Eastern Europe

Poland

Romania

Hungary

Turkey

Rest of Eastern Europe

Western Europe

Germany

France

UK

Italy

Spain

Netherlands

Switzerland

Austria

Rest of Western Europe
Asia Pacific
China

India

Japan

South Korea

Vietnam

Singapore

Australia

Rest of Asia Pacific
Middle East & Africa
Middle East

UAE

Egypt

Saudi Arabia

Qatar

Rest of Middle East

Africa

Nigeria

South Africa

Rest of Africa
Latin America
Brazil

Argentina

Colombia

Rest of Latin America
Key Players
The major key players are Yokogawa India Ltd., MSA., Honeywell International Inc., Drägerwerk AG & Co. KGaA, Teledyne Technologies Incorporated., Agilent Technologies, Inc., Emerson Electric Co., Siemens, Sensidyne, Tek Troniks Limited, Pem-Tech Inc., Ambetronics Engineers Pvt. Ltd., 3M, Global Detection Systems Corp., Bacharach, Inc., Gastronics, and other key players mentioned in the final report.
Honeywell International Inc-Company Financial Analysis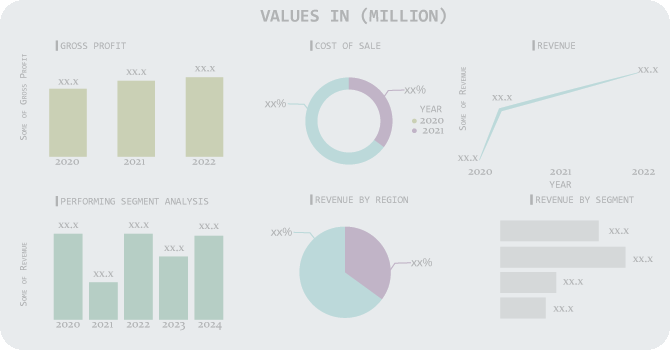 Recent Development:
In April 2023, Teledyne FLIR, a division of Teledyne Technologies Incorporated, introduced new G-Series. This innovative family of advanced, cooled-core optical gas imaging (OGI) cameras is designed to assist leak detection and repair (LDAR) experts in effortlessly pinpointing and documenting hazardous gas emissions.

In Jan 2023, Siemens introduced the FDA261 and FDA262 digitalized aspirating smoke detectors, specifically tailored for the effective safeguarding of large areas requiring enhanced protection.
Wireless Gas Detection Market Report Scope:
Report Attributes
Details
Market Size in 2022
US$ 1.7 Bn
Market Size by 2030
US$ 2.53 Bn
CAGR
CAGR of 5.1% From 2023 to 2030
Base Year
2022
Forecast Period
2023-2030
Historical Data
2020-2021
Report Scope & Coverage
Market Size, Segments Analysis, Competitive Landscape, Regional Analysis, DROC & SWOT Analysis, Forecast Outlook
Key Segments
• By Technology (Wi-Fi, Bluetooth, Cellular, ISM Band, License-free WirelessHART, and Near-Field Communication)
• By Offering (Software, Hardware, Services)
• By Application (Industrial Safety, Environmental Safety, and National Security & Military Safety)
• By End-use Industry (Oil and Gas, Mining and Metals, Chemical and Petrochemical, Government and Military, Utilities and Power Generation, Water and Wastewater Treatment Plants, Commercial Buildings and Public Facilities, Discrete Manufacturing Industries, Others)
Regional Analysis/Coverage
North America (US, Canada, Mexico), Europe (Eastern Europe [Poland, Romania, Hungary, Turkey, Rest of Eastern Europe] Western Europe] Germany, France, UK, Italy, Spain, Netherlands, Switzerland, Austria, Rest of Western Europe]). Asia Pacific (China, India, Japan, South Korea, Vietnam, Singapore, Australia, Rest of Asia Pacific), Middle East & Africa (Middle East [UAE, Egypt, Saudi Arabia, Qatar, Rest of Middle East], Africa [Nigeria, South Africa, Rest of Africa], Latin America (Brazil, Argentina, Colombia Rest of Latin America)
Company Profiles
Yokogawa India Ltd., MSA., Honeywell International Inc., Drägerwerk AG & Co. KGaA, Teledyne Technologies Incorporated., Agilent Technologies, Inc., Emerson Electric Co., Siemens, Sensidyne, Tek Troniks Limited, Pem-Tech Inc., Ambetronics Engineers Pvt. Ltd., 3M, Global Detection Systems Corp., Bacharach, Inc., Gastronics
Key Drivers
• Increasing focus on workplace safety regulation
• Elimination of extensive wiring infrastructure, reducing installation and maintenance costs
• Increasing awareness regarding the potential hazards of a gas leak
Market Restraints
• Limited range of wireless gas detection system