Report Scope & Overview:
The 3D Printing Medical Device Software Market Size was valued at USD 10.69 billion in 2022 and is expected to reach USD 39.48 billion by 2030 and grow at a CAGR of 17.66% over the forecast period 2023-2030.
3D printing medical device software solutions are used to manufacture medical devices via additive manufacturing. Three-dimensional medical devices are made using 3D printing by layering raw materials. A digital 3-D file, such as a Magnetic Resonance Imaging (MRI) or a Computer-Aided Design (CAD), is used to create medical equipment (CAD). The 3D printing system is adaptable, allowing designers to make adjustments without the need for extra tools. Manufacturers design medical gadgets that are tailored to a patient's anatomy. Printing, designing, analysing, visualising, planning, and simulation are all functions performed by the software used in 3D printing medical equipment.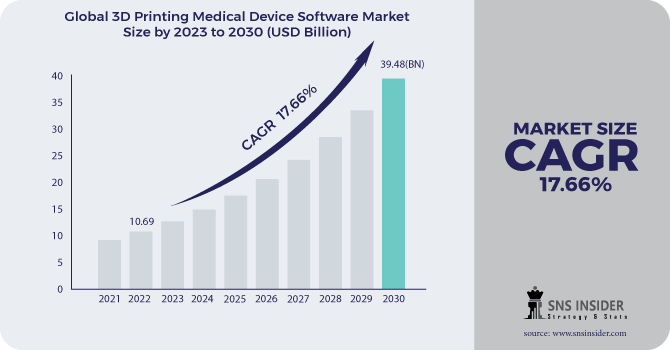 To get more information on 3D Printing Medical Device Software Market - Request Sample Report
The increasing number of applications in the healthcare business, such as medicine delivery, transplantation, 3D printed organs, and many more, might be a key growth factor in the 3D printing medical device software market. Increased need for efficient implant adaptations for use during surgical operations, as well as increased R&D spending, may favour the 3D printing medical devices software market in the approaching years. The rising use, paired with the acceptable pricing of 3D printers, could drive market demand even higher in the next years.
MARKET DYNAMICS:
KEY DRIVERS:
Technical advancements in a software solution

The demand for low-cost 3D printed medical products is growing.
RESTRAINTS:
Material limitations in 3D printing

Strict regulatory restrictions for 3D-printed medical device clearance
IMPACT OF COVID-19:
In many respects, 3D printing software solutions are assisting in the fight against COVID-19. Companies are focusing on providing medical practitioners with equipment. Formlabs, situated in the United States, designs and manufactures 3D printers and software. The firm produces 100,000 nasal swabs every day for COVID-19 testing. These swabs are required components of test kits. Spain has approved 3D printed respirators in response to rising demand for ventilators and respirators. The 3D printable respirators were developed in conjunction by Leitat, ConsorciSanitari de Terrassa (CST), Consorci de la Zona Franca (CZFB), HP, and SEAT.
In another development, Copper3D, a US-based startup, has made open-source blueprints for printing a 3D printable N-95 mask available online. 3D printing medical device software is critical in the fight against COVID-19. On the contrary, the market for 3D printing medical device software has been negatively impacted by decreased demand from dental, physical therapy, surgery, and medical imaging.
For a more efficient workflow, software solutions are connected with other CAD software. Medical equipment can be easily customised to meet the needs of the business thanks to integrated software. The design features of such software are seamlessly incorporated, eliminating the need for tools and labor-intensive assembly. As a result, significant time and money are saved. Stratasys Ltd, for example, provides Grab CAD 3D printing software, which accelerates the CAD-to-print cycle.
Standalone 3D printing medical device software solutions can function without the need for additional hardware. These solutions do not work with other devices. Affordability, speed, and same-day prototyping are all advantages of standalone 3D printing medical device software solutions. These types of software are suited for low-volume production. Furthermore, they are simple to develop and provide industrial-grade durability at a low cost.
Physicians and medical experts create physical replicas of medical gadgets to help them visualise and demonstrate the operation. Objects are created by printing one layer on top of the other. If the model is created using an extruded-based plastic printer and has areas that do not rest on the printing bed, the software will add "Support" during the printing process. These "Supports" are nothing more than removable printing artefacts that serve as a basis for features that may deform during the printing process.
Analysis is critical in the creation of 3D printed medical equipment. It entails comparing in-process objects to the completed project. It is possible to assess if thin structures are safe by evaluating the wall thickness of medical devices.
The successful use of 3D printing requires careful planning. Materialise (Belgium), one of the major companies, provides the Materialise Mimics Care Suite, which aids in medical 3D printing in hospitals and image-based planning. Effective planning done with software can help you save time.
CAD software is used to design all of the parts produced by a 3D printer. The calculation of useful 3D characteristics and measurements is aided by design software. ZedKnee JIGEN, cabLase, and Sonowin are some of the design software used in 3D printing medical equipment. These software solutions are offered as standalone or integrated solutions.
Designers and other departments such as marketing and manufacturing visualise designs developed in CAD software.
Simple visualisation ensures that all departments refer to the same items when communicating. Vesalius3D 2.9.0 is 3D visualisation and navigation software for patient-centric, customizable, and anatomical structures. Virtual navigation based on image contemplation is possible with 3D printing medical device software. Image-based navigation is carried out after fast prototyping preparation. Image-based navigation is employed in cardiac surgery, spine surgery, and maxillofacial surgery in conjunction with preoperative planning.
Medical imaging is the technique of providing a visual picture of the body's inner parts for medical intervention. Fluoroscopy, magnetic resonance imaging, and X-ray radiography are all part of it. In many aspects, 3D printing is linked to medical imaging. It contributes to the building of 3D medical models by giving data. AIS-ACETON IMAGING SUITE, PlanmecaRomexis, and imagyn are examples of medical imaging software.
One of the most important application industries for 3D printing software is the dental business. Among the many applications are the production of an orthodontic model and the fabrication of bridges, caps, crowns, and dentures. Furthermore, 3D printing aids in the restoration of damaged teeth and the creation of surgical equipment.
Because of considerations such as cost-effectiveness, quick service, and less time consumption, the use of 3D printing medical device software in the dental business has grown. Furthermore, the popularity of 3D printing software in the dentistry business is expected to increase due to an increase in demand for cost-effective dental solutions and an increase in the number of dental patients.
A growing number of surgical departments are incorporating 3D printing software in some capacity. 3D printing is utilised as a visual aid for preplanning surgery as well as comprehensive virtual surgical planning. The vast bulk of 3D printing in surgery is used for implants, surgical guidance, and surgical 3D models.
The software for 3D printing medical items has enormous growth potential. Much study is being conducted to discover the potential applications of 3D printing medical device software. For example, 3D printing enables patients to build their own prosthesis based on their specific requirements. Body Labs (US), for example, has developed a technology that allows patients to model their prosthetics in order to get a more natural fit.
Physical therapy applications are only getting started with 3D printing medical device software. Hand rehabilitation is one example of a 3D printing use. Finger orthosis and other adaptive aids can be created via 3D printing. The growing usage of 3D printing software in physical therapy is propelling its adoption in rehabilitation clinics.
Aesthetic medicine treats wrinkles, skin laxity, excess fat, moles, and cellulite to improve one's cosmetic look. 3D printed anatomical models of patients aid in the development of precision medicine for tailored treatment.
VALUE CHAIN ANALYSIS:
The global 3D printing medical device software market is expanding steadily as more competitors enter the industry with new and improved solutions. Planning, sourcing, distribution & sales, and maintenance are all part of the consumer-centric supply chain for 3D printing medical devices software. Integration is critical to the supply chain's performance. For a smooth workflow and the development of customer value, many processes must be aligned.
The value chain begins with planning, which involves ensuring that the correct code is developed. It entails features, apps, and programmers. Following the planning step follows the sourcing stage, in which large-scale 3D printing software vendors use open-source software as a foundation.
The quality and security of these open-source software solutions are evaluated. All codes in 3D printing medical device software are planned, sourced, and created with customer pleasure in mind. Then comes the distribution and sales phase, in which the product is sold and end-user awareness is spread. Finally, the changing market is analysed in the post-sales monitoring stage, as is the effectiveness of 3D printing medical device software solutions.
KEY MARKET SEGMENTS:
by Function
Printing

Analysis

Planning

Design

Visualization

Navigation
by End User
Medical

Device Companies

Dental Laboratories

Hospitals and Clinics

Research Institutes
by Type
by Application
Dental

Surgery

Research

Physical Therapy

Aesthetic Medicine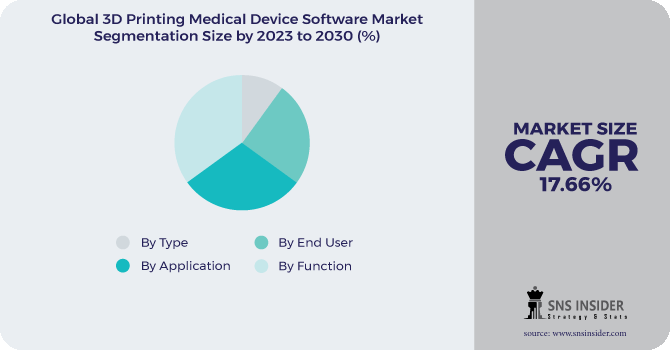 Need any customization research on 3D Printing Medical Device Software Market - Enquiry Now
REGIONAL ANALYSIS:
The Americas 3D printing medical devices software market has been classified into North America and Latin America, with North America further subdivided into the United States and Canada. The European market for 3D printing medical devices software is divided into two parts: Western Europe and Eastern Europe. The Western Europe 3D printing medical devices software market is divided into Germany, the United Kingdom, France, Italy, Spain, and the Rest of Western Europe. The Asia-Pacific 3D printing medical devices software market has been divided into China, Japan, India, South Korea, Australia, and the Rest of Asia-Pacific. The Middle East and Africa 3D printing medical devices software industry has been segmented into two parts.
With a 42.16 percent share, the Americas lead the 3D printing medical devices software market, and this trend is likely to continue during the forecast period. This is due to the development and rapid acceptance of novel technology, as well as the presence of significant enterprises in the region. Furthermore, rising research investment from commercial and public institutions is fuelling regional market expansion.
Over the projected period of 2021 to 2028, Asia-Pacific is expected to grow at the fastest rate. Because of the scarcity of talent in the region, global players are focusing on collaboration and the establishment of new offices. For example, Materialise, a leading US-based 3D printing medical devices software company, has officially built a new office in China with a focus on 3D printing software R&D. Furthermore, startups such as think3D and Osteo3d are developing 3D printing medical device software in India and China. These startups provide services all around the world, fueling the region's growth.
REGIONAL COVERAGE:
North America

Europe

Germany

UK

France

Italy

Spain

The Netherlands

Rest of Europe

Asia-Pacific

Japan

south Korea

China

India

Australia

Rest of Asia-Pacific

The Middle East & Africa

Latin America

Brazil

Argentina

Rest of Latin America
KEY PLAYERS:
The major players are DWS Systems, 3D Systems Corporation, Carima, Real Dimension Inc, Regenhu, AckurettaTechnologies, and Materialise NV, Stratasys Ltd, Nemotec, PS-Medtech and Other Players.
Real Dimension Inc-Company Financial Analysis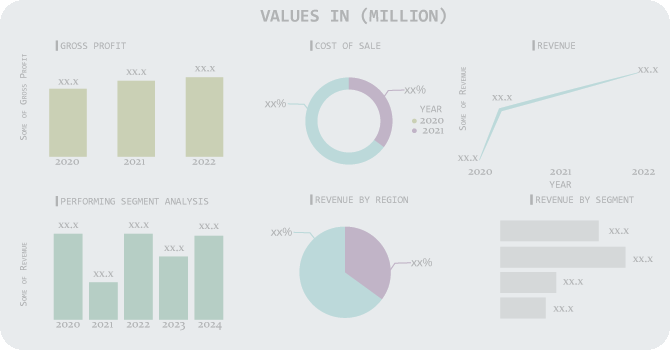 ​​​​​​​
3D Printing Medical Device Software Market Report Scope:

Report Attributes
Details
Market Size in 2022
US$ 10.69 Billion
Market Size by 2030
US$ 39.48 Billion
CAGR
CAGR of 17.66% From 2023 to 2030
Base Year
2022
Forecast Period
2023-2030
Historical Data
2020-2021
Report Scope & Coverage
Market Size, Segments Analysis, Competitive Landscape, Regional Analysis, DROC & SWOT Analysis, Forecast Outlook
Key Segments
• by Function (Printing, Analysis, Planning, Design, Visualization, Navigation)
• by End User (Medical, Device Companies, Dental Laboratories, Hospitals and Clinics, Research Institutes)
• by Type (Integrated, Standalone)
• by Application (Medical Imaging, Dental, Surgery, Research, Physical Therapy, Aesthetic Medicine)
Regional Analysis/Coverage
North America (USA, Canada, Mexico), Europe
(Germany, UK, France, Italy, Spain, Netherlands,
Rest of Europe), Asia-Pacific (Japan, South Korea,
China, India, Australia, Rest of Asia-Pacific), The
Middle East & Africa (Israel, UAE, South Africa,
Rest of Middle East & Africa), Latin America (Brazil, Argentina, Rest of Latin America)
Company Profiles
DWS Systems, 3D Systems Corporation, Carima, Real Dimension Inc, Regenhu, AckurettaTechnologies, and Materialise NV, Stratasys Ltd, Nemotec, PS-Medtech.
Key Drivers
• Technical advancements in a software solution
• The demand for low-cost 3D printed medical products is growing.
RESTRAINTS
• Material limitations in 3D printing
• Strict regulatory restrictions for 3D-printed medical device clearance