Report Scope & Overview:
The Acetone Market size was valued at USD 5.47 billion in 2022. It is estimated to hit USD 10.09 billion by 2030 and grow at a CAGR of 7.95% over the forecast period of 2023-2030.
The increasing demand for solvents, particularly in the paints & coatings industry, is a significant driver for market expansion. Additionally, the rising consumption of acetone in the pharmaceutical and cosmetic industries further contributes to market growth. Acetone, a colorless and volatile liquid, is widely used as a solvent in numerous industries. It is primarily derived from the oxidation of cumene or the dehydrogenation of isopropyl alcohol. Acetone finds applications in the production of various chemicals, including methyl methacrylate, bisphenol-A, and solvents like methyl isobutyl ketone (MIBK) and methyl ethyl ketone (MEK).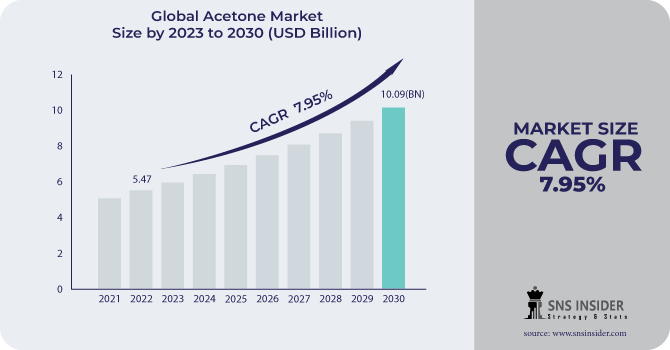 Get PDF Sample Copy of Acetone Market - Request Sample Report
Furthermore, the growing popularity of bio-based acetone, derived from sustainable sources such as biomass and waste materials, is gaining traction in the market. This eco-friendly alternative is expected to witness substantial growth in the coming years, driven by environmental concerns and stringent regulations. The solvents application segment dominated the Acetone Market with a revenue share of about 36.7% in 2022. The ability of acetone to dissolve active pharmaceutical ingredients (APIs) and excipients allows for the creation of stable and effective drug formulations. Additionally, acetone's low toxicity and high evaporation rate make it a preferred choice for pharmaceutical applications as a solvent.
Technical Grade segment dominated the grade segment with a revenue share of about 96.4% in 2022. This segment encompasses a range of technical products that cater to the specific needs and requirements of various industries. These products are meticulously designed and manufactured to meet the highest standards of quality, reliability, and performance. One of the key drivers behind the Technical Grade segment's success is its ability to address the ever-evolving demands of modern industries.
Market Dynamics
Drivers
Increasing demand for acetone as a solvent in various industries

Rising demand for acetone in the production of polycarbonate resins

Growing popularity of acetone as a cleaning agent in the electronics industry
Acetone is widely utilized for removing contaminants, such as oils, greases, and flux residues, from electronic components and circuit boards. The ability of acetone to dissolve these substances efficiently makes it an ideal choice for ensuring the cleanliness and optimal performance of electronic devices. Furthermore, the electronics industry is witnessing rapid advancements and innovations, leading to the production of smaller and more intricate electronic components. As a result, the need for precise and thorough cleaning processes has become paramount. Acetone's ability to penetrate even the tiniest crevices and remove stubborn contaminants makes it an indispensable cleaning agent in this industry. Its low cost, high availability, and ease of use make it a preferred choice for manufacturers. Additionally, acetone evaporates quickly without leaving any residue, ensuring that the cleaned components are ready for further processing without delay. The increasing demand for electronic devices, coupled with the growing trend of miniaturization, has propelled the need for efficient cleaning agents like acetone. As the electronics industry continues to expand, the Acetone Market is expected to witness substantial growth in the coming years.
Restrain
Fluctuating prices of crude oil

High level of flammability while posing low acute toxicity risks
Acetone, a widely used chemical compound, exhibits a remarkable propensity to catch fire easily. This characteristic poses a considerable challenge for industries that handle and store acetone, as it necessitates stringent safety measures to prevent accidents and potential disasters. The potential for fires and explosions associated with acetone demands careful handling, storage, and transportation practices to mitigate the risks effectively. Furthermore, while acetone's acute toxicity risks are relatively low, its flammability factor remains a significant concern. Acute toxicity refers to the immediate harmful effects that a substance can have on human health or the environment. In the case of acetone, the risks of immediate harm are relatively low. However, its highly flammable nature can lead to severe consequences if not handled with utmost care.
Opportunities
One of the primary reasons for the rising adoption of acetone in the healthcare industry is its role in pharmaceutical manufacturing. Acetone serves as a crucial ingredient in the production of medications, including antibiotics, analgesics, and antiseptics. Its ability to dissolve and stabilize active pharmaceutical ingredients (APIs) ensures the efficacy and quality of these drugs. Moreover, acetone's low toxicity and compatibility with a wide range of substances make it a preferred solvent in pharmaceutical formulations. Furthermore, acetone finds extensive use in medical device manufacturing. It plays a vital role in the production of catheters, syringes, and surgical instruments. Acetone's solvent properties enable the bonding of different materials, such as plastics and metals, ensuring the durability and functionality of these devices. Additionally, acetone's ability to remove contaminants and residues from medical equipment enhances its safety and effectiveness.
Challenges
Impact of Russia-Ukraine War:
The ongoing conflict between Russia and Ukraine has had a significant impact on the global supply chain of acetone, a crucial chemical compound utilized in various industries. This war has caused crude prices to fluctuate, consequently leading to changes in petrochemical prices. As a result, the price of acetone has been greatly affected. By the 25th of March 2022, acetone prices in China had reached USD 920 per tonne CFR Qingdao. However, due to the disruption caused by the Russia-Ukraine war, trade activities have been severely hampered. This disruption has resulted in a decrease in the global supply of acetone, subsequently causing prices to surge. Moreover, the conflict has also impacted the demand for acetone. Industries in both Russia and Ukraine, including automotive, construction, and pharmaceutical sectors, have experienced a decline in production and economic activity. Consequently, these industries have scaled back their operations, leading to a reduced demand for acetone. The consequences of this war extend beyond the supply and demand dynamics of acetone. It has disrupted the entire supply chain, affecting various industries and their ability to function efficiently.
Impact of Recession:
Acetone prices in the US market have experienced a significant decline in June 2022. This is attributed to the decrease in crude oil prices and a decrease in purchasing activity. Furthermore, concerns about a potential recession are impacting the overall economic growth of the US market. The US market has observed a sharp decline in crude oil prices. This decline, coupled with a limited supply of the product, has had a direct impact on the prices of its derivatives. The cost of crude oil in the local US market has fallen below $100 per barrel due to the looming recession. Since crude oil is the primary raw material used in the production of acetone, the decrease in its price has directly affected the pricing of acetone. In addition, the increasing interest rates set by the Federal Reserve have caused the value of the US dollar to rise significantly compared to other currencies. This has led to other international countries refraining from importing goods from the USA due to high export charges. Consequently, there has been a decrease in purchasing activity from international markets, resulting in high inventories of acetone in the local market. Furthermore, the demand from the domestic market has also declined due to weak consumer purchasing. The demand for downstream derivatives such as Bisphenol A and Methyl Methacrylate has not picked up pace, further negatively impacting the acetone market. As a result, acetone prices in the US market have continuously dropped by approximately 1%, with a decrease of $10 per tonne from June 24th to July 2022.
Market segmentation
By Grade
Technical Grade

Specialty Grade
By Application
By End-use
Agricultural Chemicals

Cosmetics & Personal Care

Automotive

Paints & Coatings

Plastics

Pharmaceuticals

Rubber Processing

Printing Ink

Polymer & Resin Processing

Adhesive

Others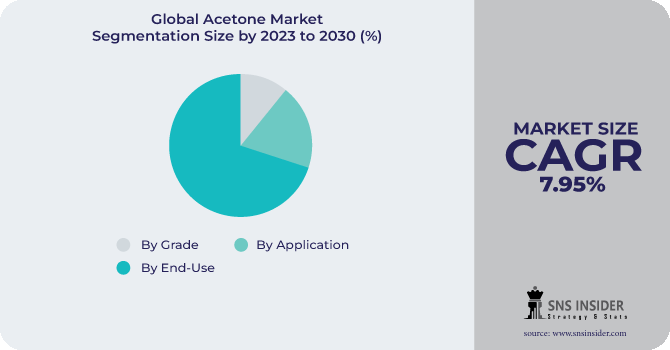 Get Customised Report as per Your Business Requirement - Enquiry Now
Regional Analysis
Asia Pacific dominated the acetone market with a revenue share of about 47.8% in 2022 and is expected to grow significantly during the forecast period. One of the primary drivers behind Asia Pacific's dominance is its thriving chemical industry. The region boasts a well-established network of chemical manufacturers, which has facilitated the production and distribution of acetone on a large scale. Moreover, the availability of abundant raw materials, such as propylene, has further bolstered the region's acetone production capabilities. Additionally, the manufacturing sector in Asia Pacific has been witnessing remarkable growth, contributing to the increased demand for acetone. Acetone has extensive applications in various industries, including automotive, construction, pharmaceuticals, and cosmetics. As these sectors continue to expand in the region, the demand for acetone-based products, such as solvents, adhesives, and coatings, is expected to surge.
Europe is expected to grow with the highest CAGR of about 8.3% in the acetone market during the forecast period of 2023-2030. This growth is mainly attributed to the region's robust industrial sector, particularly in the automotive, construction, and pharmaceutical industries, which is expected to fuel the demand for acetone. Furthermore, Europe's increasing focus on sustainable practices and environmental regulations has led to a surge in demand for bio-based acetone. As the region strives to reduce its carbon footprint, the adoption of renewable and eco-friendly alternatives has gained significant momentum. This shift towards bio-based acetone, derived from renewable resources such as biomass and waste materials, is expected to drive market growth in Europe.
REGIONAL COVERAGE:
North America
Europe
Eastern Europe

Poland

Romania

Hungary

Turkey

Rest of Eastern Europe

Western Europe

Germany

France

UK

Italy

Spain

Netherlands

Switzerland

Austria

Rest of Western Europe
Asia Pacific
China

India

Japan

South Korea

Vietnam

Singapore

Australia

Rest of Asia Pacific
Middle East & Africa
Middle East

UAE

Egypt

Saudi Arabia

Qatar

Rest of Middle East

Africa

Nigeria

South Africa

Rest of Africa
Latin America
Brazil

Argentina

Colombia

Rest of Latin America
Key Players
The major key players are INEOS Phenol GmbH, SABIC, The Dow Chemical Company, Domo Chemicals GmbH, Formosa Chemical and Fiber Corporation, Kumho P&B Chemicals, Royal Dutch Shell PLC, Honeywell Research Chemicals, Spectrum Chemical Mfg. Corp., Altivia Chemicals, and other key players mentioned in the final report.
Recent Development:
In June 2022, INEOS Phenol proudly introduced its inaugural bio-attributed product line, consisting of phenol, acetone, and alpha-methyl styrene (AMS). These groundbreaking products, developed without the utilization of fossil fuels as feedstock, will be marketed under the distinguished brand name INVIRIDISTM.
Acetone Market Report Scope
Report Attributes
Details
Market Size in 2022
US$ 5.47 Bn
Market Size by 2030
US$ 10.09 Bn
CAGR
CAGR of 7.95% From 2023 to 2030
Base Year
2022
Forecast Period
2023-2030
Historical Data
2019-2021
Report Scope & Coverage
Market Size, Segments Analysis, Competitive Landscape, Regional Analysis, DROC & SWOT Analysis, Forecast Outlook
Key Segments
• By Grade (Technical Grade and Specialty Grade)
• By Application (Solvents, Bisphenol A (BPA), Methyl Methacrylate (MMA), and Others)
• By End-use (Agricultural Chemicals, Cosmetics & Personal Care, Automotive, Paints & Coatings, Plastics, Pharmaceuticals, Rubber Processing, Printing Ink, Polymer & Resin Processing, Adhesive, and Others)
Regional Analysis/Coverage
North America (US, Canada, Mexico), Europe (Eastern Europe [Poland, Romania, Hungary, Turkey, Rest of Eastern Europe] Western Europe] Germany, France, UK, Italy, Spain, Netherlands, Switzerland, Austria, Rest of Western Europe]), Asia Pacific (China, India, Japan, South Korea, Vietnam, Singapore, Australia, Rest of Asia Pacific), Middle East & Africa (Middle East [UAE, Egypt, Saudi Arabia, Qatar, Rest of Middle East], Africa [Nigeria, South Africa, Rest of Africa], Latin America (Brazil, Argentina, Colombia Rest of Latin America)
Company Profiles
INEOS Phenol GmbH, SABIC, The Dow Chemical Company, Domo Chemicals GmbH, Formosa Chemical and Fiber Corporation, Kumho P&B Chemicals, Royal Dutch Shell PLC, Honeywell Research Chemicals, Spectrum Chemical Mfg. Corp., Altivia Chemicals
Key Drivers
• Increasing demand for acetone as a solvent in various industries
• Rising demand for acetone in the production of polycarbonate resins
• Growing popularity of acetone as a cleaning agent in the electronics industry
Market Restraints
• Fluctuating prices of crude oil
• High level of flammability while posing low acute toxicity risks