REPORT SCOPE & OVERVIEW
The Agrochemicals Market size was USD 225.9 billion in 2022 and is expected to Reach USD 283.9 billion by 2030 and grow at a CAGR of 2.9 % over the forecast period of 2023-2030.
An agrichemical is a chemical product used in the agriculture industry. Pesticides such as insecticides, fungicides, herbicides, and nematicides are commonly referred to as agrochemicals.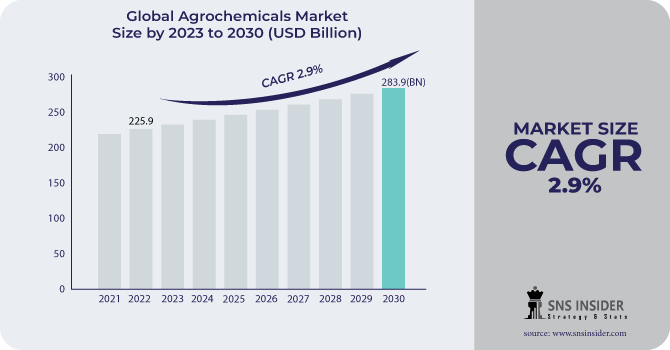 To get more information on Agrochemicals Market - Request Sample Report
Insecticides are used to control insects and arthropods that feed on crops. Fungicides are used to prevent and manage fungal diseases in plants. Herbicides are employed to control weeds that compete with crops for nutrients and resources. Rodenticides Target rodents that may damage crops and stored produce. Fertilizers provide essential nutrients to plants to promote healthy growth and maximize yield. They are categorized into Macronutrient fertilizers and Micronutrient fertilizers Soil Amendments improve soil structure, fertility, and water retention. Lime, gypsum, and organic matter fall under this category. Biological Control Agents such as predatory insects, parasites, and microbes are used to control pests, diseases, and weeds in an eco-friendly manner.
Expanding population, rapid urbanization, and industrialization, the overall amount of arable land in the area is decreasing. As a result, farmers utilize agrochemicals to increase productivity and output. A lot of residues are produced when such pesticides are used excessively, which has an effect on crops. Agriculture products suffer from deficiencies in nutrients and quality degradation as a result of these residues. These residues have been connected to a number of ailments when consumed. For instance, residues of pesticides in food can raise a person's risk of developing asthma.
MARKET DYNAMICS
KEY DRIVERS
Awareness among farmers about potential benefits

Increasing demand for crop protection products in agriculture
The increased need for fertilizers and crop protection products in agriculture around the world is attributed to the expansion. Farmers' increased usage of fertilizers to feed nutrients to crops and increase yield is a crucial element in increasing agrochemicals demand. The advancement of the agrochemical industry has allowed farmers in many nations to participate in intensive crop management. Rising awareness about the use of agrochemicals and the increased crop yield with minimum loss has led to changed farmer's agricultural practices.
RESTRAIN
Growing trend towards organic and bio-based agricultural products

Lack of knowledge about proper uses of agrochemicals

Increasing pesticide resistance in some insect species
Overreliance on pesticides leads to the evolution of resistance to pests, weeds, or diseases. Increasing resistance against agrochemicals is a growing concern in modern agriculture. It occurs when pests, weeds, or diseases evolve and develop the ability to withstand the effects of these chemicals, rendering them less effective or ineffective over time. Rather than addressing the root causes of resistance, companies formulate new chemicals. These new chemicals have older and more complex substances which are more harmful to human life causing disease. Hence, these harmful impacts pose significant challenges to market growth.
OPPORTUNITY
Precision farming, also known as precision agriculture or site-specific farming, is a high-tech approach to crop production that uses technology and data to optimize various elements of crop production. It aims to improve agricultural production, efficiency, and sustainability by adapting practices and inputs to the demands of distinct areas within a field or farm. Also, it minimizes input waste (e.g. fertilizers, pesticides) by applying them just where they are needed, saving money and having a minimal environmental impact. Real-time data allows farmers to make timely and appropriate decisions, resulting in better crop management.
CHALLENGES
Disruption of the supply of agrochemicals

The rising cost of raw materials used in agrochemicals
Farmers are paying more for herbicides and insecticides as fertilizer, seeds, and fuel prices rise. The rising number and complexity of agrochemical licensing requirements are driving up the expenses of research and development, and thus the price of agrochemicals. As a result, farmers limit fertilizer applications due to the inability to afford them and accessibility difficulties.
IMPACT OF RUSSIAN UKRAINE WAR
Due to the Russian invasion, cultivated land in Ukraine was much reduced in 2022 than the previous year. This resulted in significantly reduced yields and farmers' cautious investment behavior, which is reflected in decreased demand for crop inputs. The war severely damaged the infrastructure for transporting and storing grain. The same issues might be seen with agrochemical supplies to the Ukrainian market. Many of the major agrochemical companies, like ADAMA, have operations in Ukraine and Russia since they are both important markets for cereal and oilseed crop production, which is subsequently sold to other parts of the world. Russia is also a major exporter of potash and other fertilizers, and if sanctions are imposed, there may be shortages and continuous price increases. Because of the Russia-Ukraine conflict, the fertilizer sector is likely to be the most impacted of all agricultural inputs. According to a recent Rabobank report, potash is likely to be the most impacted product because Belarus and Russia account for 40% of global production and exports.
IMPACT OF ONGOING RECESSION
Every country's gross domestic product (GDP) is fundamentally dependent on its agricultural industry, which also ensures a steady need for agrichemicals there. Exports of complex nitrogen fertilizers and nitrogen through June 2022 are initially restricted by Russia. The cost of fertilizers has increased as a result of these sanctions. As the crisis between Russia and Ukraine continues, supply issues may also contribute to elevated fertilizer costs for a long period. However, due to a drop in global agricultural commerce along with sluggish economic growth and low commodity prices, fertilizer price rises during the Great Recession were only temporary after fertilizer consumption fell.
MARKET SEGMENTATION
By Product
By Application
Oilseeds & Pulses

Cereal & Grains

Fruits & Vegetables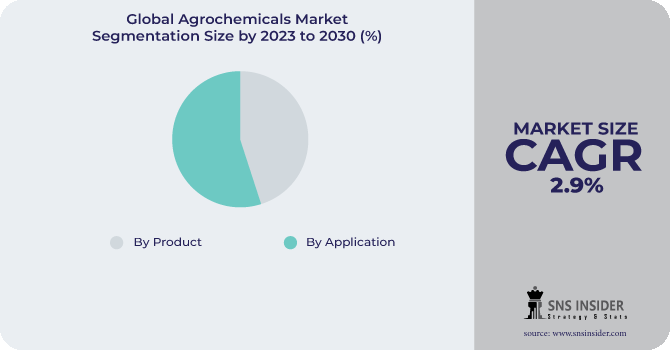 Get Customized Report as per Your Business Requirement - Request For Customized Report
REGIONAL ANALYSIS
Asia-Pacific dominated the Market share for agrochemicals this is due to Asia Pacific being the world's leading producer of agricultural products. The primary contributors to the regional market are countries like China, India, and Japan. China is the world's leading supplier of agrochemical raw materials. India, the world's fourth largest producer of agrochemicals after the United States, Japan, and China, imports roughly 60% of its technical requirements from China, which meets 90% of the world's technical requirements. This region had a large population practicing agriculture as its main profession.
The North American region is the larger exporter of agricultural products the United States is the largest producer, consumer, and exporter of agrochemicals and is also one of the top 10 countries in terms of geography. The United States has increased demand for commodities such as sorghum, maize, and soy. These are the primary drivers of the country's market expansion.
The European agrochemical market was heavily influenced by strict regulations regarding the use of pesticides and other chemicals. The agrochemical market in Europe was driven by the presence of major global players like Bayer, BASF, and Syngenta, as well as smaller and more specialized companies. Precision agriculture, data-driven decision-making, and advanced farming technologies were gaining traction in Europe.
Latin America, Middle East & Africa region has emerging growth in this sector. Many countries in Latin America are major exporters of agricultural products, contributing to global food and commodity supply chains. The MEA region has been investing in improving soil management practices and adopting modern fertilization techniques.
REGIONAL COVERAGE
North America
Europe
Eastern Europe

Poland

Romania

Hungary

Turkey

Rest of Eastern Europe

Western Europe

Germany

France

UK

Italy

Spain

Netherlands

Switzerland

Austria

Rest of Western Europe
Asia Pacific
China

India

Japan

South Korea

Vietnam

Singapore

Australia

Rest of Asia Pacific
Middle East & Africa
Middle East

UAE

Egypt

Saudi Arabia

Qatar

Rest of Middle East

Africa

Nigeria

South Africa

Rest of Africa
Latin America
Brazil

Argentina

Colombia

Rest of Latin America
KEY PLAYERS
Clariant AG, The DOW Chemical Company, Solvay, Bayer AG, Huntsman International LLC, Helena Agri-Enterprises LLC, Ashland, Inc., Land O' Lakes, Inc., FMC Corp., Croda International Plc, BASF SE, and other key players are mentioned in the final report.
Clariant AG-Company Financial Analysis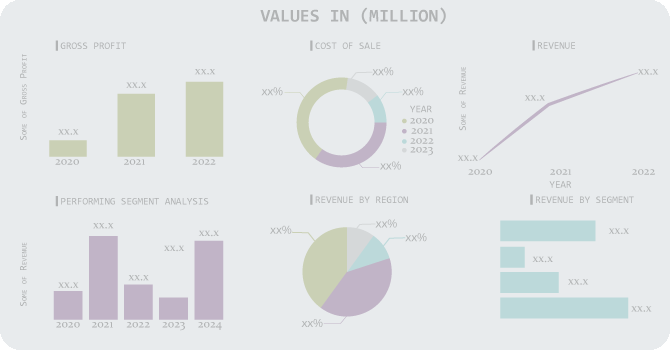 RECENT DEVELOPMENTS
Corteva Agriscience- In 2023 Corteva Agriscience announced the publishing of research that confirms the spontaneous migration of disease-resistance genes through the genome of a maize plant. The findings have implications for the use of new breeding approaches to lessen the harmful effects of plant diseases while increasing production potential and crop resilience.
Corteva Agriscience- In 2023 Corteva Agriscience has announced the commercial launch of AdaveltTM active, which has recently received product approvals in Australia, Canada, and the Republic of South Korea. Adavelt Active is a revolutionary fungicide with a novel mode of effect that prevents a wide spectrum of crop-damaging diseases.
Yara- In 2023 Yara Growth Ventures invests in Ecorobotix, a leader in high-precision crop input applications. By allowing plant-by-plant treatment with a smart sprayer system, Ecorobotix significantly minimizes the adverse environmental effects of crop inputs such as herbicides. This investment expands Yara Growth Ventures' line of smart farming equipment for increased agricultural sustainability.
ADAMA Ltd- In 2022 ADAMA Ltd announced the acquisition of AgriNova New Zealand, Ltd, a company that produces, distributes, and develops crop protection chemicals, bio solutions, plant growth regulators, and plant nutritionals primarily in the horticulture sector. This acquisition will allow ADAMA to expand its product portfolio in the New Zealand market.
Agrochemicals Market Report Scope:
Report Attributes
Details
Market Size in 2022
US$ 225.9 Bn
Market Size by 2030
US$ 283.9 Bn
CAGR
CAGR of 2.9 % From 2023 to 2030
Base Year
2022
Forecast Period
2023-2030
Historical Data
2020-2021
Report Scope & Coverage
Market Size, Segments Analysis, Competitive Landscape, Regional Analysis, DROC & SWOT Analysis, Forecast Outlook
Key Segments
• By Product (Crop Protection Chemicals, Fertilizers)
• By Application (Oilseeds & Pulses, Cereal & Grains, Fruits & Vegetables)
Regional Analysis/Coverage
North America (US, Canada, Mexico), Europe (Eastern Europe [Poland, Romania, Hungary, Turkey, Rest of Eastern Europe] Western Europe] Germany, France, UK, Italy, Spain, Netherlands, Switzerland, Austria, Rest of Western Europe]). Asia Pacific (China, India, Japan, South Korea, Vietnam, Singapore, Australia, Rest of Asia Pacific), Middle East & Africa (Middle East [UAE, Egypt, Saudi Arabia, Qatar, Rest of Middle East], Africa [Nigeria, South Africa, Rest of Africa], Latin America (Brazil, Argentina, Colombia Rest of Latin America)
Company Profiles
Clariant AG, The DOW Chemical Company, Solvay, Bayer AG, Huntsman International LLC, Helena Agri-Enterprises LLC, Ashland, Inc., Land O' Lakes, Inc., FMC Corp., Croda International Plc, BASF SE
Key Drivers
• Awareness among farmers about potential benefits
• Increasing demand for crop protection products in agriculture
Market Restraints
• Growing trend towards organic and bio-based agricultural products
• Lack of knowledge about proper uses of agrochemicals
• Increasing pesticide resistance in some insect species