Report Scope & Overview:
The Crop Protection Chemicals Market size was valued at USD 48.23 billion in 2022. It is expected to hit USD 75.72 billion by 2030 and grow at a CAGR of 5.8% over the forecast period of 2023-2030.
The crop protection chemicals market refers to the industry that deals with the production and distribution of chemicals used to safeguard crops from pests, diseases, and weeds. According to the U.N. Food and Agriculture Organization, a staggering 40% of global crop production is lost due to the detrimental impact of plant pests and diseases. These chemicals play a crucial role in ensuring the productivity and quality of agricultural produce. These chemicals serve as a crucial line of defense, ensuring the productivity and quality of agricultural produce.
The crop protection chemicals market offers a diverse range of products, including insecticides, herbicides, fungicides, and other formulations tailored to address specific agricultural needs. These chemicals are meticulously developed and rigorously tested to ensure their efficacy, safety, and environmental sustainability. Farmers and agricultural professionals are becoming more aware of the detrimental effects of crop diseases and pests. This awareness fuels the demand for crop protection chemicals as a means to combat these threats and safeguard crop yields. The increasing consumer preference for organic produce presents a significant opportunity for the crop protection chemicals market.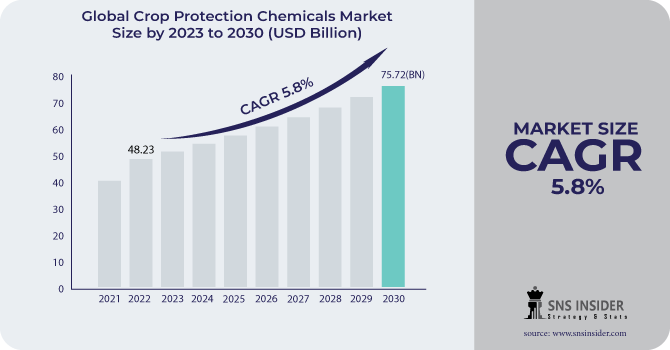 The crop protection chemicals market is influenced by factors such as climate change, water scarcity, and the need for sustainable agriculture. Climate change has led to the emergence of new pests and diseases, as well as changes in the geographic distribution of existing ones. Water scarcity, on the other hand, has necessitated the development of more water-efficient and drought-tolerant crop protection solutions. These factors require the industry to constantly innovate and adapt to ensure the long-term sustainability of agriculture.
Moreover, the crop protection chemicals market continually evolves to meet the demands of modern agriculture. With advancements in technology and scientific research, innovative solutions are constantly being introduced to combat emerging threats and enhance crop protection practices. Integrated Pest Management (IPM) strategies have gained popularity, promoting the use of a combination of chemical and non-chemical methods to control pests. This approach aims to minimize the use of pesticides while maximizing their efficacy.
Market Dynamics:
Drivers
With the world's population continuously growing, the demand for food is also on the rise. As of 2023, the global population has reached 8.1 billion, and it is projected to reach approximately 10 billion by 2050. Consequently, the demand for world cereal equivalent (CE) food is expected to reach 10 billion tons by 2030 and a staggering 15 billion tons by 2050. It is worth noting that India and China are playing a significant role in capturing a large share of the global food demand. This surge in demand from these populous nations highlights the urgent need for effective crop protection chemicals. These chemicals are crucial in ensuring higher agricultural productivity and meeting the growing food requirements of these nations. Consequently, the demand for the crop protection chemical market is expected to soar in the coming years.
Climate change affected the proliferation of plant pests, which now pose an increasing threat to both food security and the environment. Shockingly, the Food and Agriculture Organization (FAO) reports that up to 40% of global crop production is lost annually due to these destructive pests. The economic consequences are equally staggering, with plant diseases alone costing the global economy over $225 billion each year, while invasive insects inflict losses of at least $71 billion. This growing recognition of the devastating effects of crop diseases and pests has fueled the demand for crop protection chemicals, propelling the market forward.
Restrain
The crop protection chemicals market is subject to strict regulations imposed by various governing bodies. These regulations aim to ensure the safety of consumers, the environment, and agricultural workers. Compliance with these regulations can pose challenges for manufacturers and limit the availability of certain chemicals in the market.
The use of certain crop protection chemicals has raised significant concerns regarding their impact on the environment. Pesticides, being toxic substances designed to eliminate pest species, can have adverse effects on non-target species, including plants, animals, and even humans. Shockingly, studies have shown that over 97% of sprayed insecticides and 94% of herbicides end up reaching unintended destinations, as they are spread across entire agricultural fields. Environmental modeling has revealed that approximately 61% of global agricultural land, which accounts for around 24.5 million km², is at risk of pesticide pollution from multiple active ingredients. Moreover, about 35% of this land is considered to be at high risk, with a third of it being located in regions of high biodiversity. These alarming statistics highlight the potential harm caused by pesticide pollution.
The consequences of such pollution can be far-reaching. Not only does it pose a threat to the delicate balance of ecosystems, but it can also have detrimental effects on human health. Furthermore, the presence of pesticide residues in crops can lead to consumer concerns and impact the market for crop protection chemicals.
Opportunities
The market for crop protection chemicals can create opportunities for this growing consumer preference for organic farming. As farmers transition towards organic farming methods, they require alternative solutions to protect their crops from pests and diseases. This presents an opportunity for the crop protection chemicals industry to develop and offer organic and environmentally friendly alternatives. By investing in research and development, companies can create innovative products that effectively safeguard crops without compromising on organic standards.
Challenges
Over time, pests and diseases develop resistance to the chemicals used to control them, rendering these chemicals less effective. This necessitates the continuous development of new and innovative solutions to combat these evolving threats.
Impact of Russia-Ukraine War:
The Russia-Ukraine war has disrupted the supply chain of crop protection chemicals, leading to a shortage of essential products. This scarcity has resulted in increased prices, making it difficult for farmers to afford these necessary inputs. As a result, agricultural productivity has been severely affected, leading to lower crop yields and financial losses for farmers. Furthermore, the conflict has created an atmosphere of uncertainty and instability, discouraging foreign investments in the region. Many international companies have hesitated to establish or expand their operations in Ukraine due to the ongoing conflict. This lack of investment has hindered the development and innovation of new crop protection technologies, further exacerbating the challenges faced by farmers.
Impact of Recession:
The recession led to a decline in demand for these products due to reduced agricultural activities and a decrease in farmers' purchasing power. This has resulted in a decrease in sales and revenue for companies operating in this sector. Furthermore, the recession has led to a decrease in research and development (R&D) investments. Many companies have been forced to cut costs, resulting in a reduction in R&D budgets. This has hindered the development of new and innovative crop protection chemicals, limiting the industry's ability to adapt to changing market demands. Additionally, the recession has caused a shift in consumer preferences toward more cost-effective and sustainable agricultural practices. Farmers are now seeking alternatives to chemical-based crop protection methods, such as organic and biological solutions. This change in demand has further impacted the crop protection chemicals market, forcing companies to reevaluate their product offerings and diversify their portfolios.
Market segmentation
By Crop Type
Cereals & Grains

Fruits & Vegetables

Oilseeds & Pulses

Others
By Product Type
Insecticide

Fungicide

Herbicide

Others
By Form
By Source
By Mode of Application
Seed Treatment

Soil Treatment

Foliar Spray

Others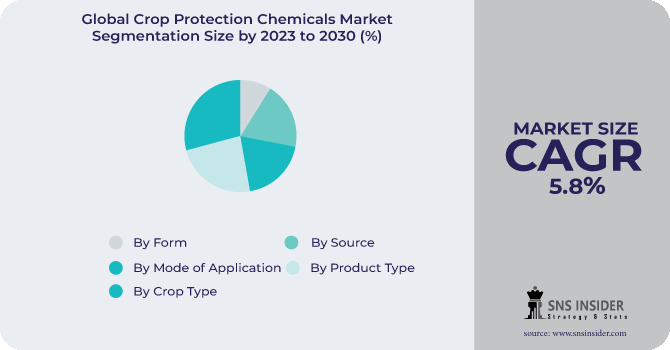 Regional Analysis
The Asia Pacific region is experiencing the highest growth in the crop protection chemicals market. The Asia Pacific region boasts a vast agricultural landscape, with a significant portion of its population engaged in farming and related activities. According to International Labor Organization, in 2021, a total of 563 million people were employed in agriculture in the Asia–Pacific region. This agricultural prominence has created a substantial demand for crop protection chemicals to safeguard crops from pests, diseases, and other potential threats. As a result, the market for these chemicals has flourished, catering to the needs of the region's farmers and ensuring the productivity and profitability of their agricultural endeavors.
A joint report by the Food and Agriculture Organization of the United Nations (FAO) and the United Nations Children's Fund (UNICEF) reveals that over 375 million individuals in the region experienced hunger in 2020. This represents a staggering increase of 54 million people compared to the previous year. Disturbingly, the lack of access to nutritious food has also escalated. The 2021 Asia and the Pacific Regional Overview of Food Security and Nutrition highlights that more than 1 billion people in this region alone faced inadequate food availability in 2020. This marks a distressing surge of nearly 150 million individuals within a single year. To mitigate these challenges and protect the crop from pests, insects, and diseases the demand for crop protection chemicals is increased in this region.
The crop protection chemical market in the North American region is expected to experience significant growth during the forecast period. The United States plays a major role in contributing to this market. According to the United States Environmental Protection Agency, agriculture is a crucial sector of the U.S. economy. The crops, livestock, and seafood produced in the United States contribute over $300 billion to the economy annually. When considering food service and other agriculture-related industries, the agricultural and food sectors contribute more than $750 billion to the gross domestic product. The crops grown in the United States are vital for both domestic and global food supply. U.S. farms supply nearly 25% of all grains, including wheat, corn, and rice, on the global market. However, changes in temperature, atmospheric carbon dioxide (CO2), and the frequency and intensity of extreme weather events could have significant impacts on crop yields. Consequently, the market for crop protection chemicals is growing in the United States as a means to safeguard crop yields.
REGIONAL COVERAGE:
North America
Europe
Eastern Europe

Poland

Romania

Hungary

Turkey

Rest of Eastern Europe

Western Europe

Germany

France

UK

Italy

Spain

Netherlands

Switzerland

Austria

Rest of Western Europe
Asia Pacific
China

India

Japan

South Korea

Vietnam

Singapore

Australia

Rest of Asia Pacific
Middle East & Africa
Middle East

UAE

Egypt

Saudi Arabia

Qatar

Rest of Middle East

Africa

Nigeria

South Africa

Rest of Africa
Latin America
Brazil

Argentina

Colombia

Rest of Latin America
Key Players
The major key players are BASF SE, Dow Chemical Company, American Vanguard Corp, DuPont, Bayer AG, Syngenta Group, FMC Corporation, Arysta LifeSciences Corporation, Chr. Hansen Holding A/S, Corteva, Bioworks, and other key players are mentioned in the final report.
Recent Development:
In March 2023, Syngenta Group launched a groundbreaking agricultural innovation collaboration and accelerator platform aimed at tackling crucial scientific and technological challenges in the industry.

In Feb 2020, AMVAC®, a subsidiary of American Vanguard®, made a significant announcement regarding the addition of 10 new products to their crop protection portfolio.
Crop Protection Chemicals Market Report Scope:
Report Attributes
Details
Market Size in 2022
US$ 48.23 Bn
Market Size by 2030
US$ 75.72 Bn
CAGR
CAGR of 5.8 % From 2023 to 2030
Base Year
2022
Forecast Period
2023-2030
Historical Data
2020-2021
Report Scope & Coverage
Market Size, Segments Analysis, Competitive Landscape, Regional Analysis, DROC & SWOT Analysis, Forecast Outlook
Key Segments
• By Crop Type (Cereals & Grains, Fruits & Vegetables, Oilseeds & Pulses, and Others)
• By Product Type (Insecticide, Fungicide, Herbicide, and Others)
• By Form (Liquid and Dry)
• By Source (Biopesticide and Natural)
• By Mode of Application (Seed Treatment, Soil Treatment, Foliar Spray, and Others)
Regional Analysis/Coverage
North America (US, Canada, Mexico), Europe (Eastern Europe [Poland, Romania, Hungary, Turkey, Rest of Eastern Europe] Western Europe] Germany, France, UK, Italy, Spain, Netherlands, Switzerland, Austria, Rest of Western Europe]). Asia Pacific (China, India, Japan, South Korea, Vietnam, Singapore, Australia, Rest of Asia Pacific), Middle East & Africa (Middle East [UAE, Egypt, Saudi Arabia, Qatar, Rest of Middle East], Africa [Nigeria, South Africa, Rest of Africa], Latin America (Brazil, Argentina, Colombia Rest of Latin America)
Company Profiles
BASF SE, Dow Chemical Company, American Vanguard Corp, DuPont, Bayer AG, Syngenta Group, FMC Corporation, Arysta LifeSciences Corporation, Chr. Hansen Holding A/S, Corteva, Bioworks
Key Drivers
• Increasing population across the world
• Rising awareness about crop diseases and pests
Market Restraints
• Stringent regulations imposed by the government
• Environmental concerns about the impact of certain crop protection chemicals