Report Scope & Overview:
Airborne Optronics Market Size was valued at USD 2.42 billion in 2022, expected to reach USD 6.37 billion by 2030, and grow at a CAGR of 12.9% over the forecast period 2023-2030.
When aircraft fly at their maximum speed, they quickly pass through any harsh terrains, glaciers, lake bodies, and so on. The electronic system that analyses geography is under a complicated and fast-moving strain. These massive data streams must be stored, examined, and processed. The sensor must process more data as the aircraft goes faster. These processed data must be provided to the Pilots in order for them to be aware of the external situation. This will make them aware, and they will be able to act properly. Airborne Optronics encompasses the design and maintenance of sensors and systems for both manned and unmanned aircraft. Airborne Optronics is beneficial in the following areas: Striking the opponent precisely, Missile Detection and Environment Interpretation.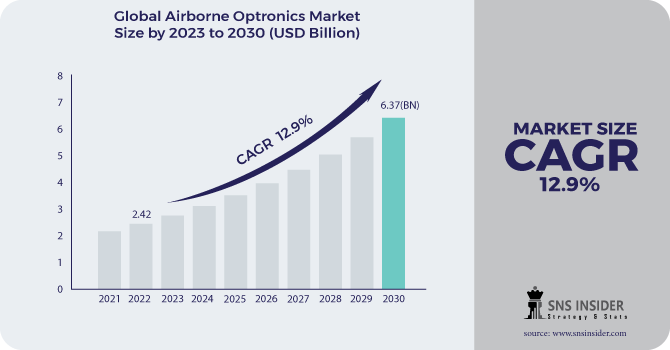 Because of the rapid development of new technology, the automobile sector is expected to undergo a few structural changes in the near future. Artificial intelligence and machine learning will dramatically improve robotic efficiency, accuracy, and consistency in the manufacturing process. Level 2 automation, which includes active safety systems and driver assistance, enables OEMs to offer appealing features while increasing revenue growth. However, the full-fledged deployment of level 4 autonomous vehicles is projected to be delayed further as the technology matures and people embrace it.
MARKET DYNAMICS:
KEY DRIVERS:
RESTRAINTS:
OPPORTUNITIES:
CHALLENGES:
THE IMPACT OF COVID-19
COVID-19 is a global public health crisis that has damaged practically every firm, and the long-term consequences are projected to have an impact on industry growth during the forecast period. Our ongoing research broadens our research technique to encompass core COVID-19 concerns and next actions. The study sheds light on COVID-19 by taking into account changes in consumer behaviour and demand, purchasing patterns, supply chain re-routing, the dynamics of modern market forces, and significant government efforts. Based on the COVID-19 market effect, the updated study includes insights, analyses, estimations, and predictions.
The market is divided into Reconnaissance, Targeting, Search and Track, Surveillance, Warning/detection, and Others based on System. Surveillance has the largest market share among the divisions. This is due to an increase in the number of Small and Large UAVs utilized for ground assessment and information relay to the base. The videos are grabbed by the electro-optics and sent straight via GPS.
The market is divided into two categories based on technology: multispectral and hyperspectral. Multispectral has the largest market share of the two divisions. This is owing to its inexpensive cost, and it is the greatest fit for any Unmanned Aerial Vehicle.
The market is divided into three applications: commercial, military, and space. Commercial purposes account for the majority of market share. This is owing to the numerous applications other than traditional military surveillance and reconnaissance. Drones used for commercial purposes have the most utility in determining soil status, facility surveys, land surveys, and so on.
The unmanned aerial vehicles sector is expected to develop at the fastest CAGR for the airborne optronics market during the forecast period, based on aircraft type. UAVs, often known as drones, are widely used in a variety of military duties such as border surveillance. They are also used for mapping, surveying, and determining local meteorological conditions. Certain remotely piloted unmanned aerial vehicles are intended to serve as loitering weapons for defence forces. These UAVs are outfitted with high-resolution cameras, electro-optics, and infrared systems that allow them to conduct surveillance and pinpoint the location of a target. Once located, the UAV is directed toward the target in order to destroy it.
MARKET SEGMENTATION
By Aircraft Type
Fixed Wing

Rotary Wing

Urban Air Mobility

Unmanned Aerial Vehicles
By System
Reconnaissance t

Targeting

Search and track

Surveillance

Warning/detection

Others
By Technology
Multispectral

Hyperspectral
By Application
Commercial

Military

Space
REGIONAL ANALYSIS:
North America is expected to be the largest market share of the Optronics aviation region at the time of forecasting. An important problem facing North America, which is leading the Optronics aviation market due to the rapid growth of the most developed optronics in the region. In North America, rising airline orders have encouraged airborne optronics manufacturers to increase their sales year after year. The growing demand for commercial aircraft and the presence of some of the leading players in the market, such as Northrop Grumman Corporation, FLIR System, Lockheed Martin, L3Harris Technologies, and Collins Aerospace., Is expected to boost the Optronics aviation market in North America. These players are focused on R&D to expand their product lines and utilize advanced systems, sub-systems, and other components of mobile optronics manufacturing.
REGIONAL COVERAGE:
North America

Europe

Germany

UK

France

Italy

Spain

The Netherlands

Rest of Europe

Asia-Pacific

Japan

south Korea

China

India

Australia

Rest of Asia-Pacific

The Middle East & Africa

Latin America

Brazil

Argentina

Rest of Latin America
KEY PLAYERS
FLIR System, L3Harris Technologies, and Northrop Grumman Corporation, Thales Sa, Safran, Elbit Systems Ltd., Lockheed Martin Corporation, Leonardo Spa, Hensoldt Ag and Collins Aerospace.
L3Harris Technologies-Company Financial Analysis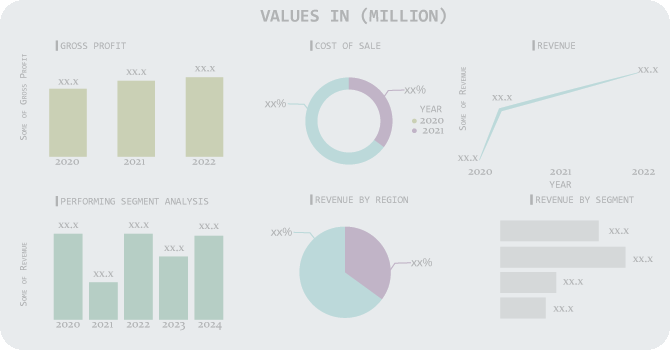 ​​​​​​​
Airborne Optronics Market Report Scope:
Report Attributes
Details
Market Size in 2022
US$ 2.42 Billion
Market Size by 2030
US$ 6.37 Billion
CAGR
CAGR of 12.9% From 2023 to 2030
Base Year
2022
Forecast Period
2023-2030
Historical Data
2020-2021
Report Scope & Coverage
Market Size, Segments Analysis, Competitive Landscape, Regional Analysis, DROC & SWOT Analysis, Forecast Outlook
Key Segments
• By Aircraft Type (Fixed Wing, Rotary Wing, Urban Air Mobility, Unmanned Aerial Vehicles)
• By System (Reconnaissance t, Targeting, Search and track, Surveillance, Warning/detection, Others)
• By Technology (Multispectral, Hyperspectral)
• By Application (Commercial, Military, Space)
Regional Analysis/Coverage
North America (USA, Canada, Mexico), Europe
(Germany, UK, France, Italy, Spain, Netherlands,
Rest of Europe), Asia-Pacific (Japan, South Korea,
China, India, Australia, Rest of Asia-Pacific), The
Middle East & Africa (Israel, UAE, South Africa,
Rest of Middle East & Africa), Latin America (Brazil, Argentina, Rest of Latin America)
Company Profiles
FLIR System, L3Harris Technologies, and Northrop Grumman Corporation, Thales Sa, Safran, Elbit Systems Ltd., Lockheed Martin Corporation, Leonardo Spa, Hensoldt Ag and Collins Aerospace.
DRIVERS
• Modernizations
• Enhancement of technology
• Electro-optics systems
RESTRAINTS
• Skilled labour
• AI based technology enhancement