REPORT SCOPE & OVERVIEW
The Atmospheric water generator Market size was USD 2.69 billion in 2022 and is expected to Reach USD 5.32 billion by 2030 and grow at a CAGR of 8.9% over the forecast period of 2023-2030.
AWG, or atmospheric water generation, is the process of removing water vapor from the atmosphere and turning it into a liquid or solid. In places where freshwater is in short supply, this technology may be able to offer a dependable and sustainable source of water.
Electronic and electrical components are mostly used in cooling condensation to produce water. The high-water output provided by the cooling condensation AWG system along with expanding industrial operations in nations like China, Germany, and the U.S. are anticipated to positively affect product demand over the projection period.
The wet desiccation technique is very new and is mostly employed in large-scale companies and army base camps. The moist desiccation method uses significantly less energy than cooling condensation because the dehumidifier is not used.
The brine solution used by wet desiccation AWG systems contains salts that might cause corrosion. Governments have made it illegal to employ these hazardous inhibitors, therefore demand for wet desiccation-based atmospheric water producers is likely to increase more slowly now that they are no longer available. Several inhibitors with substantial degrees of toxicity are needed to decrease this.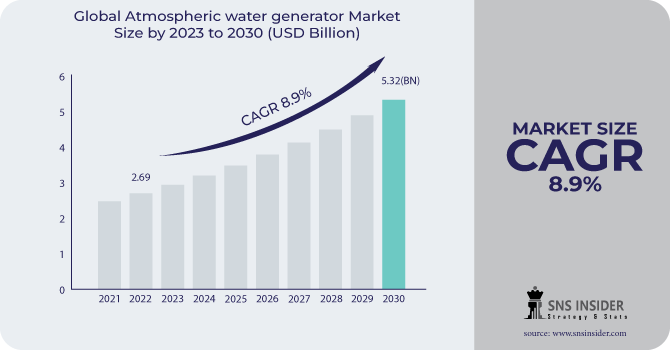 MARKET DYNAMICS
KEY DRIVERS
Atmospheric water generation (AWG) is a device that condenses water from the air by condensing moisture in the atmosphere. After treatment, this water can be used for drinking or other purposes. There is a need for creative solutions to provide clean and safe drinking water because water resources are becoming scarcer as a result of issues like population expansion, urbanization, climate change, and pollution. AWG has the potential to lessen reliance on conventional water sources, which are frequently overexploited or contaminated, like rivers, lakes, and groundwater.
RESTRAIN
AWG technology's widespread adoption is being hampered by a number of issues, including expensive product costs and a constant requirement for electricity. Due to the utilization of complex materials and components, AWG systems are still somewhat expensive. Because of this, AWG systems find it challenging to compete with more established and less expensive water-purifying technologies like reverse osmosis. AWG systems also need a constant flow of electricity to function. In places with scarce electrical availability or high electricity prices, this may be difficult.
OPPORTUNITY
Application of AWGs system in new regions

Industrial application propels the AWS
AWG can be used to replenish the water supply in any industrial sector, including power plants and oil and gas drilling activities, reducing the requirement for freshwater. Mining businesses are frequently located in water-stressed areas. AWG can provide a consistent water supply for mining operations and crew hydration. When traditional water infrastructure is disrupted during catastrophes or natural disasters, AWG technology might be critical. AWG systems can help industries involved in disaster relief operations offer clean drinking water rapidly.
CHALLENGES
Air Pollution impacts the performance of the AWGs system

Changes in Climate conditions
AWG systems perform best in humid locations with a lot of water vapor in the air. In dry areas water vapor in the air is less, making it difficult for systems to condense into water. Droughts and floods are anticipated to become more common as a result of climate change. These occurrences can harm AWG systems and make water production more challenging. Air pollution might potentially have an impact on AWG system performance. Pollutants in the air can film the surfaces of AWG systems, making them less effective for collecting water vapor.
IMPACT OF RUSSIAN UKRAINE WAR
Russia and Ukraine war has had a detrimental impact on the market for atmospheric water generators. The battle is anticipated to impede global AWG market growth by 2.5% in 2022. With regard to water resources and management in particular, the armed conflict between Ukraine and Russia that broke out in late February 2022 had significant negative effects on the environment. The war is projected to have the greatest impact on the European market for AWG systems. Prices for AWG systems throughout Europe have risen as a result of the war. The cost of shipping and logistics for AWG systems has also risen. This could imply sourcing more locally or designing AWG systems that are easier to move. Despite the war's problems, the AWG market is likely to increase in the future years.
IMPACT OF ONGOING RECESSION
The recession has impacted AWG system market prices and sales. The prices of AWG systems depend on the prices of the Desiccator, condensers, pumps, and others. Another study by the International Monetary Fund found that the price of condensers fell by 5% during the 2020 recession. Another factor that could lead to higher prices for AWGs is the decrease in demand. As the economy contracts during a recession, businesses and consumers may have less money to spend on non-essential items, such as AWGs. Governments may intervene in the market to try to stabilize the prices of AWGs. This could involve imposing tariffs or subsidies.
MARKET SEGMENTATION
KEY MARKET SEGMENTS
By Product
Cooling Condensation

Wet Desiccation
By Application
Commercial

Industrial

Household

Other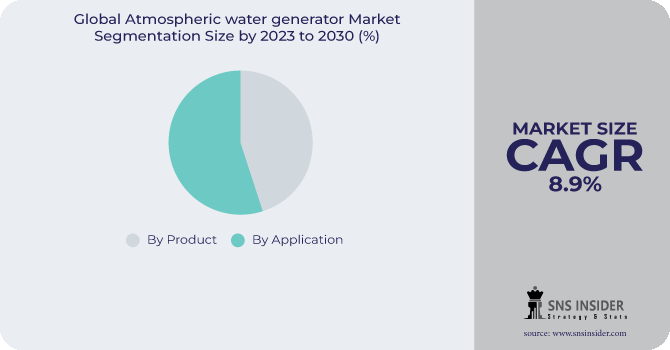 REGIONAL ANALYSIS
The Middle East is among the world's driest regions, and it is experiencing a severe water problem. In the Middle East, AWGs are used to offer a reliable source of water for drinking, agriculture, and industrial purposes. To meet their daily water needs, these areas rely largely on desalination and water bottling facilities. As a result, these systems are quickly taking hold throughout the area. GCC also plays a significant role in the market's expansion.
Asia Pacific led market growth due to factors such as water scarcity and decreasing freshwater supplies. The main customers of the atmospheric water generator are Southeast Asian nations, followed by China. Furthermore, given the region's population boom, potable water is not sufficiently dispersed across the Asia Pacific.
North American region's high relative humidity and declining freshwater supplies in combination with favorable climatic conditions and technological improvements are expected to support AWG system industry expansion. Due to factors such as droughts and changing climates, the United States is experiencing water scarcity in various areas of the country.
Over the forecast period, it is anticipated that the depletion of freshwater supplies and the drought in Central and South America will increase demand for these items.
REGIONAL COVERAGE
North America
Europe
Eastern Europe

Poland

Romania

Hungary

Turkey

Rest of Eastern Europe

Western Europe

Germany

France

UK

Italy

Spain

Netherlands

Switzerland

Austria

Rest of Western Europe
Asia Pacific
China

India

Japan

South Korea

Vietnam

Singapore

Australia

Rest of Asia Pacific
Middle East & Africa
Middle East

UAE

Egypt

Saudi Arabia

Qatar

Rest of Middle East

Africa

Nigeria

South Africa

Rest of Africa
Latin America
Brazil

Argentina

Colombia

Rest of Latin America
KEY PLAYERS
SkyWater Air Water Machines, Air 2 Water Solutions, Akvo Atmospheric Water Systems Pvt Ltd., Ray Agua, Atlantis Solar, EcoloBlue, Inc., PlanetsWater, Hendrx Water, Dew Point Manufacturing, Water Technologies International, Inc., GENAQ, Watergen, and other key players are mentioned in the final report.
RECENT DEVELOPMENTS
GENAQ- In 2023 Genaq in Malaysia has picked Cumulus C500 as the best atmospheric water producer out of all the options. This cutting-edge technology represents a key solution. In order to address water challenges in the region and promote responsible management of natural resources.
Water Technologies International- In 2023 Water Technologies International, Inc. declared that it will be dissolving its wholly-owned subsidiary, Water Zone. The company distributes DI resin tanks to businesses around Florida and offers commercial water treatment to major factories, hospitals, hospitals, and other places.
Watergen- In 2022 Watergen, an Israeli company that manufactures Atmospheric water generators, formed a strategic partnership with SMV Jaipuria Group to deliver its globally patented technology to India.
Atmospheric water generator Market Report Scope:
Report Attributes
Details
Market Size in 2022
US$ 2.69 Billion
Market Size by 2030
US$ 5.32 Billion
CAGR
CAGR of 8.9 % From 2023 to 2030
Base Year
2022
Forecast Period
2023-2030
Historical Data
2019-2021
Report Scope & Coverage
Market Size, Segments Analysis, Competitive Landscape, Regional Analysis, DROC & SWOT Analysis, Forecast Outlook
Key Segments
• By Product (Cooling Condensation, Wet Desiccation)
• By Application (Commercial, Industrial, and Household)
Regional Analysis/Coverage
North America (US, Canada, Mexico), Europe (Eastern Europe [Poland, Romania, Hungary, Turkey, Rest of Eastern Europe] Western Europe] Germany, France, UK, Italy, Spain, Netherlands, Switzerland, Austria, Rest of Western Europe]), Asia Pacific (China, India, Japan, South Korea, Vietnam, Singapore, Australia, Rest of Asia Pacific), Middle East & Africa (Middle East [UAE, Egypt, Saudi Arabia, Qatar, Rest of Middle East], Africa [Nigeria, South Africa, Rest of Africa], Latin America (Brazil, Argentina, Colombia Rest of Latin America)
Company Profiles
SkyWater Air Water Machines, Air 2 Water Solutions, Akvo Atmospheric Water Systems Pvt Ltd., Ray Agua, Atlantis Solar, EcoloBlue, Inc., PlanetsWater, Hendrx Water, Dew Point Manufacturing, Water Technologies International, Inc., GENAQ, Watergen
Key Drivers
• Increasing water scarcity further propels the demand for AWS
Market Opportunity
• Application of AWGs system in new regions
• Industrial application propels the AWS