Report Scope & Overview:
The Thermal Barrier Coatings Market size was valued at USD 16.7 billion in 2022. It is estimated to hit USD 24.48 billion by 2030 and grow at a CAGR of 4.9% over the forecast period of 2023-2030.
With the increasing demand for high-performance materials in industries such as aerospace, automotive, and power generation, the market for thermal barrier coatings is expected to witness significant growth in the coming years. Thermal barrier coatings are primarily used to protect components from the damaging effects of heat. They act as a barrier between the high-temperature environment and the underlying material, preventing heat transfer and reducing thermal stress. This not only improves the lifespan of the components but also enhances their overall performance.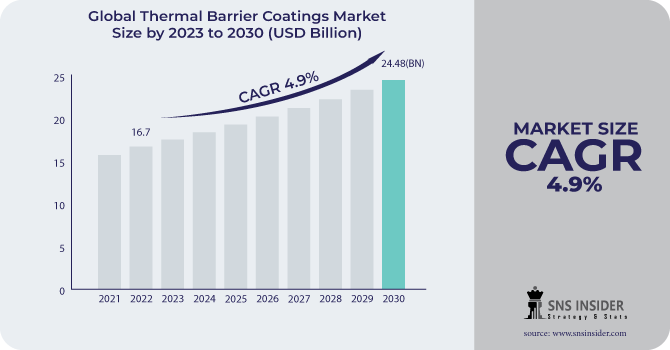 Get E-PDF Sample Report on Thermal Barrier Coatings Market - Request Sample Report
In the aerospace industry, thermal barrier coatings are extensively used in gas turbine engines, where they protect critical components such as turbine blades and vanes from the extreme temperatures generated during operation. The automotive industry is another key market for thermal barrier coatings. With the increasing demand for high-performance vehicles, manufacturers are constantly seeking ways to enhance engine efficiency and reduce emissions. In the power generation industry, thermal barrier coatings are used in gas turbines and boilers to improve efficiency and reduce maintenance costs. By protecting critical components from harsh operating conditions, these coatings enable power plants to operate at higher temperatures, resulting in increased power output and reduced downtime.
The ceramics product segment dominated the thermal barrier coatings market with a revenue share of about 36.5% in 2022 owing to the exceptional thermal resistance properties it offers, empowering gas turbines to operate at elevated temperatures while achieving heightened efficiencies. Moreover, the automotive and aerospace industries are witnessing a surge in demand for ceramic coatings, particularly in the exhaust systems of automobiles. This burgeoning demand is anticipated to fuel the growth of the market throughout the forecast period.
Market Dynamics
Drivers
Increasing demand for thermal barrier coatings in the aerospace industry

Rising demand for energy-efficient gas turbines in power generation plants
In recent years, there has been a significant surge in the need for energy-efficient solutions within the power generation sector. This demand stems from various factors, including the growing global population, rapid industrialization, and the increasing reliance on electricity for both residential and commercial purposes. As a result, power generation plants are under immense pressure to enhance their operational efficiency and reduce energy consumption. Gas turbines play a pivotal role in power generation, as they efficiently convert fuel into electricity. However, these turbines often operate under extreme conditions, including high temperatures and corrosive environments, which can lead to performance degradation and reduced lifespan. To combat these challenges, thermal barrier coatings have emerged as a vital solution. By effectively reducing heat transfer and improving thermal efficiency, these coatings contribute to the overall energy efficiency of gas turbines. Moreover, thermal barrier coatings also offer additional benefits, such as enhanced corrosion resistance and improved durability. These advantages result in extended maintenance intervals, reduced downtime, and increased operational reliability for power generation plants.
Restrain
Opportunities
Increasing demand for thermal barrier coatings in the automotive industry

Growing focus on renewable energy sources
With the global focus on renewable energy sources, the demand for thermal barrier coatings is expected to witness substantial growth. As renewable energy technologies continue to evolve and become more prevalent, the need for efficient and reliable systems becomes paramount. Thermal barrier coatings offer a viable solution by improving the performance and longevity of energy systems, ultimately contributing to the sustainability and success of renewable energy initiatives. Furthermore, the adoption of thermal barrier coatings aligns with the broader goals of reducing greenhouse gas emissions and promoting a greener future. By optimizing the efficiency of energy systems, these coatings help minimize energy wastage and enhance the overall sustainability of renewable energy generation. This not only benefits the environment but also presents economic advantages by reducing operational costs and increasing the competitiveness of renewable energy technologies.
Challenges
Impact of Russia-Ukraine War:
The Russia-Ukraine war has had a significant impact on the thermal barrier coatings (TBC) market, both directly and indirectly. Russia is a major producer of raw materials used in TBCs, such as yttrium and scandium. The war has disrupted the supply chain and led to higher prices for these materials. Ukraine is also a major producer of TBCs. The war has damaged or destroyed many TBC production facilities in Ukraine, disrupting production and reducing supply. The war has also had an indirect impact on the TBC market by increasing inflation and disrupting global economic growth. Inflation has led to higher costs for energy and other inputs, which has squeezed the margins of TBC manufacturers. Economic disruption has also led to reduced demand for TBCs from some end-use industries. Russia-Ukraine war could reduce the growth of the US TBC market by 1% in 2023. The war is also expected to have a negative impact on the TBC markets in Europe, China, and other regions.
Impact of Recession:
The TBC market is likely to be affected by a recession, both directly and indirectly. Direct impacts could include a decline in demand for TBCs from industries that are most affected by the recession, such as aerospace and automotive. Indirect impacts could include job losses and reduced consumer spending, which could also lead to a decline in demand for TBCs. The full impact of a recession on the TBC market would depend on the severity of the recession and the industries that are most affected. However, it is likely that the TBC market would experience a slowdown in growth during a recession. The detailed impact is included in the final report.
Market segmentation
By Product
Metals

Intermetallics

Ceramics

Others
By Technology
By Combination
Ceramic YSZ

MCrAlY

Al2O3 (Aluminium oxide)

Mullite-based

Others
By Application
Stationary Power Plants

Automotive

Aerospace

Others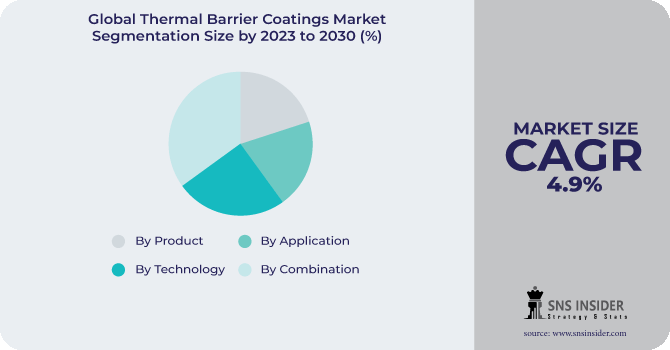 Get Customized Report as Per Your Business Requirement - Request For Customized Report
Regional Analysis
North America dominated the Thermal Barrier Coatings Market with the highest revenue share of about 30.8% in 2022. Within North America, the United States emerged as the dominant player in the regional market, a trend that is expected to continue throughout the forecast period. The region is poised for significant growth in the coming years, driven by increasing product demand across various applications, including stationary power plants, aerospace, automotive, and others. Aerospace stands out as one of the key markets for Thermal Barrier Coatings. The United States, in particular, boasts the largest aerospace industry in the nation. According to the Federal Aviation Administration (FAA), the total commercial aircraft fleet is projected to reach 8,270 by 2037, driven by a notable increase in air freight. This surge in air traffic can be attributed to factors such as the availability of highly skilled labor, high disposable incomes, and the robust economies of countries within the region. Consequently, the aerospace industry's growth is expected to serve as a significant driver for the Thermal Barrier Coatings Market in North America throughout the forecast period.
Asia Pacific is expected to grow with the highest CAGR of about 5.5% in the Thermal Barrier Coatings Market during the forecast period due to the increasing global demand for power and cleaner alternatives, as well as the expansion of the industrial and automotive sectors in the region. Notably, countries such as India and China are expected to significantly contribute to the market's growth due to the proliferation of power generation projects and the growing requirement for vapor deposition technology.
REGIONAL COVERAGE:
North America
Europe
Eastern Europe

Poland

Romania

Hungary

Turkey

Rest of Eastern Europe

Western Europe

Germany

France

UK

Italy

Spain

Netherlands

Switzerland

Austria

Rest of Western Europe
Asia Pacific
China

India

Japan

South Korea

Vietnam

Singapore

Australia

Rest of Asia Pacific
Middle East & Africa
Middle East

UAE

Egypt

Saudi Arabia

Qatar

Rest of Middle East

Africa

Nigeria

South Africa

Rest of Africa
Latin America
Brazil

Argentina

Colombia

Rest of Latin America
Key Players
The major key players are Flame Spray Coating Co., MesoCoat Inc., Precision Coating Inc., Praxair Surface Technologies, TWI Ltd., ASB Industries Inc., Thermion, A&A Company, Cincinnati Thermal Spray Inc., Metallisation Ltd., and other key players mentioned in the final report.
Flame Spray Coating Co-Company Financial Analysis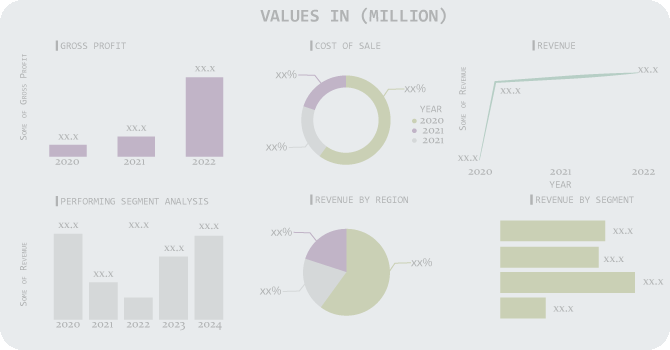 Recent Development:
In January 2021, ASB Industries and Hannecard announced an exciting joint venture, operating under the name Hannecard Roller Coatings, Inc. This collaboration will allow Hannecard to expand ASB's renowned technology across Asia, Europe, and Africa. Furthermore, ASB will enhance Hannecard's current offerings by introducing a diverse range of rubber, polyurethane, and thermal spray coatings for rollers in various sectors.

In March 2020, Praxair Surface Technologies (PST), a U.S.-based company, and Siemens, a prominent German company, signed a new contract. This new contract encompasses a wide array of coating services for all Siemens products. PST will be responsible for coating aerospace and industrial gas turbine components, including casings, vanes, blades, and discs. These components will undergo PST's advanced processes such as slurry, aluminizing, platinum aluminizing, and thermal spray techniques.
Thermal Barrier Coatings Market Report Scope
Report Attributes
Details
Market Size in 2022
US$ 16.7 Bn
Market Size by 2030
US$ 24.48 Bn
CAGR
CAGR of 4.9% From 2023 to 2030
Base Year
2022
Forecast Period
2023-2030
Historical Data
2019-2021
Report Scope & Coverage
Market Size, Segments Analysis, Competitive Landscape, Regional Analysis, DROC & SWOT Analysis, Forecast Outlook
Key Segments
• By Product (Metals, Intermetallics, Ceramics, and Others)
• By Technology (Cold Barrier, High-Velocity Oxy-Fuel (HVOF), Plasma Barrier, Electric Arc Barrier, and Flame Barrier)
• By Combination (Ceramic YSZ, MCrAlY, Al2O3 (Aluminium oxide), Mullite-based, and Others)
• By Application (Stationary Power Plants, Automotive, Aerospace, and Others)
Regional Analysis/Coverage
North America (US, Canada, Mexico), Europe (Eastern Europe [Poland, Romania, Hungary, Turkey, Rest of Eastern Europe] Western Europe] Germany, France, UK, Italy, Spain, Netherlands, Switzerland, Austria, Rest of Western Europe]), Asia Pacific (China, India, Japan, South Korea, Vietnam, Singapore, Australia, Rest of Asia Pacific), Middle East & Africa (Middle East [UAE, Egypt, Saudi Arabia, Qatar, Rest of Middle East], Africa [Nigeria, South Africa, Rest of Africa], Latin America (Brazil, Argentina, Colombia Rest of Latin America)
Company Profiles
Flame Spray Coating Co., MesoCoat Inc., Precision Coating Inc., Praxair Surface Technologies, TWI Ltd., ASB Industries Inc., Thermion, A&A Company, Cincinnati Thermal Spray Inc., Metallisation Ltd.
Key Drivers
• Increasing demand for thermal barrier coatings in the aerospace industry
• Rising demand for energy-efficient gas turbines in power generation plants

Market Restraints
• High cost associated with thermal barrier coatings