Report Scope & Overview:
Automotive Camera Market Size was valued at USD 7.89 billion in 2022 and is expected to reach USD 17.04 billion by 2030, and grow at a CAGR of 10.1% over the forecast period 2023-2030.
The market is divided into four categories: camera type, vehicle type, application, and geography. Passengers automobiles and commercial vehicles are among the vehicle types available. During the anticipated period, the market for sensing cameras is expected to rise at a quicker rate. This could be attributed to the cameras' broader range of applications in advanced driver assistance systems. The passenger car camera market dominated the broader automotive market.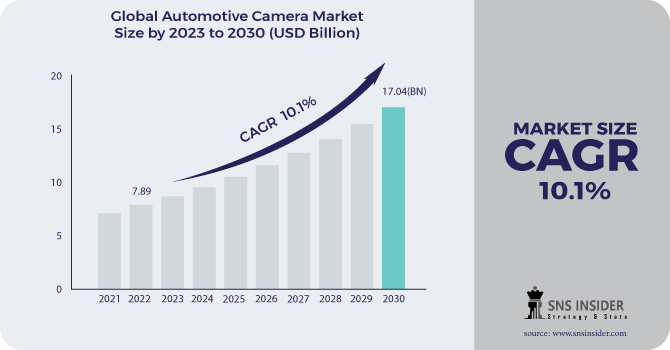 For safety reasons, automotive cameras can be put on the front and rear sides of a car, as well as within it. Externally mounted cameras aid in keeping a safe distance from leading vehicles, detecting and avoiding pedestrians, and tracking road margins. Furthermore, vehicle cameras improve the driver's back and front views and provide a better driving experience.
MARKET DYNAMICS:
KEY DRIVERS:
The high demand for the product, particularly in passenger cars, is likely to boost industry size.

The rising use of complementary metal-oxide-semiconductor (CMOS) image sensors in-vehicle cameras is driving market expansion.

The government's increased attention on road safety is projected to stimulate industry expansion.
RESTRAINTS:
The increased overall cost of vehicles as a result of upgraded safety measures may stifle the multi-camera system market's growth.

If the system's cameras are broken, the consumer would have to replace the entire multi-camera system, which will be quite expensive.
OPPORTUNITIES:
The growing popularity of these semi-autonomous functions opens up a huge market for automobile cameras.

Due to the developing trend, camera systems that can deliver a variety of advanced features have a lucrative market.
CHALLENGES:
Rising car prices, along with high design and testing expenses, are likely to provide a significant impediment to market expansion.

The multi-camera system has a hard time separating different perspectives from many camera inputs & displaying them in real-time.

Combining & converting the data into a single image has a high risk of degrading the quality of the image.
IMPACT OF COVID-19:
The COVID-19 pandemic is not predicted to have an impact on the extraction of metals like steel, copper, and aluminium. Despite trade restrictions in effect for the first six months of 2020, key extractors in China continued to extract raw materials. Raw material prices, such as copper, will continue to grow, with the price of copper surpassing USD 10,000 per ton for the first time in ten years in May 2021.
The global automotive sector has been severely impacted by the COVID-19 pandemic. This can be seen in the supply chain disruptions of Chinese part exports, large-scale production outages across Europe, and assembly plant closures in the United States and other important countries like India and Brazil.
KEY PLAYERS:
Continental (Germany), Robert Bosch (Germany), Valeo (France), Aptiv (Ireland), ADA-ES Inc. (U.S.), Allied Vision Technologies (Germany), Balluf (Germany), Basler AG (Germany), Autoliv, Inc (Sweden), Delhi Automotive PLC (U.K.), Denso Corporation (Japan), TRW Automotive (U.S.) and Magna (Ireland) dominate the global automotive camera market (Canada).
These businesses have global distribution networks that are secure. These companies also sell a variety of automobile cameras. New product creation, collaborations, and contracts and agreements are the main techniques used by these corporations to maintain their market position.
MARKET ESTIMATION:
By Camera type:
Digital camera

Infrared camera

Thermal camera
By Vehicle type:
Passengers car

Commercial vehicles
By Application type:
Lane Departure Warning

Blind Spot Detection

Adaptive Cruise Control

Park Assist System

Pedestrian Detection

Night vision

Road Sign Recognition

Driver Monitoring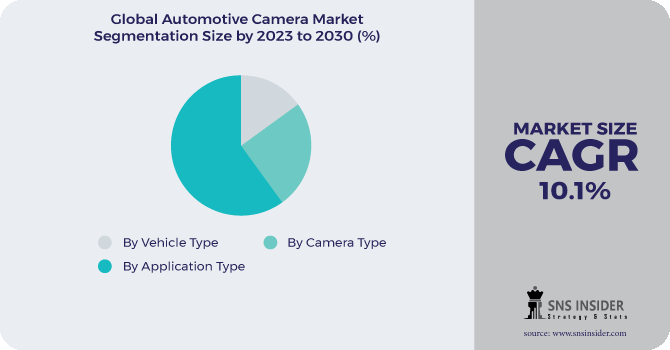 REGIONAL ANALYSIS:
An automotive camera is a safety camera fitted on the front, back, or interior of a car. Because of its high-speed connectivity, North America is expected to dominate the industry. Europe is another important market for products, and the installation of safety technology in passenger automobiles in Germany, the United Kingdom, France, and Italy will rise dramatically.
In light of growing industrialization and rising vehicle manufacturing, Asia Pacific will see significant growth, particularly in China, India, Japan, Thailand, Malaysia, and South Korea. Furthermore, increased disposable income and a good standard of living among customers will drive the car camera industry forward.
REGIONAL COVERAGE:
North America

Europe

Germany

UK

France

Italy

Spain

The Netherlands

Rest of Europe

Asia-Pacific

Japan

South Korea

China

India

Australia

Rest of Asia-Pacific

The Middle East & Africa

Latin America

Brazil

Argentina

Rest of Latin America