Report Scope & Overview:
Automotive Intelligent Door System Market Size was valued at USD 2.50 billion in 2022 and is expected to reach USD 7.66 billion by 2030 and grow at a CAGR of 15% over the forecast period 2023-2030.
Automotive intelligent door systems provide a number of capabilities, such as central locking systems that allow all the doors to be locked and unlocked simultaneously. Because it does not require any kind of key, it might be of great assistance when the battery of the automobile is running low. It is digitally operated in vehicles that are tiny to medium in size, but it comes with a cost-effective choice. Its purpose is to provide ease, comfort, and safety not only to the drivers but also to the people who are riding in the vehicles. The intelligent door system in modern automobiles is intended to deflect the force of a side-on collision, thereby reducing the likelihood that the occupants, including the driver and passengers, may sustain serious injuries.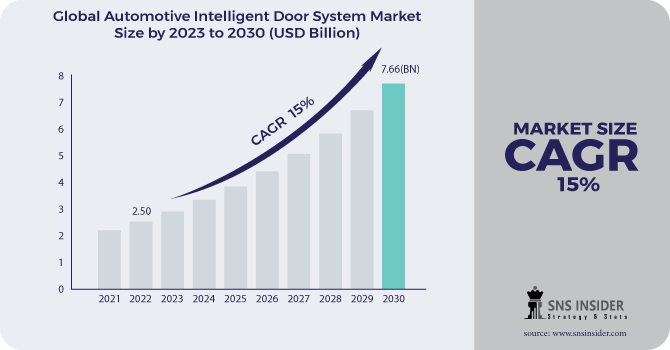 Due to the installation of the automobile intelligent door system, it has been discovered that passengers were able to survive crashes in real-life cases of accidents that occurred on the global market. The efficiency and automation of the automotive intelligent door system are critical for the safety of the vehicle's occupants. The global market for automotive intelligent door systems provides drivers and passengers with comfort, convenience, and safety in motion.
MARKET DYNAMICS:
KEY DRIVERS:
The growing demand for innovative automobile technologies is mostly driven by increased concerns about vehicle safety. Consumers are increasingly looking for new solutions such as collision avoidance systems, automated emergency braking, and adaptive cruise control to improve their driving experience and reduce accident risks. Manufacturers are reacting to this need by including cutting-edge technology that prioritize passenger and pedestrian safety, ushering in a new era of intelligent and secure automobiles.
Manufacturers are more concerned about convenience and safety.

The automotive intelligent door system business will benefit from increased demand for automated vehicles.
RESTRAINTS:
Consumer purchasing power for autos is projected to remain low as work prospects remain scarce. Economic restraints caused by reduced work prospects will most certainly limit individuals' ability to make large purchases such as autos. This pattern is anticipated to contribute to a lengthy period of low demand in the car industry.
OPPORTUNITIES:
As technology advances, so do the benefits in terms of cost savings, efficiency, and ease of use.
Reduced expenses, increased productivity, and improved user-friendliness are all benefits of technological advancement. Various industries' innovations result in streamlined operations, optimized resource usage, and simplified interactions. This constant progress contributes to increased productivity and convenience in a variety of applications
CHALLENGES:
Inadequate security measures can be quickly exploited by cybercriminals, increasing the possibility of an accident. Weak cybersecurity could jeopardize key systems, providing a direct threat to safety in a variety of domains, including autos and other sensitive industries.
IMPACT OF COVID-19:
The expansion of the automotive intelligent door system market is being hampered by the pandemic, which is having a significant impact on supply and demand. The production and manufacturing industries are shuttered or operating at reduced capacity as a result of the lockdown imposed on many businesses. There has been a decrease in demand for automobiles as a result of a number of lockdowns. In addition, the purchasing power of individuals has been affected by recessions in many countries, which has had an effect on the trends in the market for automotive intelligent door systems. The epidemic has had a significant impact on the Asian regions where the majority of automotive products are made. There is now a near-halt in the development and manufacturing of intelligent doors.
IMPACT OF RUSSIA –UKRAINE WAR:
Russia ranks 10th in global PV output, with yearly production estimates of over one million PVs, whereas Ukraine ranks 44th. Togliatti, one of Eurasia's major automotive production sites, is located in Russia. The country is also a major engine manufacturer, with 5% of Renault's engines produced in Russia and 40% of Volkswagen's engine requirements in its eastern European factories met through Russian production.
Ukraine has a relatively smaller automotive market, with annual production estimates of roughly 8,000 PVs. Following earlier skirmishes with Russia , the country's PV output plummeted by more than half. Despite this, the country has remained an important provider of automotive components and technology, such as wire harnesses, electronic control units (ECUs), and engine management systems.
In 2020, Russia exported $513.4 million in car parts while importing $7.2 billion. Body parts, wheel and chassis, and brake systems were among the most exported components, while body parts, cabin and cockpit systems, gearboxes, and suspension dampers were among the most imported. The Ukrainian market shipped $80.3 million in car parts, with wiring harness being the country's top export. Ukraine's auto components imports totaled $61.3 million, with modules for car assembly accounting for the majority of the total.
IMPACT OF ONGOING RECESSION:
According to industry estimates, 13.7 million to 13.9 million new automobiles were sold in the United States last year, an 8% to 9% decrease from 2021 and the lowest level since 2011, when sales were recovering from the Great Recession.
Sales varied greatly by carmaker due to components and supply chain issues affecting firms at different times, but most were down compared to 2021, with General Motors' 2.5% rise standing out. Ford Motor, Hyundai, and Kia all reported reductions in the low single digits. Toyota Motor fell 9.6%, while Stellantis, Nissan, and Honda Motor all fell by double digits, falling 13%, 25%, and 29.4%, respectively. Despite recessionary fears, rising interest rates, and other economic issues, auto industry executives are cautiously optimistic that sales will improve in 2023. Prior to the pandemic, a normal year saw more over 17 million in sales.
Toyota and General Motors both predicted that auto sales in the United States will rise to over 15 million units this year. This represents a roughly 9% increase over 2022. S&P Global Mobility and Edmunds predict 14.8 million new car sales in the United States in 2023, while Cox Automotive predicts 14.1 million. "We have a cautiously optimistic outlook for the future." In 2023, there will be an increase, not as large as we would like, but in the correct direction," Jack Hollis, executive vice president of Toyota Motor North America, said during a press conference on Wednesday. "Demand is still greater than supply."
MARKET ESTIMATION:
Market, By Technology Type:
The global market has been divided into Power sliding door systems, Retractable door handle systems, and Soft-close door systems Based on the technology type segment. The soft-close segment of the market accounted for a significant portion of the industry's revenue since soft-close doors are favored in passenger cars. Soft-close intelligent door systems are in high demand all over the world due to their convenience and aesthetic benefits.
Market, By Vehicle Type:
The global market has been divided into passenger cars and commercial vehicles Based on the vehicle type segment. Passenger vehicle owners use intelligent door systems at a high rate due to safety concerns and higher per capita income. Intelligent door system usage is significant in public transportation buses and coaches due to government efforts to improve services.
Market, By Sales Channel:
The global market has been divided into OEM and aftermarket based on the sales channel segment. OEM segment of the global automotive intelligent door system market is driven by OEM preference for advanced and automated vehicle technologies, rising consumer adoption, and the trend toward vehicle automation. The vehicle rental and leasing industry's growth and consumer preference fuel the aftermarket.
MARKET SEGMENTATION:
By Technology Type:
Power sliding door system

Retractable door handle system

Soft-close door system
By Vehicle Type:
By Sales Channel: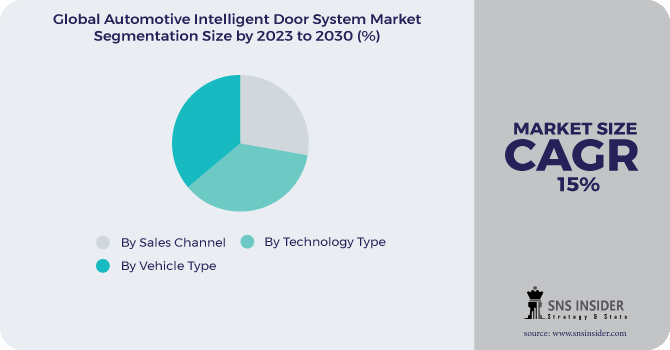 REGIONAL ANALYSIS:
North America, Europe, Asia-Pacific, and the rest of the world are the four primary regions in the global market for automotive intelligent door systems. The automotive intelligent door system market is expected to grow significantly in Asia-Pacific. As a result, the automotive intelligent door system market is likely to be dominated by China and parts of Southeast Asia, where automobiles and their components are produced, manufactured, and distributed in the biggest quantities. Gasoline-powered vehicles and fleets have seen an increase in the Asia-Pacific region for the past several years. In addition, this region has become a desirable location for investments in alternative energy sources, which will drive up the market value of vehicle intelligent door system products. In addition, electric vehicles have been widely accepted in the United States and the European Union. This has and will have a significant impact on the global market for intelligent door systems in automobiles.
The Asia-Pacific automotive intelligent door system market is predicted to expand rapidly. As a result, the automotive intelligent door system market is expected to be controlled by China and portions of Southeast Asia, where the majority of automobiles and their components are built, manufactured, and distributed. For numerous years, the Asia-Pacific area has seen a growth in gasoline-powered vehicles and fleets. Furthermore, this region has become a desired place for alternative energy investments, which will increase the market value of vehicle intelligent door system products. Furthermore, electric vehicles have gained widespread acceptance in the United States and the European Union
Regional Coverage
North America
Europe
Eastern Europe

Poland

Romania

Hungary

Turkey

Rest of Eastern Europe

Western Europe

Germany

France

UK

Italy

Spain

Netherlands

Switzerland

Austria

Rest of Western Europe
Asia Pacific
China

India

Japan

South Korea

Vietnam

Singapore

Australia

Rest of Asia Pacific
Middle East & Africa
Middle East

UAE

Egypt

Saudi Arabia

Qatar

Rest of Middle East

Africa

Nigeria

South Africa

Rest of Africa
Latin America
Brazil

Argentina

Colombia

Rest of Latin America
KEY MARKET PLAYERS:
Johnson Electric (Hong Kong), Brose Fahrzeugteile GmbH & Co. KG (Germany), Continental AG (Germany), Huf Hülsbeck & Fürst GmbH & Co. KG (Germany), Kiekert AG (Germany), SMARTRAC N.V. (Amsterdam), and WITTE Automotive (Germany) are some of the affluent competitors with significant market share in the Automotive Intelligent Door System Market.
RECENT DEVELOPMENT:
UltraSense Systems, a company focused on using touch and sensing technology to replace clusters of mechanical buttons on consumer electronics devices, has announced "in-plane" sensing for automotive applications, This allows for multi-mode sensing and human-machine interface (HMI) control in the plane of a smart surface, such as a steering wheel, armrest, or dashboard.

Lattice Drive is the sixth in Lattice Semiconductor's series of solution stacks, each focused on a specific horizontal or vertical market opportunity and aimed to help speed the development . To exploit these prospects, FPGA-based systems and applications are being developed.
Automotive Intelligent Door System Market Report Scope:
Report Attributes
Details
Market Size in 2022
US$ 2.50 Billion
Market Size by 2030
US$ 7.66 Billion
CAGR
CAGR of 15% From 2023 to 2030
Base Year
2022
Forecast Period
2023-2030
Historical Data
2019-2021
Report Scope & Coverage
Market Size, Segments Analysis, Competitive Landscape, Regional Analysis, DROC & SWOT Analysis, Forecast Outlook
Key Segments
• by Technology Type (Power sliding door system, Retractable door handle system, Soft-close door system)
• by Vehicle Type (Passenger cars, LCV, HCV)
• by Sales Channel (OEM, Aftermarket)
Regional Analysis/Coverage
North America (US, Canada, Mexico), Europe (Eastern Europe [Poland, Romania, Hungary, Turkey, Rest of Eastern Europe] Western Europe] Germany, France, UK, Italy, Spain, Netherlands, Switzerland, Austria, Rest of Western Europe]), Asia Pacific (China, India, Japan, South Korea, Vietnam, Singapore, Australia, Rest of Asia Pacific), Middle East & Africa (Middle East [UAE, Egypt, Saudi Arabia, Qatar, Rest of Middle East], Africa [Nigeria, South Africa, Rest of Africa], Latin America (Brazil, Argentina, Colombia Rest of Latin America)
Company Profiles
Johnson Electric (Hong Kong), Brose Fahrzeugteile GmbH & Co. KG (Germany), Continental AG (Germany), Huf Hülsbeck & Fürst GmbH & Co. KG (Germany), Kiekert AG (Germany), SMARTRAC N.V. (Amsterdam), and WITTE Automotive (Germany)
Key Drivers
• Vehicle safety concerns increase demand for innovative automotive technologies.
• Manufacturers are more concerned about convenience and safety.
• The automotive intelligent door system business will benefit from increased demand for automated vehicles.
RESTRAINTS
• Consumer purchasing capacity for autos will remain low due to dwindling work opportunities.
• The growing demand for electric and driverless vehicles will drive growth in the intelligent door system industry