Report Scope & Overview:
The Automotive Smart Key Market size was valued at USD 17.6 billion in 2022. It is estimated to hit USD 26.30 billion by 2030 and grow at a CAGR of 5.15% over the forecast period of 2023-2030.
The growth of the automotive smart key market is driven by the increasing demand for advanced security and convenience features in vehicles. Smart keys, also known as proximity keys or keyless entry systems, utilize advanced technology to provide keyless access and ignition control. These innovative devices communicate with the vehicle through radio frequency identification (RFID) or Bluetooth technology, allowing for a secure and convenient way to lock, unlock, and start the car. One of the key factors driving the growth of the automotive smart key market is the rising concern for vehicle security. Traditional keys can be easily duplicated or stolen, posing a significant risk to vehicle owners. Smart keys, on the other hand, employ encryption and authentication techniques, making it extremely difficult for unauthorized individuals to gain access to the vehicle.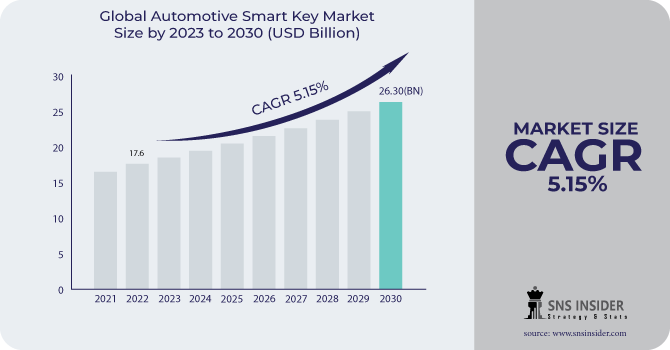 Get E-PDF Sample Report on Automotive Smart Key Market - Request Sample Report
Moreover, smart keys offer enhanced convenience and comfort. With a simple push of a button, drivers can unlock their cars without having to fumble for keys in their pockets or bags. This feature is particularly useful in situations where individuals have their hands full or are in a hurry. Additionally, smart keys often come with features such as remote start, allowing drivers to start their vehicles from a distance, and ensuring a comfortable temperature inside the car before entering. The automotive smart key market is also benefiting from the increasing adoption of keyless entry systems by automotive manufacturers. Many leading car manufacturers are incorporating smart key technology into their vehicles as a standard feature or as an optional upgrade. This trend is driven by the growing consumer demand for advanced features and the need for differentiation in a highly competitive market.
Furthermore, the automotive smart key market is witnessing technological advancements that are further propelling its growth. Manufacturers are constantly innovating to improve the security and functionality of smart keys. For instance, biometric authentication, such as fingerprint recognition, is being integrated into smart keys to provide an additional layer of security.
Market Dynamics
Drivers
Increasing demand for advanced and convenient vehicle access systems

Rising adoption of keyless entry systems in luxury and high-end vehicles

Growing trend of vehicle connectivity and integration with smartphones
In recent years, there has been a remarkable increase in the demand for vehicles that seamlessly connect with smartphones. This trend stems from the desire of consumers to have a more integrated and convenient driving experience. By linking their smartphones to their vehicles, individuals can effortlessly access various features and functions, enhancing both their comfort and safety on the road. The integration of smartphones with automotive systems enables users to remotely control their vehicles, providing them with a range of benefits. For instance, individuals can lock or unlock their cars, start the engine, adjust climate settings, and even locate their vehicles using GPS technology, all from the convenience of their smartphones. This level of connectivity not only simplifies the daily routines of drivers but also enhances the overall security of their vehicles.
Furthermore, the automotive smart key market is driven by the increasing demand for advanced safety features. By integrating smartphones with vehicles, drivers can receive real-time notifications and alerts regarding potential hazards, traffic updates, and even vehicle diagnostics. This integration empowers drivers with valuable information, enabling them to make informed decisions and take necessary precautions while on the road.
Restrain
High cost associated with smart key systems

Complexity of smart key systems
Opportunities
Increasing focus on electric and hybrid vehicle

Growing popularity of shared mobility services
Shared mobility services, such as ride-sharing and car-sharing platforms, have witnessed a remarkable surge in recent years. This is attributed to various factors, including rising urbanization, increasing traffic congestion, and the growing preference for sustainable transportation options. As more individuals opt for these services, the demand for efficient and secure access to vehicles has become paramount. With the rise of shared mobility services, the demand for smart key technology has surged. Car-sharing platforms, for instance, require a seamless and efficient way to grant access to multiple users. Smart keys provide a practical solution by allowing authorized users to access the vehicle without the need for physical handover of keys. This not only enhances the user experience but also ensures the security and integrity of the shared vehicle fleet.
Challenges
Increasing competition within the market

Cost of implementing smart key technology

Issue of cybersecurity
The issue of cybersecurity poses a significant challenge for the Automotive Smart Key Market. As smart key systems become more interconnected and reliant on digital infrastructure, the risk of cyber threats and hacking increases.
Impact of Russia-Ukraine War:
The ongoing conflict has severely disrupted the supply chain of Automotive Smart Keys, as numerous manufacturers and suppliers are situated in the regions directly affected by the conflict. Consequently, production and delivery have been significantly delayed, resulting in a shortage of these crucial components. For instance, In Oct 2022, Toyota announced that they will temporarily provide one smart key for select vehicles manufactured in North America, owing to supply chain delays. This conflict also disrupted the production of automobiles, as Russia serves as the primary source of palladium (33%) and neon gas, both of which are essential for auto parts and semiconductor manufacturing. As a consequence, the prices of precious metals have increased by 10-30%, and the cost of raw materials required for the production of automotive smart keys has also surged. Palladium prices, in particular, have surged by over 26% due to this war.
The war has created economic instability in both Russia and Ukraine, leading to a decline in consumer purchasing power. As a result, the demand for Automotive Smart Keys has decreased, affecting the overall market growth. The geopolitical tensions arising from the conflict have created an atmosphere of uncertainty, deterring foreign investments in the automotive industry. This has hindered the expansion and development of the Automotive Smart Key market.
Impact of Recession:
The recession significantly impacted the automotive smart key market, leading to a decline in demand and sales. As consumers faced financial constraints, their purchasing power decreased, resulting in a reduced willingness to invest in luxury features such as smart keys. Consequently, manufacturers experienced a decline in revenue and profitability, forcing them to reassess their strategies and adapt to the changing market conditions.
Furthermore, the recession has also affected the supply chain of the automotive smart key market. Suppliers faced difficulties in sourcing raw materials and components, leading to production delays and increased costs. This disruption in the supply chain further exacerbated the challenges faced by manufacturers, hindering their ability to meet consumer demand and maintain competitive pricing.
Market Segmentation:
By Product Type
Passive Keyless Access (PKES)

Remote Keyless Access (RKES)
By Installation
By Technology
Infrared Sensor

Transmission

Others
By Application
Single Function

Multi-function
Get Customized Report as Per Your Business Requirement - Request For Customized Report
Regional Analysis
Europe is expected to grow significantly in Automotive Smart Key Market. With a thriving automotive industry that has a rich history of innovation and technological advancements, the region provides a fertile ground for the development and adoption of smart key technologies. In January 2023, sales in Europe experienced a 20.9% decline compared to the same period in 2020, before the crisis hit. However, despite this setback, the region saw a notable increase in the market last month, driven by divergent trends between the EU26+ European Free Trade Association (EFTA) and the Eastern European market. Despite the challenges, certain markets experienced strong gains, including Greece (up 89.8%), Portugal (up 44.8%), Belgium (up 20.8%), Austria (up 19.5%), Italy (up 16.4%), and the United Kingdom (up 14.8%).
The automotive industry is currently undergoing a transformative phase, with manufacturers and developers striving to become "mobility service providers." Over the next decade, automakers and autonomous vehicle developers will focus on establishing standardization and advancements in Level 5 autonomy and Full Self-Driving (FSD) capabilities. The global demand for Connected and Automated Vehicles (CAV) is skyrocketing, with the market value projected to exceed $200 billion by 2025. However, this expansion also brings new challenges that need to be addressed. Additionally, stringent regulations and standards imposed by European authorities have played a pivotal role in driving the adoption of smart key systems. These regulations prioritize vehicle security and aim to combat car theft, making smart keys an attractive solution for automakers and consumers alike.
The Asia Pacific region is projected to experience the highest CAGR in the Automotive Smart Key Market during the forecast period. The increasing disposable income of consumers in countries like China, India, and Japan has led to a surge in automotive sales. As a result, the demand for advanced and convenient features, such as smart key systems, has witnessed a significant rise. Moreover, the Asia Pacific region is home to some of the world's largest automotive manufacturers, who are actively incorporating smart key technology into their vehicles. These manufacturers are continuously striving to enhance the overall driving experience by integrating advanced security and convenience features. The rising adoption of smart key systems by these industry giants is expected to propel market growth in the region.
Furthermore, the Asia Pacific region boasts a rapidly expanding urban population, leading to increased traffic congestion and parking challenges. In response to these issues, smart key systems offer seamless access and keyless entry, making them an attractive solution for consumers. The convenience and ease of use provided by these systems have further contributed to their growing popularity in the region.
REGIONAL COVERAGE:
North America
Europe
Eastern Europe

Poland

Romania

Hungary

Turkey

Rest of Eastern Europe

Western Europe

Germany

France

UK

Italy

Spain

Netherlands

Switzerland

Austria

Rest of Western Europe
Asia Pacific
China

India

Japan

South Korea

Vietnam

Singapore

Australia

Rest of Asia Pacific
Middle East & Africa
Middle East

UAE

Egypt

Saudi Arabia

Qatar

Rest of Middle East

Africa

Nigeria

South Africa

Rest of Africa
Latin America
Brazil

Argentina

Colombia

Rest of Latin America
Key Players
The major key players are Valeo, Denso Corporation, HELLA KGaA Hueck & Co., TRW Automotive, Continental AG, Hyundai Mobis, Visteon Corporation, ALPHA Corporation, Toyota Motor Corporation, Silca S.p.A., and other key players mentioned in the final report.
Denso Corporation​​​​​​​-Company Financial Analysis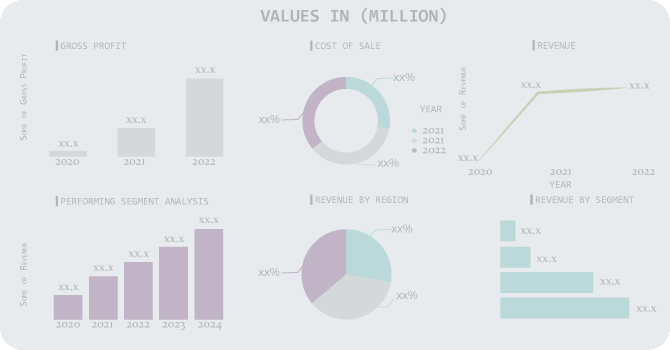 ​​​​​​​
Recent Development:
In Sept 2020, Continental expanded its virtual Key as a Service solution from passenger cars to include commercial vehicles.

In Oct 2022, Toyota Motor Corp. made an announcement stating that it would replace one of the two smart keys it provides in Japan with a mechanical key for each new vehicle sold. This decision was prompted by a semiconductor shortage.
Automotive Smart Key Market Report Scope:
Report Attributes
Details
Market Size in 2022
US$ 17.6 Bn
Market Size by 2030
US$ 26.30 Bn
CAGR
CAGR of 5.15 % From 2023 to 2030
Base Year
2022
Forecast Period
2023-2030
Historical Data
2020-2021
Report Scope & Coverage
Market Size, Segments Analysis, Competitive Landscape, Regional Analysis, DROC & SWOT Analysis, Forecast Outlook
Key Segments
• By Product Type (Passive Keyless Access and Remote Keyless Access)
• By Installation (OEM and Aftermarket)
• By Technology (Infrared Sensor, Transmission, and Others)
• By Application (Single Function and Multi-function)
Regional Analysis/Coverage
North America (US, Canada, Mexico), Europe (Eastern Europe [Poland, Romania, Hungary, Turkey, Rest of Eastern Europe] Western Europe] Germany, France, UK, Italy, Spain, Netherlands, Switzerland, Austria, Rest of Western Europe]). Asia Pacific (China, India, Japan, South Korea, Vietnam, Singapore, Australia, Rest of Asia Pacific), Middle East & Africa (Middle East [UAE, Egypt, Saudi Arabia, Qatar, Rest of Middle East], Africa [Nigeria, South Africa, Rest of Africa], Latin America (Brazil, Argentina, Colombia Rest of Latin America)
Company Profiles
Valeo, Denso Corporation, HELLA KGaA Hueck & Co., TRW Automotive, Continental AG, Hyundai Mobis, Visteon Corporation, ALPHA Corporation, Toyota Motor Corporation, Silca S.p.A.
Key Drivers
• Increasing demand for advanced and convenient vehicle access systems
• Rising adoption of keyless entry systems in luxury and high-end vehicles
• Growing trend of vehicle connectivity and integration with smartphones
Market Restraints
• High cost associated with smart key systems
• Complexity of smart key systems