Report Scope & Overview:
Base Oil Market Size was valued at USD 32.16 billion in 2022, and is expected to reach USD 47.87 billion by 2030, and grow at a CAGR of 5.1% over the forecast period 2023-2030.
The rising need for lubricants in industries such as automotive and manufacturing, fueled by economic expansion. This spike in demand, however, raises concerns about potential supply chain disruptions and variable crude oil prices, which operate as restrictions. In the midst of these obstacles, opportunities emerge in the shape of environmentally friendly lubricants, driven by severe environmental requirements. Furthermore, expanding into emerging markets provides opportunities for growth, while the transition to electric vehicles needs specialised lubricants, creating opportunities for creative formulations.
Base oil is one of the specialised products that a refinery can create. Base oil, commonly used as lubricant base stock, is the refined petroleum mineral or synthetic material created by a refinery to a particular set of requirements. High-viscosity material from vacuum gasoil or vacuum reside distillation cuttings is extracted and processed to create base oils. This calls for specialised processing through several lubes plant units. The kind of base oil used for refining and/or the process of base oil manufacture might affect the quality of a lubricant. As base oils typically make up between 70 and 97 percent of lubricant formulations, it is crucial for the grade of the industrial lubricant.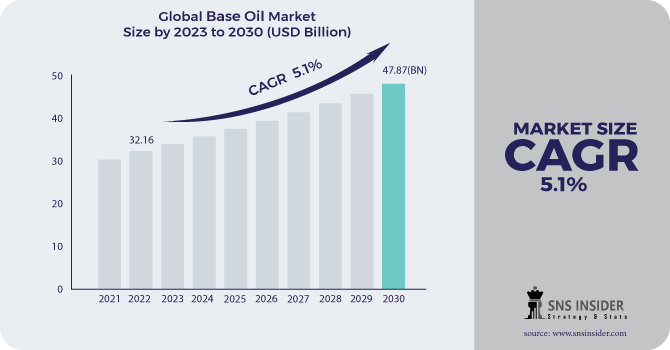 Get E-PDF Sample Report on Base Oil Market - Request Sample Report
In essence, the dynamics of the base oil market include factors such as demand growth and environmental attention, which are limited by supply chain challenges and pricing uncertainty, and are accentuated by opportunities in sustainability and emerging markets.
The market for base oils has been divided into various categories based on their applications, including engine oils, gear oils, metalworking fluids, general industrial oils, greases, process oils, and others. Other uses for base oils include detergents and dispersants, additives, and agriculture. Due to the extensive usage of engine oils in automotive, power generation, and industrial machinery applications, the engine oil segment became the most important application.
Market Dynamics:
Drivers:
Automotive industry is expanding quickly.

Demand for high-performance Base Oils is rising.

Rising marine industry demand for base oils
The growing demand for base oils from the marine industry is a significant factor shaping the base oil market. The marine sector relies on base oils for various lubrication needs, including engine oils, hydraulic fluids, and gear oils. With increasing maritime activities, such as shipping, offshore exploration, and cruise tourism, the need for effective lubrication solutions to ensure smooth operations and prevent equipment wear is driving the demand for base oils. This trend underscores the market's responsiveness to industry-specific requirements and its role in supporting diverse sectors like the marine industry.
Restraints:
Decreasing group, I base oil demand.

Competition from Synthetic Lubricants
Synthetic lubricants, which encompass synthetic base oils, provide benefits like improved performance, increased longevity, and longer intervals between oil changes. With ongoing advancements and growing acceptance, synthetic lubricants create competition for conventional base oils. This competition could potentially curtail the market share of traditional base oils as more industries opt for the advantages offered by synthetic alternatives.
Opportunity:
BRIC countries offer lucrative market opportunities

Analysis of the Business Environment
Analysing the base oil market's business environment entails evaluating factors such as crude oil prices, technological advancements, environmental regulations, end-user needs, and competitor strategies. Understanding these dynamics aids in adapting to market shifts, optimizing product offerings, and staying competitive in a diverse and evolving industry.
Challenge:
Fluctuating crude oil prices

Shifting Consumer Preferences
Consumers are showing a growing preference for products that minimize their environmental footprint. This trend is pushing the demand for base oils that can be incorporated into the production of lubricants with reduced environmental impact. As consumers seek greener options, the base oil industry faces the challenge of developing formulations that align with these eco-conscious preferences.
Impact of Covid-19:
The primary raw material used in the manufacturing of base oil is crude oil. The COVID-19 pandemic outbreak and the consequent deployment of lockdown measures caused a sharp decline in demand for crude oil and petroleum products worldwide. In March 2020, the demand for crude oil decreased by almost 27 million barrels per day, according to Rystad Energy. Major oil-producing nations worldwide were compelled to drastically reduce their output. Additionally, the global shipping line interruption reduced the supply of crude oil to base manufacturers, forcing them to reduce their capacity for manufacturing and refining.
All around the world, there was a sharp fall in the demand for both passenger and commercial vehicles. Additionally, the deployment of lockdown measures led to a sharp decline in the need for vehicle lubricants, which had a negative effect on the demand for base oil around the world. The usage of industrial lubricants and base oil was further restricted by the limitations placed on the operation of industrial manufacturing facilities.
Impact of Russia and Ukraine-War
In the event of a Russia-Ukraine conflict, supply chains in the base oil market could be disrupted due to potential pauses in production and transportation routes. Russia is a significant producer of base oil, and any disruption to its production facilities or logistics infrastructure could result in reduced supply of base oils on the world market.. As market participants react to changing circumstances and assess the risks to both supply and demand, scarcity may lead to higher prices and volatility. The worldwide oil market price has risen from approximately 76.1 dollars per barrel at the start of January 2022 to more than 110 dollars per barrel on March 4, 2022. Also, economic insecurity caused by the conflict could cause alterations in industrial production and consumer behaviour, altering demand for lubricants and, as a result, base oils. Fluctuations in demand patterns may emerge as affected industries reduce their operations or consumers adjust their consumption.
Impact of Ongoing Recession
The recession-induced decrease in consumer spending may have a further impact on the automotive industry, which consumes a substantial amount of lubricants and base oils. With consumers deferring new vehicle purchases or extending maintenance intervals, lubricant consumption may fall, hurting the base oil market. Oil prices dropped higher as a rising fears that a might cause a global recession. West Texas Intermediate fell 0.5 % to 31 dollars per barrel immediately after markets opened, while Brent crude fell 0.3 % to 33 dollars per barrel.
During a recession, financial restrictions may cause delays or cancellations of capital-intensive projects in the base oil business. Expansion plans, facility upgrades, and R&D investments may be scaled back, affecting the industry's long-term growth potential. Furthermore, changes in consumer behaviour during times of economic uncertainty might affect vehicle miles travelled and the frequency of maintenance, influencing lubricant consumption. Furthermore, a recession may cause a shift in tastes towards less expensive lubricant solutions, potentially affecting luxury markets that employ higher-quality base oils.
Key Players:
The Key Players are Petroliam Nasional Berhad (PETRONAS) (Malaysia), Repsol S.A. (Spain), Hindustan Petroleum Corporation Limited (India), Rosneft (Russia), China National Offshore Oil Corporation (China),Royal Dutch Shell plc (The Netherlands), Saudi Aramco (Saudi Arabia), GS Caltex Corporation (U.S.), Chevron Corporation (U.S.), Exxon Mobil Corporation (U.S.), Abu Dhabi National Oil Company (ADNOC) (UAE), Petrochina Company Limited China), Sinopec Corp (China) & Other Players
The Group I, Group II, Group III, Group IV, and Group V segments make up the worldwide base oil market. The segment of Group II base oil among them held the biggest market share for base oil worldwide in 2020. Additionally, during the course of the forecast period, the Group II base oil segment is anticipated to develop at the quickest rate. More adaptable lubricating systems are required due to modifications in vehicle engine architecture. The adoption of severe emission control standards like China 6 and Bharat Stage IV (BS-IV) in China and India, respectively, is also anticipated to increase demand for Group II base oils because of their adaptability and better performance characteristics. It is anticipated that the Group IV base oil market will expand significantly.
The market for base oils has been divided into various categories based on their applications, including engine oils, gear oils, metalworking fluids, general industrial oils, greases, process oils, and others. Other uses for base oils include detergents and dispersants, additives, and agriculture. Due to the extensive usage of engine oils in automotive, power generation, and industrial machinery applications, the engine oil segment became the most important application category in 2020.
Market Segment:
By Group
Group I

Group II

Group III

Group IV

Group V
By Application
Engine Oils

Gear Oils

Metalworking Fluids

General Industrial Oils

Greases

Process Oils

Others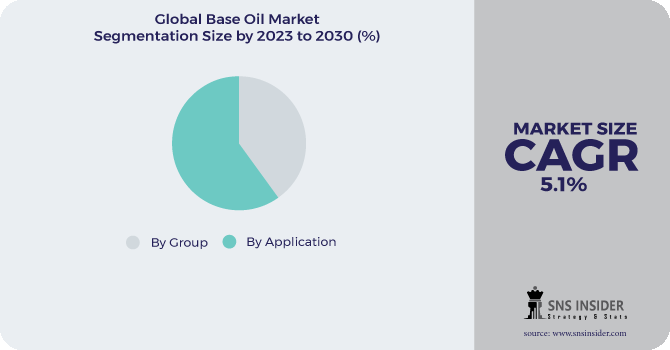 Get Customized Report as per your Business Requirement - Request For Customized Report
Regional Analysis:
In 2020, Asia-Pacific overtook the U.S. as the world's largest base oil market, and it is predicted to expand at the quickest rate during the forecast period. The primary driver of the local base oil market is currently the automotive industry. The world's markets for passenger automobiles and commercial vehicles are expanding at the quickest rates in several important nations in the region, including China, Indonesia, and India. In the upcoming years, it is anticipated that these nations would significantly increase demand for automotive lubricants, which will expand the Asia-Pacific base oil market. The existence of large-scale metalworking industries and the capital goods production sector is also driving up demand for base oil and metalworking fluids.
The largest producer and exporter of base oil worldwide is North America. The region's base oil output is primarily driven by the discovery of large-scale shale oil sources and major investments in expanding refining capacity. A recovery of the North American manufacturing industry is caused by growing incentives for domestic production of industrial and automotive goods in the US. Over the projected period, it is anticipated that the manufacturing sector's continuous recovery would result in a sizable increase in demand for base oil as well as for automotive and industrial lubricants.
Regional Coverage
North America
Europe
Eastern Europe

Poland

Romania

Hungary

Turkey

Rest of Eastern Europe

Western Europe

Germany

France

UK

Italy

Spain

Netherlands

Switzerland

Austria

Rest of Western Europe
Asia Pacific
China

India

Japan

South Korea

Vietnam

Singapore

Australia

Rest of Asia Pacific
Middle East & Africa
Middle East

UAE

Egypt

Saudi Arabia

Qatar

Rest of Middle East

Africa

Nigeria

South Africa

Rest of Africa
Latin America
Brazil

Argentina

Colombia

Rest of Latin America
Recent development-
In September 2022- Indian Oil Corporation Limited (IOCL) awarded ThyssenKrupp Industrial Solutions India Private Ltd. an engineering, procurement, and construction contract valued at USD 75 million. The contract involves setting up a Catalytic Dewaxing Unit (CDWU) with a capacity of 270 kilotons per annum (KTPA) for the production of lube base oils at its Gujarat refinery in India.

In April 2022 - Chevron Global Energy Inc., a subsidiary of Chevron Corporation, successfully acquired the NEXBASE brand from Neste Corporation. This strategic move enhances Chevron's standing as a prominent global supplier of base oils. The acquisition of the NEXBASE brand bolsters Chevron's position in the base oil market, reinforcing its ability to offer a wider range of base oil products and solutions to customers worldwide.
Base Oil Market Report Scope:
Report Attributes
Details
Market Size in 2022
US$ 32.16 Billion
Market Size by 2030
US$ 47.87 Billion
CAGR
CAGR of 5.1% From 2023 to 2030
Base Year
2022
Forecast Period
2023-2030
Historical Data
2019-2021
Report Scope & Coverage
Market Size, Segments Analysis, Competitive Landscape, Regional Analysis, DROC & SWOT Analysis, Forecast Outlook
Key Segments
• By Group (Group I, Group II, Group III, Group IV, Group V)
• By Application (Engine Oils,Gear Oils, Metalworking Fluids, General Industrial Oils, Greases, Process Oils, Others)
Regional Analysis/Coverage
North America (US, Canada, Mexico), Europe (Eastern Europe [Poland, Romania, Hungary, Turkey, Rest of Eastern Europe] Western Europe] Germany, France, UK, Italy, Spain, Netherlands, Switzerland, Austria, Rest of Western Europe]), Asia Pacific (China, India, Japan, South Korea, Vietnam, Singapore, Australia, Rest of Asia Pacific), Middle East & Africa (Middle East [UAE, Egypt, Saudi Arabia, Qatar, Rest of Middle East], Africa [Nigeria, South Africa, Rest of Africa], Latin America (Brazil, Argentina, Colombia Rest of Latin America)
Company Profiles
Sumitomo Heavy Industries, Ltd. (Japan), Veolia Water Technologies (France), Saltworks Technologies Inc. (Canada), JEOL Ltd. (Japan), Colmac Coil Manufacturing, Inc. (US), GEA Group AG (Germany), De Dietrich Process Systems (France), Coilmaster Corporation (US), SPX Flow Inc. (US), Belmar Technologies Ltd. (England), SUEZ Water Technologies & Solutions (France)
Key Drivers
• Automotive industry is expanding quickly.
• Demand for high-performance Base Oils is rising.
RESTRAINTS
• Decreasing group, I base oil demand.
• Competition from Synthetic Lubricants