Report Scope & Overview:
The Biocides Market size was valued at USD 9.1 billion in 2022. It is expected to grow to USD 12.55 billion by 2030 and grow at a CAGR of 4.1% over the forecast period of 2023-2030.
Biocides are chemical substances that are used to control or eliminate harmful microorganisms, such as bacteria, viruses, fungi, and algae. These substances are employed in a wide range of applications, including water treatment, healthcare, agriculture, and industrial processes. The global biocides market is projected to expand at a steady pace, driven by factors such as population growth, urbanization, and the rise in infectious diseases. Tuberculosis (TB) remains one of the deadliest infectious diseases globally, ranking second only to COVID-19. The emergence of drug-resistant TB strains further exacerbates the concern surrounding this disease. According to WHO, in 2021 alone, TB claimed the lives of 1.6 million individuals, including 187,000 people who were also living with HIV. On a global scale, TB stands as the 13th leading cause of death and the second most lethal infectious disease, surpassing even HIV and AIDS. In the same year, an estimated 10.6 million people worldwide fell ill with TB. This staggering figure includes 6 million men, 3.4 million women, and 1.2 million children.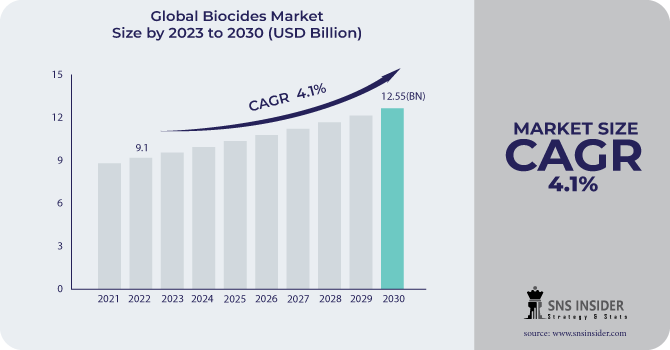 Get More Information on Biocides Market - Request Sample Report
One of the key drivers of the biocides market is the growing need for clean and safe water. Biocides are extensively used in water treatment processes to eliminate harmful microorganisms and ensure the supply of potable water. With the rising population and industrial activities, the demand for clean water is escalating, thereby fueling the demand for biocides. Furthermore, the healthcare sector is another major consumer of biocides. These substances are utilized in hospitals, clinics, and other healthcare facilities to prevent the spread of infections. The outbreak of diseases like COVID-19 has further emphasized the importance of effective disinfection and sterilization practices, thereby driving the demand for biocides in the healthcare sector.
In the agricultural industry, biocides are employed to protect crops from pests and diseases. With the increasing need for food security and the growing population, the demand for biocides in agriculture is expected to witness substantial growth. Biocides help in preventing crop damage and improve agricultural productivity, thereby contributing to the overall food supply chain. In the industrial sector, biocides find applications in various processes, such as oil and gas production, pulp and paper manufacturing, and cooling water systems. These substances help in preventing the growth of microorganisms that can cause corrosion, fouling, and other operational issues.
Market Dynamics
Drivers
Increasing demand for biocides from various industries

Rising awareness regarding the importance of hygiene and sanitation, especially in the wake of the COVID-19 pandemic
The market for biocides is experiencing significant growth due to the increasing awareness surrounding the crucial role of hygiene and sanitation, particularly in light of the COVID-19 pandemic. This heightened awareness has propelled the demand for biocides. The COVID-19 pandemic has served as a wake-up call, emphasizing the critical need for maintaining proper hygiene and sanitation practices. People have become more conscious of the potential risks associated with the transmission of harmful pathogens and microorganisms. As a result, there has been a surge in the adoption of biocides, which are substances capable of destroying or inhibiting the growth of these harmful agents. Furthermore, the COVID-19 pandemic has heightened the demand for biocides across various sectors. Industries such as healthcare, food and beverage, water treatment, and household cleaning have recognized the necessity of implementing stringent hygiene protocols. Biocides play a crucial role in ensuring the safety and well-being of individuals within these sectors, as they provide an additional layer of protection against harmful pathogens.
In addition to the pandemic, rising awareness among consumers about the importance of maintaining a clean and hygienic environment has also contributed to the growth of the biocides market. People are now more conscious of the potential health risks associated with poor sanitation practices. This increased awareness has led to a greater demand for biocidal products, as individuals seek effective solutions to maintain a healthy living environment.
Restrain
Opportunities
With the rise in infectious diseases and the need for effective disinfection, the healthcare sector presents a significant opportunity for the biocides market. Biocides are essential in hospitals, clinics, and other healthcare facilities to maintain a sterile environment and prevent the spread of infections.
The importance of clean and safe water cannot be ignored. According to UNICEF, "an estimated half of the world's population, still lack access to safe sanitation in their homes. Additionally, 1.8 billion individuals reside in households without access to safe drinking water. Shockingly, every year, approximately 829,000 people lose their lives due to diseases directly caused by unsafe water, inadequate sanitation, and poor hygiene practices." Biocides play a vital role in water treatment by eliminating harmful bacteria and viruses. As the global population continues to grow, the demand for clean water will increase, providing a significant opportunity for the biocides market.
Challenges
Impact of Russia-Ukraine War:
The Russia-Ukraine war has disrupted the biocides market's supply chain, leading to significant challenges for manufacturers and suppliers. Ukraine, being a major producer of biocides, has experienced disruptions in production due to the conflict. This has resulted in a decrease in the availability of biocides, causing supply shortages and price fluctuations. Additionally, the conflict has also impacted transportation routes, making it difficult for biocides to reach their intended destinations efficiently. The war has also influenced market demand and consumer behavior within the biocides industry. Uncertainty and instability caused by the conflict have led to a decrease in consumer confidence, resulting in reduced demand for biocides. Industries such as agriculture and healthcare, which heavily rely on biocides for pest control and disinfection, have been particularly affected. This shift in demand has forced industry players to reassess their strategies and adapt to the changing market dynamics.
Impact of Recession:
During economic downturns, the biocides market experiences a decline in demand due to reduced consumer spending and decreased industrial activities. This downturn is primarily attributed to the contraction of end-use industries such as water treatment, healthcare, and agriculture. As a result, the biocides market witnesses a decline in sales and revenue, leading to financial strain for companies operating within this sector. Furthermore, the economic downturn may lead to increased price sensitivity among consumers, prompting them to seek cheaper alternatives or reduce their overall consumption of biocides. This intensifies competition within the market, forcing companies to lower their prices and potentially compromise their profit margins.
Market Segmentation
By Product
By End-Use
Water Treatment

Personal care

Wood Preservation

Oil & Gas

Fuels

Pulp and Paper

Boilers

Cleaning Products

Plastics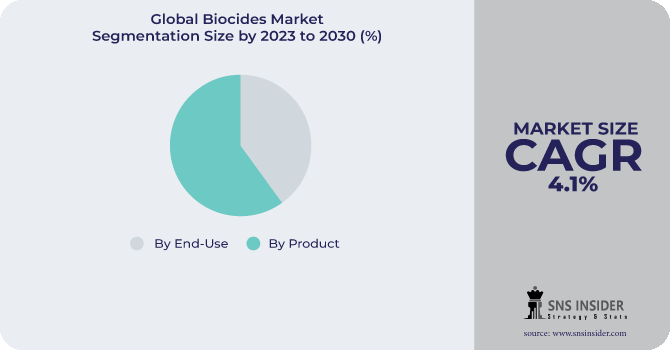 Get Customized Report as per your Business Requirement - Request For Customized Report
Regional Analysis
Asia Pacific dominated the biocides market with the highest revenue share of about 37% in 2022 owing to the region's robust economic growth and rapid industrialization which have fueled the demand for biocides across various sectors. Industries such as agriculture, healthcare, water treatment, and consumer goods heavily rely on biocides to combat microbial threats and ensure the safety and quality of their products. Moreover, the Asia Pacific region boasts a vast population, which necessitates stringent measures to maintain public health and hygiene. Biocides play a crucial role in controlling the spread of diseases, preserving food and water quality, and safeguarding public spaces.
Globally, there are still 600 million children who lack access to safely managed drinking water. Additionally, 1.2 billion children lack access to safely managed sanitation, while around 690 million lack basic hygiene services. In the East Asia and Pacific region, UNICEF is actively working to integrate climate resilience into its water, sanitation, and hygiene (WASH) programs. In 2022, UNICEF's dedicated efforts resulted in significant improvements in access to safe drinking water for over 487,000 individuals. Furthermore, they successfully provided basic sanitation services, with a specific focus on climate resilience, to over 287,000 people. This increasing awareness and emphasis on health and sanitation have further propelled the demand for biocides in the region.
Additionally, favorable government regulations and policies have played a pivotal role in fostering the growth of the biocides market in the Asia Pacific. Governments have recognized the importance of biocides in ensuring public health and safety, leading to supportive measures such as streamlined registration processes and increased investments in research and development.
North America is expected to grow significantly in the biocides market during the forecast period. This is attributed to the increasing awareness regarding the importance of hygiene and sanitation across various industries, such as healthcare, water treatment, and food processing which has led to a surge in the demand for biocides. According to the Centers for Disease Control and Prevention (CDC), approximately 7.2 million Americans fall ill each year due to waterborne diseases. These chemical substances play a crucial role in preventing the growth of harmful microorganisms, thereby ensuring the safety and well-being of individuals. Furthermore, the stringent regulations imposed by regulatory bodies, such as the Environmental Protection Agency (EPA) and the Food and Drug Administration (FDA), have necessitated the use of biocides in various applications. These regulations aim to safeguard public health and the environment by ensuring the effective control of pathogens and pests.
Moreover, the growing population and urbanization in North America have resulted in increased construction activities, leading to a rise in the demand for biocides in the construction industry. Biocides are utilized in paints, coatings, and adhesives to prevent the growth of mold, fungi, and bacteria, thereby enhancing the durability and longevity of structures.
REGIONAL COVERAGE:
North America
Europe
Eastern Europe

Poland

Romania

Hungary

Turkey

Rest of Eastern Europe

Western Europe

Germany

France

UK

Italy

Spain

Netherlands

Switzerland

Austria

Rest of Western Europe
Asia Pacific
China

India

Japan

South Korea

Vietnam

Singapore

Australia

Rest of Asia Pacific
Middle East & Africa
Middle East

UAE

Egypt

Saudi Arabia

Qatar

Rest of the Middle East

Africa

Nigeria

South Africa

Rest of Africa
Latin America
Brazil

Argentina

Colombia

Rest of Latin America
Key Players
The major key players are BASF SE, Solvay SA, Chemtreat Inc., Veolia Group, Lanxess AG, Lubrizol, Troy Corp., Shanghai Zhongxin Yuxiang Chemicals Co. Ltd., Hubei Jinghong Chemicals Co. Ltd., Wuxi Honor Shine Chemical Co. Ltd., Finoric LLC, and other key players mentioned in the final report.
Solvay SA-Company Financial Analysis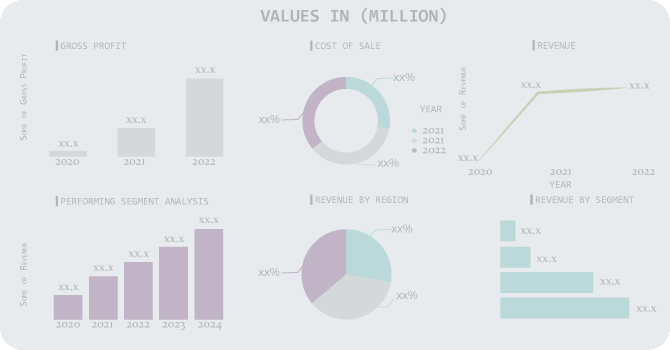 Recent Development:
In Sept 2022, BASF announced an innovation partnership with RiKarbon, focusing on the development of emollients derived from bio-waste. This collaboration aims to revolutionize the cosmetics industry by providing sustainable and eco-friendly alternatives.

In Jan 2022, Arxada, a renowned global specialty chemicals business successfully completed its merger with Troy Corporation, a world-leading provider of microbial control solutions and performance additives.

In March 2021, LANXESS, a prominent player in the specialty chemicals sector successfully finalized the acquisition of INTACE SAS, a distinguished French company. INTACE SAS specializes in manufacturing specialty fungicides specifically designed for the packaging industry.
Biocides Market Report Scope:
Report Attributes
Details
Market Size in 2022
US$ 9.1 Bn
Market Size by 2030
US$ 12.55 Bn
CAGR
CAGR of 4.1 % From 2023 to 2030
Base Year
2022
Forecast Period
2023-2030
Historical Data
2019-2021
Report Scope & Coverage
Market Size, Segments Analysis, Competitive Landscape, Regional Analysis, DROC & SWOT Analysis, Forecast Outlook
Key Segments
• By Product (Halogen Compounds, Organosulfur, Metallic Compounds, Quaternary Ammonium Compounds, Nitrogen, Organic acids, Phenolic, and Glutaraldehyde)
• By End-use (Water Treatment, Personal care, Wood Preservation, Food & Beverage, Oil & Gas, Fuels, Pulp and Paper, Boilers, Cleaning Products, Paints and coatings, HVAC, and Plastics)
Regional Analysis/Coverage
North America (US, Canada, Mexico), Europe (Eastern Europe [Poland, Romania, Hungary, Turkey, Rest of Eastern Europe] Western Europe] Germany, France, UK, Italy, Spain, Netherlands, Switzerland, Austria, Rest of Western Europe]), Asia Pacific (China, India, Japan, South Korea, Vietnam, Singapore, Australia, Rest of Asia Pacific), Middle East & Africa (Middle East [UAE, Egypt, Saudi Arabia, Qatar, Rest of Middle East], Africa [Nigeria, South Africa, Rest of Africa], Latin America (Brazil, Argentina, Colombia Rest of Latin America)
Company Profiles
BASF SE, Solvay SA, Chemtreat Inc., Veolia Group, Lanxess AG, Lubrizol, Troy Corp., Shanghai Zhongxin Yuxiang Chemicals Co. Ltd., Hubei Jinghong Chemicals Co. Ltd., Wuxi Honor Shine Chemical Co. Ltd., Finoric LLC
Key Drivers
• Increasing demand for biocides from various industries
• Rising awareness regarding the importance of hygiene and sanitation, especially in the wake of the COVID-19 pandemic
Market Restraints
• Growing concerns regarding the environmental impact of biocides