Report Scope & Overview:
The Biodiesel Market size was valued at USD 33.24 billion in 2022 and is expected to grow to USD 72.29 billion by 2030 and grow at a CAGR of 10.2% over the forecast period of 2023-2030.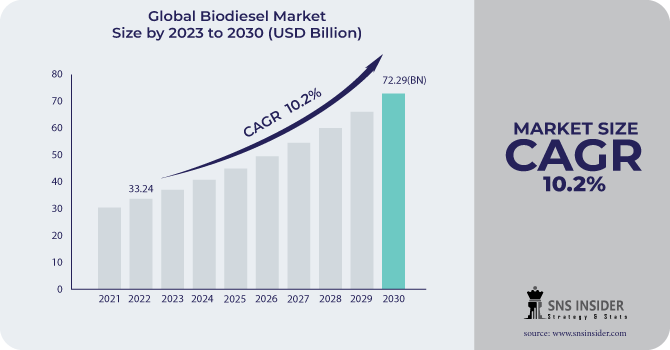 To get more information on Biodiesel Market - Request Sample Report
Biodiesel is a renewable and environmentally friendly alternative fuel derived from natural sources such as vegetable oils or animal fats. It is produced through a process called transesterification, which involves chemically reacting these feedstocks with an alcohol, typically methanol or ethanol, in the presence of a catalyst. The resulting biodiesel has several advantages over traditional petroleum-based diesel fuel. Firstly, it is biodegradable, meaning it can be broken down by natural processes, reducing its impact on the environment. Additionally, biodiesel emits fewer greenhouse gases during combustion, contributing to a reduction in air pollution and mitigating climate change. Moreover, biodiesel has a higher cetane rating than regular diesel, which means it ignites more easily and burns more efficiently. This leads to improved engine performance, reduced engine wear, and increased fuel economy. Biodiesel can be used in existing diesel engines without any modifications, making it a convenient and accessible alternative fuel option. Furthermore, the production of biodiesel promotes agricultural diversification and rural development. It provides an additional market for farmers, as the feedstocks used in its production can be sourced locally. This not only supports local economies but also reduces dependence on imported fossil fuels.
The biodiesel market is driven by the increasing demand for environmentally friendly energy sources and the need to reduce greenhouse gas emissions. It can be used as a direct replacement for petroleum diesel or blended with it in various proportions. This versatility makes biodiesel an attractive option for both individual consumers and large-scale industries. The biodiesel market is witnessing significant growth due to several factors. Firstly, governments around the world are implementing policies and regulations to promote the use of renewable energy sources and reduce dependence on fossil fuels. Secondly, the increasing awareness of the environmental impact of fossil fuels has led to a shift in consumer preferences towards cleaner and greener alternatives. Biodiesel, being a renewable and biodegradable fuel, offers a sustainable solution to reduce carbon emissions and mitigate climate change. Furthermore, the agricultural sector plays a crucial role in the biodiesel market. The cultivation of feedstock crops for biodiesel production provides an additional source of income for farmers and contributes to rural development. This aspect of the market has a positive socio-economic impact, creating employment opportunities and supporting local economies.
Market Dynamics
Drivers
Increasing global demand for renewable and sustainable energy sources

Growing concern about greenhouse gas emission

Growing demand for biodiesel over traditional fossil fuels
The growing demand for biodiesel as an alternative to traditional fossil fuels is the primary driving force behind the biodiesel market. In recent years, there has been a significant shift in global energy consumption patterns, with an increasing emphasis on sustainable and environmentally friendly solutions. Biodiesel, derived from renewable sources such as vegetable oils or animal fats, has emerged as a promising substitute for conventional fossil fuels like gasoline and diesel. One of the key factors propelling the biodiesel market is the urgent need to reduce greenhouse gas emissions and combat climate change. Unlike fossil fuels, biodiesel has a significantly lower carbon footprint, as it releases fewer harmful pollutants into the atmosphere when burned. This makes it an attractive option for governments, industries, and individuals striving to meet their sustainability goals and contribute to a cleaner environment. Moreover, biodiesel offers several other advantages over traditional fuels. It is biodegradable, non-toxic, and poses minimal risk to soil and water resources. Additionally, biodiesel can be produced domestically, reducing dependence on foreign oil imports and enhancing energy security for nations.
Restrain
Fluctuating prices of raw materials

Lack of infrastructure for biodiesel distribution
Opportunities
Increasing awareness about the environmental impact of fossil fuels

Increasing demand for biodiesel in the automotive industry

Exploration of alternative feedstocks, such as algae and waste oils
The increasing demand for biodiesel in the automotive industry presents significant opportunities for the biodiesel market. The automotive industry is witnessing a surge in the need for biodiesel. This alternative fuel has gained traction due to its potential to reduce greenhouse gas emissions and dependence on fossil fuels. As a result, the biodiesel market is experiencing a remarkable growth trajectory. The automotive industry is recognizing the potential of biodiesel as a viable alternative. Many automobile manufacturers are investing in research and development to optimize engines and vehicles for biodiesel use. This not only enhances the performance and efficiency of vehicles but also expands the market for biodiesel.
Challenges
Impact of Russia-Ukraine War:
The Russia-Ukraine war has disrupted the supply chain of biodiesel, leading to a decrease in production and availability. Ukraine, being a major producer of biodiesel, has experienced significant setbacks due to the conflict. The destruction of infrastructure, such as refineries and transportation networks, has severely hampered the country's ability to meet demand. Consequently, the global biodiesel market has witnessed a decline in supply, resulting in higher prices and limited availability. The conflict has also caused a shift in trade patterns within the biodiesel market. With Ukraine's production capabilities compromised, other biodiesel-producing countries have stepped in to fill the gap. This has led to an increase in exports from countries such as Argentina, Brazil, and the United States. As a result, these nations have experienced a surge in demand for their biodiesel products, presenting them with an opportunity to expand their market share.
Impact of Recession:
One of the primary consequences of the recession has been a decline in overall fuel consumption. As individuals and businesses reduced their budgets, the demand for biodiesel decreased significantly. This reduced demand has resulted in excess supply and a subsequent drop in prices, negatively affecting the profitability of biodiesel producers. During a recession, financial institutions become more cautious about lending, making it challenging for biodiesel companies to secure the necessary capital for expansion or even to maintain their operations. This lack of access to capital has hindered the growth and development of the biodiesel market.
Market segmentation
By Feedstock
Vegetable Oils

Soybean Oil

Canola Oil

Corn Oil

Palm Oil

Others

Animal Fats

White Grease & Lard

Poultry

Tallow

Others
By Production Technology
Trans-esterification

Pyrolysis

Micro-emulsification

Others
By Blend
By Application
Power Generation

Fuel

Automotive

Marine

Agriculture

Others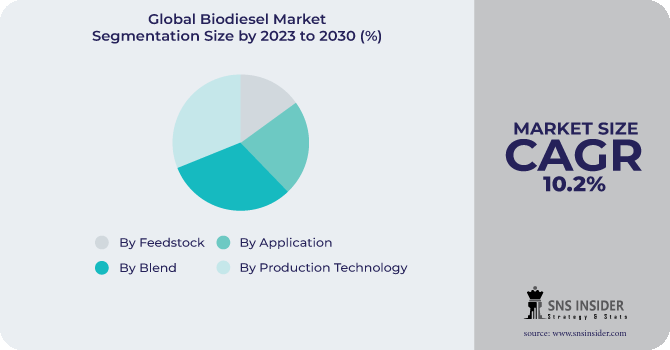 To Get Customized Report as per your Business Requirement - Request For Customized Report
Regional Analysis
Europe dominated the biodiesel market with a revenue share of about 49.26% in 2022 and is expected to grow with a moderate CAGR during the forecast period. European Union (EU) has implemented stringent regulations and policies aimed at reducing greenhouse gas emissions and promoting sustainable energy alternatives. These measures have created a favorable environment for the growth of the biodiesel industry. European countries have embraced the concept of reducing their reliance on fossil fuels, leading to a substantial increase in the demand for biodiesel. Moreover, Europe's well-established infrastructure and distribution networks have played a pivotal role in consolidating its dominance in the biodiesel market. The continent boasts an extensive network of refineries, storage facilities, and transportation systems, facilitating the efficient production, storage, and distribution of biodiesel. This robust infrastructure has not only ensured a steady supply of biodiesel but has also contributed to its widespread availability and accessibility.
The Asia Pacific region is estimated to grow with the highest CAGR in the biodiesel market during the forecast period. This is owing to the increasing demand for renewable energy sources, government initiatives promoting the use of biodiesel, and the region's abundant availability of feedstock for biodiesel production. One of the key drivers behind the growth of the biodiesel market in the Asia Pacific region is the rising demand for renewable energy sources. As concerns about climate change and environmental sustainability continue to escalate, there is a growing need to reduce greenhouse gas emissions and dependence on fossil fuels. Biodiesel, being a renewable and cleaner-burning fuel, is gaining traction as an alternative to conventional diesel. Furthermore, governments across the Asia Pacific region are actively promoting the use of biodiesel through various policies and incentives. These initiatives aim to reduce the region's reliance on imported fossil fuels, enhance energy security, and mitigate environmental pollution. Subsidies, tax incentives, and mandates for blending biodiesel with conventional diesel are some of the measures implemented to encourage the adoption of biodiesel. Additionally, the Asia Pacific region benefits from its abundant availability of feedstock for biodiesel production. The region boasts a significant agricultural sector, which provides ample raw materials such as palm oil, soybean oil, and rapeseed oil for biodiesel production. This availability of feedstock ensures a steady supply of biodiesel, supporting the market's growth in the region.
REGIONAL COVERAGE:
North America

Europe

Germany

UK

France

Italy

Spain

The Netherlands

Rest of Europe

Asia-Pacific

Japan

south Korea

China

India

Australia

Rest of Asia-Pacific

The Middle East & Africa

Latin America

Brazil

Argentina

Rest of Latin America
Key Players
The major key players are Archer Daniels Midland Company, Renewable Biofuels, Inc., TerraVia Holdings, Inc., Manuelita S.A., FutureFuel Corp., Eco diesel Colombia S.A., Ag Processing, Inc., Wilmar International Ltd., Cargill, Inc., Munzer Bioindustrie GmbH, and other key players mentioned in the final report.
Recent Development:
In June 2022, in a strategic effort to curb greenhouse gas emissions and foster the development of circular fuel alternatives, Cargill successfully inaugurated its advanced biodiesel facility in Ghent, Belgium. This plant is designed to transform waste oils and residues into sustainable renewable fuels.
Biodiesel Market Report Scope:
Report Attributes
Details
Market Size in 2022
US$ 33.24 Bn
Market Size by 2030
US$ 72.29 Bn
CAGR
CAGR of 10.2 % From 2023 to 2030
Base Year
2022
Forecast Period
2023-2030
Historical Data
2020-2021
Report Scope & Coverage
Market Size, Segments Analysis, Competitive Landscape, Regional Analysis, DROC & SWOT Analysis, Forecast Outlook
Key Segments
• By Feedstock (Vegetable Oils and Animal Fats)
• By Production Technology (Trans-esterification, Pyrolysis, Micro-emulsification, and Others)
• By Blend (B100, B20, B10, and B5)
• By Application (Power Generation, Fuel, and Others)
Regional Analysis/Coverage
North America (US, Canada, Mexico), Europe (Eastern Europe [Poland, Romania, Hungary, Turkey, Rest of Eastern Europe] Western Europe] Germany, France, UK, Italy, Spain, Netherlands, Switzerland, Austria, Rest of Western Europe]), Asia Pacific (China, India, Japan, South Korea, Vietnam, Singapore, Australia, Rest of Asia Pacific), Middle East & Africa (Middle East [UAE, Egypt, Saudi Arabia, Qatar, Rest of Middle East], Africa [Nigeria, South Africa, Rest of Africa]), Latin America (Brazil, Argentina, Colombia Rest of Latin America)
Company Profiles
Archer Daniels Midland Company, Renewable Biofuels, Inc., TerraVia Holdings, Inc., Manuelita S.A., FutureFuel Corp., Eco diesel Colombia S.A., Ag Processing, Inc., Wilmar International Ltd., Cargill, Inc., Munzer Bioindustrie GmbH
Key Drivers
• Increasing global demand for renewable and sustainable energy sources
• Growing concern about greenhouse gas emission
• Growing demand for biodiesel over traditional fossil fuels
Market Opportunities
• Increasing awareness about the environmental impact of fossil fuels
• Increasing demand for biodiesel in the automotive industry
• Exploration of alternative feedstocks, such as algae and waste oils