REPORT SCOPE & OVERVIEW
The Biofertilizers Market size was USD 3 billion in 2022 and is expected to Reach USD 6.81 billion by 2030 and grow at a CAGR of 10.8 % over the forecast period of 2023-2030.
Biofertilizers are substances that contain living microorganisms that can improve plant growth by providing nutrients or stimulating plant growth. Based on product type it is segmented into Nitrogen-fixing biofertilizers convert atmospheric nitrogen into a form usable by plants. Some examples are Rhizobium bacteria form a relationship with the roots of legumes such as peas, beans, and lentils. It fixes nitrogen in these plants' root nodules. Azotobacter bacteria are free-living bacteria that can fix nitrogen in the soil. It is less effective than Rhizobium, but it can be employed in crops other than legumes. Azospirillum bacteria populate the rhizosphere, the region of soil surrounding plant roots. It fixes nitrogen and also creates chemicals that promote plant development. Rhizobium is the dominant microorganism wing to high crop yields.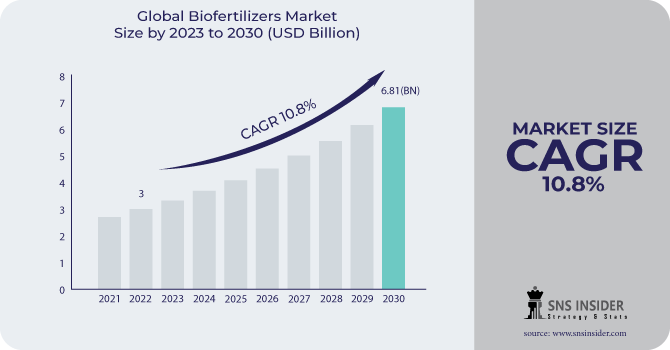 Get E-PDF Sample Report on Biofertilizers Market - Request Sample Report
Phosphorus-solubilizing biofertilizers dissolve phosphorus, increasing its availability to plants. Some examples are Phosphate-solubilizing bacteria (PSB) are bacteria that create organic acids that dissolve phosphorus from insoluble rocks and minerals. Potassium-mobilizing biofertilizers increase the availability of potassium to plants. These are some examples Bacillus subtilis and Pseudomonas fluorescens are both bacteria.
Seed treatment is the application of biofertilizers to seeds before planting. This helps to improve the germination rate of seeds, protect them from diseases and pests, and improve their overall growth and development. Soil treatment is the application of biofertilizers to the soil. This helps to improve soil health, make it more fertile, and increase crop yields. Both treatments are a cost-effective way to improve crop yields and are convenient to apply.
MARKET DYNAMICS
KEY DRIVERS
Rising potential benefits of biofertilizers among Farmers

Rising government support for organic farming
Many countries have concerns about the environmental and health risks associated with the use of chemical fertilizers. They are also looking for strategies to improve food security and lower agricultural production costs. All of these objectives can be met naturally and sustainably with biofertilizers. A variety of efforts have been established by the government to encourage farmers to switch to organic farming. Subsidies, tax rebates, and technical support are among the proposals. The European Union has set a goal of lowering chemical fertilizer use by 20% by 2030. In addition, the EU promotes the use of biofertilizers and organic farming.
RESTRAIN
Biofertilizers are made from living microorganisms, which are expensive to produce. The production process also requires specialized equipment and facilities. This makes the cost of biofertilizers higher than chemical fertilizers. The high cost of biofertilizers is a major barrier to their adoption by farmers. Many farmers cannot afford to use biofertilizers, even though they are aware of the benefits. This is especially true in developing countries, where the majority of farmers are small-scale farmers.
OPPORTUNITY
Asia Pacific and Africa are major contributors to the market of biofertilizers. The population in these regions is growing rapidly, which is putting a strain on the agricultural sector. Biofertilizers can help to increase crop yields and meet the demand for food. Governments in these regions are providing support for the use of biofertilizers. They are providing subsidies to farmers who use biofertilizers and they are also investing in research and development. Over the last few decades, Africa has seen active conventional farming, which has used fertilizers to deliver crucial plant nutrients to the soil. The overuse of chemical fertilizers has harmed the condition of the soil and key nutrients.
CHALLENGES
Unfavorable climate conditions

Environment concerns and technical constraints
Biofertilizers have a short shelf life and are prone to contamination. When exposed to high temperatures, the microorganisms used as biofertilizers died. The primary challenge with agricultural inoculation technology is the persistence of microorganisms during storage; other difficulties revolve around several factors such as culture medium, the physiological condition of the microorganisms throughout the dehydration process, preservation, maintenance, and rate of drying. Heavy metals and insecticides can destroy the microorganisms in biofertilizers. Water is required for biofertilizers to be effective, therefore water scarcity may limit their use.
IMPACT OF RUSSIAN UKRAINE WAR
The biofertilizer segment is projected to be the most impacted by agricultural inputs as a result of the Russia-Ukraine conflict. The impact of war on food, gasoline, and fertilizer prices is a major source of concern for global poverty and food insecurity. Also, it has impacted biofertilizer exports from Russia and Ukraine, resulting in higher pricing and biofertilizer shortages. Since the start of the war, the price of biofertilizers has risen by 20%. Higher biofertilizers and food prices are putting constraints on farmers and consumers, as well as having a detrimental influence on the global economy.
IMPACT OF ONGOING RECESSION
Biofertilizer prices are projected to rise during the recession due to product shortages and rising production costs. However, downstream demand is volatile, and export demand remains strong, placing biofertilizer manufacturers under even more pressure in 2020. Global food and biofertilizer costs climbed sharply in the first half of 2022, owing mostly to the effects of the Ukraine conflict and Russian sanctions. Other issues, such as biofertilizer export limits, exacerbated worldwide market disruptions, in addition to current supply chain difficulties caused by Covid-19. The worldwide crisis that followed heightened concerns about the effects of higher prices for commodities worldwide on poor countries, particularly global hunger and food insecurity.
MARKET SEGMENTATION
KEY MARKET SEGMENTS
By Product
Nitrogen Fixing

Phosphate Solubilizing

Others
By Crop Type
Row Crops

Horticultural Crops

Cash Crops
By Application
Seed Treatment

Soil treatment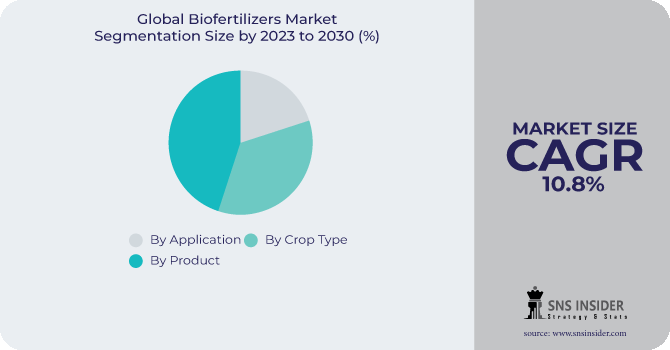 Get Customized Report as Per Your Business Requirement - Request For Customized Report
REGIONAL ANALYSIS
The North America Market is expected to develop at a CAGR of 13% from 2023 to 2030. The largest and fastest-growing market is the United States, followed by Canada. The major reasons propelling the market include favorable government laws, an easy registration process, and a rising number of organic farms. Sinorhizobium, Azorhizobium, Allorhizobium, and others are the most common genera utilized as biofertilizers in North America. According to The World of Organic Agriculture, nearly 3.5 million hectares of farmland in North America will be managed organically by 2021. There were 2.3 million in the United States and 1.2 million in Canada.
During the forecast period of 2023 to 2030, the Europe Market is estimated to develop at a CAGR of 11.9%. Oceania (9.7% of total agricultural land) accounted for 1.6% of the world's agricultural land in 2021. The European Union is constantly supporting biofertilizers since they are cost-effective, recommending farmers optimize the application of chemical fertilizers or replace them entirely or partially with eco-friendly fertilizers to achieve greater economic returns.
The Asia-Pacific market is predicted to grow at a 10.8% CAGR during the forecast period. China is the largest consumer of biofertilizers, followed by India and Japan. The biofertilizers market in India is predicted to rise, owing to increased farmer awareness of the benefits of biofertilizers on soil health, as well as the central government's attempt to organize the country's biofertilizers industry by bringing it under the authority of fertilizer laws.
The Middle East and Africa are expected to develop at a CAGR of 6.2%. Government policies that encourage the use of biofertilizers. Lack of biofertilizer adoption due to lack of awareness and reliance on agricultural imports is limiting the Middle East and Africa biofertilizers market.
REGIONAL COVERAGE
North America
Europe
Eastern Europe

Poland

Romania

Hungary

Turkey

Rest of Eastern Europe

Western Europe

Germany

France

UK

Italy

Spain

Netherlands

Switzerland

Austria

Rest of Western Europe
Asia Pacific
China

India

Japan

South Korea

Vietnam

Singapore

Australia

Rest of Asia Pacific
Middle East & Africa
Middle East

UAE

Egypt

Saudi Arabia

Qatar

Rest of Middle East

Africa

Nigeria

South Africa

Rest of Africa
Latin America
Brazil

Argentina

Colombia

Rest of Latin America
KEY PLAYERS
Indian Farmers Fertiliser Cooperative Ltd, CBF China Biofertilizers, Koppert Biological Systems Inc., Kiwa Bio-Tech Products Group Corp, T. Stanes and Company Ltd, Symborg S.L., Lallemand Inc., Fertilizers USA LLC, Antibiotice S.A., Novozymes A/S, Sigma Agri-Science, LLC, Biomax, Marcos N.P.K., Wilson Chemical Solutions and other key players are mentioned in the final report.
Indian Farmers Fertiliser Cooperative Ltd-Company Financial Analysis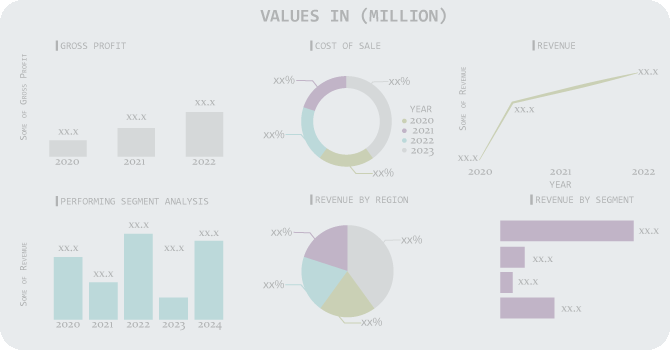 RECENT DEVELOPMENTS
In 2023 Wilson Chemical Solutions collaborated with Phinite company to create a new technique that converts manure to regenerative biofertilizer. This certified organic solution performs better than synthetic fertilizer, assisting animal farms in increasing profitability and eliminating difficult waste disposal issues, as well as farmers in improving soil health.
In 2023 Marcos said that the government will make biofertilizers available to Filipino farmers to reduce their reliance on expensive, imported, petroleum-based fertilizers.
In 2022 Koppert Biological Systems Inc plans to invest in three new manufacturing units in Brazil. The new formulation unit will generate the whole microbiological range, including liquid and solid formulations based on fungi, viruses, and bacteria.
Biofertilizers Market Report Scope:
Report Attributes
Details
Market Size in 2022
US$ 3 Billion
Market Size by 2030
US$ 6.81 Billion
CAGR
CAGR of 10.8 % From 2023 to 2030
Base Year
2022
Forecast Period
2023-2030
Historical Data
2019-2021
Report Scope & Coverage
Market Size, Segments Analysis, Competitive Landscape, Regional Analysis, DROC & SWOT Analysis, Forecast Outlook
Key Segments
• By Product (Nitrogen Fixing, Phosphate Solubilizing, Others)
• By Crop Type (Row Crops, Horticultural Crops, Cash Crops)
• By Application (Seed Treatment, Soil treatment)
Regional Analysis/Coverage
North America (US, Canada, Mexico), Europe (Eastern Europe [Poland, Romania, Hungary, Turkey, Rest of Eastern Europe] Western Europe] Germany, France, UK, Italy, Spain, Netherlands, Switzerland, Austria, Rest of Western Europe]), Asia Pacific (China, India, Japan, South Korea, Vietnam, Singapore, Australia, Rest of Asia Pacific), Middle East & Africa (Middle East [UAE, Egypt, Saudi Arabia, Qatar, Rest of Middle East], Africa [Nigeria, South Africa, Rest of Africa], Latin America (Brazil, Argentina, Colombia Rest of Latin America)
Company Profiles
Indian Farmers Fertiliser Cooperative Ltd, CBF China Biofertilizers, Koppert Biological Systems Inc., Kiwa Bio-Tech Products Group Corp, T. Stanes and Company Ltd, Symborg S.L., Lallemand Inc., Fertilizers USA LLC, Antibiotice S.A., Novozymes A/S, Sigma Agri-Science, LLC, Biomax, Marcos N.P.K., Wilson Chemical Solutions
Key Drivers
• Rising potential benefits of biofertilizers among Farmers
• Rising government support for organic farming
Market Opportunity
• Adoption of precision farming
• Untapped market Asia Pacific and Africa