Report Scope & Overview:
Active Ingredients Market Size was valued at USD 235.48 billion in 2022, and expected to reach USD 383.86 billion by 2030, and grow at a CAGR of 6.3% over the forecast period 2023-2030.
Technological developments are critical because improvements in manufacturing methods and analytical techniques improve the efficiency and quality of active ingredient production. Furthermore, the growing global population and improved healthcare awareness drive up demand for pharmaceuticals and personal care goods, which drives up demand for active ingredients. Regulatory changes and quality standards have an impact on the market as well, as severe requirements force manufacturers to enhance formulations and follow safety criteria, the growing popularity of natural and organic products has increased demand for plant-based and naturally derived active substances. the biopharmaceutical sector is booming, as is research into innovative medicines.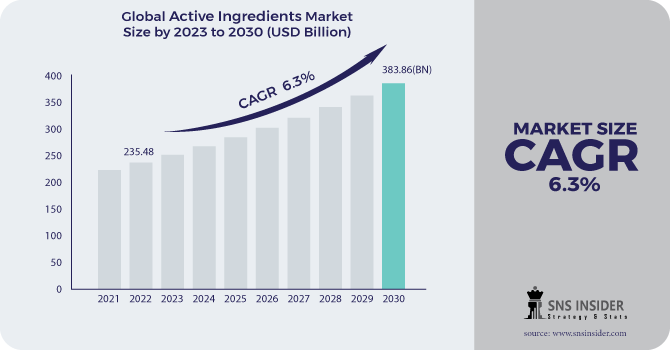 Get More Information on Active Ingredients Market - Request Sample Report
The Active Ingredients Market has to deal with a significant restraints that may have an impact on its growth and activities. Stringent regulatory clearances and compliance criteria can create entry hurdles for new players, making it difficult to introduce new active ingredients to the market. Furthermore, the high expenditures of research and development, along with the complexity of manufacturing processes, might limit innovation and impede market expansion. Disruptions in the supply chain, such as raw material shortages or conflicts, can lead to insecurity in the availability of active ingredients, reducing manufacturers' capacity to meet demand.
Market Dynamics:
Drivers:
Increasing demand for sun protection, skin whitening, and anti-aging products

Extensive use in the production of drugs
The extensive utilization of certain ingredients in pharmaceutical drug production signifies a compelling market driver. This prevalence of use underscores the consistent demand for these active ingredients within the pharmaceutical sector. It reflects the industry's need for reliable and essential components, which, in turn, contributes to the sustained growth and relevance of these ingredients within the market.
Restraints:
Manufacturers to align their product offerings with changing consumer preferences, particularly towards natural or sustainable ingredients. This requires significant adjustments in formulation, sourcing, and production processes, which can be challenging and resource-intensive. Manufacturers must invest in research, development, and sustainability initiatives to meet these evolving demands while ensuring product efficacy and compliance with regulatory standards. This can strain resources and necessitate strategic planning to successfully adapt to shifting consumer preferences.
Challenge:
High Manufacturing Cost

Market Competition
In the Active Ingredients Market, fierce competition among manufacturers often results in price wars as companies vie for market share. These price battles can erode profit margins for all players involved, making it challenging to maintain profitability. To thrive in this competitive landscape, companies must focus on differentiation, innovation, and cost-efficiency strategies.
Opportunity:
Growing Demand for Ingredients with Multiple Uses

Environmentally hazardous chemicals in personal care products are a worry
Multiple uses lie in the potential for market expansion and increased revenue streams. Manufacturers can create versatile ingredients that cater to a wide range of applications across industries, such as pharmaceuticals, cosmetics, and food. This diversification can lead to reduced reliance on a single market segment, lower risk exposure, and the ability to tap into new customer bases. By developing multifunctional ingredients, companies can position themselves to meet evolving market demands and enhance their competitive advantage.
Impact of COVID-19:
The COVID-19 pandemic had a positive effect on the market for active pharmaceutical components since the big producers produced enormous quantities of chemicals to meet the demand for COVID-19 treatment. The many COVID-19 strains and cases of black fungus have led to the development of a number of medications. Drug companies have changed their business strategies in response to the COVID-19 epidemic to concentrate on a bigger patient base. For instance, India's output of hydroxychloroquine surged as a result of the US's request to import it as a therapy for COVID-19. Additionally, the global research and development for the COVID-19 vaccine increased the demand for a variety of active components.
IMPACT OF RUSSIA UKRAINE WAR
Russia's involvement in a war would have a major and several impact on the active ingredient market. Because Russia is a key worldwide player in a variety of industries, including pharmaceuticals and chemicals, Ukraine and Russia produce 80% of all screening chemicals used in medication research and development. Any war might disrupt supply chains and trading routes for active substances used in the production of medications and products all over the world. Before the war, chemical items accounted for 9% of all industrial exports from Ukraine.
This disruption would almost certainly result in shortages, higher pricing, and probable quality issues in the pharmaceutical and consumer goods sectors. Furthermore, geopolitical tensions and uncertainty may prevent investments and cooperation, further straining the active ingredient market's stability.
IMPACT OF RECESSION
The impact of the recession on the Active Ingredients Market would be significant and negative. Economic downturns often result in lower consumer spending and demand for a variety of products, including pharmaceuticals and consumer goods. Following an excellent 2022 in which chemical production increased by 3.9%, predicts that output will fall by 1.2% in 2023. This would almost certainly result in a decline in active ingredient production and sales, impacting manufacturers' revenues and profitability. Furthermore, corporations may reduce their investments in research and development, thereby impeding market innovation. Overall, a recession would create a difficult environment for the Active Ingredients Market, with weaker demand, supply chain disruptions, and probable shifts in industry dynamics.
Market Segment:
By End Use
Regional Analysis:
North America: North America dominating market by highest share, the market in North America is primarily driven by the rising prevalence of chronic diseases that are preventable, the government's increased emphasis on generic medications, the need for biologics and speciality medications, and improvements in API production technology.
Europe: Due to the expansion of the personal care and cosmetics sectors in the continent, there will likely be a significant demand for active ingredients in the European market.
Asia-Pacific: Due to the region's quick industrialization, Asia-Pacific has the fastest-growing regional market. Emerging economies like India, South Korea, Thailand, and Malaysia have the greatest growth potential. Due to the presence of agricultural countries in the region and the rising demand for agrochemicals, the Asia-Pacific active ingredients market has been consistently expanding.
REGIONAL COVERAGE
North America
Europe
Eastern Europe

Poland

Romania

Hungary

Turkey

Rest of Eastern Europe

Western Europe

Germany

France

UK

Italy

Spain

Netherlands

Switzerland

Austria

Rest of Western Europe
Asia Pacific
China

India

Japan

South Korea

Vietnam

Singapore

Australia

Rest of Asia Pacific
Middle East & Africa
Middle East

UAE

Egypt

Saudi Arabia

Qatar

Rest of Middle East

Africa

Nigeria

South Africa

Rest of Africa
Latin America
Brazil

Argentina

Colombia
Rest of Latin America
Key Players:
AkzoNobel N.V. (The Netherlands), Evonik Industries AG (Germany), Ashland (US), Clariant (Switzerland), BASF SE (Germany), Lonza (Switzerland), DuPont (US), Sumitomo Corp (Japan), FMC Corporation (US), Croda International Plc(UK), Eastman Chemical Company (US), and other players.
Evonik Industries AG (Germany)-Company Financial Analysis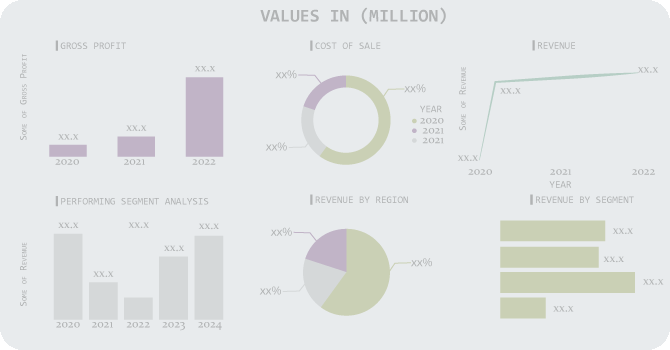 Get Customized Report as per your Business Requirement - Request For Customized Report
RECENT DEVELOPMENTS
In February 2023, Givaudan, the worldwide leader in fragrance and beauty innovation, unveiled its strategic vision for 2025, focused on delivering innovative and enhanced products to grow its Active Beauty division.

In July 2023, Teva Pharmaceuticals is contemplating the sale of its $2 billion active pharmaceutical ingredients (API) unit as part of its "Pivot to Growth" strategy.
Active Ingredients Market Report Scope:
Report Attributes
Details
Market Size in 2022
US$ 235.48 Billion
Market Size by 2030
US$ 383.36 Billion
CAGR
CAGR of 6.3% From 2023 to 2030
Base Year
2022
Forecast Period
2023-2030
Historical Data
2019-2021
Report Scope & Coverage
Market Size, Segments Analysis, Competitive Landscape, Regional Analysis, DROC & SWOT Analysis, Forecast Outlook
Key Segments
• By End Use (Personal Care & Cosmetics, Pharmaceuticals, Agrochemicals)
Regional Analysis/Coverage
North America (US, Canada, Mexico), Europe (Eastern Europe [Poland, Romania, Hungary, Turkey, Rest of Eastern Europe] Western Europe] Germany, France, UK, Italy, Spain, Netherlands, Switzerland, Austria, Rest of Western Europe]), Asia Pacific (China, India, Japan, South Korea, Vietnam, Singapore, Australia, Rest of Asia Pacific), Middle East & Africa (Middle East [UAE, Egypt, Saudi Arabia, Qatar, Rest of Middle East], Africa [Nigeria, South Africa, Rest of Africa], Latin America (Brazil, Argentina, Colombia Rest of Latin America)
Company Profiles
AkzoNobel N.V. (The Netherlands), Evonik Industries AG (Germany), Ashland (US), Clariant (Switzerland), BASF SE (Germany), Lonza (Switzerland), DuPont (US), Sumitomo Corp (Japan), FMC Corporation (US), Croda International Plc(UK), Eastman Chemical Company (US), and other players.
DRIVERS
• Increasing demand for sun protection, skin whitening, and anti-aging products.
• Extensive use in the production of drugs.
Restraints
• Regulatory limitations.
• consumer preferences and demand for natural or sustainable ingredients