REPORT SCOPE & OVERVIEW
The Connected Toys Market size was USD 7.9 billion in 2022 and is expected to Reach USD 36.0 billion by 2030 and grow at a CAGR of 20.9% over the forecast period of 2023-2030
The connected toys market is dynamic and continually evolving with technological advancements and changing consumer preferences. connected toys are becoming increasingly popular in the market, connected toys are designed to provide a more interactive and engaging play experience for children. They incorporate elements that encourage active participation and response from the child. Connected toys are often multifunctional, serving as both toys and learning tools. They may include features like games, storytelling, language learning, and interactive quizzes, expanding their appeal to children and parents alike. Many connected toys are designed with educational content and interactive features, making learning fun and engaging for children. These toys can teach various subjects, enhance problem-solving skills, and promote creativity and critical thinking. Many connected toys come with parental control features, allowing parents to monitor and manage their child's interactions with the toy and restrict access to certain functionalities or content. Some connected toys integrate AR and VR technologies to offer immersive experiences, blurring the line between physical and digital play. It has the ability to process data collected from sensors and provide feedback to the child. They can respond to the child's actions, provide guidance, and offer educational content based on the child's interactions. Connected toys often incorporate audio and visual elements, such as music, lights, and animations, to enhance the play experience and engage the child's senses. It also offers a more personalized experience for children. They can adapt to the child's preferences, learning level, and progress, providing customized content and activities. In 2022, Hasbro announced a partnership with Amazon to develop connected toys that are compatible with Amazon's Alexa voice assistant. The partnership between Hasbro and Amazon is a significant development in the connected toys market. It is a sign that the market is maturing and that major players are starting to take notice. The partnership is also a sign that voice technology is becoming increasingly important in the toy market.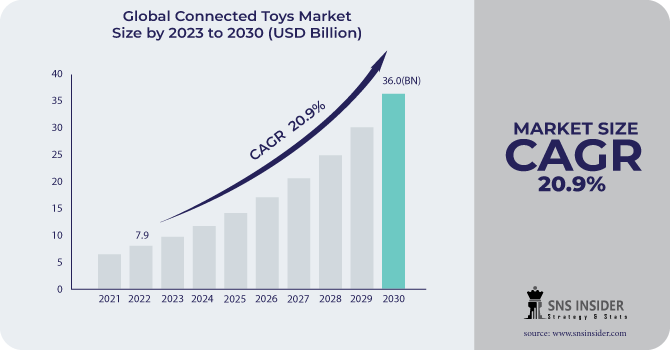 MARKET DYNAMICS
KEY DRIVERS
Innovative and Interactive Toy Products

Rising Demand for Smart Technology-based Interactive Play Kits
The development of innovative and interactive toy products is driving the growth of the connected toys market. Manufacturers are introducing new features and technologies, such as voice recognition, facial recognition, and augmented reality, to enhance the play experience and engage children.
RESTRAIN
Safety and Security Concerns

Compliance with regulations and standards can be complex and time-consuming for toy manufacturers
The market for connected toys is constrained by concerns related to safety and security. As these toys collect data about children's interactions, preferences, and usage patterns, there is a need to ensure the privacy and protection of this data. Issues such as voice recognition privacy and safety need to be addressed to build trust among consumers
OPPORTUNITY
Educational and Learning Opportunities

The integration of connected toys with technology.
Many connected toys are designed to provide educational and learning opportunities. They can teach children various subjects, such as math, science, coding, and language skills, through interactive games and activities
CHALLENGES
The global connected toys market is fairly fragmented, with many large and medium-sized players accounting for the majority of market revenue. This fragmentation can lead to intense competition and challenges in establishing market dominance.
IMPACT OF RUSSIAN UKRAINE WAR
The war has led to a number of challenges for connected toys companies, the war has disrupted the supply chains of many connected toy companies, as they rely on components and materials from Russia and Ukraine. and led to shortages of products and higher prices. and also rising costs for connected toy companies, as they have to pay more for shipping, insurance, and other expenses. This has put pressure on their margins. The geopolitical uncertainty surrounding the war has made it difficult for connected toy companies to plan for the future. This has led to some companies delaying or cancelling new product launches. the connected toys market is expected to decline in 2022. According to a report the market is expected to decline by 2.5% in 2022, after growing by 10.5% in 2021. Mattel, the world's largest toymaker, has said that the war is having a "significant impact" on its business. The company has seen a decline in sales in Russia and Ukraine, and it has also had to raise prices due to rising costs.
IMPACT OF ONGOING RECESSION
The ongoing recession is expected to have a significant impact on the connected toys market. The recession is likely to lead to a decline in sales, as consumers have less disposable income to spend on non-essential items. Additionally, the recession is likely to lead to higher prices for connected toys, as manufacturers pass on the rising costs of materials and labor. Toys "R" Us, the retail chain that sells toys, is also likely to be affected by the recession. In the first quarter of 2023, Toys "R" Us's sales of connected toys fell by 7% year-over-year. Hasbro, another major toymaker, is also likely to be affected by the recession. In the first quarter of 2023, Hasbro's sales of connected toys fell by 5% .In the United States, the toy industry is expected to decline by 2.5% in 2023, according to a report by the NPD Group. Despite the challenges, there are still some opportunities for connected toys companies in the recession. For example, connected toys can be a way for parents to keep their children entertained and engaged during the summer months, when there are fewer activities available. Additionally, connected toys can be a way for children to learn new skills and stay connected with their friends and family.
KEY MARKET SEGMENTS
By Age-Group
1-5 years

6-8 years

9-12 years

13-19 years
By Interfacing Device
Smartphones

Tablet

PCs

Laptop
By Application
By Distribution Channel
Online Stores

Supermarket

Hypermarket

Specialty Toy Shops

Other Shops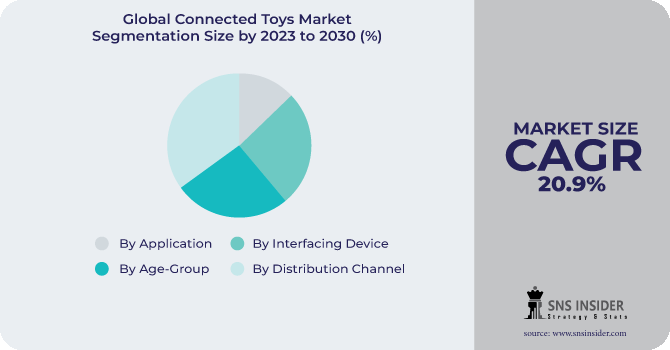 Region Coverage:
North America
Europe
Eastern Europe

Poland

Romania

Hungary

Turkey

Rest of Eastern Europe

Western Europe

Germany

France

UK

Italy

Spain

Netherlands

Switzerland

Austria

Rest of Western Europe
Asia Pacific
China

India

Japan

South Korea

Vietnam

Singapore

Australia

Rest of Asia Pacific
Middle East & Africa
Middle East

UAE

Egypt

Saudi Arabia

Qatar

Rest of Middle East

Africa

Nigeria

South Africa

Rest of Africa
Latin America
Brazil

Argentina

Colombia

Rest of Latin America
REGIONAL ANALYSIS
North America is expected to be the largest market for connected toys in 2022, with a share of 35.4%. The connected toys market in North America is relatively mature, owing to the early adoption of digital technologies and higher consumer awareness of smart toys. North America is home to some of the leading connected toy manufacturers and technology companies, resulting in a competitive market landscape. These companies often introduce innovative products to cater to the demands of tech-savvy consumers. The region has a significant number of tech-savvy parents willing to invest in educational and interactive toys for their children. The United States and Canada have strict data privacy regulations, especially concerning children's data. Toy manufacturers must comply with regulations like the Children's Online Privacy Protection Act (COPPA) in the U.S., ensuring the protection of children's data and privacy.
Asia Pacific is expected to be the second-largest market for connected toys in 2022, with a share of 30.7%. The Asia-Pacific region is one of the fastest-growing markets for connected toys. Rising disposable incomes, increased internet penetration, and a growing tech-savvy population have driven the demand for smart toys in countries like China, Japan, South Korea, and India. In the Asia-Pacific region, there is a strong emphasis on education and learning. Therefore, connected toys with educational features and content are particularly popular among parents who seek interactive and engaging tools to supplement their children's learning. The rise of e-commerce platforms has facilitated access to connected toys for consumers in remote areas and smaller cities, contributing to market growth in the region. Some countries in the Asia-Pacific region have introduced or are considering regulations related to data privacy and child safety. Manufacturers must adhere to these regulations while designing and marketing their connected toys.
KEY PLAYERS
The major key players in the Connected Toys Market are Sphero Inc., Hasbro, Mattel, DJI, Wonder Workshop, Konami Holdings Corporation, Playmobil, K'NEX Industries Inc., TOSY Robotics, WowWee Group, and other players.
RECENT DEVELOPMENTS
Mattel:
In June 2021, Mattel announced a partnership with Google to develop connected toys that use Google's AI and cloud technologies
Lego:
In 25 Feb 2020, Lego acquired Digital Bricks, a company that develops augmented reality (AR) and virtual reality (VR) experiences for Lego products. This expertise will help Lego to develop more innovative and engaging AR and VR experiences for its products. This will help Digital Bricks to reach a wider audience with its AR and VR experiences.
Connected Toys Market report scope:
Report Attributes
Details
Market Size in 2022
US$ 7.9 Bn
Market Size by 2030
US$ 36.0 Bn
CAGR
CAGR of 20.9% From 2023 to 2030
Base Year
2022
Forecast Period
2023-2030
Historical Data
2020-2021
Report Scope & Coverage
Market Size, Segments Analysis, Competitive Landscape, Regional Analysis, DROC & SWOT Analysis, Forecast Outlook
Key Segments
• By Age-Group (1-5 years 6-8 years, 9-12 years, 13-19 years)
• By Interfacing Device (Smartphones, Tablet, PCs, Laptop)
• By Application (Education, Entertainment)
• By Distribution Channel (Online Stores, Supermarket, Hypermarket, Specialty Toy Shops, Other Shops)
Regional Analysis/Coverage
North America (US, Canada, Mexico), Europe (Eastern Europe [Poland, Romania, Hungary, Turkey, Rest of Eastern Europe] Western Europe] Germany, France, UK, Italy, Spain, Netherlands, Switzerland, Austria, Rest of Western Europe]). Asia Pacific (China, India, Japan, South Korea, Vietnam, Singapore, Australia, Rest of Asia Pacific), Middle East & Africa (Middle East [UAE, Egypt, Saudi Arabia, Qatar, Rest of Middle East], Africa [Nigeria, South Africa, Rest of Africa], Latin America (Brazil, Argentina, Colombia Rest of Latin America)
Company Profiles
Sphero Inc., Hasbro, Mattel, DJI, Wonder Workshop, Konami Holdings Corporation, Playmobil, K'NEX Industries Inc., TOSY Robotics, WowWee Group
Key Drivers
• Innovative and Interactive Toy Products
• Rising Demand for Smart Technology-based Interactive Play Kits
Market Restraints
• Safety and Security Concerns
• Compliance with regulations and standards can be complex and time-consuming for toy manufacturers