REPORT SCOPE & OVERVIEW
The Conversational Systems Market size was USD 12.2 billion in 2022 and is expected to Reach USD 83.1 billion by 2030 and grow at a CAGR of 27% over the forecast period of 2023-2030
The market for conversational systems is increasing quickly and is predicted to do so in the years to come. Due to developments in natural language processing NLP and artificial intelligence AI technology, conversational systems, such as chatbots, virtual assistants, and voice-enabled gadgets, have been widely embraced in a variety of industries. Conversational systems have been adopted by businesses from a variety of sectors, including e-commerce, finance, healthcare, and telecommunications, to improve customer assistance and service. These programs can respond to consumer questions, offer immediate support, and raise general customer satisfaction. Conversational systems have been embraced by businesses as virtual agents for internal procedures like hiring new employees, providing HR support, and offering IT helpdesk services. As conversational systems enable contact centers to automate speech-enabled apps and messages for interactions between computers and humans, several contact centers are concentrating on implementing them. These technologies also interpret consumer intent in a variety of languages and respond to their inquiries appropriately. Users communicate with businesses via messaging services and speech-based assistants all over the world. As a result, traditional mobile and web apps are quickly being replaced by speech-based and messaging platforms to become the new interactive medium for interactions. The market is expected to grow rapidly in the coming years, as businesses continue to adopt conversational AI to improve their operations and customer service. Businesses are increasingly adopting conversational AI to automate tasks, improve customer service, and boost productivity. For example, a recent survey found that 70% of businesses are using or planning to use conversational AI in the next two years.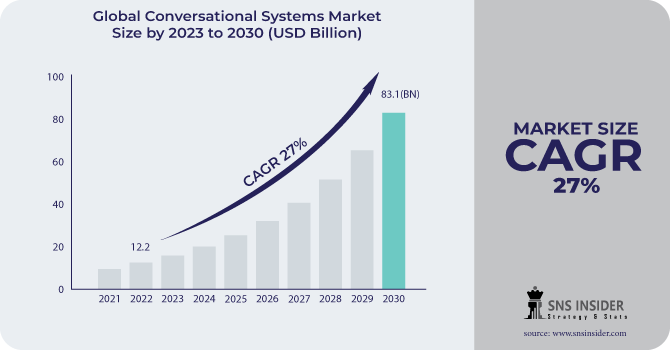 MARKET DYNAMICS
KEY DRIVERS
The increasing demand for AI-powered customer support services.

Highly advanced AI and NLP tools drive the market growth.
Conversational systems can provide businesses with a more efficient and effective way to provide customer support. This is because they can handle a wider range of customer queries than traditional customer support channels, such as phone and email.
RESTRAIN
Privacy and Data Security Issue.

Limited functionality and high cost of installation of chatbots
Conversational systems frequently handle sensitive user information and data, which raises questions regarding privacy and data security. Gaining users' trust requires ensuring that user data is managed appropriately and shielded from illegal access.
OPPORTUNITY
Voice-Enabled Devices and Smart Speakers Create Opportunity

Conversational systems provide a unique opportunity for businesses to deliver exceptional customer experiences.
Conversational systems now have many more voice-enabled gadgets and smart speakers, which is a big opportunity. By creating apps and integrations for these gadgets, consumers may communicate with AI-driven assistants in a more hands-free and natural way.
CHALLENGES
Misunderstanding and Misinterpretation

Convincing users to adopt and trust conversational systems remains a challenge
Despite advances in NLP, conversational systems are still at risk of. misunderstanding and misinterpretation, which can result in inaccurate responses or unsatisfactory user experiences. As an continuous challenges is lowering misunderstandings and raising answer accuracy.
IMPACT OF RUSSIAN UKRAINE WAR
The Russia-Ukraine war has had an impact on the conversational system market, particularly in the field of conversational AI. The war has disrupted global supply chains, led to economic sanctions on multiple countries, and caused a surge in commodity prices, all of which have affected various markets across the globe. Here are some companies in the conversational AI market that may have been affected by the war Google Inc, IBM Corporation, Amazon Web Services Inc, Artificial Solutions Holding ASH AB, Baidu Inc. like Google's revenue from its cloud computing business decreased by 8% in the first quarter of 2023, IBM's revenue from its cognitive solutions business decreased by 6% in the first quarter of 2023 .The Russian-Ukraine war has led to increased competition in the conversational system market, as companies are looking to capitalize on the increased demand for chatbots and conversational AI solutions. For example, Google, Amazon, and Microsoft are all investing heavily in conversational AI.
IMPACT OF ONGOING RECESSION
The ongoing recession is expected to have a mixed impact on the conversational system market. While it is likely to lead to decreased investment in conversational AI, it is also expected to lead to increased demand for cloud-based conversational AI solutions and customer service chatbots. Some companies are likely to decrease their investment in conversational AI, as they focus on their core operations and may not have the resources to invest in new technologies. For example, Salesforce, a multinational cloud-based customer relationship management CRM software company, reported a 20% decrease in revenue in the first quarter of 2023. while the ongoing recession is lead to increased demand for customer service chatbots. Businesses are looking for ways to reduce costs and improve customer service, and chatbots can help them to do both. For example, Live Person, a provider of cloud-based customer engagement solutions, reported a 10% increase in revenue in the first quarter of 2023. the impact of the recession on the conversational system market may vary depending on the specific company and its industry. For example, companies that are focused on customer service may be more likely to see an increase in demand for chatbots, while companies that are focused on healthcare may be more likely to see an increase in demand for conversational AI solutions.
KEY MARKET SEGMENTS
By Type
Text Assistant

Voice Assisted

Others
By Application
By Component
Platforms

Solutions

Services
By End-Use
BFSI

Healthcare

Life Sciences

Media

Entertainment

Retail,

E-commerce

Telecommunication

Hospitality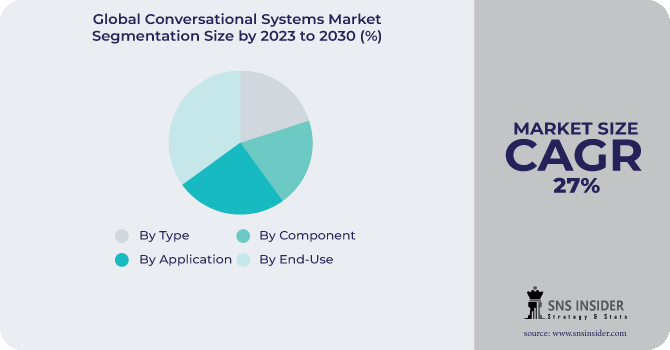 Region Coverage:
North America
Europe
Eastern Europe

Poland

Romania

Hungary

Turkey

Rest of Eastern Europe

Western Europe

Germany

France

UK

Italy

Spain

Netherlands

Switzerland

Austria

Rest of Western Europe
Asia Pacific
China

India

Japan

South Korea

Vietnam

Singapore

Australia

Rest of Asia Pacific
Middle East & Africa
Middle East

UAE

Egypt

Saudi Arabia

Qatar

Rest of Middle East

Africa

Nigeria

South Africa

Rest of Africa
Latin America
Brazil

Argentina

Colombia

Rest of Latin America
REGIONAL ANALYSIS
The North American region dominated the conversational system market worldwide in 2022 with a market share of 33.7%. The North America conversational AI market accounted for the highest market share in 2022 and is projected to maintain its dominance over the forecast period. The United States is the dominant country in the North American Conversational Systems Market, accounting for over 60% of the market share. Other key countries in the North American Conversational Systems Market include Canada, Mexico, and the United Kingdom. the presence of major international suppliers like IBM Corporation, Google LLC, Microsoft Corporation, and Amazon Web Services, Inc. is crucial to the market's adoption of conversational systems platforms. Amazon Web Services is the leading Conversational Systems provider in North America, followed by Google Cloud Platform, Microsoft Azure, IBM, and Salesforce. These providers offer a wide range of Conversational Systems services, including chatbots, virtual assistants, and natural language processing. They also have a strong track record of helping businesses adopt Conversational Systems.
Asia Pacific is anticipated to become the region with the quickest rate of growth. Over the course of the projected period, Asian nations were leading the way in adopting these technologies across various sectors. The growth can be due to growing economies like China and India adopting technology more frequently. Opportunities for market expansion in the region are anticipated to arise from rising smartphone demand in the area. In order to effectively engage customers and assist businesses in generating more leads, several small and medium-sized firms in the area have started incorporating conversational technologies into their daily operations. The APAC region has a diverse linguistic landscape, with numerous languages and dialects spoken across different countries. As a result, conversational systems in this region required robust language support and localization capabilities.
KEY PLAYERS
The major key players in the Conversational Systems Market are Amazon Web Services, Inc., Artificial Solutions, Baidu, Inc., Conversica, Inc., Google LLC, IBM Corporation, Microsoft Corporation, Nuance Communications, Inc., Oracle Corporation, SAP SE and other players.
RECENT DEVELOPMENTS
Amazon Web Services:
In March 2023, AWS launched a new partner program for conversational AI. The program is designed to help partners develop and deploy conversational AI solutions for their customers. Partners who join the program will receive access to AWS resources, training, and support.
Artificial Solutions:
In March 2023, AS partnered with Google Cloud to offer its Conversational AI solution on Google Cloud Platform. The partnership will allow AS customers to deploy its Conversational AI solution on Google Cloud and take advantage of Google Cloud's features and services.