Report Scope & Overview:
The Cosmetic Preservative Market size was valued at USD 412 million in 2022. It is expected to grow to USD 686.99 million by 2030 and grow at a CAGR of 6.6% over the forecast period of 2023-2030.
The cosmetic preservative market has experienced steady growth due to rising consumer awareness regarding the importance of product safety and hygiene. With the increasing demand for natural and organic cosmetic products, the market has witnessed a shift towards the use of preservatives derived from natural sources. This trend is driven by the growing preference for eco-friendly and sustainable ingredients. Several prominent companies dominate the cosmetic preservative market. These include global players such as Ashland Inc., BASF SE, Lonza Group Ltd., and Symrise AG. These companies invest heavily in research and development to introduce innovative and effective preservatives that meet the evolving needs of the cosmetic industry.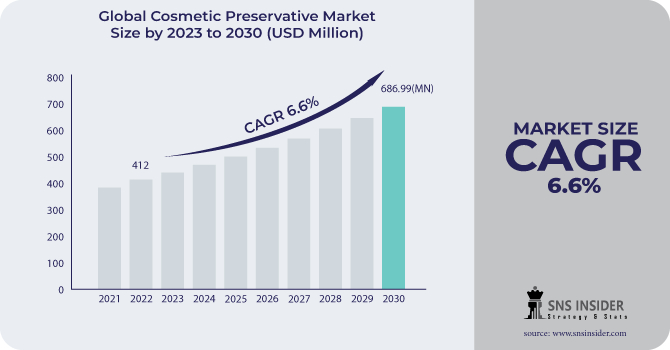 Get More Information on Cosmetic Preservative Market - Request Sample Report
The cosmetic preservative market is witnessing a trend of growing demand for multifunctional preservatives that not only provide antimicrobial properties but also offer additional benefits such as moisturization and antioxidant effects. This trend is driven by the increasing consumer demand for products that offer multiple benefits in a single formulation. Secondly, there is a rising preference for preservatives with broad-spectrum activity, capable of effectively inhibiting the growth of various microorganisms. This is particularly important as cosmetic products are exposed to a wide range of contaminants during their usage, making it crucial to ensure their safety and stability
Phenol derivatives dominated the Cosmetic Preservative Market with the largest revenue share in 2022. The increasing use of phenol derivatives, especially phenoxyethanol, in the preparation of cosmetics such as skin lighting creams & lotions, hair coloring solutions, and sunscreens is anticipated to drive the market growth from 2023-2030. Increasing demand for natural ingredients in cosmetics is expected to boost the growth of organic acid preservatives. The demand for organic preservatives such as clove, cinnamon, tea tree, lavender, rosemary, and other essential oils & and herbs is expected to grow at a high CAGR over the forecast period.
Market Dynamics
Drivers
Increasing awareness about personal hygiene and grooming

Rising disposable income in emerging economies

Increasing demand for cosmetic products
In 2022, the global cosmetics market witnessed a remarkable growth of over 16 percent compared to the previous year. Skincare emerged as the leading category, capturing approximately 42% of the global market share. Furthermore, the popularity of e-commerce platforms has soared, with around 37% of millennial consumers opting to purchase beauty products online. This surge in demand for cosmetic products has significantly contributed to the growth of the cosmetic preservatives market.
Restraint
Stringent regulations regarding the use of preservatives in cosmetics

Consumer preference for natural and organic products

Potential health risks associated with certain preservatives
Opportunities
Development of innovative and safer preservatives

Expansion of the cosmetic industry in untapped markets
Challenges
Constantly evolving consumer preferences and trends

Balancing the need for effective preservation with consumer safety and product quality
The cosmetic industry relies on preservatives to extend the shelf life of products and prevent the growth of harmful microorganisms. However, the use of preservatives must be carefully managed to ensure they do not compromise consumer safety or product quality. The primary objective of cosmetic preservatives is to inhibit the growth of bacteria, fungi, and other microorganisms that can contaminate products and potentially harm consumers. Without effective preservation, cosmetics could become breeding grounds for harmful pathogens, leading to adverse health effects. On the other hand, consumer safety and product quality are equally crucial considerations. Some preservatives, while effective at preventing microbial growth, may cause skin irritation or allergic reactions in certain individuals. Additionally, preservatives can interact with other ingredients in cosmetics, potentially compromising their stability or efficacy. Finding the delicate balance between effective preservation and consumer safety requires thorough research, testing, and regulatory compliance. This presents an additional challenge, as natural preservatives often have limited efficacy compared to their synthetic counterparts.
Impact of Russia-Ukraine War:
European perfume and cosmetics manufacturers have experienced shortages of essential oils and alcohols due to the ongoing conflict between Russia and Ukraine. This invasion has caused significant disruptions in the supply chains for beauty products, resulting in higher prices amidst strong consumer demand. The production of perfumes relies heavily on alcohol derived from grains and organic beets, while sunflower-seed oils are essential for cosmetics. Unfortunately, both of these key ingredients are major crops in Ukraine, further exacerbating the supply shortage. The Russia-Ukraine war has disrupted the supply chain of cosmetic preservatives, leading to significant challenges for manufacturers. Both countries have been major players in the production and distribution of these essential ingredients. However, the conflict has resulted in trade restrictions, border closures, and increased transportation costs, making it difficult for manufacturers to source the necessary preservatives. This scarcity has not only affected the availability of products but has also led to price fluctuations, impacting the profitability of businesses operating in this sector.
Impact of Recession:
The cosmetic industry has experienced significant growth over the years, with consumers increasingly seeking products that enhance their appearance and well-being. The recession has heightened price sensitivity among consumers. As individuals become more cautious with their spending, they are increasingly seeking affordable alternatives to high-end cosmetic products. This shift in consumer behavior has compelled manufacturers to explore cost-effective preservative solutions without compromising on quality and safety. However, the beauty industry in the United States also experienced significant growth, with high-end beauty brands witnessing a 15% year-over-year increase in revenue, surpassing $27 billion. The consistent or even increased demand for personal care products during an economic downturn is driving the need for cosmetic preservatives in the production of beauty items.
Market Segmentation
By Product
By Application
Skin and Sun Care

Hair Care

Baby Products

Makeup & Color

Mouthwash and Toothpaste

Toiletries

Others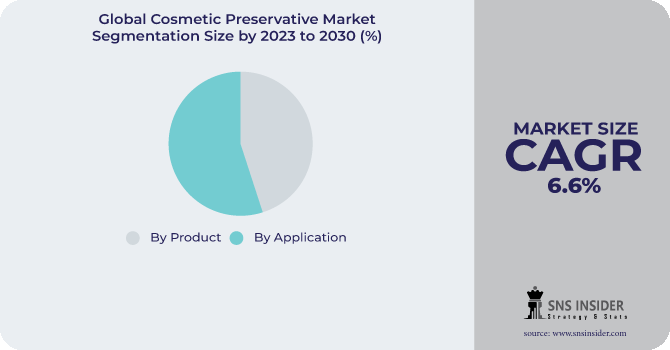 Get Customised Report as per Your Business Requirement - Enquiry Now
Regional Analysis
Asia Pacific dominated the Cosmetic Preservative Market with the highest revenue share of about 36% in 2022. This region is projected to experience further growth due to the increasing demand for cosmetics and the increasing awareness surrounding personal hygiene and cleanliness. Countries such as Japan, South Korea, and India have witnessed a surge in per capita spending on personal care goods, driven by the growing recognition of the significance of self-care. Additionally, the presence of a rising millennial population in these areas has contributed to their growth. Furthermore, the demand for cosmetic preservatives is expected to be fueled by the rapid expansion of emerging markets, including skincare kits, anti-agers, and face masks. These products have gained significant popularity among consumers, further driving the need for effective preservation methods. Moreover, the increasing emphasis on personal care and hygiene, coupled with the rising disposable income of consumers, presents a promising opportunity for the Cosmetic Preservative Market in the Asia Pacific region. As individuals become more conscious of their appearance and well-being, the demand for cosmetic products is expected to increase. This, in turn, will drive the need for effective preservation techniques to ensure the longevity and safety of these products.
North America held a significant revenue share of the Cosmetic Preservative Market and is expected to grow with a CAGR of about 7% during the forecast period. The market for cosmetic preservatives in North America is expanding due to increasing disposable incomes and evolving consumer habits. There is a growing regional demand for natural cosmetic preservatives, driven by the high preference for organic beauty products that can counteract the harmful effects of sun, dust, and other environmental factors. The sales of toiletries are being propelled by changing consumer lifestyles and the expanding Fast-Moving Consumer Goods (FMCG) market in North America, which creates a positive business environment. Furthermore, the region's growing research and development efforts have resulted in a wide range of soaps and other toiletry products, contributing to an increase in the regional market share.
REGIONAL COVERAGE:
North America
Europe
Eastern Europe

Poland

Romania

Hungary

Turkey

Rest of Eastern Europe

Western Europe

Germany

France

UK

Italy

Spain

Netherlands

Switzerland

Austria

Rest of Western Europe
Asia Pacific
China

India

Japan

South Korea

Vietnam

Singapore

Australia

Rest of Asia Pacific
Middle East & Africa
Middle East

UAE

Egypt

Saudi Arabia

Qatar

Rest of the Middle East

Africa

Nigeria

South Africa

Rest of Africa
Latin America
Brazil

Argentina

Colombia

Rest of Latin America
Key Players
The major key players are BASF SE, The Dow Chemical Company, Clariant AG, Ashland Inc., Symrise AG, Salicylates & Chemicals Pvt. Ltd, Evonik Industries, Chemipol, Akema Fine Chemicals, Brenntag AG, Lonza Group Ltd., and other key players mentioned in the final report.
Dow Chemical Company-Company Financial Analysis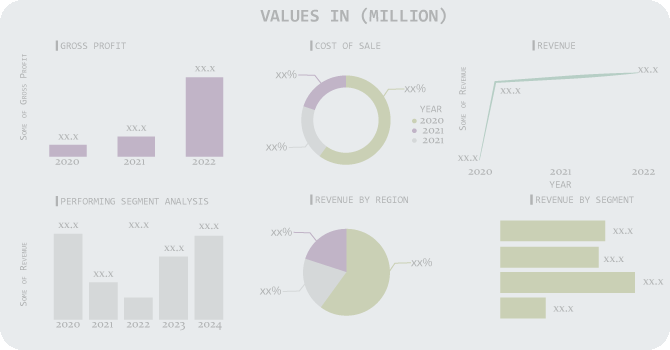 Recent Development:
In May 2023, Symrise introduced two new products: SymDiol 68T and SymOcide PT, both of which are tropolone-based. SymDiol 68T is a multifunctional antioxidant that effectively prevents the growth of yeast, bacteria, and mold, while also stabilizing emulsions. It is suitable for use in various skincare, sun care, hair care, personal care, and color cosmetic products. On the other hand, SymOcide PT offers both antioxidant and antimicrobial properties, effectively combating bacteria and fungi.

In August 2022, Brenntag, the global leader in chemicals and ingredients distribution, announced an expanded distribution agreement with ISCA, a renowned manufacturer and distributor of specialty chemicals. This partnership was formed to focus on providing preservatives for the cosmetics industry in several European markets.

In September 2021, the Chemipol technical sales department launched COSMOPOL®, an innovative software application designed to support the selection process of preservation systems for cosmetic and personal care products.
Cosmetic Preservative Market Report Scope
Report Attributes
Details
Market Size in 2022
US$ 412 Mn
Market Size by 2030
US$ 686.99 Mn
CAGR
CAGR of 6.6% From 2023 to 2030
Base Year
2022
Forecast Period
2023-2030
Historical Data
2019-2021
Report Scope & Coverage
Market Size, Segments Analysis, Competitive Landscape, Regional Analysis, DROC & SWOT Analysis, Forecast Outlook
Key Segments
• By Product (Paraben esters, Phenol derivatives, Alcohols, Formaldehyde donors, Organic acids and their Salts, Quaternary compounds, Inorganics, and Others)
• By Application (Skin and Sun Care, Hair Care, Baby Products, Fragrances & Perfumes, Makeup & Color, Mouthwash and Toothpaste, Toiletries, and Others)
Regional Analysis/Coverage
North America (US, Canada, Mexico), Europe (Eastern Europe [Poland, Romania, Hungary, Turkey, Rest of Eastern Europe] Western Europe] Germany, France, UK, Italy, Spain, Netherlands, Switzerland, Austria, Rest of Western Europe]), Asia Pacific (China, India, Japan, South Korea, Vietnam, Singapore, Australia, Rest of Asia Pacific), Middle East & Africa (Middle East [UAE, Egypt, Saudi Arabia, Qatar, Rest of Middle East], Africa [Nigeria, South Africa, Rest of Africa], Latin America (Brazil, Argentina, Colombia Rest of Latin America)
Company Profiles
BASF SE, The Dow Chemical Company, Clariant AG, Ashland Inc., Symrise AG, Salicylates & Chemicals Pvt. Ltd, Evonik Industries, Chemipol, Akema Fine Chemicals, Brenntag AG, Lonza Group Ltd
Key Drivers
• Increasing awareness about personal hygiene and grooming
• Rising disposable income in emerging economies
• Increasing demand for cosmetic products
Market Restraints
• Stringent regulations regarding the use of preservatives in cosmetics
• Consumer preference for natural and organic products
Potential health risks associated with certain preservatives